The Ultimate Checklist To Renovating Your House This 2022
Commence your home renovation with this easy checklist. The toughest and most exciting part of renovation is planning for it, here is the ultimate checklist you need prior to remodeling your house!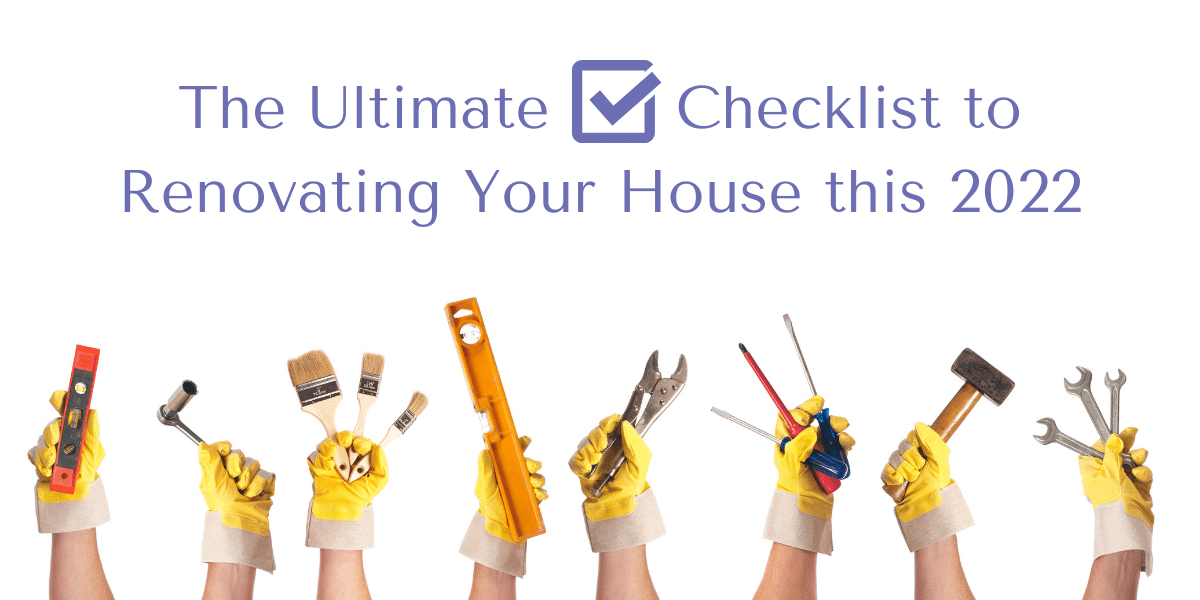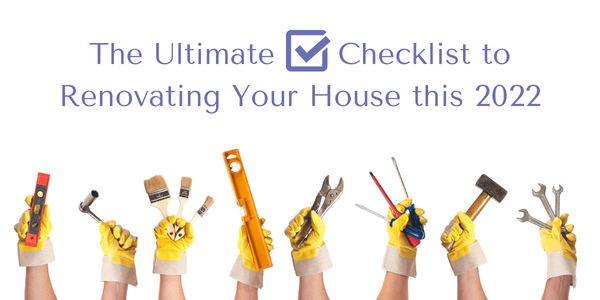 Home renovation is as good as buying a new house, and if done right, it could be a comparatively cheaper, a less-hassle and an organised operation. Refurbishing your house could be the easiest and the cheapest way to upgrade your lifestyle and take you closer to the house of your dreams.
You might want to stick to your traditional roots and the heritage of your house, yet need the upgrade and change. Renovation is the answer to blending tradition with modernity without having to leave the house you have spent years and gained memories in.
Remodeling your house could come with several stressful questions like 'where to start?', 'budget to fix', 'who to call', 'how to know what is right?' 'where to book professionals for renovation' and so on. Perhaps take a minute to calm down, because HomeTriangle has brought together a checklist to consider before you start renovating your house!
(Also, we have shortlisted the services you would need to remodel your house and some places you can book professionals for those services)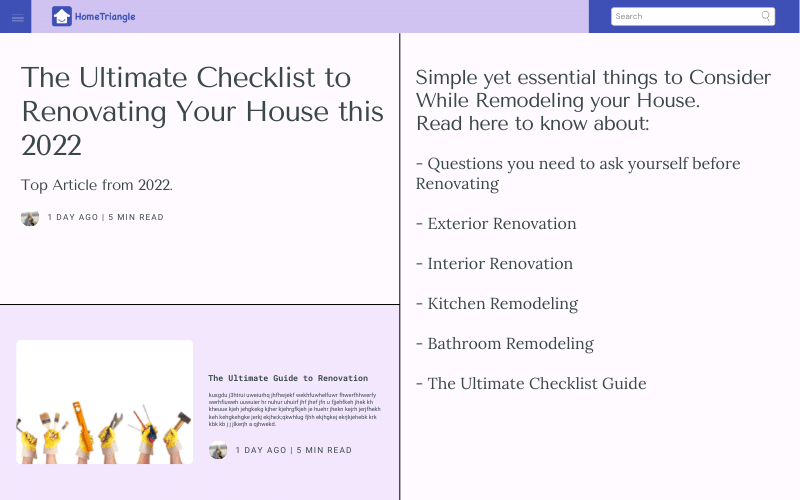 Where To Start
Naturally, you need to be aware of why you are renovating your house in the first place, is it because you need a change? To increase space? To sell? To upgrade the outdated parts of your house? You need to first deduce that.
Fixing a budget comes immediately next. The overall cost of renovation can be calculated based on three factors:
1. Estimated Duration of Renovation
2. Your Design Ideas and area to be renovated
3. Your Budget
In case you are getting your entire house remodeled, you would require to do more than just architects and designers, you would need professionals like plumbers, electricians, painters, carpenters, furniture assemblers and installation experts. In this case, you will have to decide which one works for you and which is cheaper: to book one service of entire renovation or to book different professionals for different jobs.
You also might need to consider whether you would be staying in the house or shifting out, in case you are shifting out, you need to consider the expenses you would incur in that case while you form your budget.
Things To Remember While Renovating
There are a few basic things we tend to overlook while planning our renovation. When renovating your house it could be the exteriors or the interiors of our house. For instance, for the exteriors of your house, you might want to inspect the attic/basement/garage and the roof of your house. When it comes to exterior renovations you should hire a contractor who has mini excavator tracks which will adapt to your terrain and not leave any marks on the surface for your home renovation project.
You will also need to ensure that no paint is peeling off, no seepage exists and there is no rust or moisture on doors and windows. The electrical system or the plumbing, present in the interiors of our house, is hidden behind the walls and unless they are causing troubles they would not surface in your planning of renovations and also the siding repair in kansas city.
Given below are downloadable images with an Interior and Exterior Remodeling Checklist: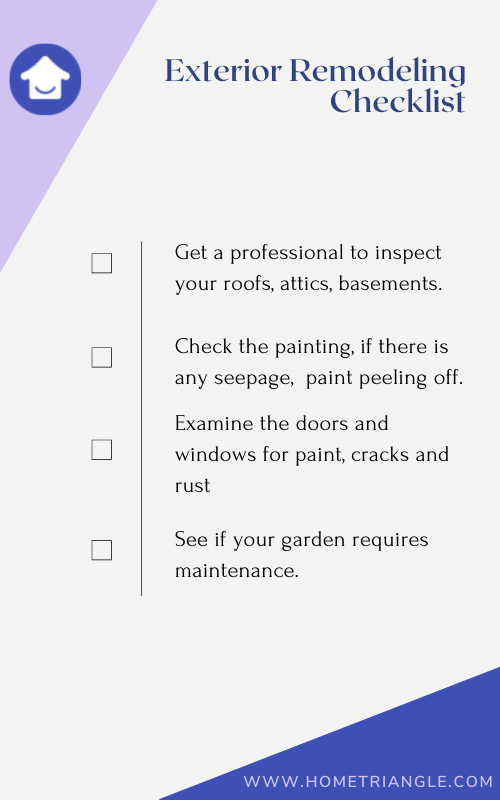 Similarly, our kitchens and bathrooms could have concerns like ventilation, lighting, faucet system, plumbing, re-grouting and so on, that you could miss out on while planning renovations: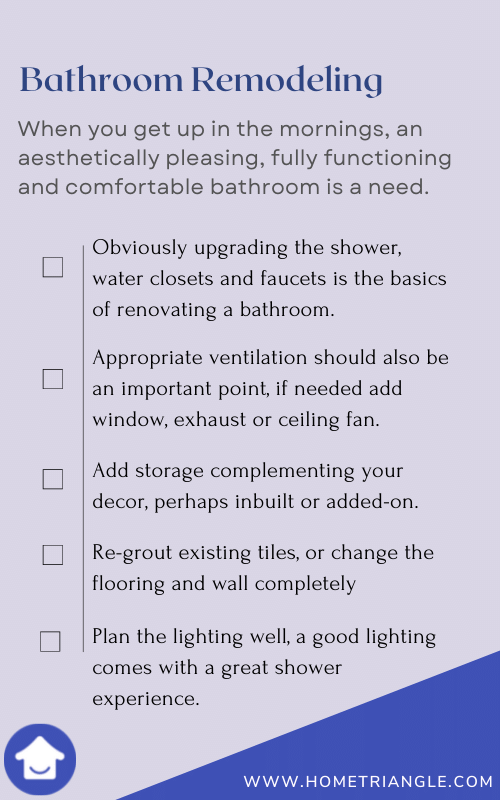 Checklist
Here is the awaited collection of simple things that you need to check while the renovation of your house.
While planning a renovation these are some essential needs:
You must know that adding a lighter shade to your kitchen will make it look larger than any darker shade. Try painting your ceilings, walls and backsplashes in lighter colors and watch the magic, your small kitchens will begin appearing bigger!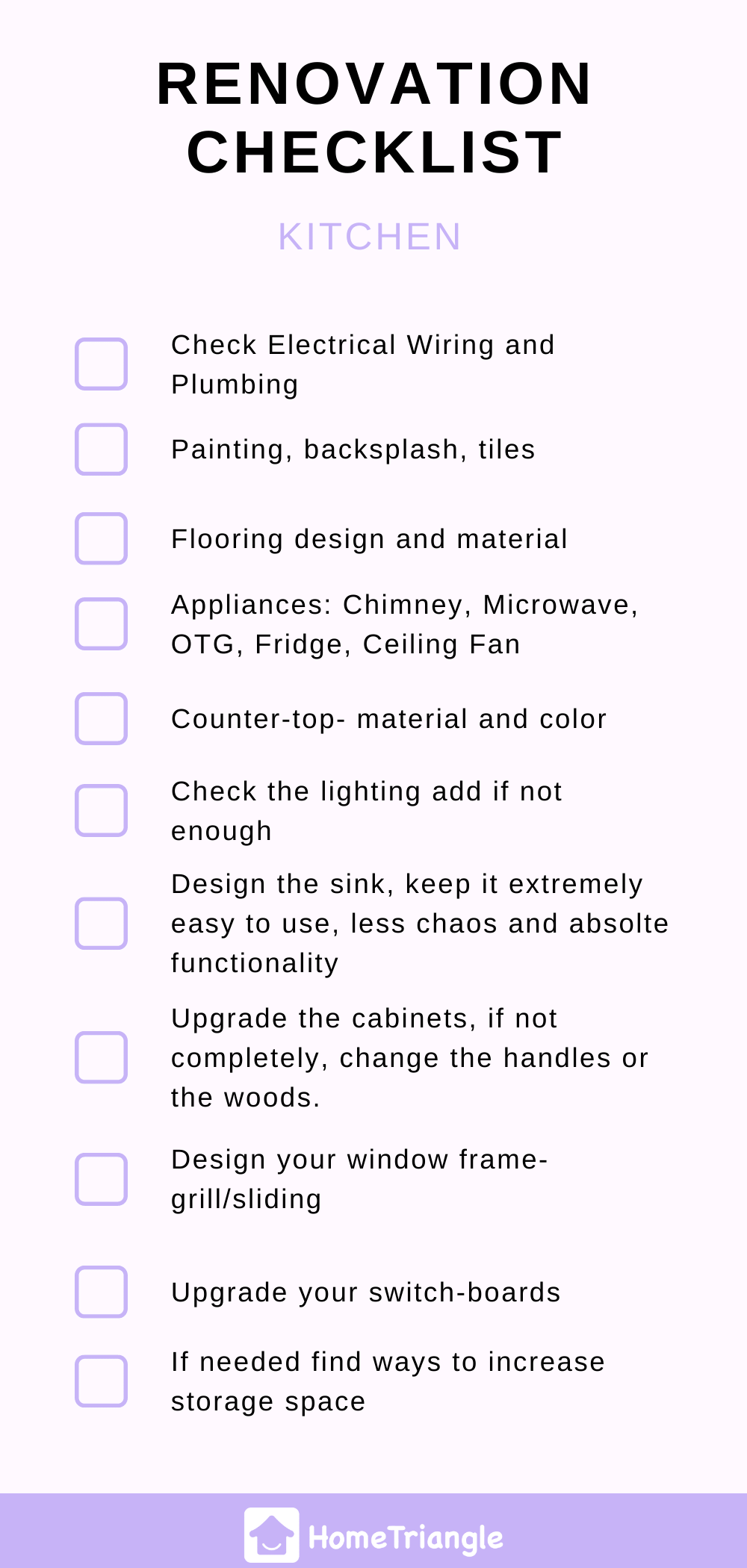 Make Your Own Renovation Checklist
Obviously every inch of the house needs to be according to yours and only your liking, it could be more than or lesser than the list we have curated, therefore we have an empty template you can download to design your own personal Renovation Checklist!