Deciding on a particular design style for your kitchen will help you focus your plans, finances and energies by giving you a remodelling roadmap to follow.
If you've decided to remodel your kitchen you're about to embark on a major home improvement project. Deciding on a particular design style for your kitchen will help you focus your plans, finances, and energies by giving you a remodeling roadmap to follow. To illustrate, if you've decided on 'modern', it's important that appliances, cabinetry, fixtures, and finishes all correspond to that style to present a complementary appearance once the remodel is complete.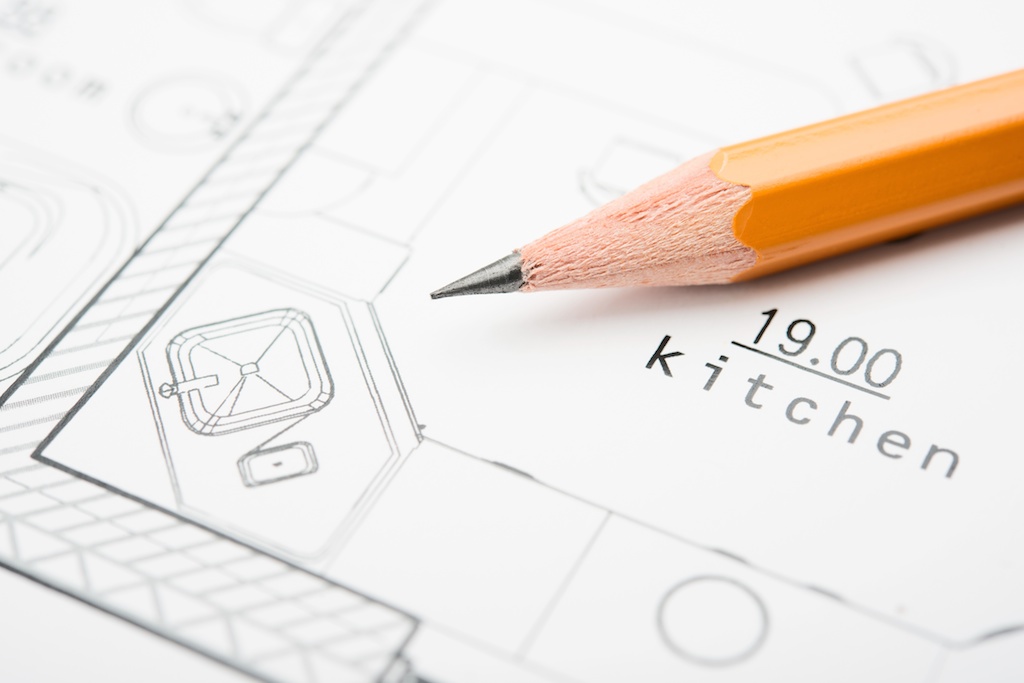 Home professionals endorse many popular design styles and use them to create beautifully functional kitchens. To help you decide, we've decoded four of the most preferred styles to resolve any design dilemmas you might face.
Modern
Modern implies newness, a break from the traditional. Clean utilitarian lines, the use of natural materials without ornamentation, and a sense of function underlying form are all hallmarks of modern design. An ultra-modern kitchen may seem almost space-age and creates immense visual impact and modern kitchen hoods are a great way to bring this aesthetic to life!
Streamlined, uncluttered, progressive, and minimalist, modern design denotes a departure from the past. Born in the unprecedented economic growth years post the industrial revolution, modern design is witnessing a revival in popularity today.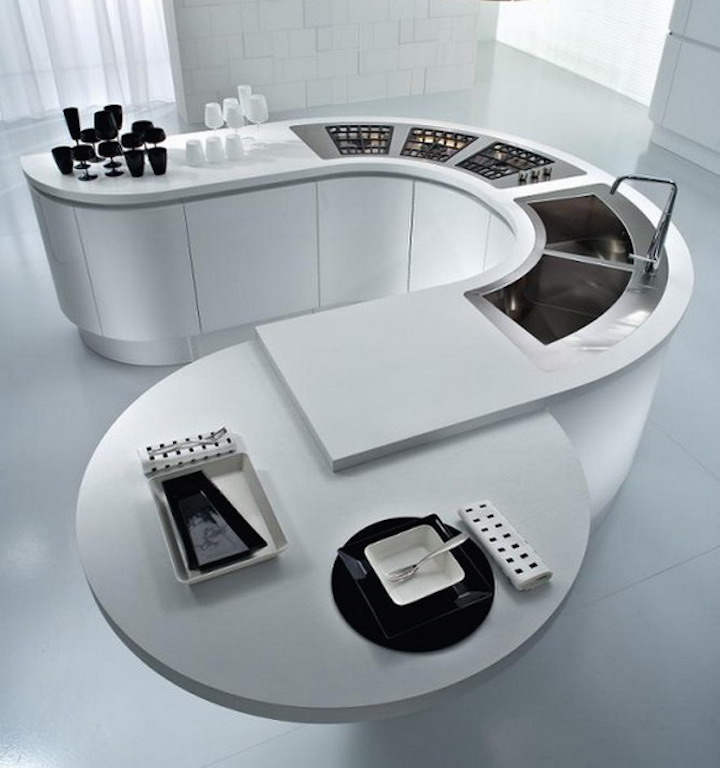 Ultra modern can seem almost space age!
Eclectic
If your personal style is extremely individual, and your design sensibilities are a mix of styles, eclectic is the way to go. The eclectic design incorporates influences from various styles to create a harmonious mismatch that is still very appealing to the eye. It grants you the freedom to include some stylistic flights of fancy. If you want to re-purpose antique furniture, hand-paint a wall, or insert tribal art pieces in the counter area, your kitchen design style is eclectic.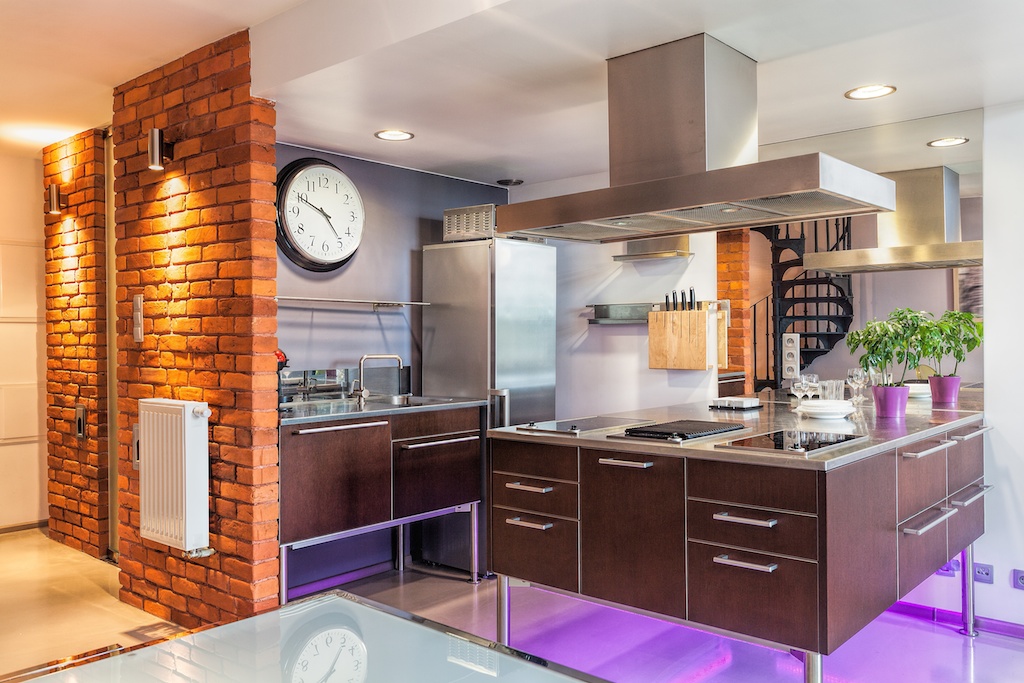 An antique clock and exposed brickwork mix with purple accents (lighting and accessories). Very modern cabinetry and glass floors add to the mix.
Contemporary
'Contemporary' literally means belonging to the current times, the present day. Contemporary design advocates new trends like sustainability, recycled/up-cycled materials, and green design, essentially marrying efficiency and visual appeal.
Most contemporary design is typified by the use of innovative new materials, lightweight concrete is an example. Other design elements like recessed lighting create a dramatic effect, while concrete, wood, and glass layer into each other to create visible patterns and texture without the use of excessive ornamentation. Materials are used to enhance function and provide visual interest to draw the eye. To make sure that you are incorporating the latest trends in your kitchen, use the help of a kitchen remodeling company in Austin, Dallas, or wherever it is convenient for you to get a plan that fits your home space.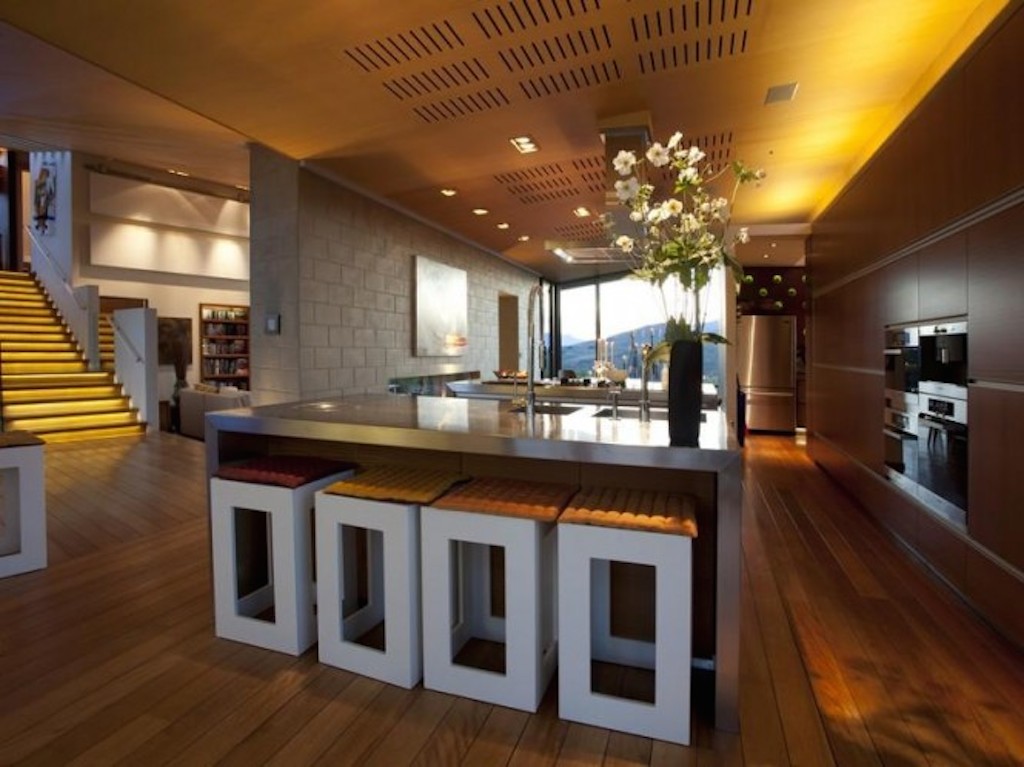 Exposed concrete brick, recessed lighting in the ceiling and stairs, as well as the linear pattern in the wooden floor create a contemporary effect
Traditional
This is a style that lends itself to ornate cabinetry, decorative fixtures, and custom-made vintage accents. Traditional kitchens exhibit old-world charm, dark stained wood, and crystal chandeliers are right at home in this kitchen. You may see patterns in the flooring and the inclusion of fruit or flower motifs in the tile. The use of materials like natural stone, granite, and marble, augment the feel of heritage and antiquity.
The inherent feel of a traditional design is formal with meticulous detailing.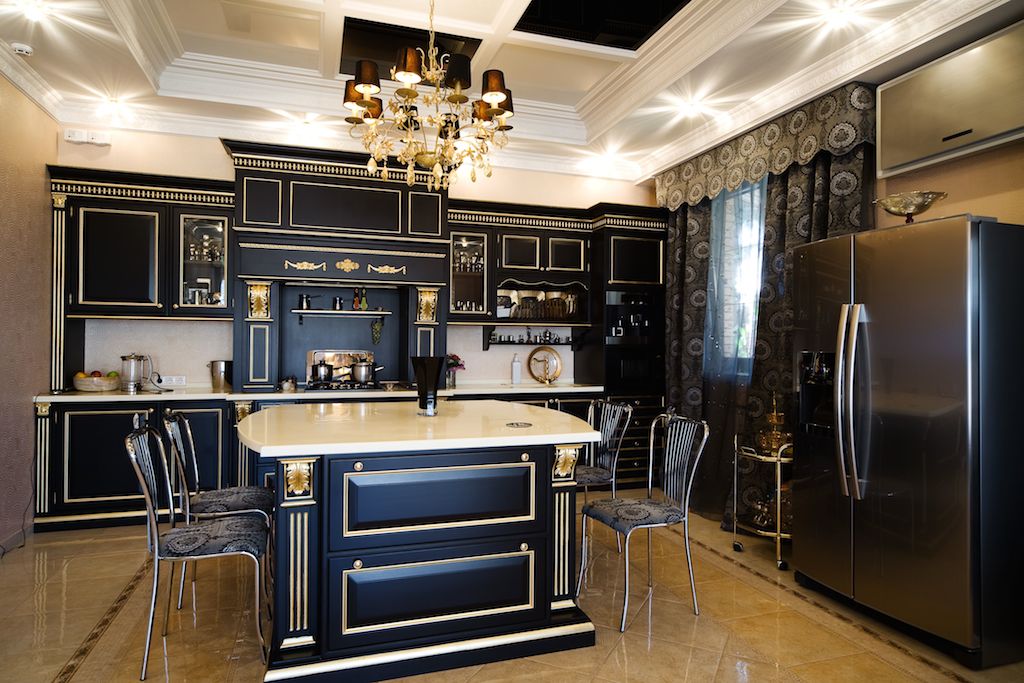 Decorative cabinetry, natural stone and an ornate light fixture in a traditional kitchen
Modern, eclectic, contemporary, or traditional? Your kitchen is the epicenter of your home, choose a design style that blends seamlessly into your home, is easy to keep clean, and makes your kitchen a happy place for the whole family!