HomeTriangle.com's "Homeowner Styles" series features contributions from style savvy homeowners who open the doors to their home to welcome the HomeTriangle audience and share their thoughts and ideas about the special spots in their homes and the aesthetic elements that came together to craft one of a kind decor and interiors!
In this feature Neha Agarwal describes her friend Shashi Iyengar's modern, minimalist and stylish home which comes with plenty of storage for her family's passions - sports equipment and gadgets.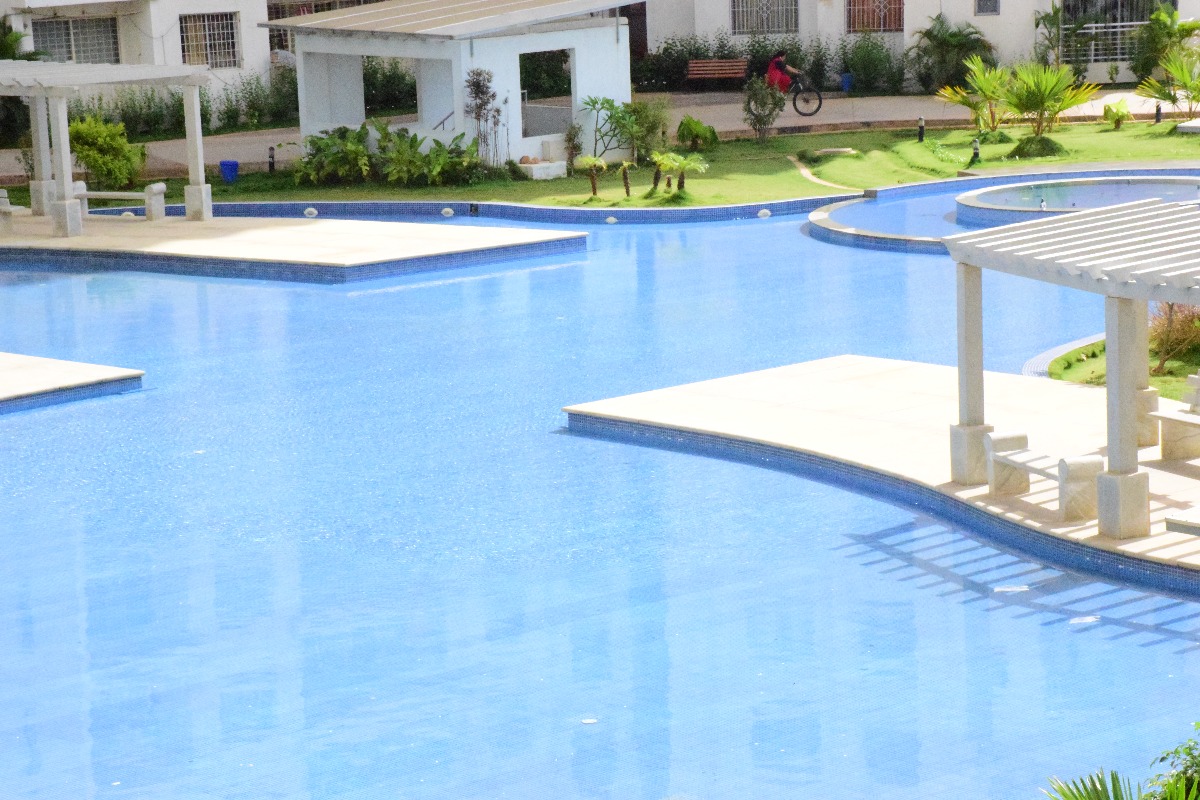 With a spectacular pool view like this from the balcony, you would probably think that nothing can get better than this. We differ - Shashi's home is a perfect extension of this view - modern, relaxed and inviting.
Shashi,
her husband Pradeep, and their son Siddharth made this place their h
ome eight years ago. All 3 of them are extremely passionate about sports (Pradeep is a tennis pro, while Shashi is a marathoner!) and have thoughtfully designed this space with excellent storage for their sports equipment.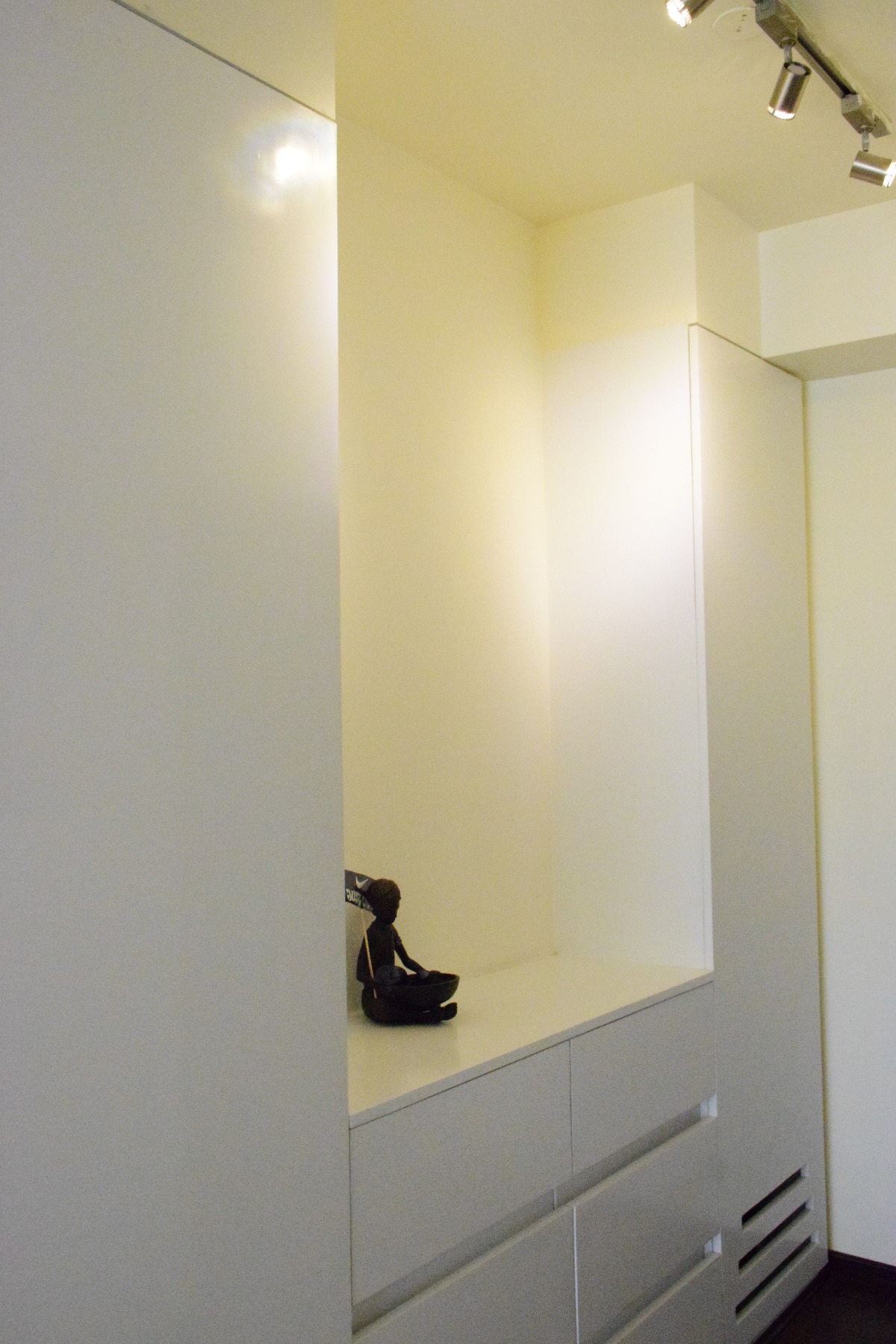 This foyer near the entrance has been designed as a built-in shoe and sports equipment closet with the cabinets blending with the
colors
of the wall. That little man with a basket holds 'keys' to all doors in the house! Literally!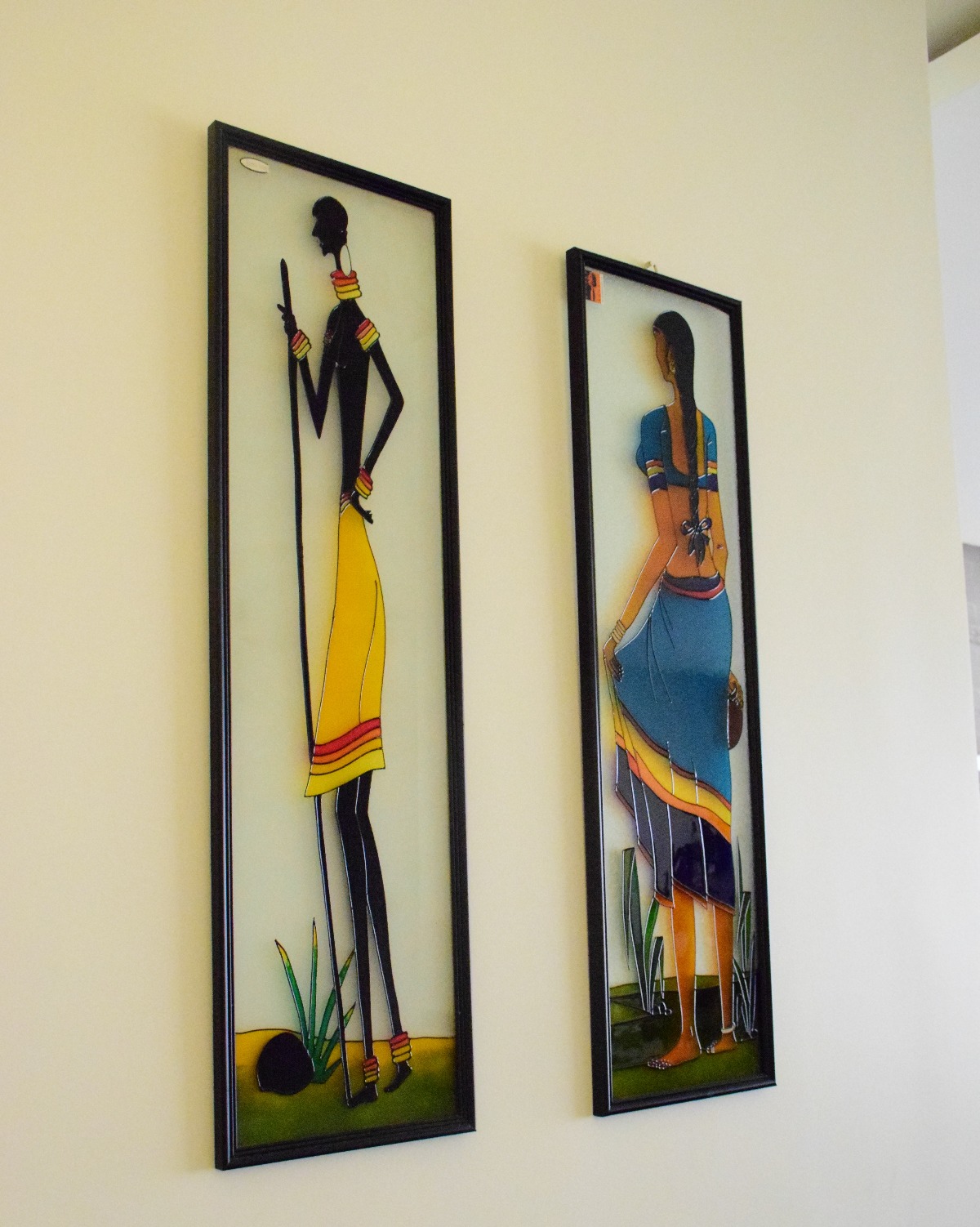 These
colorful
stained glass paintings break the monotony of the ivory colored walls and closet in the foyer.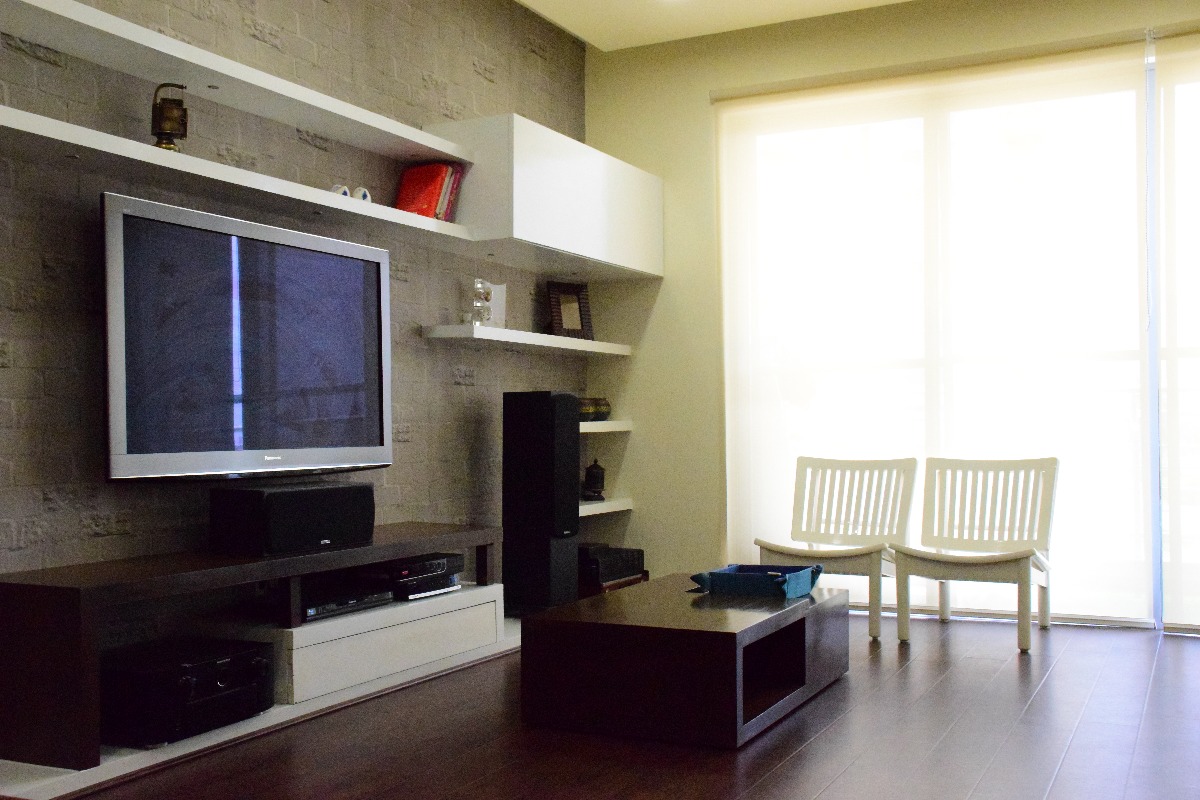 An entire wall in th
e living room features the entertainment unit comprising a huge LED screen, speakers, and amplifiers (acoustics have been taken care of!) This unit has been designed
both
to conceal the wires of all equipment and to facilitate air flow to prevent overheating of the sensitive electronic equipment. The wall has been done up in rich shades, using materials like wood veneer and white Duco finish with a grey wallpaper in a natural
stone pattern
as the backdrop.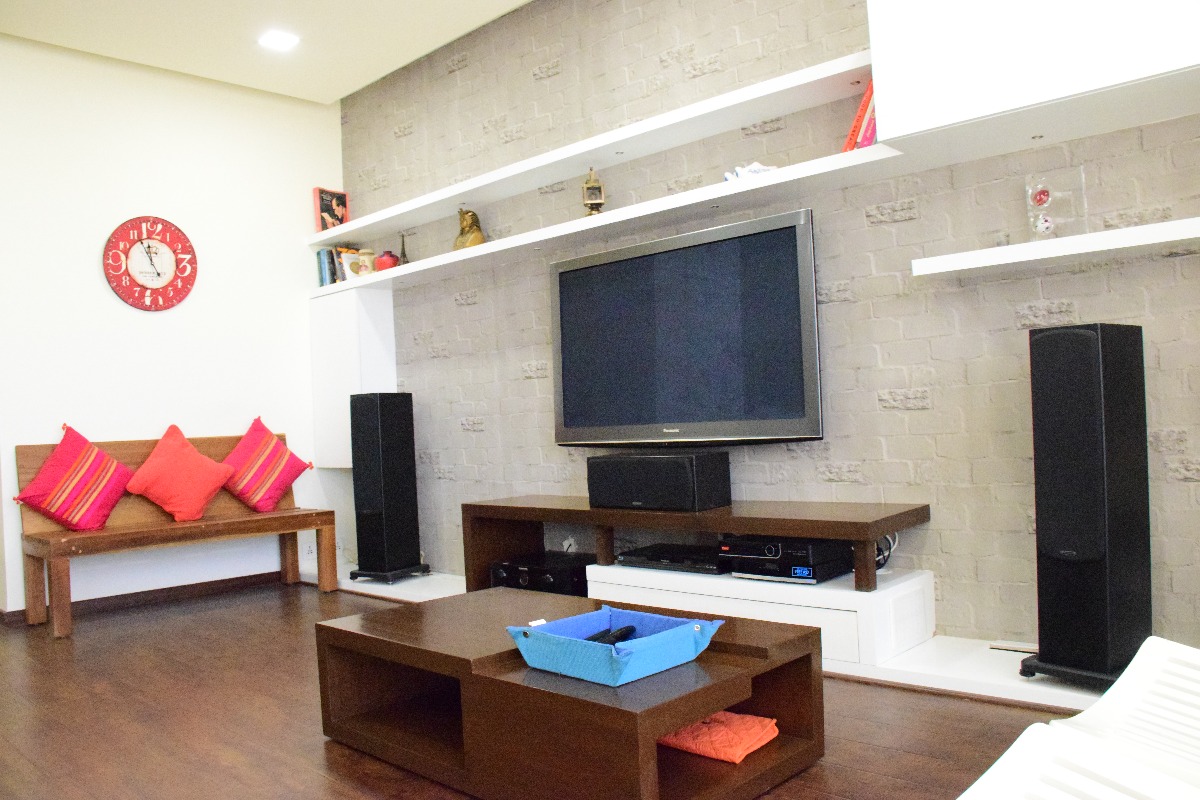 A wooden bench and two white chairs not only provide additional seating in the living room, but also give a cool, relaxed feel to the place. Shashi has chosen a walnut shaded engineered wood for the floors for a warm and rustic feel to her home.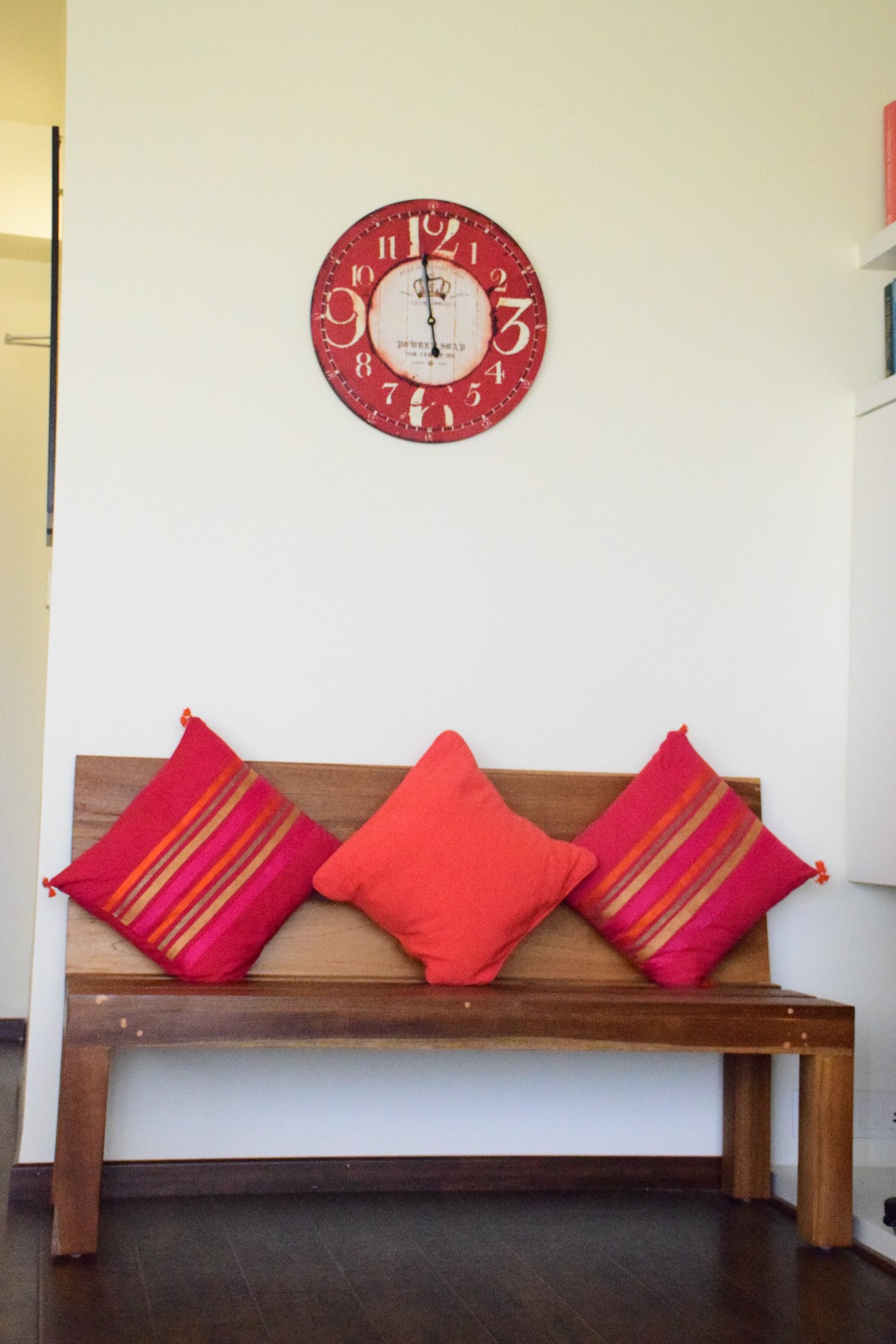 A spot of color! Colored cushions on the bench in the living room break up the
monotonous
look of wood and veneer in the living room. Shashi loves to play around with the colors of her cushions all the time!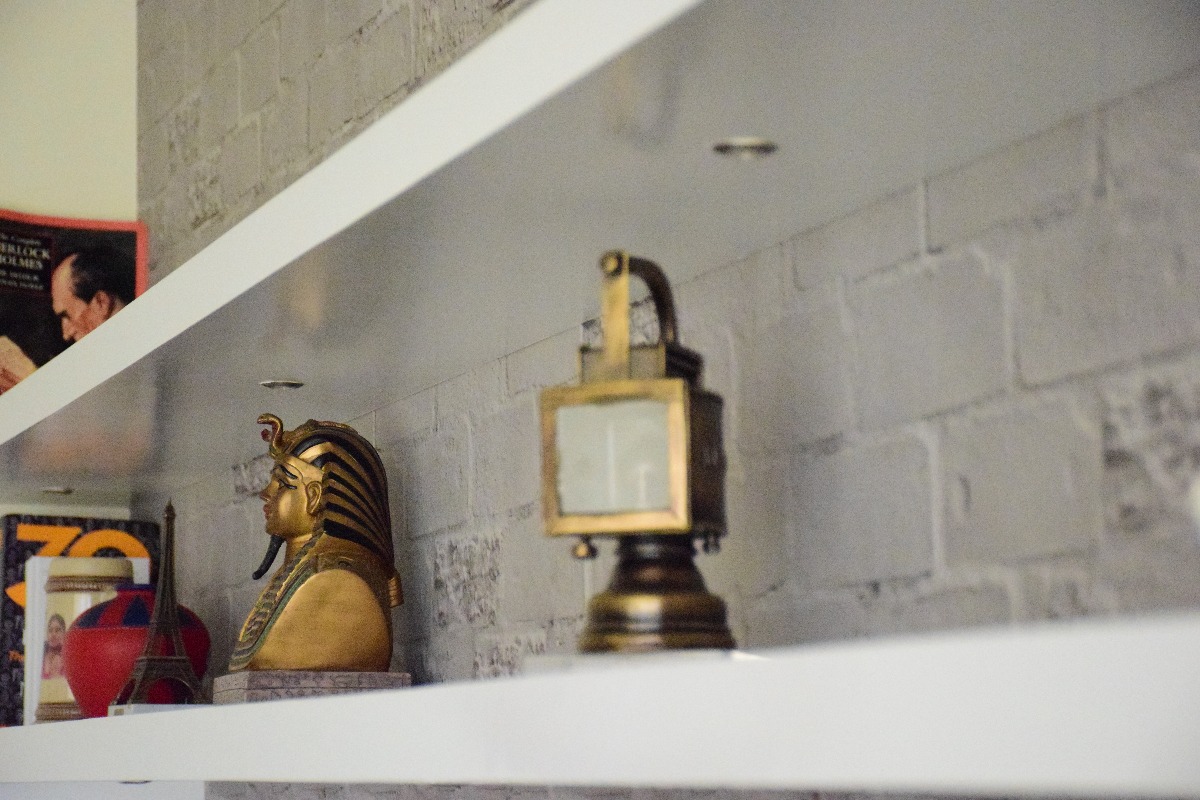 Various souvenirs and books from the family's travels abroad adorn the shelves of the entertainment unit.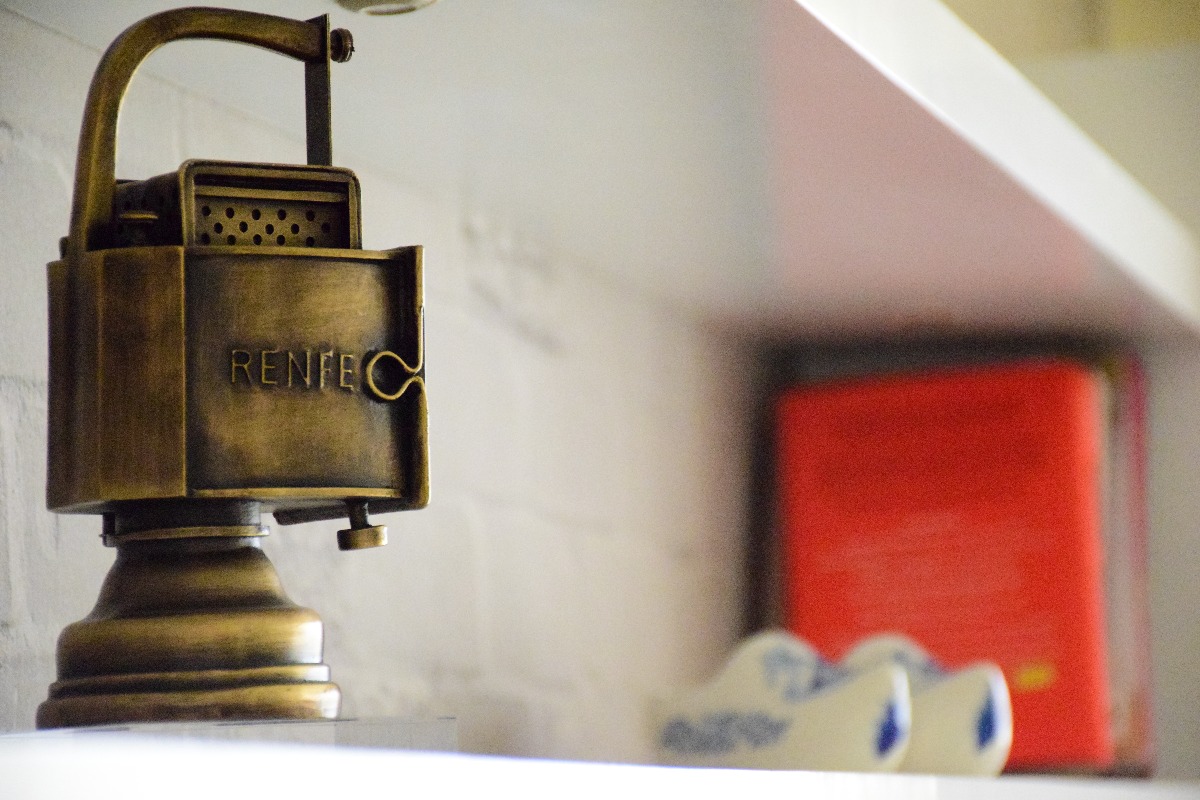 Another view of the entertainment unit shelves. Shashi keeps these shelves interesting by changing the souvenirs and their placement from time to time.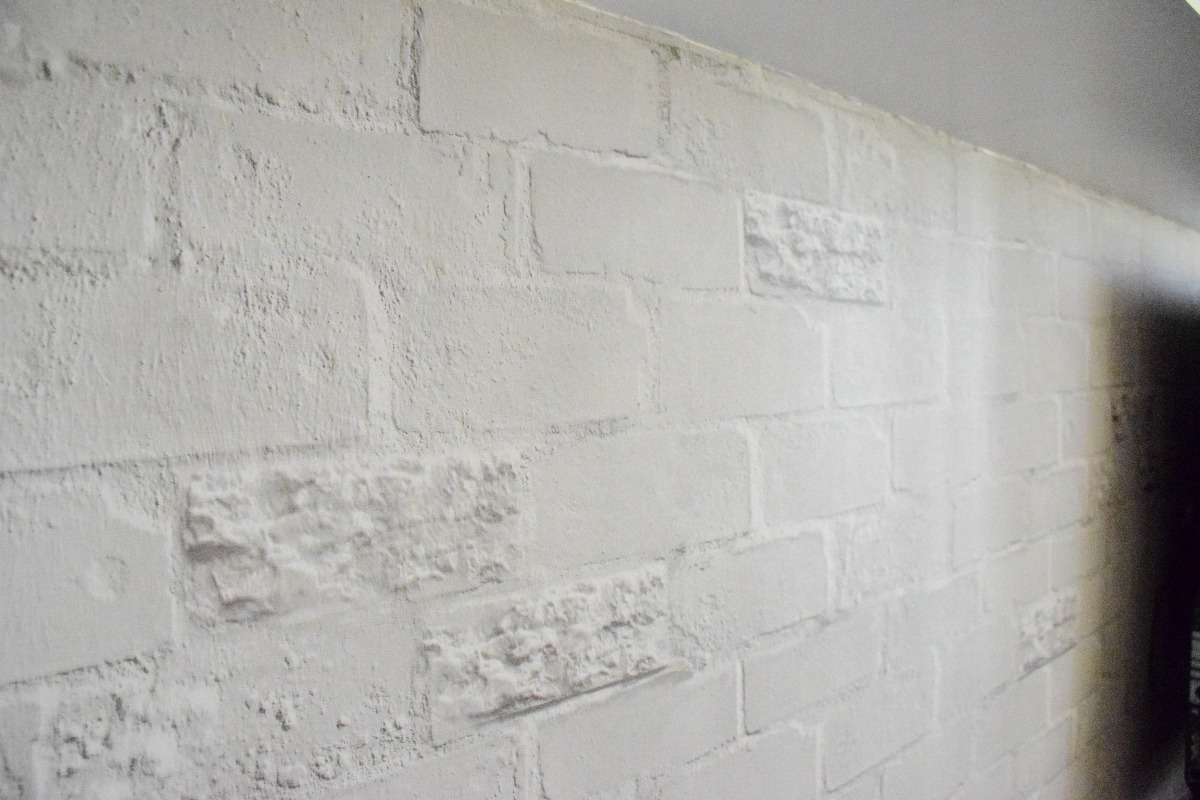 The grey wallpaper serves as a perfect backdrop to the ivory and dark veneer setting in the living room.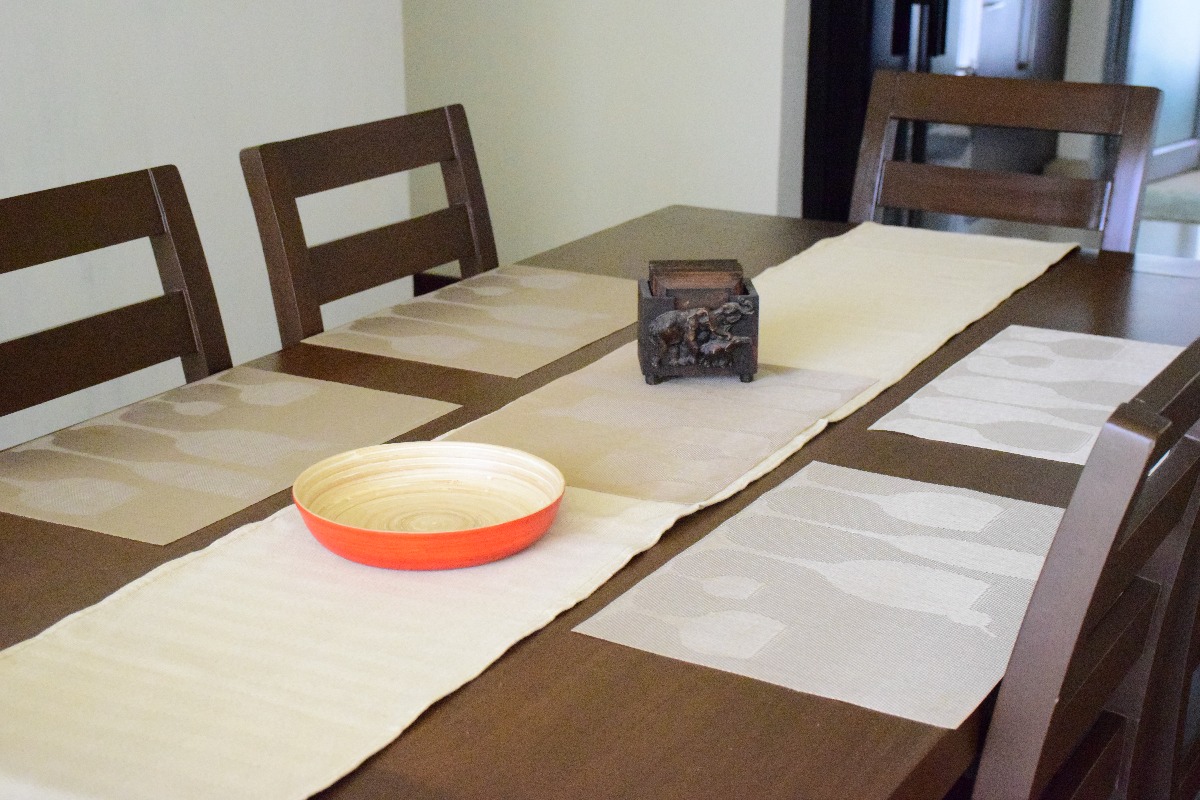 The dining table and chairs are made with the use of a dark veneer and complement the entertainment zone in the living room.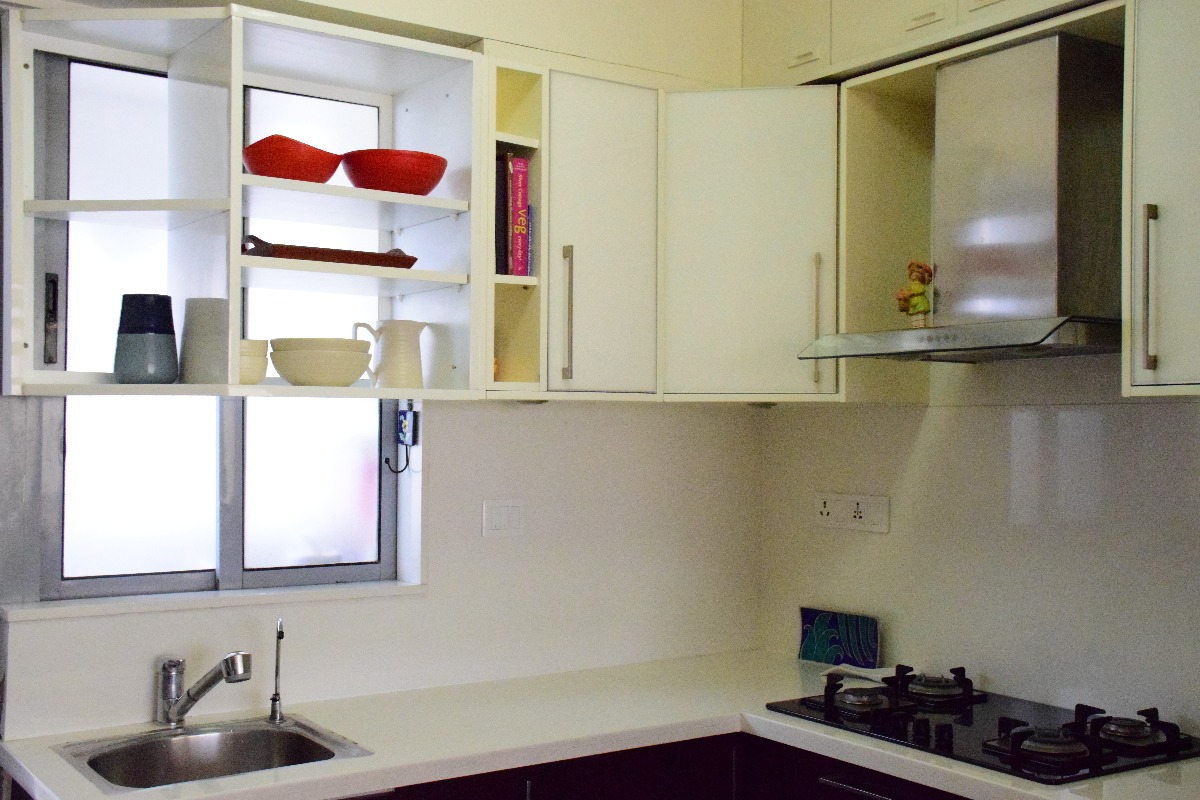 The kitchen is another hot spot in the Iyenger house with the counter top and back-splash done up in pristine white quartz stone which is anti-bacterial and maintenance free. Dark veneer has been used to make the drawers and cabinets as well. The kitchen sink sports a water hose for drinking water with the RO system stashed cleverly under the counter top, thus making the kitchen look clutter-free.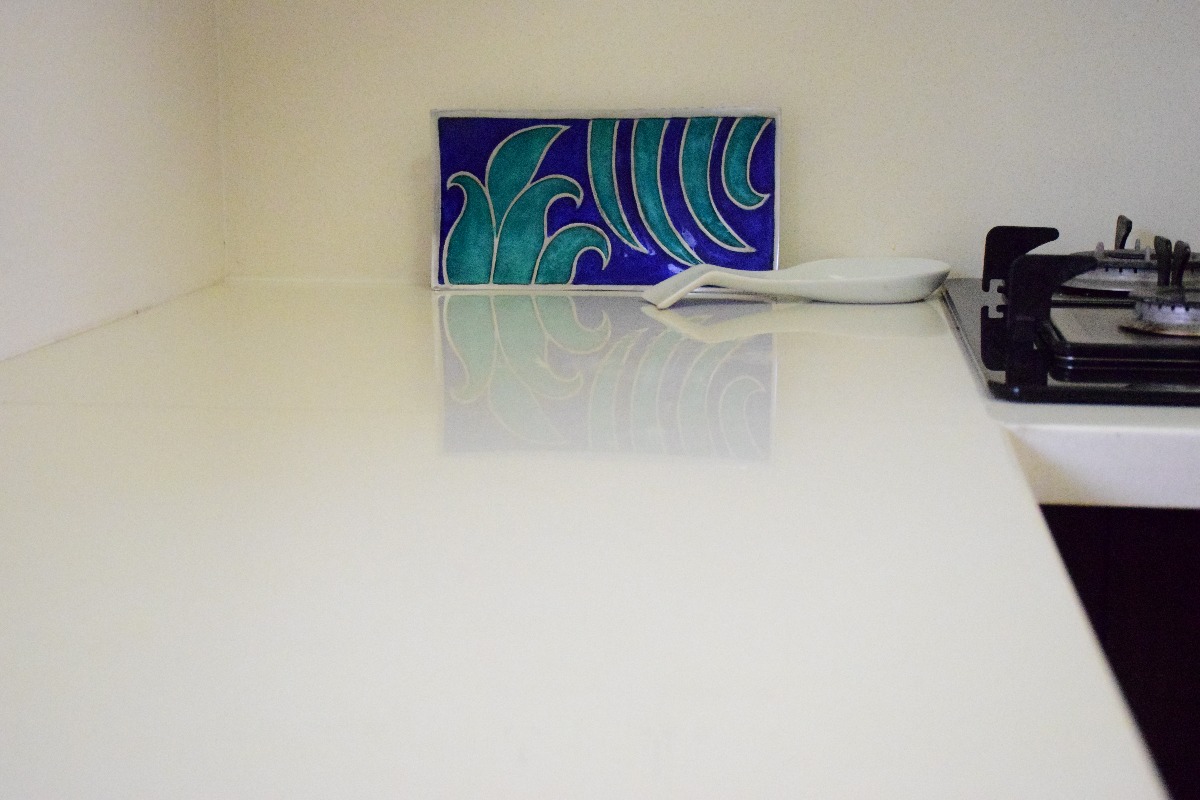 A close-up view of the quartz stone counter top.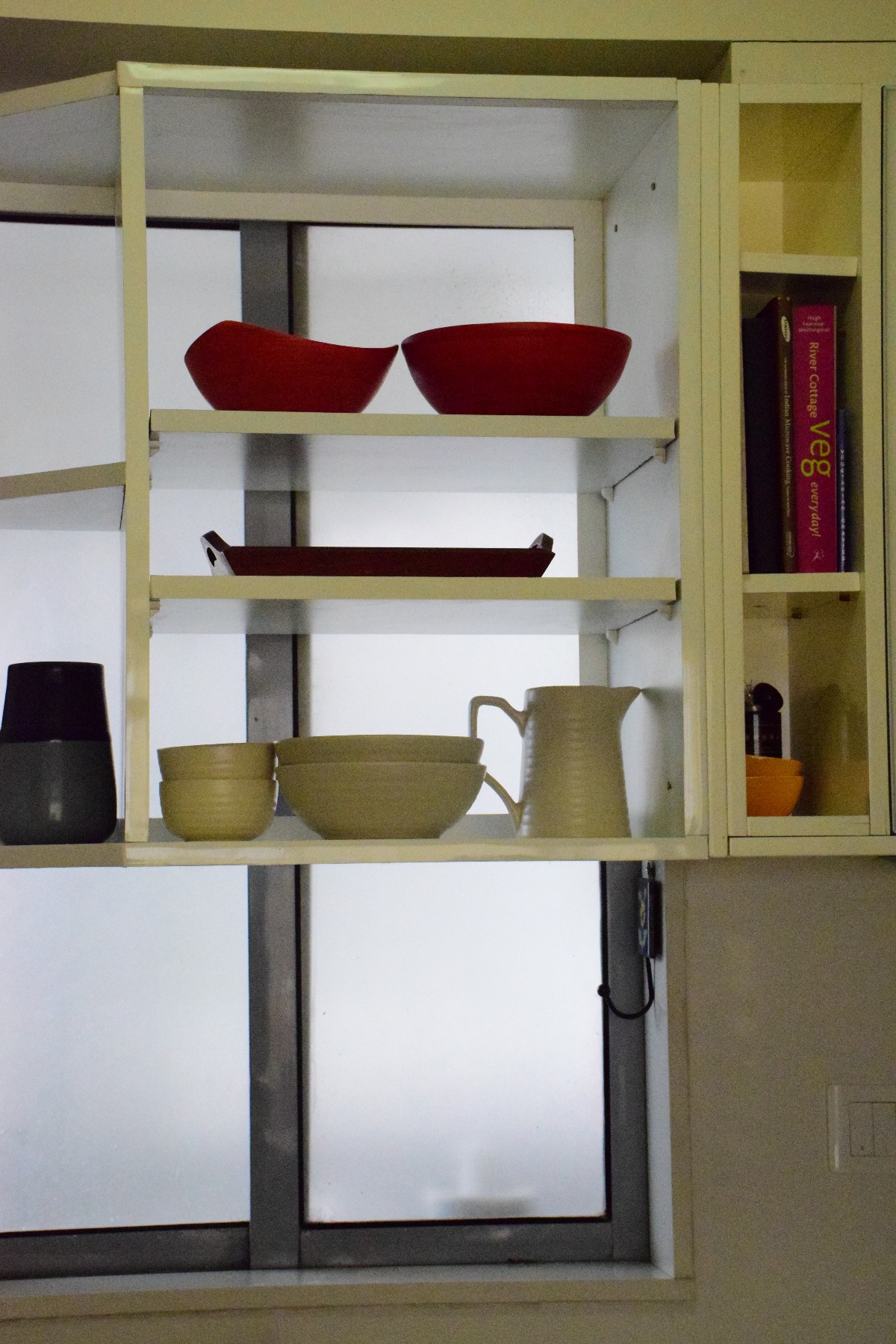 Shashi has installed open shelving for her ceramic wares and for easy retrieval of cook books and recipe notes while cooking.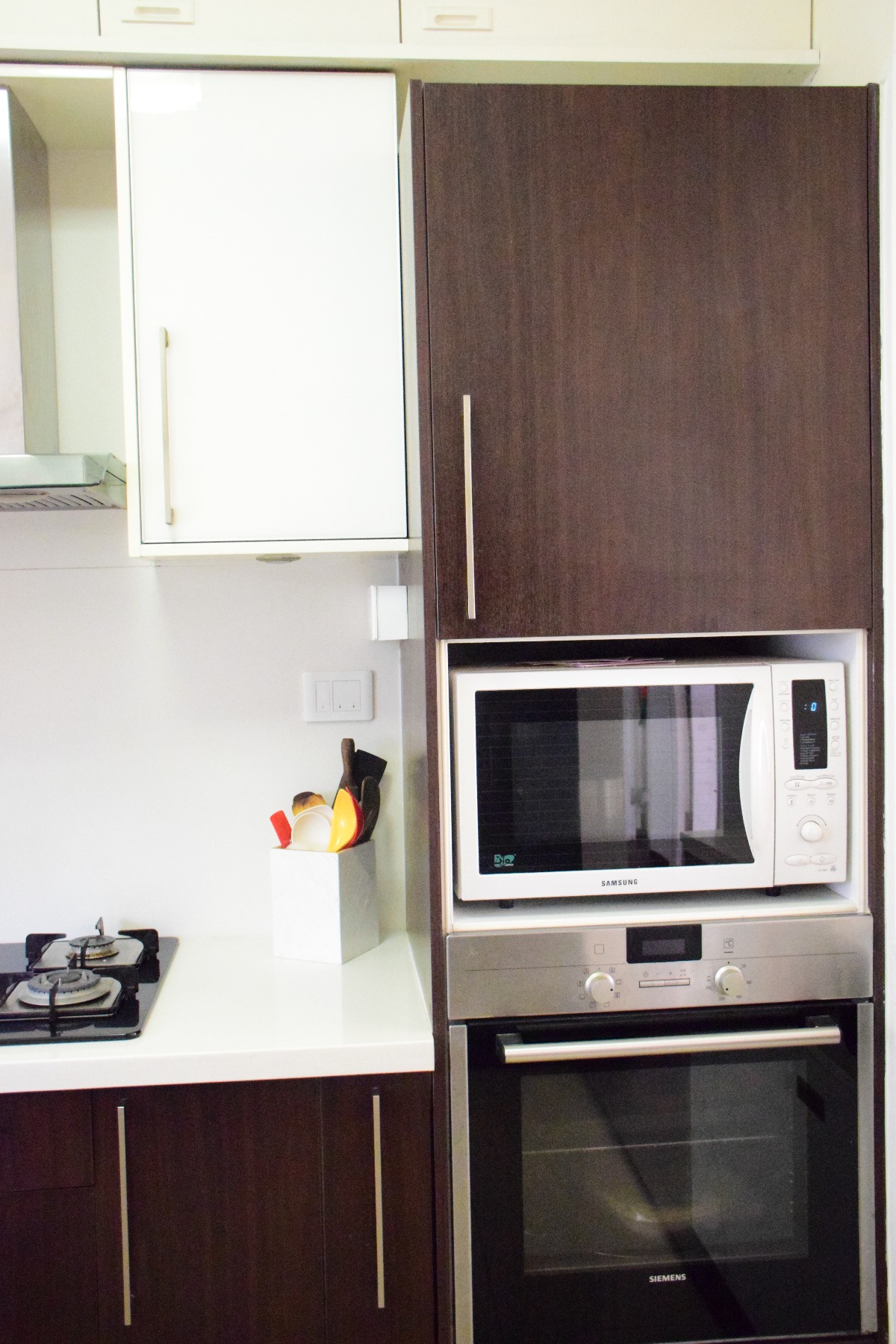 Easy accessibility to the microwave oven and built-in oven with clever use of limited space!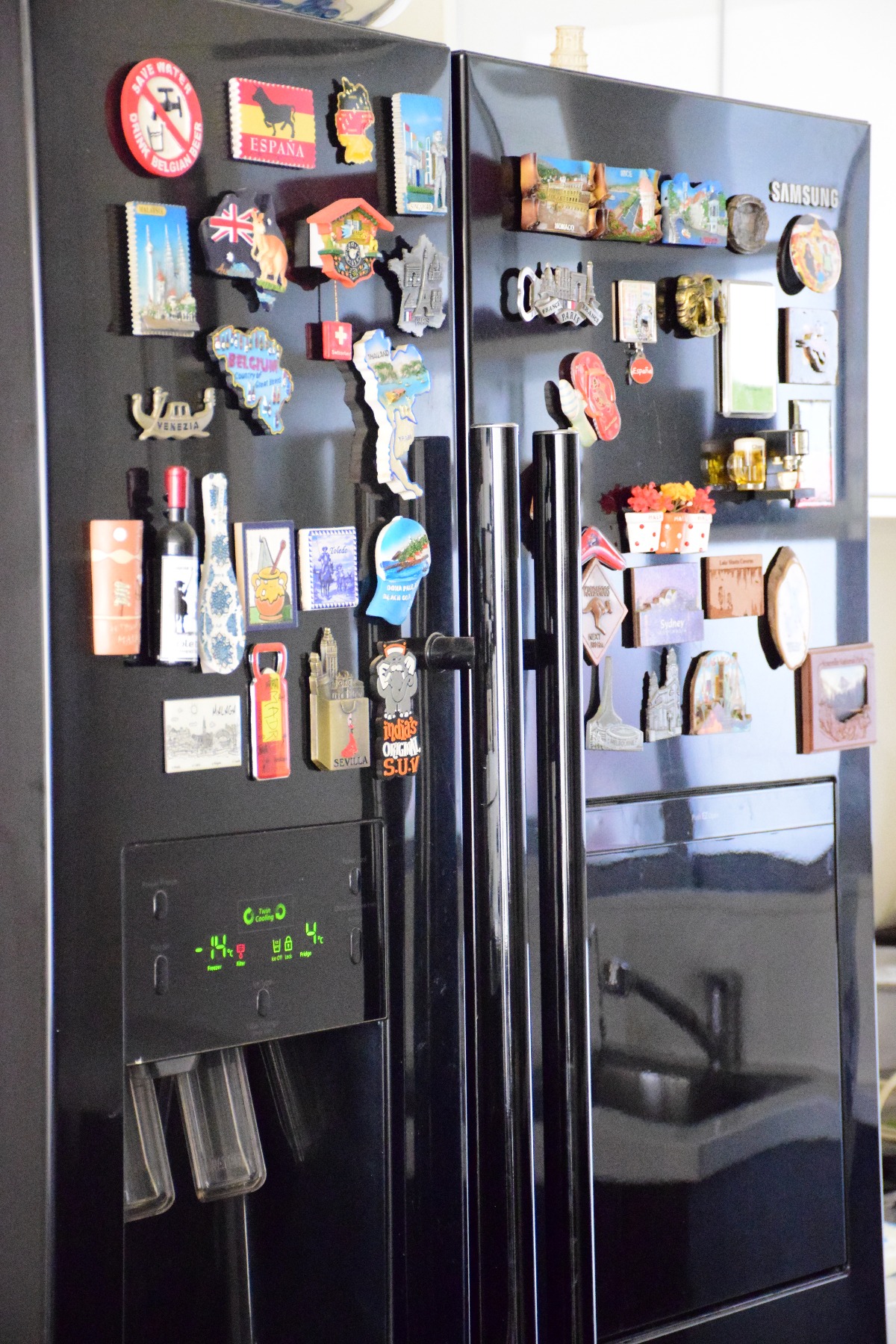 Souvenir magnets from across the globe have made their way to this huge refrigerator!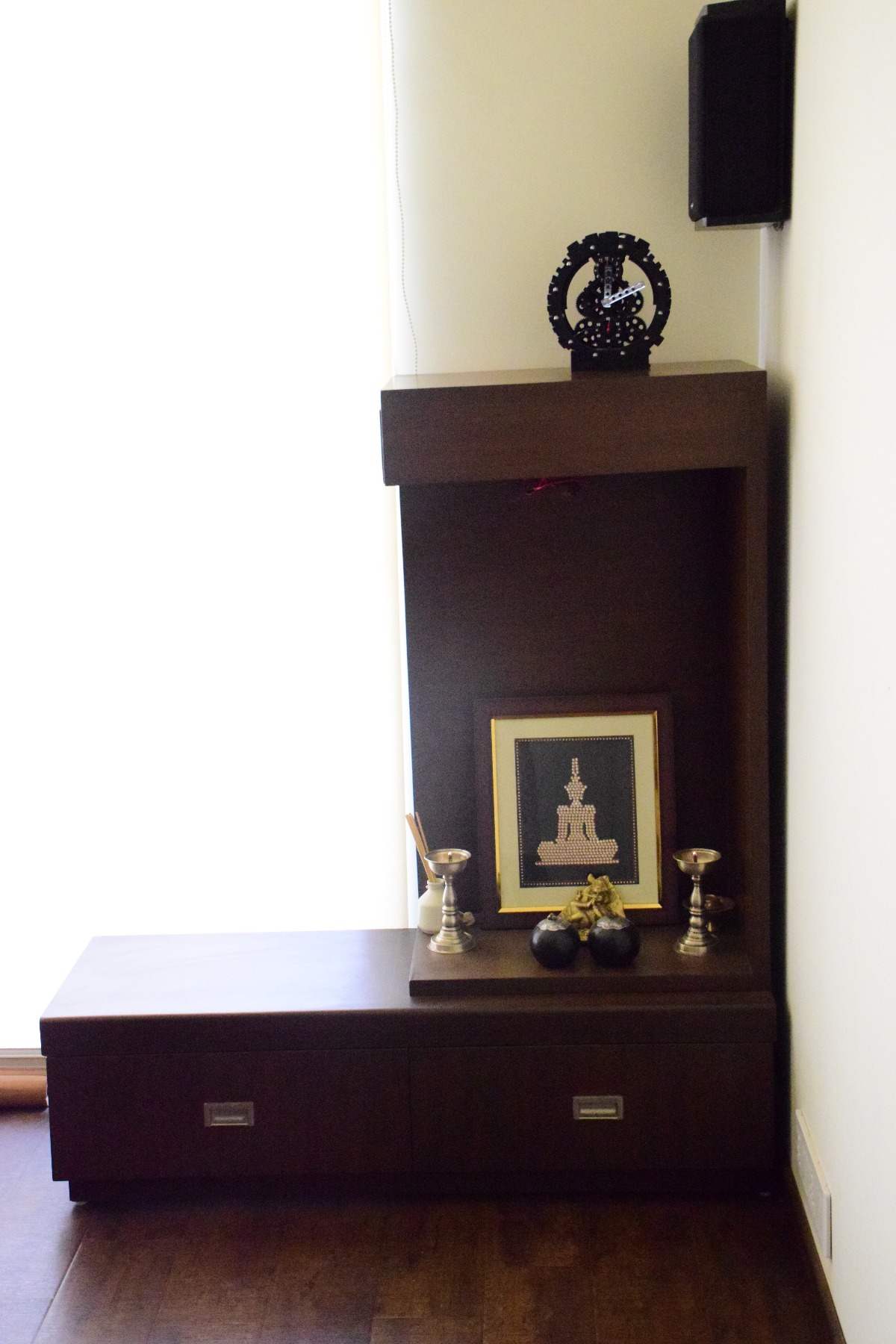 This pooja unit across from the kitchen is also made out of veneer, has ample storage for the prayer supplies, and complements the wooden floor as well.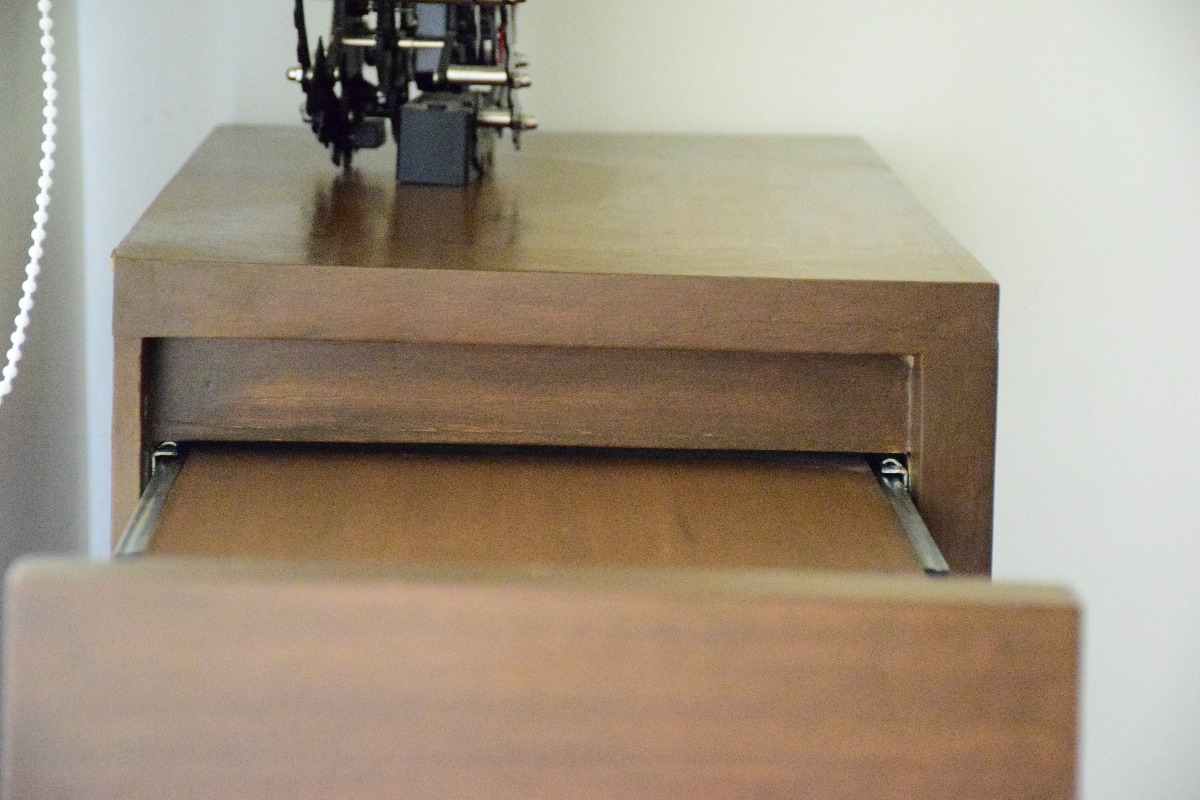 However, its this pull-out shelf in the pooja unit that got us hooked. 'Gokul Ashtami' is one big celebration for the Iyengars, and that's when they are supposed to decorate this unit with hanging fruits and flowers which is why Shashi got a couple of in-built rods added below this shelf. Interesting!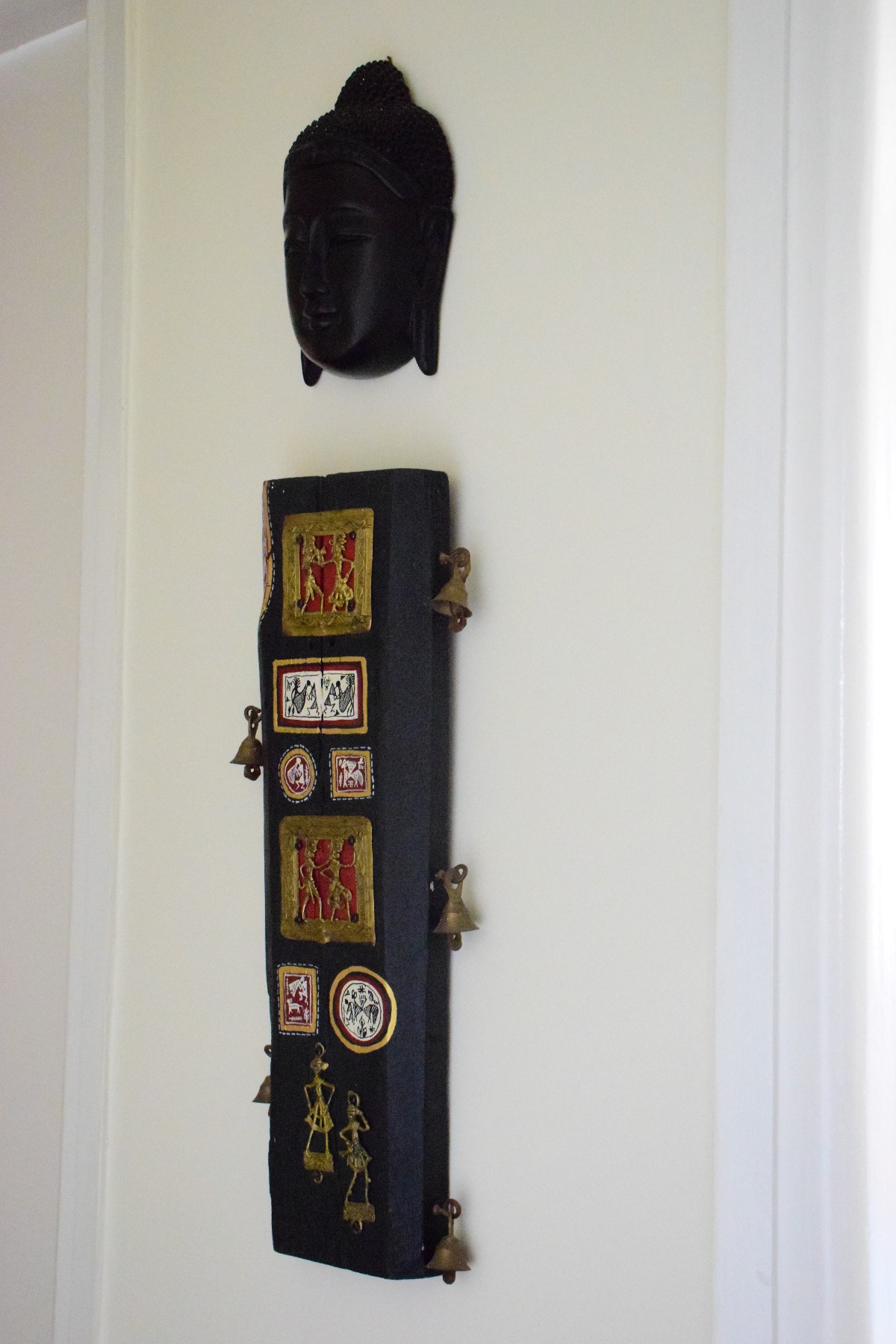 A black dhokra and warli plaque and a Buddha mask is mounted on the wall between their son Sid's room and the master bedroom.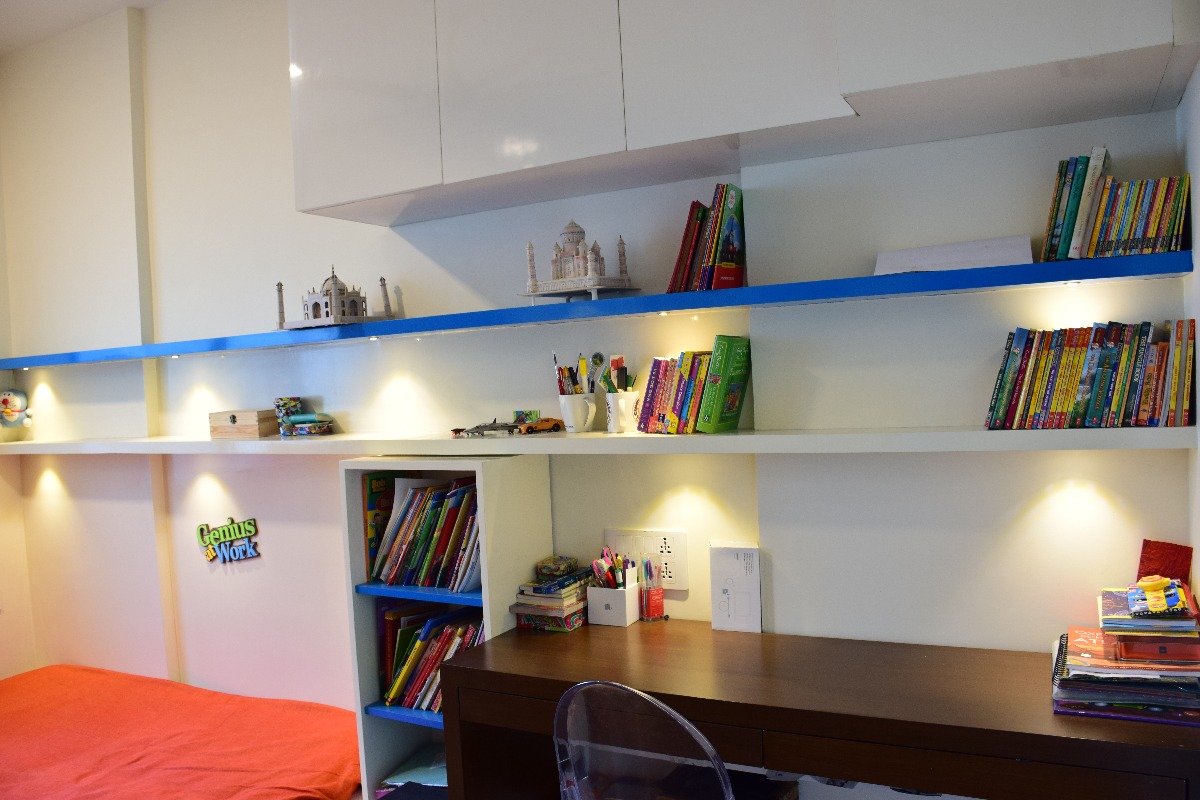 Siddharth's room has been done up in white duco with pops of bright blue and comes with lots of storage for his books and toys. The bed is low in height, meant for his safety while playing and also for easy accessibility to his books, stationery, and other supplies.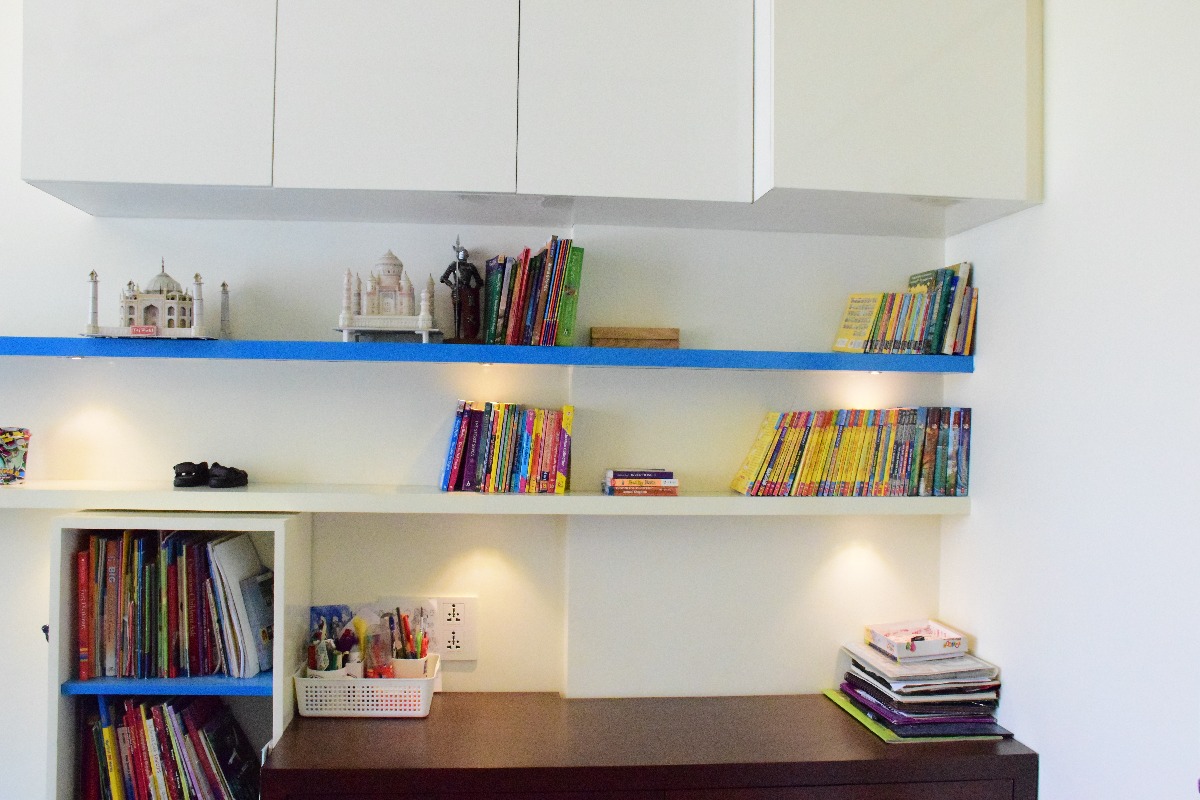 Another view of the book shelves and study table.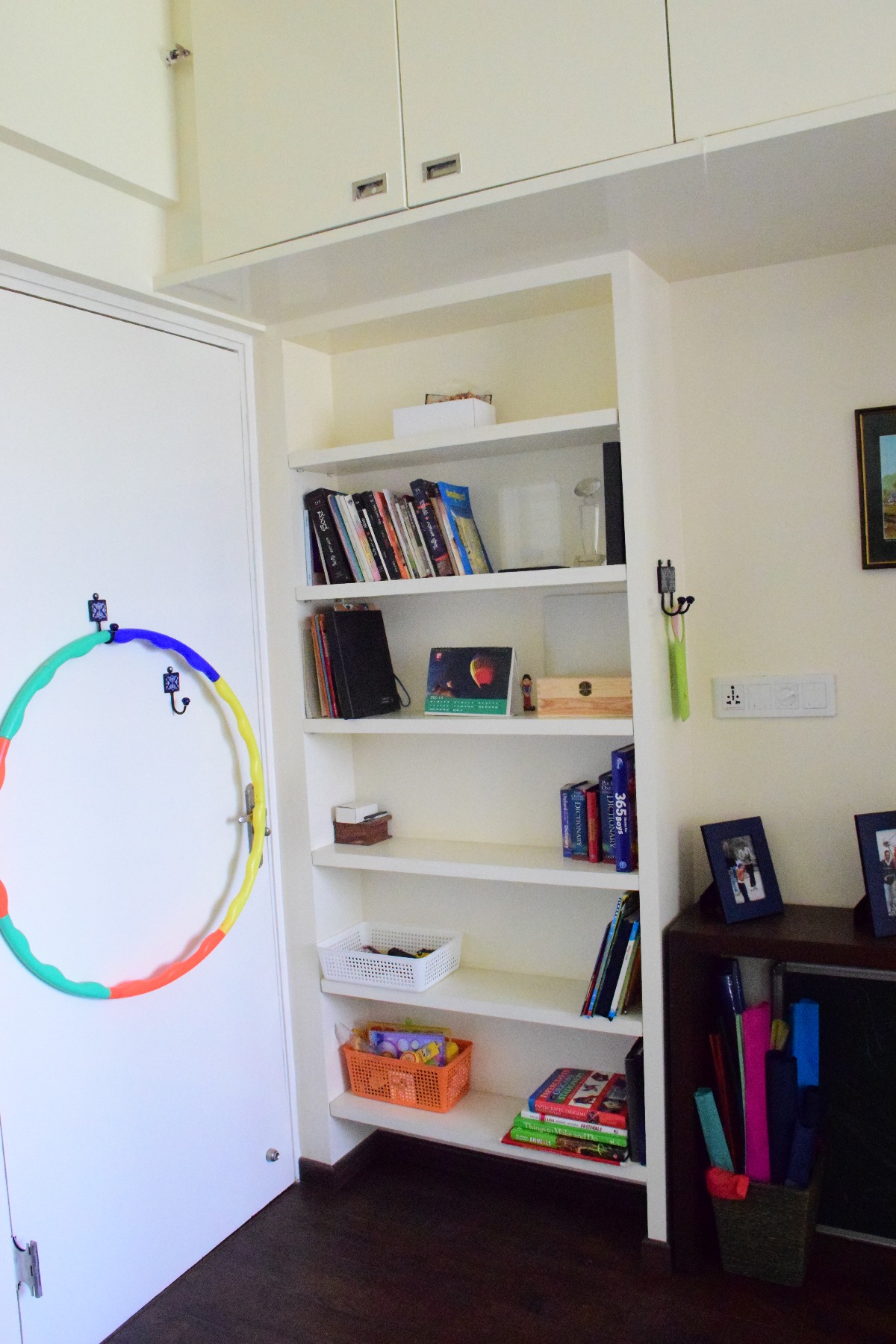 Shashi changed the position of the door in Sid's room to create additional space near the entrance.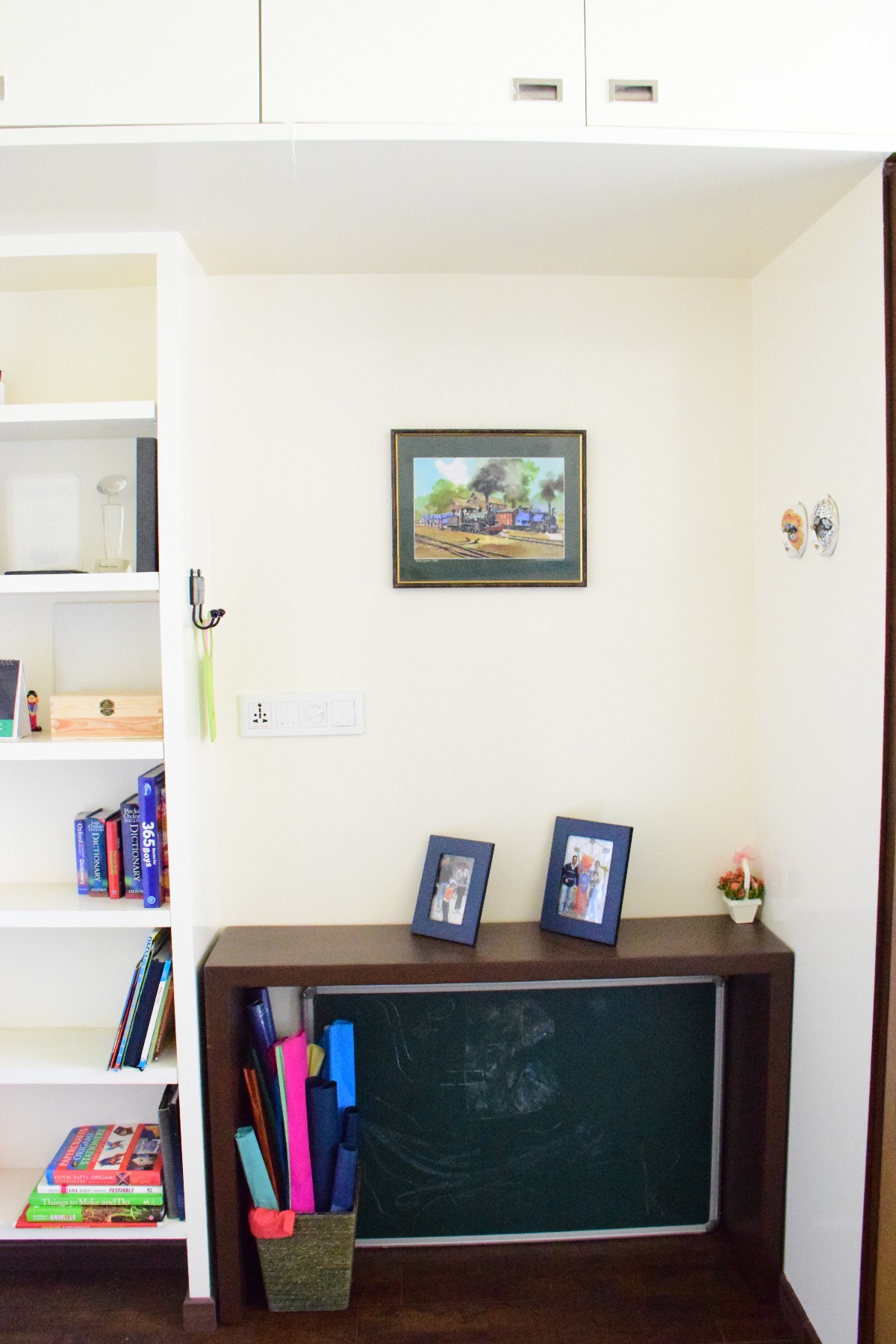 This console table is actually the legs of an old dining table which fits in perfectly into this niche and
doesn't
even look out of place! The space below the table has been used to store Sid's
colorful
craft supplies and his
favorite
green
board where he loves drawing and solving puzzles whenever he wants...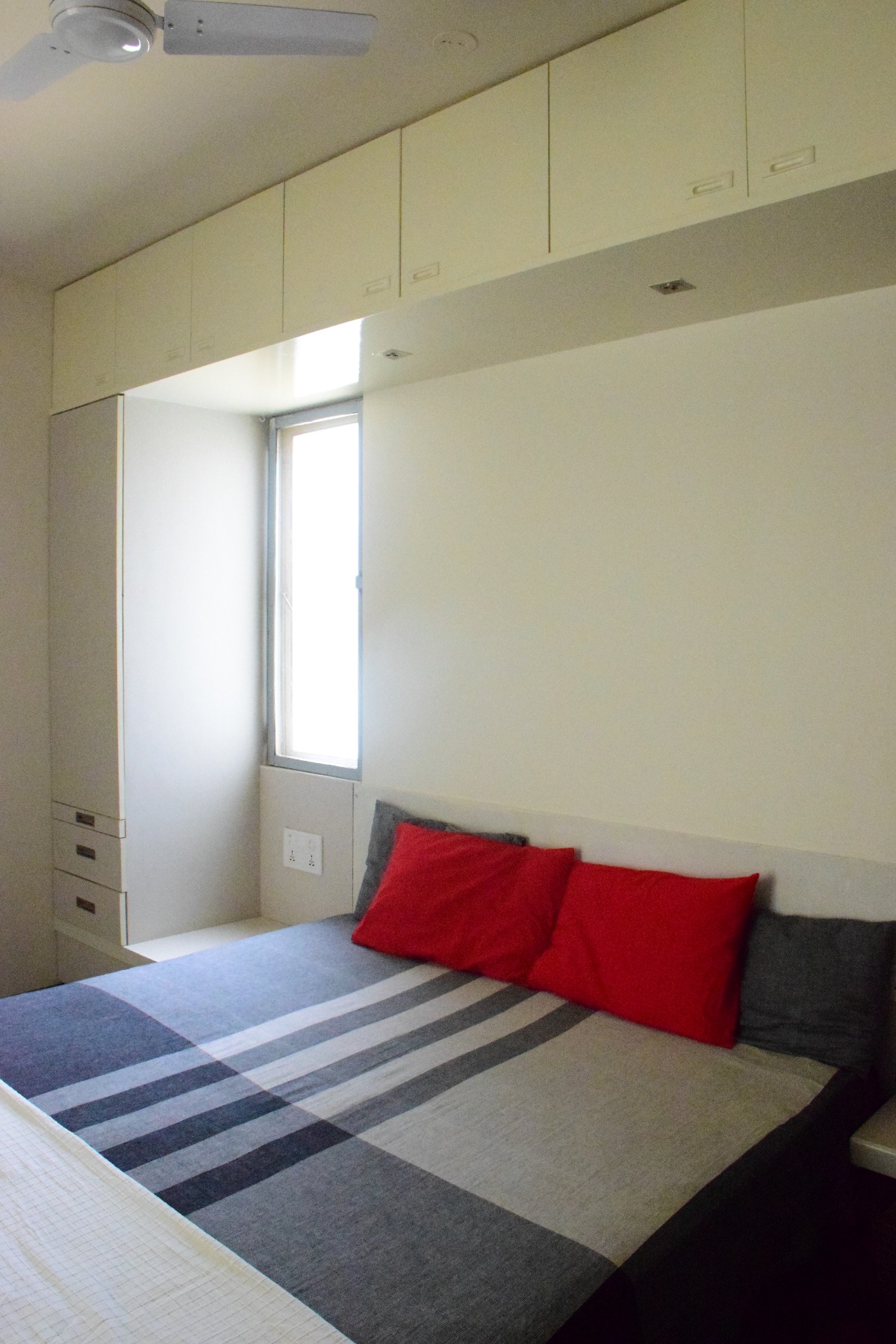 Shashi has used grey predominantly in the master bedroom with bright red pillows to break the monotony. She has also created storage space on both sides as well as above the bed in mixed patinas of white duco and dark veneer!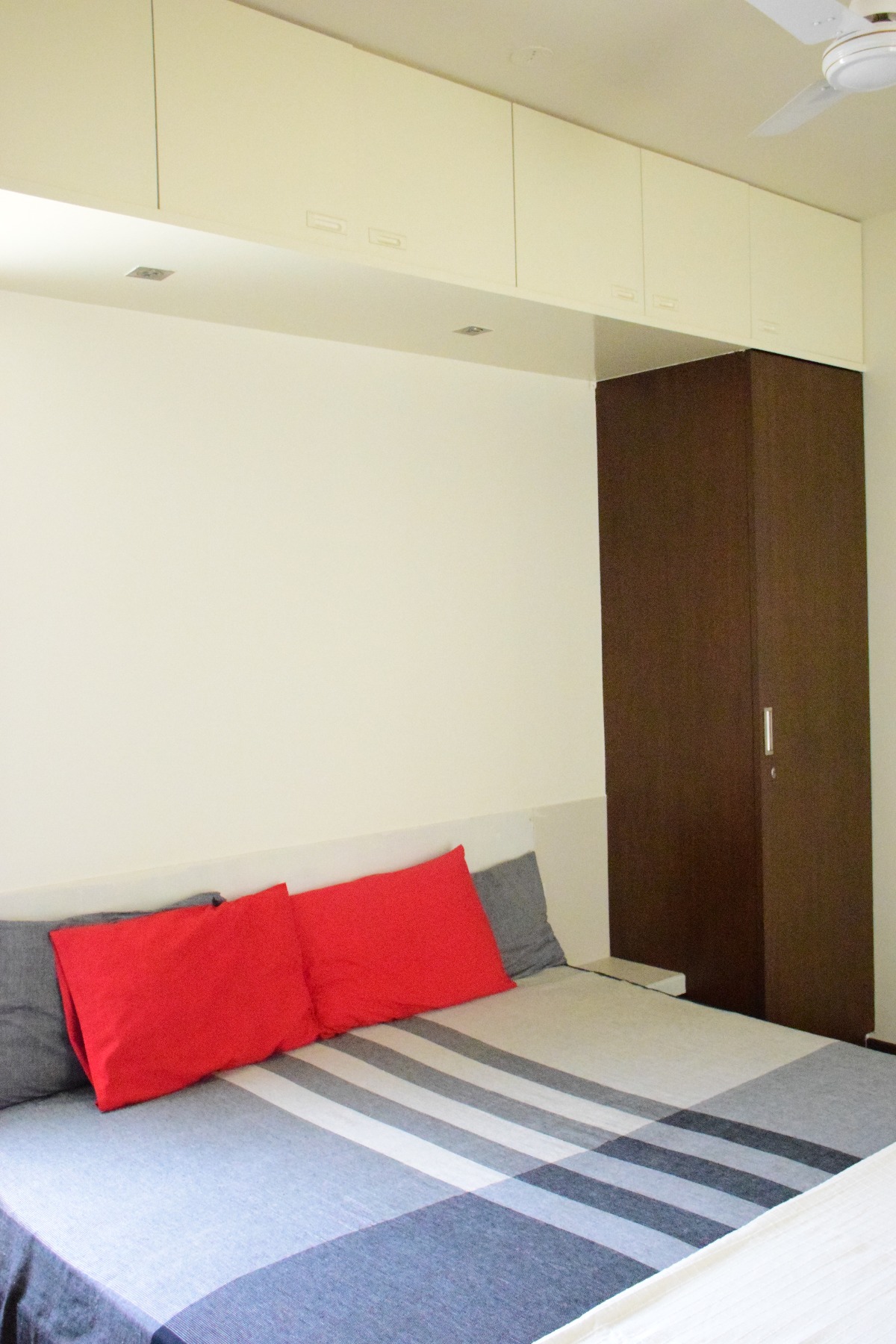 Another view of the master bedroom.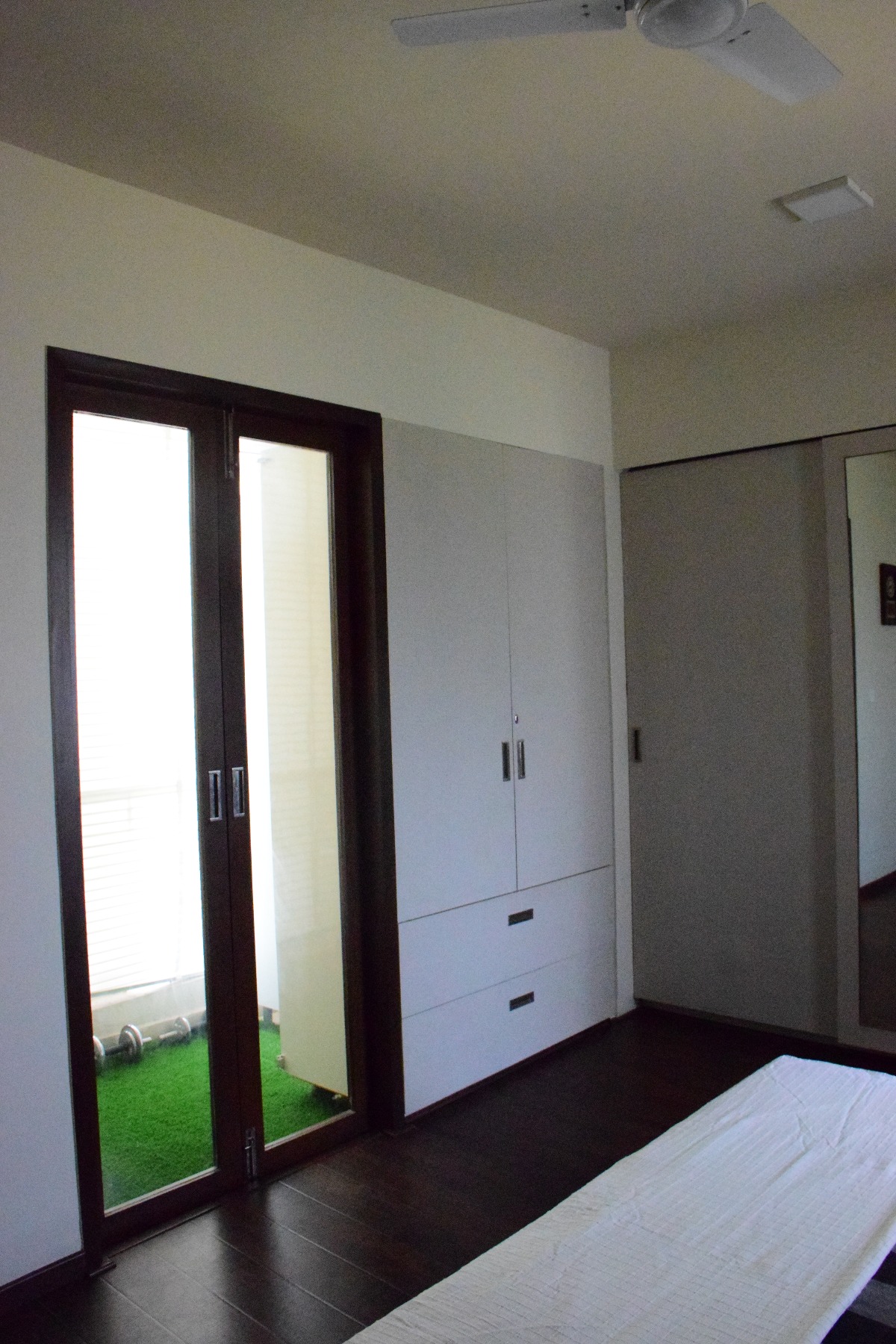 The bedroom balcony has been covered for extra storage space for bed and bath linens and additional sports equipment when guests are a visiting; an artificial green turf has been created especially for the balcony for a sharp contrast with the dark wooden flooring in the room.
Shashi's home is in every sense, chic, modern, minimalistic, yet has a rustic charm to it and is interestingly functional (what with plenty of storage options!) We loved it and we hope you will like it too. Let us know about your thoughts in the comments below.
Text and images contributed by Neha Agarwal