It is that time of the year where each and every family comes together to celebrate the arrival of Goddess Maa Durga all over India. The auspicious occasion is celebrated for 10 days at a stretch and people indulge into lots of good food, pandal hopping, family gatherings and parties.
It is that time of the year when each and every family comes together to celebrate the arrival of Goddess Maa Durga all over India. The auspicious occasion is celebrated for 10 days at a stretch and people indulge in lots of good food, pandal hopping, family gatherings and parties.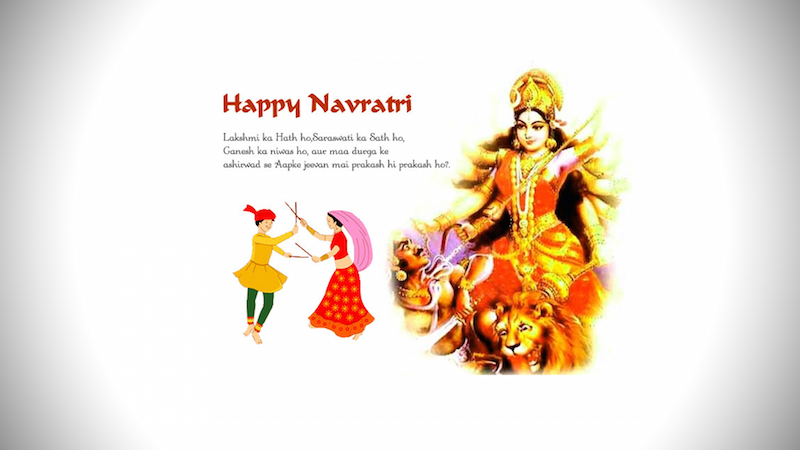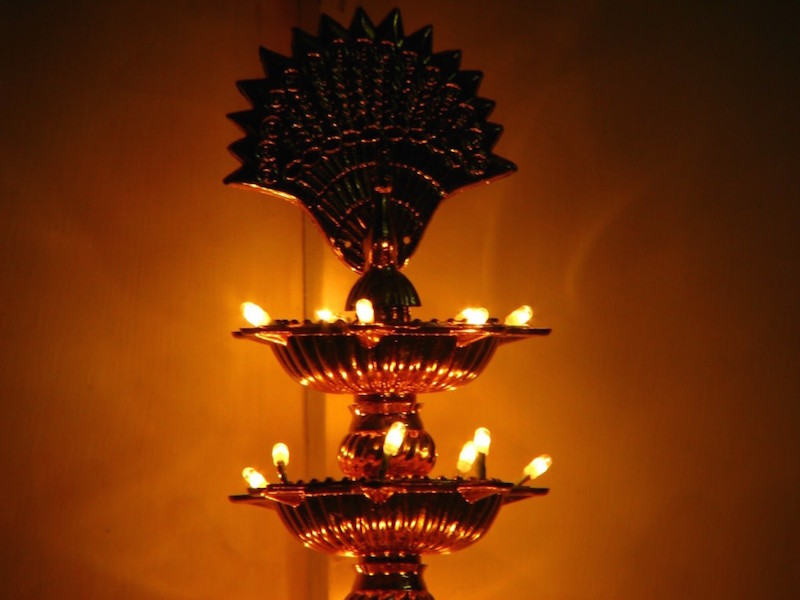 With the city streets decorated with lights and stories depicted out of them uplifts the mood of every individual and fills the heart with joy. During this festive season, families follow certain rituals that includes alpana/rangolis, bhog, flower decorations and more. The families together get along for shopping, making sweets like ladoos, pedas, kheer, authentic vegetarian dishes that are served as bhog after the pujas. If you haven't seen a durga puja or if you haven't attended a navratri night then you might be missing out on some real fun.
Here are few things which you must experience during Durga Puja and Navratri:
1. Pandal Hopping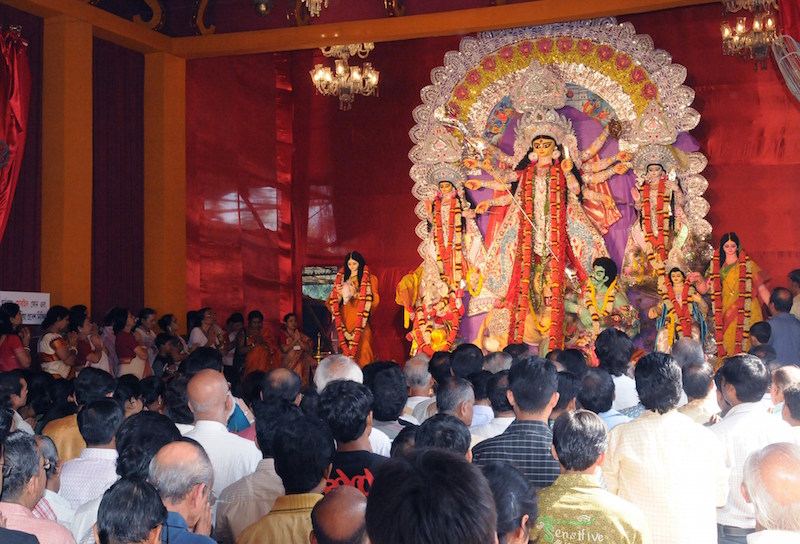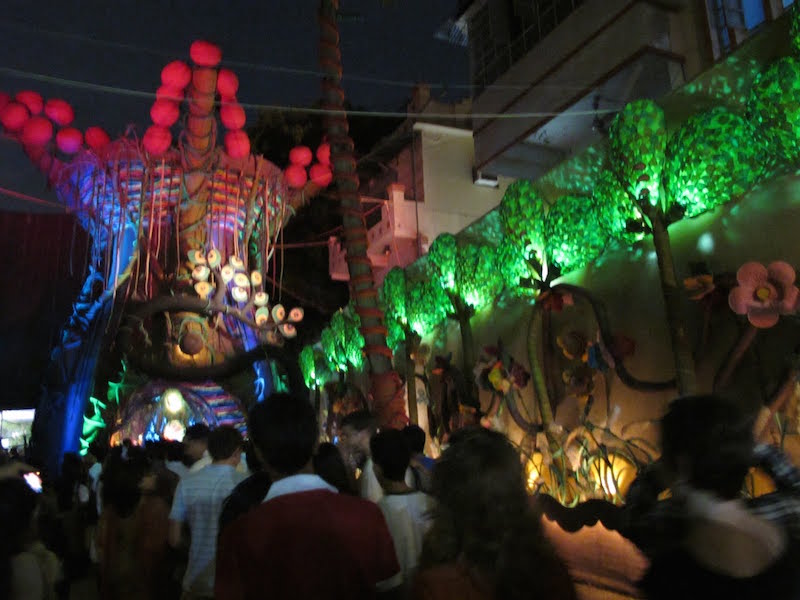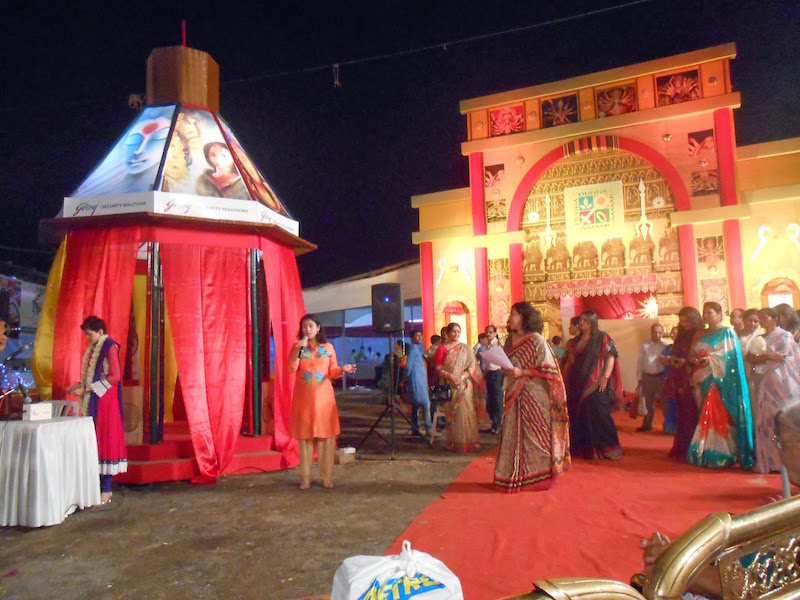 You must wander around the city especially in Kolkata to experience the beauty of theme pandals and authentic zamindar family pujas. It is totally a different experience that will blow your mind and give you a feeling of utmost strength. Travelling from south till the north then east to west , most pandals have unique features and their goddesses look different and gigantic.
The number of people on the streets will give you an idea of the reason behind India being the Second most populated country in the world. However, the diverse people around all together with one intention to praise the Goddess will give you all the more patriotic feeling. It might be over-crowded at places so be careful not to hurt yourself in the crowd. Experiencing the effect when people scream bolo Durga Maa ki strikes goosebumps and a fear for Goddess Shakti. You must reside to experience it and feel the shrill up your backbone.
2. Bhog/Prasad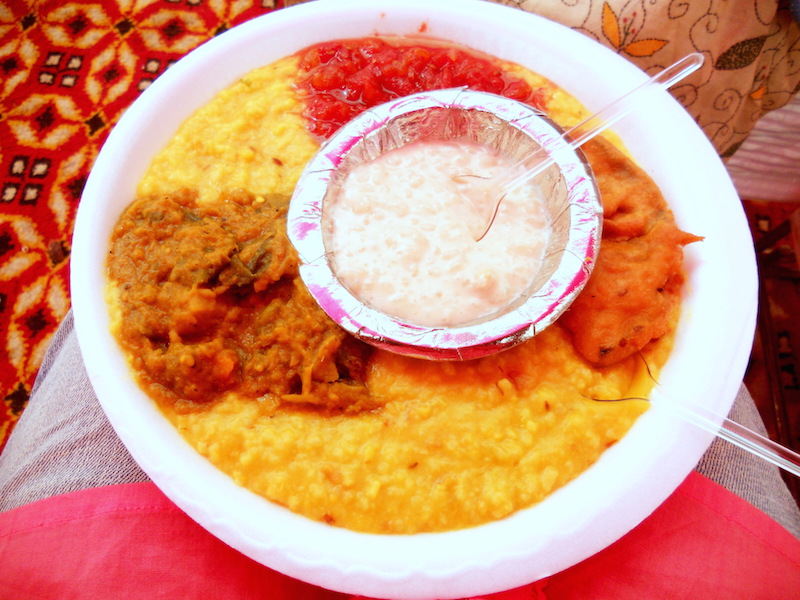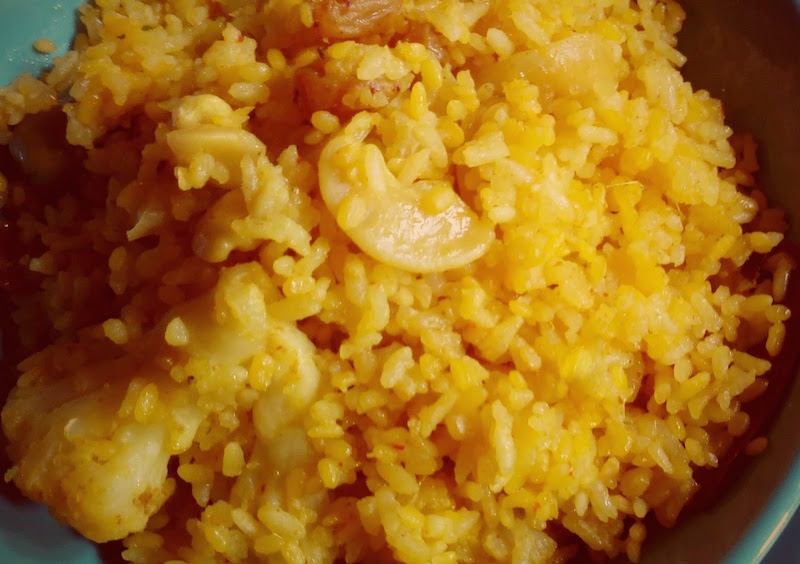 The bhog or prasad includes khichdi, mishti(sweet), and chutney either tomatoes or dry fruit mixed. The yummy khichdi smells and tastes devotional in honest words, if you miss this then your durga puja is incomplete. The aroma of incense sticks, flower scents mixes into the food and the taste completely changes giving it a different feel altogether. Banana Walnut Lassi. This you must have during navratri as it is one of the best nutrition filled lassi that people drink while fasting days. It is beyond explanation as to how it tastes, however it is a must have. Eating Kaati rolls. You will find stalls near to the pandals selling kaati rolls either veg or non-veg that is lip-smacking. You can ask the seller to spice it up more for you if you are a spice lover. You will not find the same tasting rolls in any other place in the world.

3. Phuchkas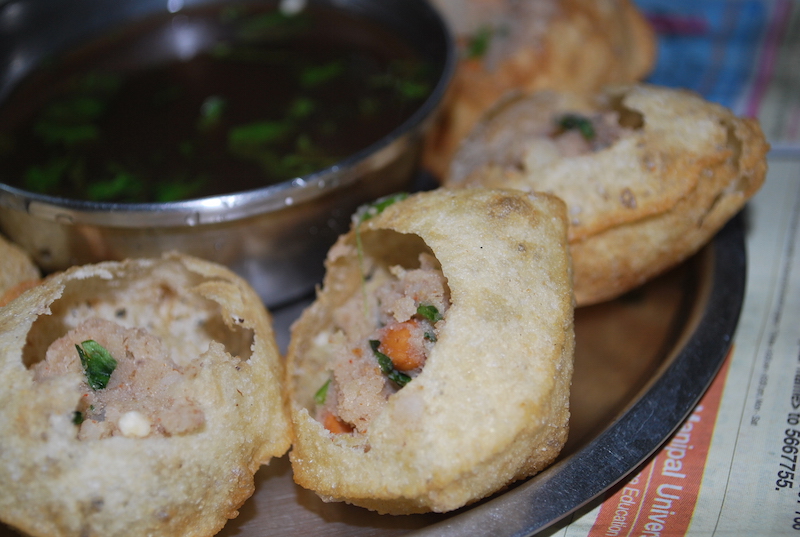 Pani puri that is called phuchka in kolkata is a must have! The mix of alu, chana, coriander leaves and other spice mixes brings out a unique taste which you will not find elsewhere. Vratwale Chawal ka Dhokla. During Navratri fasting, people often eat these white colour dhoklas that is made out of rice powder. The taste is magnum and very unique and a lot different from the general dhoklas that you find in shops throughout the year.
4. Dhunuchi Naach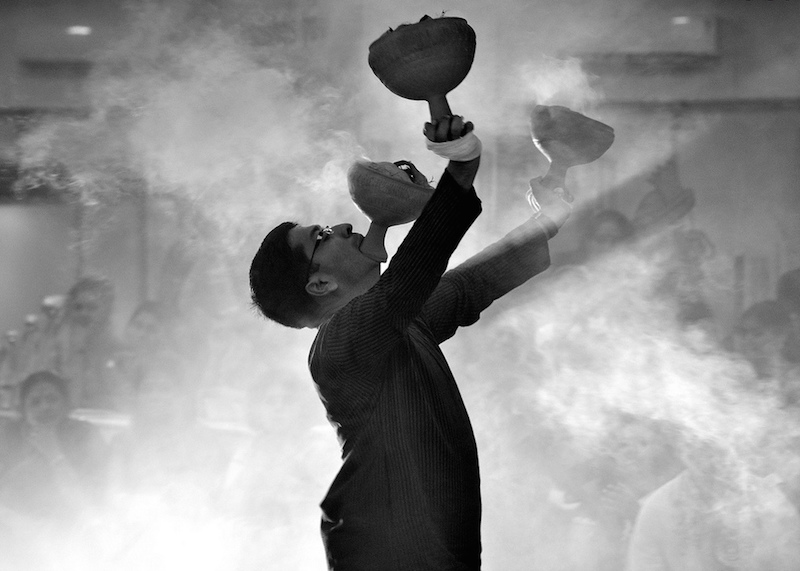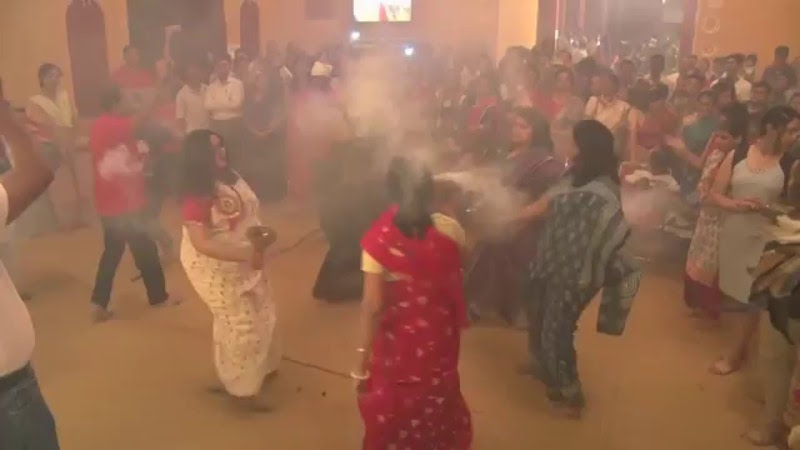 This beautiful tradition must be played with a competitive spirit, the dhunuchi is an earthen pot with burning coconut husk and camphor. You should take the pot in the hand and dance according to the beats of a dhaki, the one playing the drum continuously. It is a great feeling to dance in front of the goddess, it is made sure that no one is injured during this event. Mostly popular among the youngsters. Don't miss it.
5. Garba or Dandiya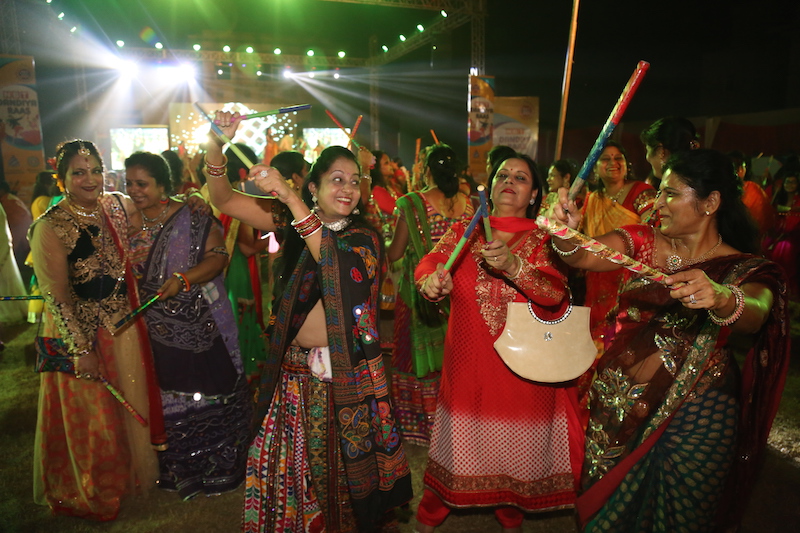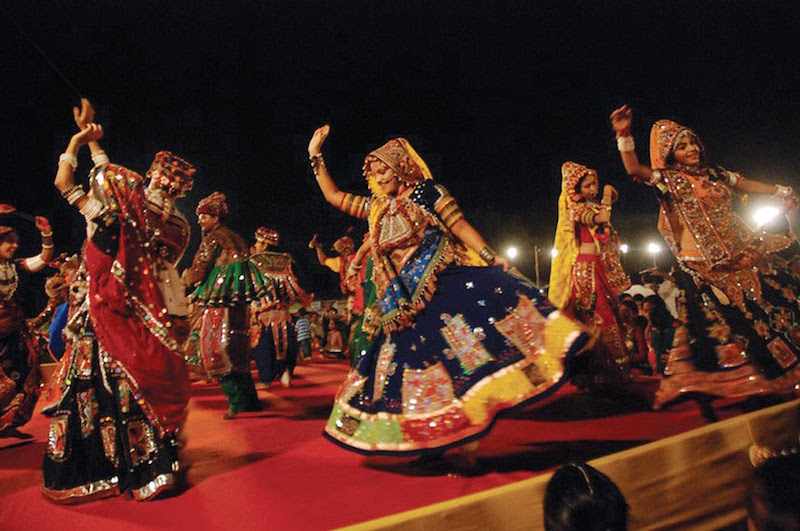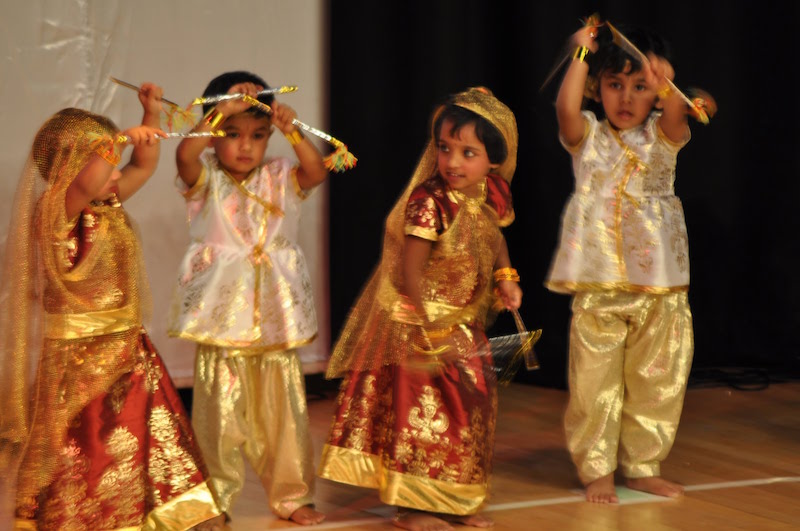 During Navratri, women and men come along and dance with two colourful sticks to various bollywood songs and gujrati folks. It requires a lot of energy to dance continuously, however women dance with mind-boggling energy even though they are fasting the whole day. It brings a goddess-like strength inside which gives more power to the dance. Their attire is alluring to the eyes because of the vibrant colours. So you must wear colourful clothes and dance along with the rest of the people around.
6. Rangoli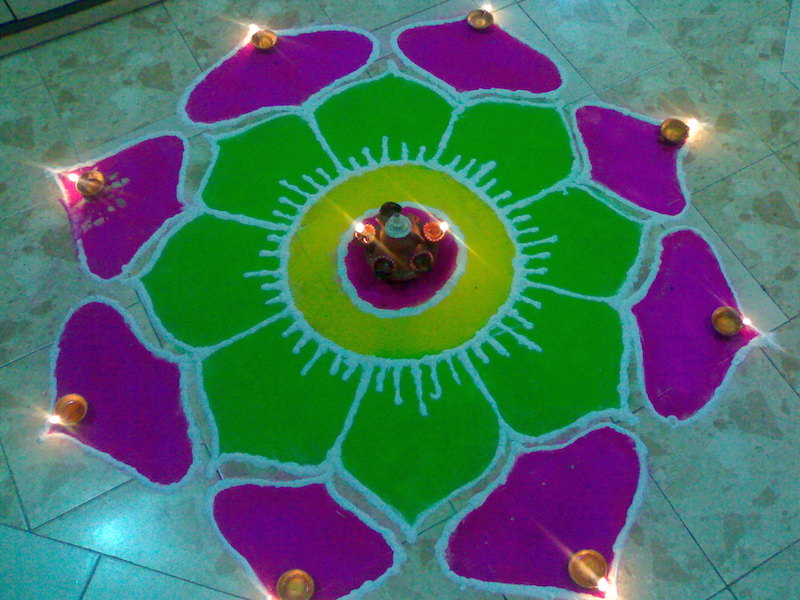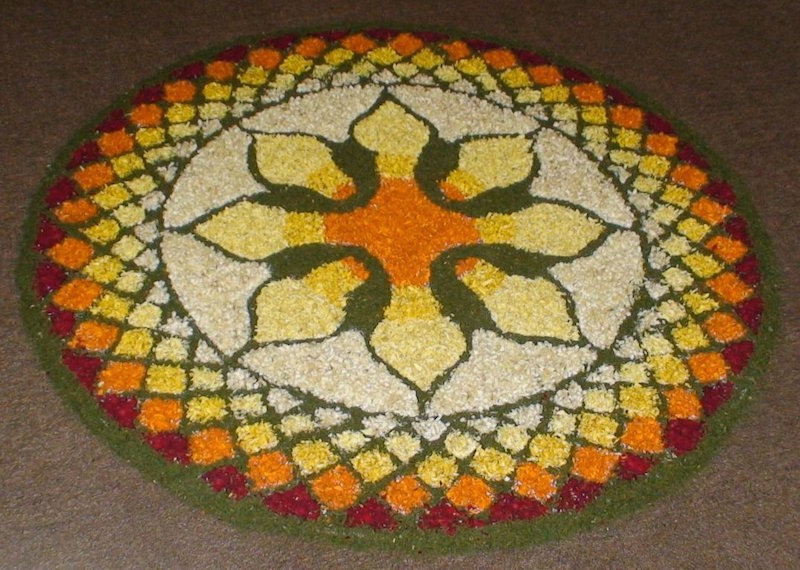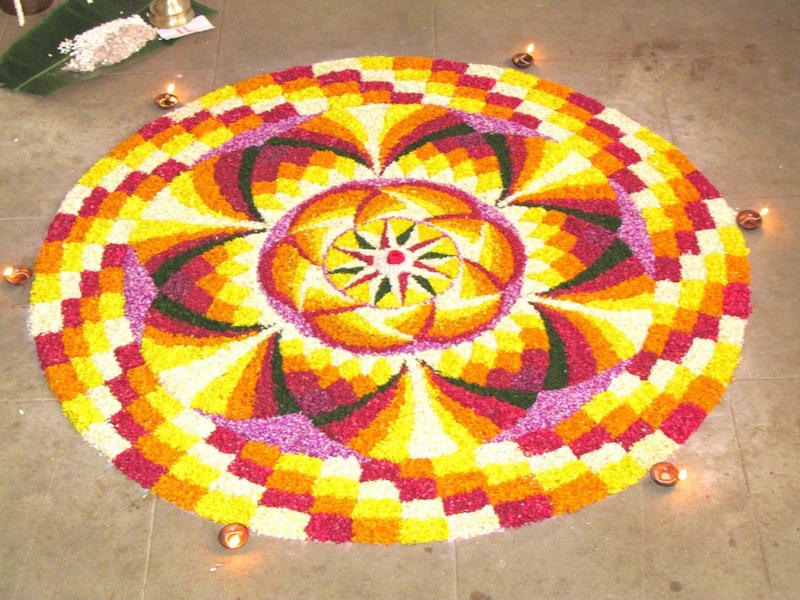 Every house or pandal puts rangoli during these festivals either with flowers or with rangoli colours. The creativity is shown in the artwork done by the ladies of the house or the association. Every person is invited to join the rangoli session. It is suggested that you must take part in it too, you can draw flowers, designs, etc with the colours based on your creativity. There are prizes too when it is held as a competition.
7. Sindur Khela/ Vermilion Play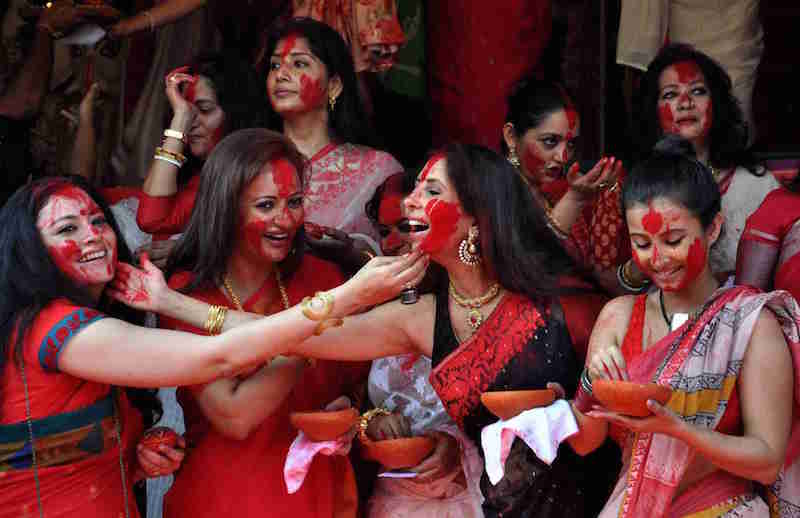 Last but not the least, before immersing the idol all the women with tears in their eye grieving for the festival to come back again, they play with sindur (the mark of a married woman) and bid adieu to the Goddess requesting her to come back next year again. It is a nostalgic moment for every Hindu believer to let go off Maa Durga, yet it is inevitable and again she shall come back next year. People greet each other with hugs and sweets before the immersion. So, do not miss the last but the best part of pujas.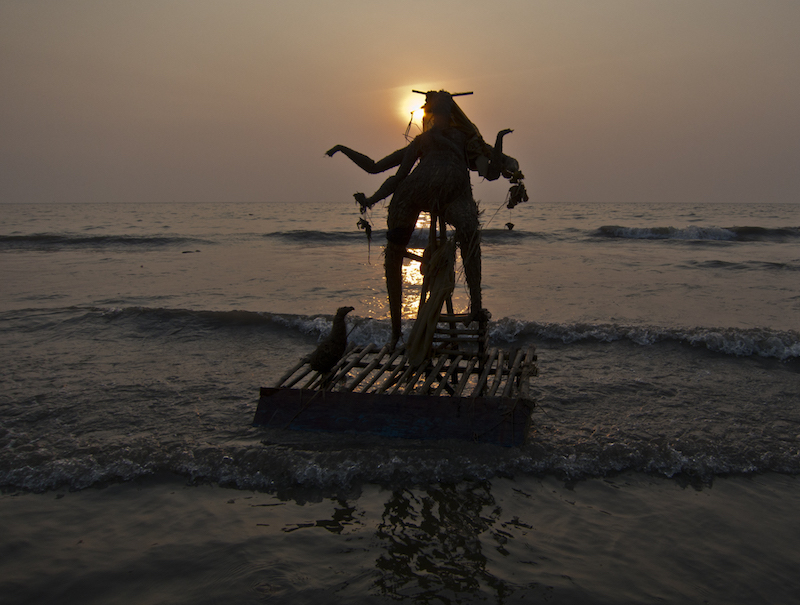 After doing all of these, hope you will feel accomplished to enjoy Durga puja and Navratri completely. However, the sad part might be that you would wish if it could continue for a few more days. Nonetheless, Maa Durga will go back to Himalayas and will be back next year again as always.
Credit: Olivia Roy Choudhury