A walkway can help define your garden, demarcate flowerbeds, and bring definition to your outdoor landscape.
A walkway can help define your garden, demarcate flowerbeds, and bring definition to your outdoor landscape. A walkway can lead your guests to an outdoor feature like a water fountain, a sit out or an entertainment area or just work as a border for various areas like between a kitchen garden, a play area and a formal rose garden.
Make your garden walkway fit in with your outdoor decor and landscape style by giving some thought to its style and design.
Informal Walkway
This style of walkway can curve and meander through your garden and will call for the use of unfinished, rough, natural materials like jagged stones laid out with grass allowed to grow naturally between the joints. This walkway is perfect for a landscape design that aims for a less structured look.


An informal walkway
An Alternative To Lawn
A combination of walkways, patios and planting beds can be used as an alternative to laying out a grass lawn. The walkway can be as structured and planned as you prefer to fit into your landscape. This style is characterized by all areas, other than plant beds, covered in a permanent finish or material that is low maintenance.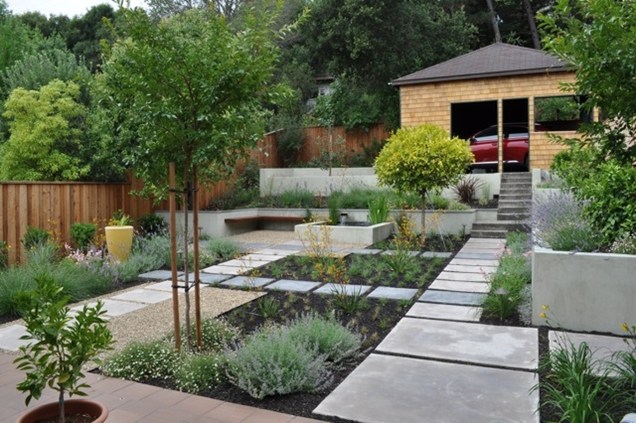 A walkway as an alternative to lawn grass
For example in the picture above, the areas other than the stone laid out for the walkway is covered in pebbles or other rough hewn natural stone and soil is visible only in the plant beds.
Country Cottage Walkway
A brick walkway is perfect to hark back to the look of a pretty cottage in the country side! Red brick walkways combined with lush green gardens are a picture perfect perennial favorite with landscape designers worldwide.

Raised Walkway
A raised walkway allows for movement around your garden without disturbing your plants or other formal arrangements, for instance in a meticulously laid out zen garden. Raised walkways are also a truly great idea for gardens that are in low lying areas and prone to flooding in the rains, especially if you have to cross your garden to leave your home.

Rustic Return To Nature
If you are trying to be environment friendly and grow a sustainable garden you will loathe the idea of a ton of materials, energy and manpower going towards building your walkway. You can take the recycling route to create a truly eco-friendly convenience in your garden! Instead of paying to transport a dead tree from your property, have its trunk sawed into rounds and lay them down as a rustic pathway between garden beds as shown below.
A rustic walkway created with wood
Decorative
If your garden path or walkway leads to your formal front entrance, dressing it up to match the formal front door isn't a bad idea. A patterned mosaic walkway made with pebbles of different colors creates a functional yet decorative walkway to complement the character of your home.

Walk On Water
A walkway over a water feature is a wonderful alternative for a small garden conversion or a narrow or awkwardly shaped outdoor area. Although admittedly a bad idea for homes with little children due to safety considerations, this option can take the attention away from the small size and awkward shape of an outdoor area while simultaneously creating a dramatic feature as a statement entry point to your home.
A walkway over a water feature
Walkways are often ignored when landscaping a garden even though they are the best way to direct traffic around your outdoor space and keep people off your flowers ans lawn. Many elements go into planning the perfect walkway, but choosing a style for your garden walkway is a good place to start.