Construction, Architecture & Renovation
Why Does Your Office Renovation Project Require An Architect
Discover the important role an architect plays in your office renovation project. From design and planning to code compliance and cost efficiency, learn why hiring an architect is essential for a successful and efficient renovation process.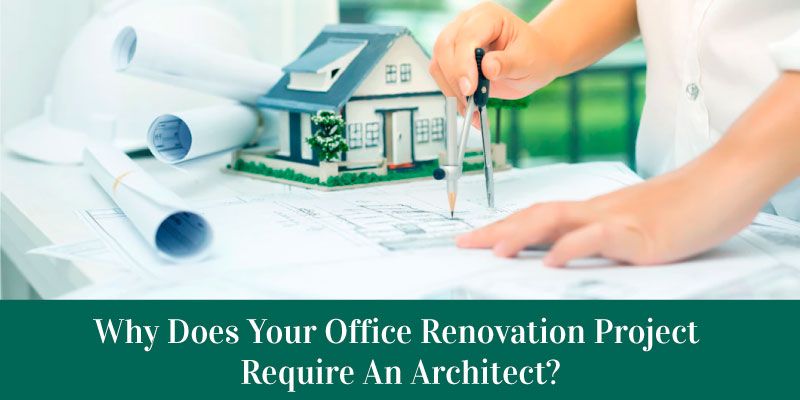 An architect is the designer of every contemporary office. Whether it is a small boutique space for small business owners or a large corporate establishment, an architect is the ultimate guide whose vision and ideas bring the real differences in the project. Office renovations can be both stressful and stress-free. Do you know what makes the difference? It involves hiring the right professionals for the job.
When You Must Use an Architect
If you are planning a major renovation you will need to use the services of an architect. The renovation can include reestablishing your office by repairing the current space and adding new pieces to the plan. Besides hiring the right company to do the renovation project, you also need an architect. An architect can help ensure that your project follows local building codes and regulations. In addition, they can provide helpful design advice and make sure that your project is feasible given the existing structure. Here are the details when your project requires an architect's interference.
Renovating Walls, Electrical, and Plumbing
You require an architect when you are removing or relocating walls. Removing or relocating walls during a renovation affects plumbing counts and requires approvals.
Managing a Project
Your architect acts as your representative during your office renovation project. The professional follows the project to ensure that the contractor follows the drawing and the result is what you approved.
If you built a new home in Bangalore, and require interior designing, search with terms like "reputed home interiors Bangalore near me" online, and talk to the experts.
The Best Way to Locate an Architect for Your Project
You must consider certain parameters to find a suitable architect for your renovation project.
Seek references
The best way to look for an architect is through referrals. You can take references from your friends, relatives, and neighbours who recently carried out office renovation. They have first-hand experience with the architect and save you from the research work.
Conduct extensive research
When you fail to receive help, extensive research helps you find a suitable architect. Visit the architects' profiles and websites to check their portfolios. It will give you an insight into their designing techniques and domain knowledge.
Speak with them
After shortlisting a few architects, meet them personally, and discuss your office renovation work. Determine their styles and techniques and see if they suit your requirements.
Compare prices and design.
When choosing a suitable architect for your office renovation project, meet and speak to more than one architect and compare their works. Before finalizing an architect, consider your overall budget and their fee.
The Function of Architects in House Remodeling Projects
Employing an architect for your office renovation is an intelligent thought. It is for these reasons:
Big Picture
An architect has the experience and helps you sort the type of configuration that would work for your space. They will create a detailed plan based on your requirements keeping the property's current construction in mind. Besides, they have an eye for the little details in each progression.
Collaboration
An architect can see the view and knows what's best for your office. They easily collaborate with the contractor and other professionals, such as HVAC and structural professionals, to go over your plan so that everyone agrees. Moreover, they understand the contractor's code words and language. Therefore, in case of any issues, your architect will allude to their drawings and find the best solution without compromising.
Management
When you sort a plan for your office renovation with your architect, you are in charge of how elaborate the architect is with the development. You can also work with them to plan the schematics or with the subcontractors to create a plan for getting the work done.
Does your Bangalore home require an interior makeover? Then, search online with terms like "best home interior designers in Bangalore" and speak to the professionals.
Call an architect when you need to renovate or remodel your corporate office. You can customize the idea of a new commercial space taking help of a renowned and experienced architect.
If you are in search of the best professional, get in touch with HomeTriangle. We will be able to connect you with hundreds of reliable architects from the network of professionals in the city. Just choose your location and budget and we will help you find the right person for the renovation of your office spaces.
Also Read: HomeTriangle Guides: Your Architect And Your Contractor