Interior Design, Painting & Decor
Home Gym Ideas for Compact Spaces: Create your very own Workout Room
Tired of taking out time to go all the way to the gym? Set up your own budget-friendly gym at home and add your workout smoothly into your daily schedule!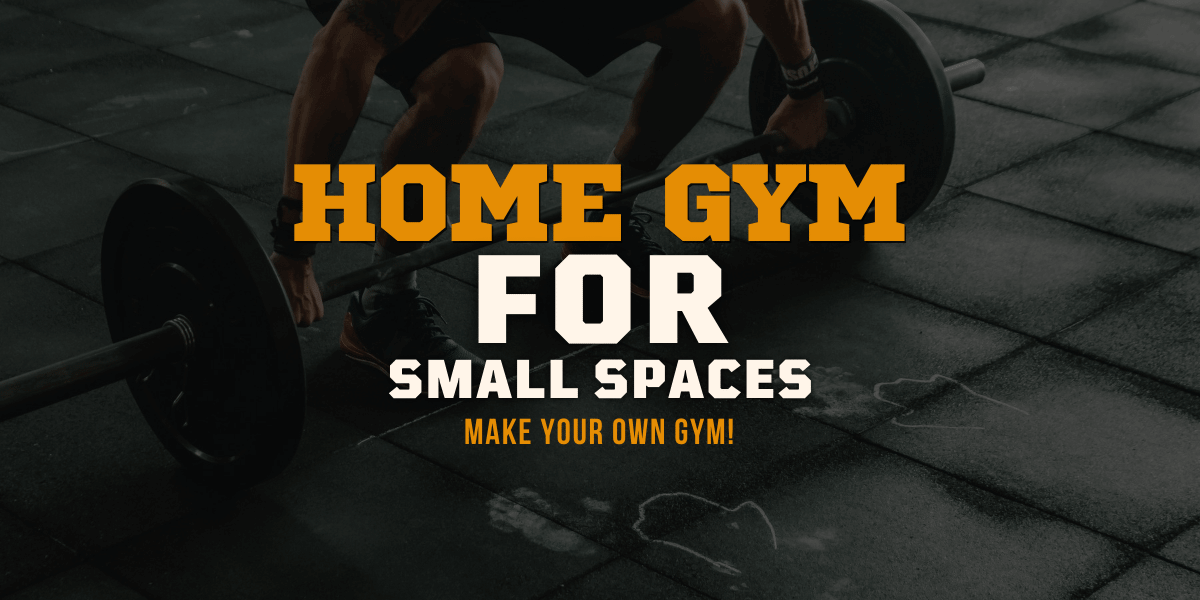 Whether it was due to lockdown, crowded gyms, covid scare, tough time management, or expensive membership but a lot of us have not been able to regularly add a gym to our routines. If you've been working out on your own at home and need an upgrade, worry not! HomeTriangle is here with easy steps to make your own Gym in a small space right within your house!
Well, workout is ultimately what it is, however, the right environment will make it ten times more effective be it physically your body or your mind! With a little creativity and planning, let's do our little DIY Gym at home.
Two biggest concerns, especially in India, with Home Gym, are that it is very expensive and that we do not have enough space in our house, no attics or basements or garages. Through this read, we hope to solve both your problems so, in the end, you can make your own gym space at home. You can have some mental peace, put on your own music, use the equipment for as long as you want and be as comfortable working out as you'd like.
Quick Tip
When you're tight on budget, pick things to do slowly and one by one. Eventually you keep updating your Gym to your liking and budget!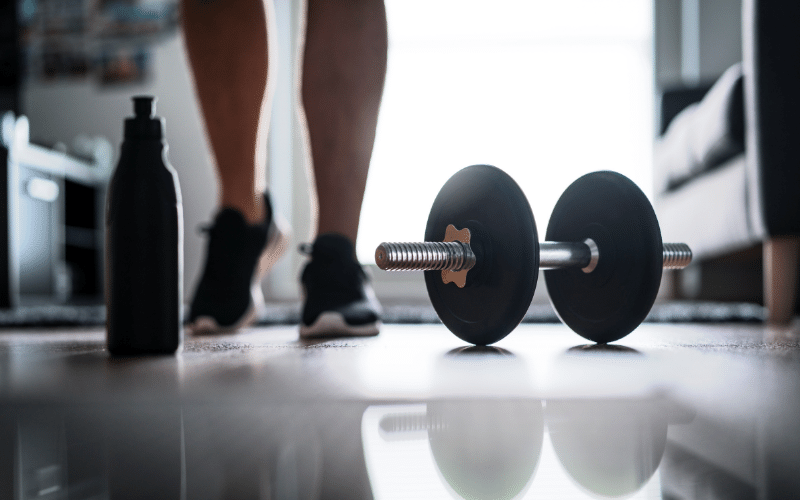 Let's Get Started!
Firstly You need to decide what space you need to use, you could turn half of your study, a part of your terrace or open balcony, your spare bedroom, or any other space that you wish to use.
How Do you know you have enough space?
If you can lie down flat with your arms and legs stretched out and still not hit anything, you will know you have enough space for your basic gym, the rest of the space depends on the number and size of your instruments.
Secondly, you need to know how to efficiently utilize that space for your gym, so let's get to it.
Gym Space Design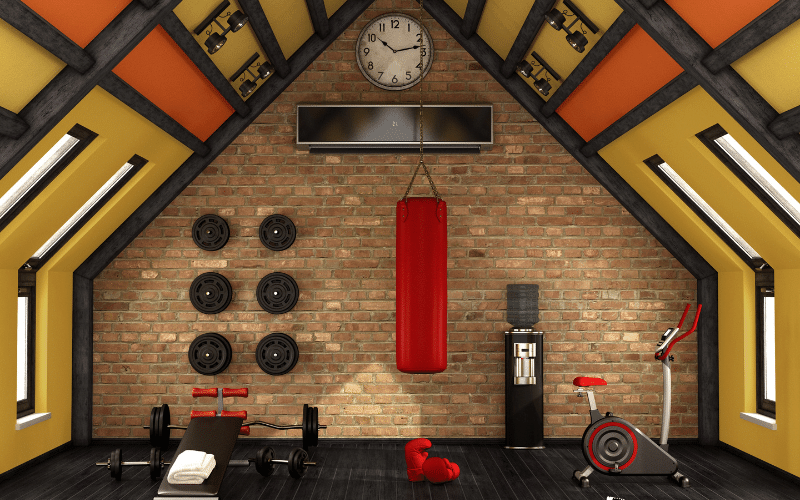 Flooring
Might not be the first thing that comes to your mind when you think Gym but it is very important, you will not want to slip and break your bones while building your muscles. You also don't want to harm your floor and break the aesthetics by dropping your heavy lifts, so be wise while choosing the flooring.
Wooden flooring is usually recommended, however, to avoid damage, you should add mats to your floors.
Quick Tip
Do not use carpets because as nice as it sounds, they might start stinking after accumulation of sweat and ruin the ambiance often.
Window OR Windowless?
If you are a fan of open spaces, fresh air, and a view, choose a place with a balcony, terrace, or a huge window. If not, a Windowless gym is also not a bad idea. It will be compact, personal and will provide you with as much privacy.

Quick Tip
Keeping wall colors light lessens the visual weight of the room and it feels less enclosing and stuffy

Read: How To - Decorate Window-less Rooms
Shelving and Storage
Always make room for storage. From weights to resistance bands to yoga mats, have space for everything. Oh and? Do it smart.

Here are a few storage tips for small rooms:
Keep your storage racks vertical and compact so you do note up taking floor space.
Make use of the walls as much as you can.
Get a fold-able rack.
Get wall-mounted hooks for resistance bands and skipping ropes.
Keep your equipment compact and multipurpose.
Think how your larger equipment van becomes storage for your smaller things.
To read more on how to Revolutionize Small Spaces With Foldaway Furniture click here
Mirror
Always remember, mirrors make small spaces look larger. If your room is small, try adding a mirror to it. It will also drive motivation and add aesthetics.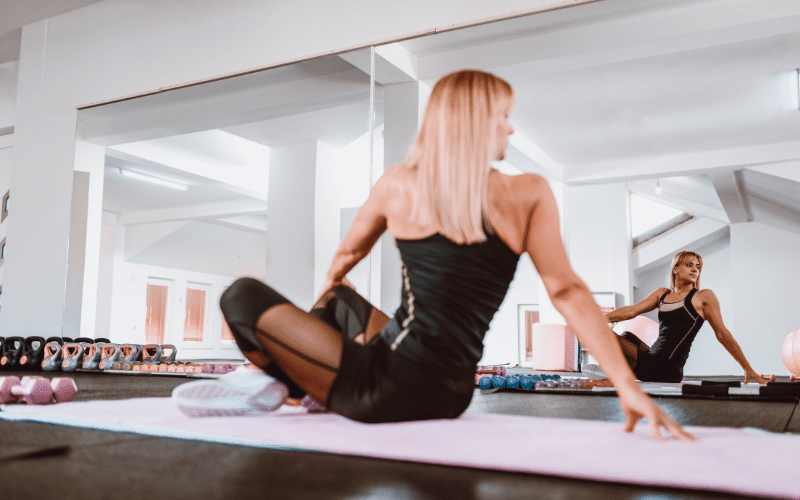 Motivation
Nothing like motivation put up on your walls, Find your perfect motivational quotes to add that pump and energy in your home gym!
You could also consider adding a Chalkboard for further motivation!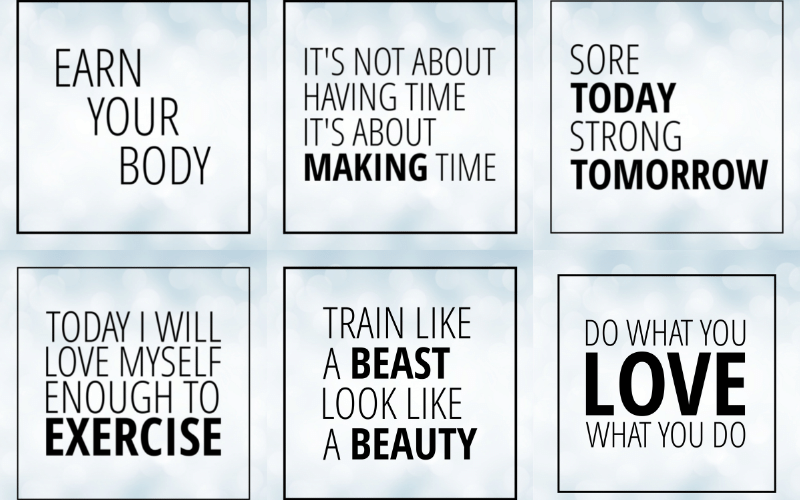 Gym Set Accessories
The Gym equipment and items you would use in terms of equipment and instruments would depend on your workout style, down below is a list of must-haves.  
Yoga Mat
So you do not slip or worse ruin your flooring!
Pull-up Bar; Medicine Ball; Ab-Roller; Resistance Bands
Definitely add these, extremely convenient and can be used for multiple exercises, not so expensive too.
Dumbbell Set or Kettlebell Set
Takes less space and helps work out in most ways.
Treadmill/Stationary Bicycle
Little expensive but very good for the long term.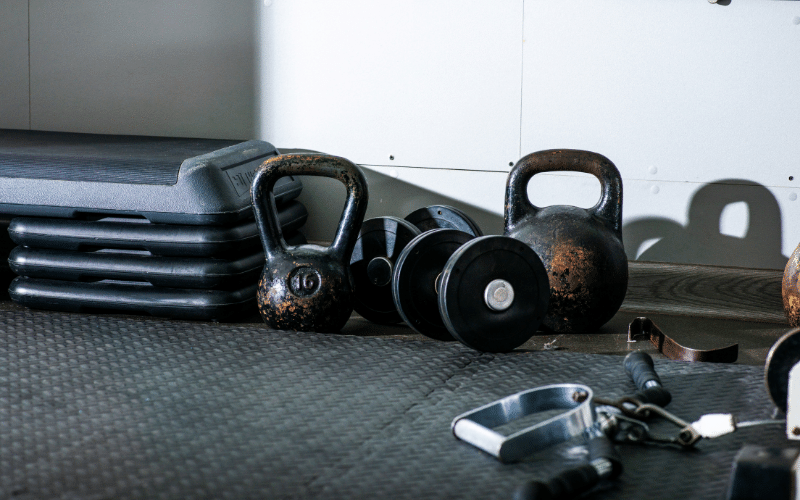 Ventilation
Especially if you do not have windows try adding a fan or some kind of air system to your place.
Music
We do not expect you to forget this point yet, remember to arrange for some kind of music with speakers, system, TV and so on.  
Perhaps you can plan to get an interior person to get your work done quickly and smoothly, check HomeTriangle for these services