The Ultimate Guide To Installing Wood Fence In Your Property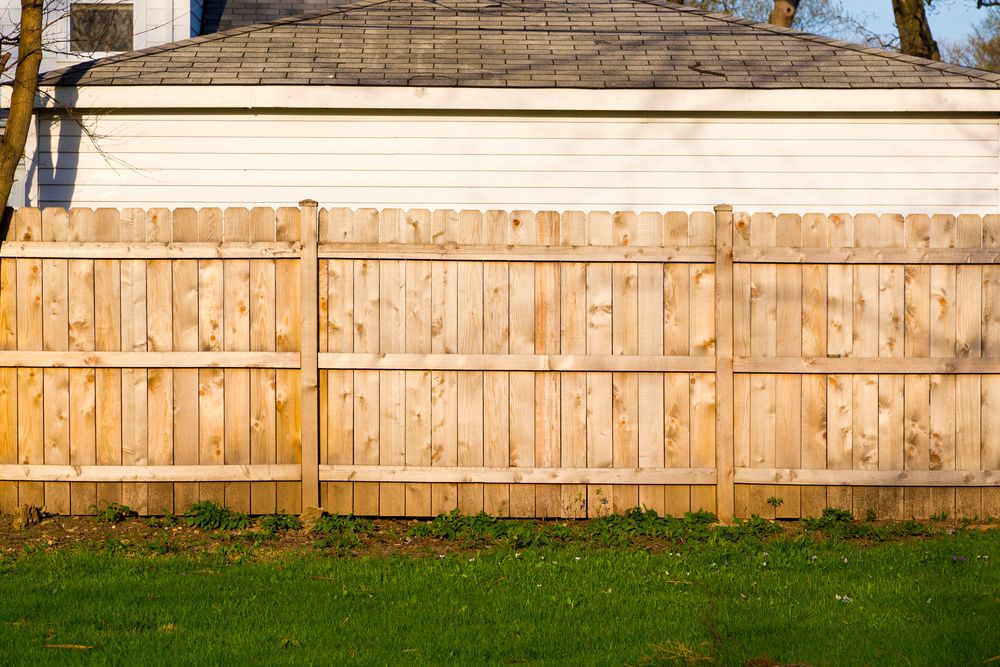 Fences can keep you secure and safe for multiple reasons. They set solid boundaries on your property to deter trespassers. They also prevent strangers from lurking around your home. Moreover, they shield you from unwanted noises and sights and improve your property's curb appeal.
If you want to protect your privacy effectively, it's a must to enclose your property with a fence. You'll surely agree with that and are probably considering installing wooden fences. The only problem is knowing how to do it properly. Worry not, as this post will tell you how. Continue reading.
Choose The Type of Fence You Need Or Want
There are many types of wooden fences in the market. Depending on what you need or prefer, there's a type or design for you. Here are some of the most common and popular wooden fence types:
Fence Panels: These panels are often six feet high, which makes them an easy choice for those who don't want to worry about building codes. They can guarantee your privacy; after all, seclusion starts at 6 feet.
Picket: If you're property's in a suburban location, picket fences would be one of the preferable options for you. They're often four feet tall, and they're easy to install. They're also inexpensive, making this type the most economical to acquire and the fastest to install.
Post And Rail: Post and rails effectively keep livestock and kids within your property. However, it's not for everyone. But if you need something easy to install and cheap, consider this.
Composite: This type is made from wood and plastic materials. They're sturdy and won't rot quickly. If you want something long-lasting, this is the perfect choice for you.
Those are four of the many wooden fence types or designs you can install on your property. Remember, decide based on the purpose, budget, and characteristics of the fence you want to erect.
Plan The Fence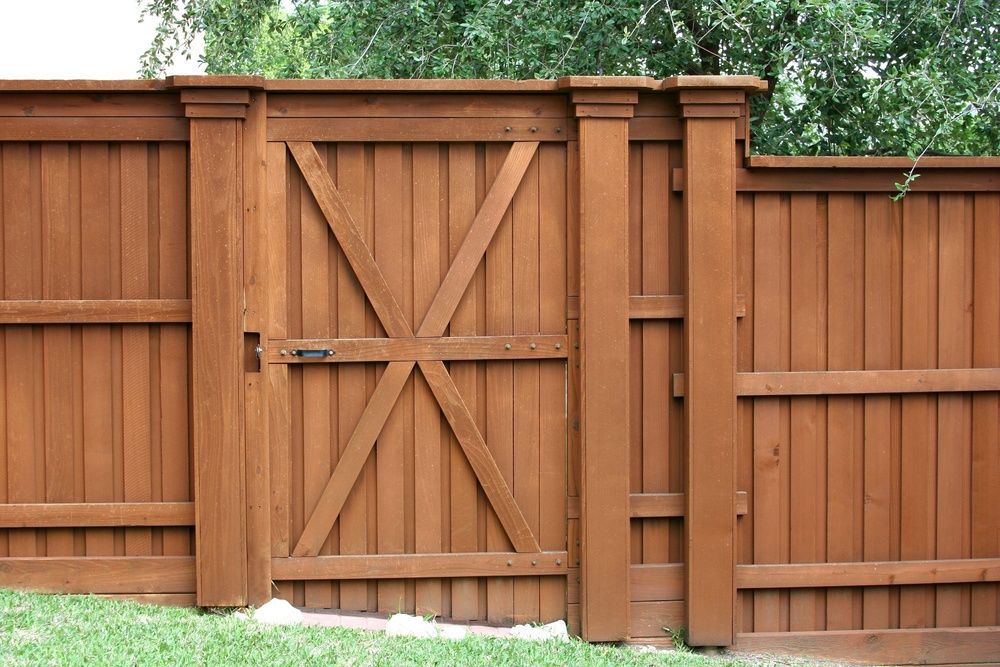 Of course, you need to plan how you'll install your fence. Thankfully, it won't take a lot of your time, as the steps to drafting one for your property are relatively straightforward. Some of the things you need to do are the following:
Take measurements of your property's perimeter.
Choose the type of wood or material for your fence.
Take a sample of the material and check if it goes well with your property's aesthetics.
Estimate a budget for your fence or get quotes from contractors.
Talk To Your Neighbors
After taking the previous steps in planning your project, talk to your neighbors. Remember: not all people are comfortable with neighbors erecting a fence nearby. Some may even get paranoid and think that people are isolating them. Don't forget to consider their thoughts and opinions before starting with your fencing project.
Another thing to worry about is your property lines. As much as possible, you don't want to put anything outside these lines as you may suddenly deal with disputes with your neighbors.
Communicate With Your Community And Utility Companies
Aside from your neighbors, check with the local community. Some communities may require you to acquire written permission from all of your adjacent neighbors first before you can build fences or renovate your home. And during the planning stage, be sure you're not going to construct above property easements or where utility lines are located.
To ensure you'll not accidentally strike any lines, call your local utility locator. They can often locate the lines for you free of charge. When they find the lines, they'll often mark them with spray paint, which is easily washable and removable.
Do The Installation During Summer
Setting up your wooden fence when the weather is warm and dry would be best. You wouldn't want to deal with the frozen ground or hit any plumbing as pipes can be fragile during cold weather.
Moreover, start the installation at the beginning of the dry season. After all, doing this fencing project of yours can take a while. It can also be arduous, especially if you have a big property.
Choose The Right Wooden Fence
Different trees have different wood qualities. For example, posts made from heartwood are advisable for fencing in urban areas. They can last up to two decades with little to no maintenance. However, if they aren't available locally, you may want to consult fence firms to know which type of wood is best in your area.
Another option you have is pressure-treated wood. They are heartwood with an additional layer of sapwood. However, the downside to pressure-treated wood is that not all lumberyards provide consistent quality. Only buy from a reputable source. Also, ask if the wood is okay for ground contact. Not all pressure-treated wood can be used as fence post material.
Prep The Fence
Your fence posts will be under a lot of abuse due to different factors: rain, sun, weight, and impacts. Because of that, you need to prep them before erecting them. The prep work guarantees that they will last a long time. Thankfully, prepping them isn't a time-and-effort-intensive process.
If you're in a region with a damp climate, bevel the top end of your fence posts at an angle. It will allow water to run off down the post and prevent it from accumulating on the top, preventing rotting. An alternative is to install frost caps.
Also, apply wood preservatives on the two ends of each post. These chemicals can be highly toxic, so apply them with care. Typically, you can use a brush to paint a coat of them on the posts. If you're planning to apply additional coats, be sure to wait for a day before applying the next coat.
Check If The Location Of The Fence Will Be Optimal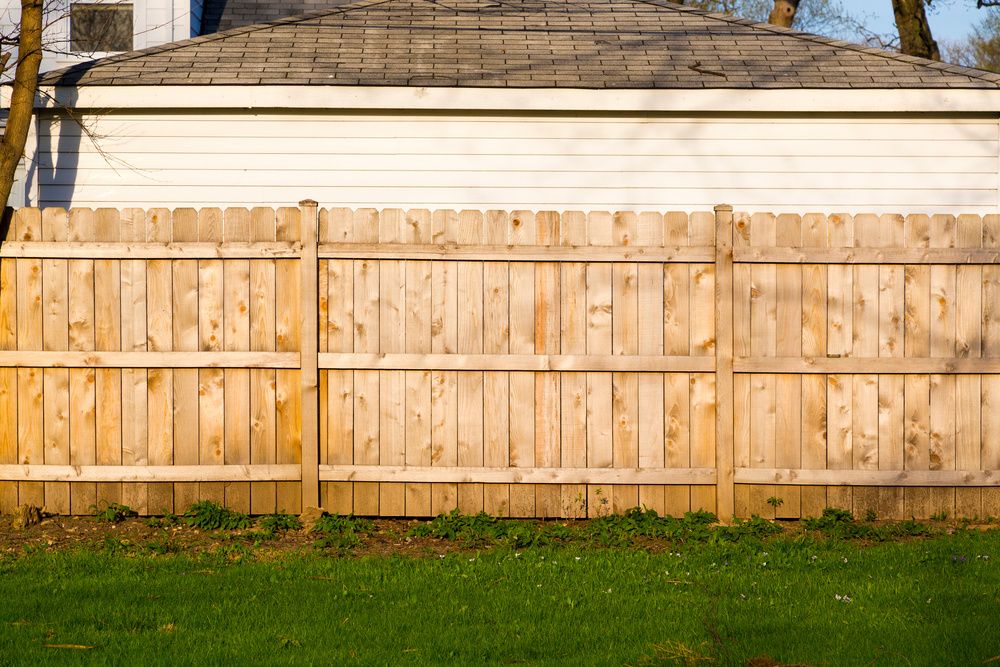 Commonly, the posts you'll use for wooden fences are four-by-fours. To install these posts, you must dig a bit in the ground, lay them down inside the hole, and fill it with dry concrete mix. Once everything is set, you'll need to fill the concrete mix with water. Most concrete mixes will harden after an hour or more.
You must also ensure that the soil where you put your post is dense. If it isn't, you may want to tamp down the ground and add a bit on top. Aside from the density, you should also make sure that it has good drainage. Those two things together will prevent your posts from rotting fast.
Dig Holes For Your Fence
Note that you can use a regular shovel for this task, or you can opt to use a post-hole digger. The latter is much easier to use but can be an added expense you wouldn't want to have. Remember, the depth of the hole depends on your community and local building codes. If there's no particular depth requirement, you can settle for a depth half the height or length of the post and around three times as wide as the post's width.
Also, place an inch or two of pea gravel in the hole and tamp it down a bit. It guarantees that water can escape from the post, which delays rotting. A piece of lumber will do for tamping. You can also use a tamping bar if you have one or can rent one.
Adjust The Hole For The Fence If Necessary
However, be sure that if you're living in a region with snow and frost, place your post deeper and below the frost line; a few inches will do. In addition, don't forget about frost caps. They can prevent snow and water from absorbing too much, making them deteriorate quickly.
When it comes to the distance between posts, typically, people spread the posts eight feet apart. Moreover, don't just carelessly dump and tamp soil around the poles. At the very least, add six inches of soil around and gently tamp them carefully around the post.
To further prevent water from getting into the bottom part of the post, you can cap the hole with some cement and make slopes around it. It will allow the water runoff from the top end of the post to flow outwards, preventing water from penetrating the ground near it, which slows down wood decay.
Setting Up The Panels Or Pickets
Once the posts are placed and erected, you can start setting up the panels or pickets. Attach the panels according to the instructions that came with the kit.
Also, another thing that you shouldn't forget is to place corner bracing. Posts on corners would carry a lot of weight from two directions. The panels or pickets may break away from the pole without bracing.
Conclusion
There you have it. That's how simple installing a wooden fence can be. However, despite being simple, it's a lot of hard work. After all, all the materials you'll use will weigh tens of pounds. Not to mention that digging and staking posts can be a taxing task. If you have the budget, you can always hire someone to help you install your fences. This way, you can ensure that the work is done well to protect you and your family from trespassers and other factors.