Laundry & Dry Cleaning Services
The Best Laundry Baskets You can get on Amazon
Upgrade to the best laundry basket to improve your quality of life and up your style factor with these top-of-the-class recommendations from Amazon.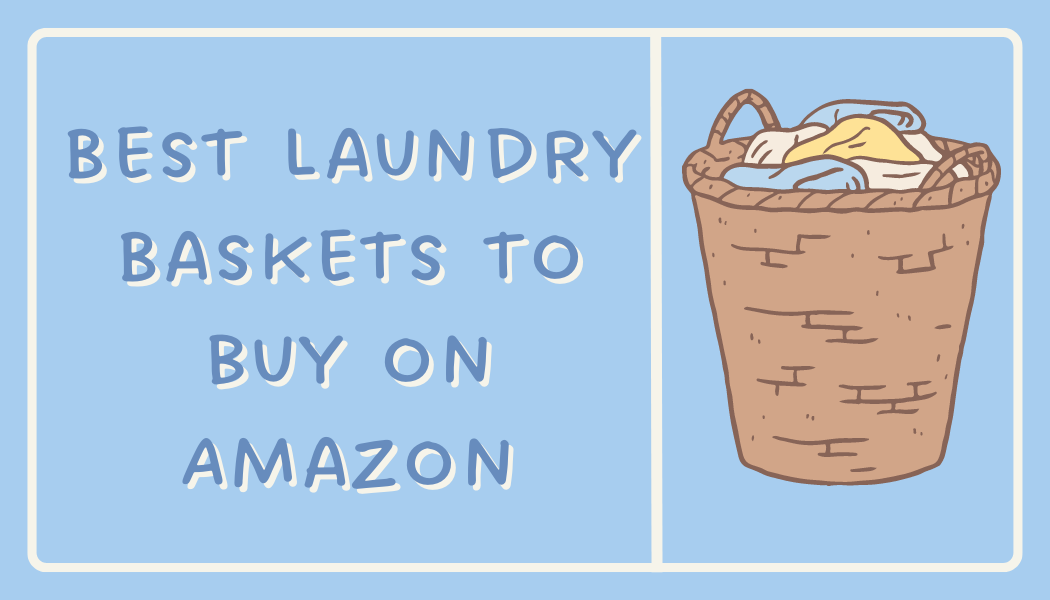 Laundry bags store your laundry, and well… that's it. What more do you want your laundry bag to do? Just because they only have one function doesn't mean they have to be boring, the choices available when purchasing a laundry basket online are simply astounding. They have so much to offer in terms of style, size, material used, and so many other features that add to the ease of use.
Here are the top 15 Laundry Baskets that you can buy on Amazon right now:

1. Foldable Laundry basket
This laundry bin from HomeStrap is sleek and modern looking. It is made of Polypropylene thereby making it moisture-proof and sturdy. With a capacity of 70 liters, you will have plenty of space for your clothes. The best part is that you can fold it and put it away when not needed.
2. Laundry basket on wheels
This Rolling Laundry basket from Caroes is a must-have if you prefer your laundry basket with wheels. Why do the heavy lifting when you can just roll your laundry away? It is slim and waterproof with a capacity of 45 liters. Getting multiple of these and stashing them under a table makes for easy organizing. The wheels are sure to come in handy when using a laundry service.
3. Collapsible laundry basket
If your wallet is light then this is the best budget laundry basket to buy. There is no connection to the performance and price of this laundry hamper, that how good it is. This laundry bin is foldable and waterproof too. The text on it is an added bonus, a testament to the perils of ignoring your laundry.
4. Cute Laundry basket
This laundry basket is a cute addition to any room it is placed in. It does more than just look cute, with a 75-liter capacity it is foldable, and comes with a neat and functional lid. The perfect example of form with function.
5. Contemporary Laundry basket
If you are tired of the regular laundry baskets then this is for you. It is made of cotton and oozes class all over your room. There is no need to worry about the material it is made of, even though it is made of cotton, it is quite sturdy and durable.
6. Lightweight laundry basket
Show off the workmanship with this handcrafted laundry bin. This laundry basket is not only lightweight but also a champion of sustainability. It is handmade in the traditional style with sabai grass.
7. Large laundry basket
Here is the mother of all laundry hampers from Gorilla Grip. It has a capacity of 115 liters, perfect if you have a lot of people living with you. It is water resistant and has padded handles to make holding it not a pain, and it is foldable on top of all this.
8. Laundry basket with Lid
Although other laundry baskets on this list had lids, the lid this laundry bin has is the closest in meaning to a lid. This laundry bin has a capacity of 57 liters and is made of bamboo. While it is quite fashionable and environmentally friendly, it needs care. It is best not to let it touch the water and keep it away from high moisture areas.
9. Modern laundry hamper
This modern laundry basket from PrettyKrafts has a unique design, it is square and has a slanting lid. With a capacity of 75 liters, It is lightweight, sturdy, and foldable. Its light weight makes it suitable for use as a children's laundry bag. It comes in multiple colors if it matters to you.
10. Nayasa laundry basket
This laundry basket from Nayasa means business. It is portable with a swinging lid and made of plastic. This is super sturdy and durable, and not too big, making it ideal for 1-2 people.
11. Cane Laundry basket
This is the second bamboo laundry basket on this list, but they look nothing alike. This bamboo cane laundry basket from Swadeshi Handicrafts has a rustic and classy look to it.
12. Decorative Laundry basket
This cotton rope laundry basket makes for a nice piece of decor in your room. It is not all decor either as it comes with a 58-liter capacity. This laundry hamper is on the heavier side of this list weighing 1.4 kilograms.
13. Ikea Laundry basket
If you are someone looking for an Ikea laundry basket on Amazon… well here's one (not judging at all). It has a 79-liter capacity, translucent, and is notoriously durable. It is super value for money and lives up to the Ikea name.
14. Plastic Laundry basket
This laundry bin is made of hard plastic and is very sturdy. It weighs 1.2 kilograms and is a simple no-nonsense laundry basket. It is also very easy to clean.
15. Stackable laundry baskets
For this who love their stacks, these are the perfect laundry bags. This pack comes with three laundry bags and is very aesthetically pleasing. Fill them up and stack'em wherever you want. When not in use you can collapse them flat.
Folding Thoughts
I hope this list aids you in finding the best laundry basket for your clothes. Something as simple as a washing clothes basket can be much more, it's all about the little things. Don't let it just be some washing basket, look from a different perspective. Get the basket that you are content with.