Who likes cleaning? If you answered "I do" to that question this article is not for you and you are definitely in the minority! For the rest of us, who would rather day dream vs scrub any given day, read on!
These are only 5 cleaning hacks, but they are truly life changing!

Multi-task smartly and save time cleaning

Image - Indiaopines.com
Multi-Purpose Your Dishwasher
Your dishwasher is not just for dishes, the number of things that you can stick in your dishwasher is truly surprising! Moms with little ones can stick an entire toy army in the dishwasher from toy soldiers to cars to Larger Lego sets! From around your home, all electrical switch plates, exhaust fan covers, plastic vent grills, hairbrushes, light fixture glass shades, door knobs, gardening tools, etc, etc!

Toys can be cleaned in the dishwasher

Image - Awesomeinventions.com
Multi-Purpose Your Washing Machine
No surprises here, clothing isn't the only thing you can put in your washing machine either! Stuffed toys can get a soapy-sudsy whirl and come out smelling fresh and breezy, you can also save on a mega dry cleaning bill by running your curtains on a cold wash cycle, car mats need not be replaced simply stuff them in the washing machine, pillows can be refreshed and old sneakers, stinky backpacks and dirty school bags can be washed too! So much work off your to do list straight away, and the washing machine will do a much better job than hand washing ever will.

Wash stuffed toys at home

Image - Goodhousekeeping.com
Learn To Hide Stuff!
Having a bunch of great hiding places around the house to stuff clutter into quickly is a great way to keep your home clutter free and clean! You'll be able to stuff things out of sight quickly without stacking or sorting or piling, all of which take time and energy and are unnecessary, you can just pull out the things you need as you go, without organizing the insides of cupboards and closets and your home is cleaner! For Example, buy a coffee table with built in storage, use a bench in the kids room with a lift up seat or a pull out laundry basket in the bathroom.
Here's how to create storage everywhere
.

Storage to hide away clutter

Image - Hometriangle.com
Find A Shortcut
There is always an easier way, ask friends, search the web, spend time researching a cleaning shortcut instead of actually spending time cleaning! Here are a few shortcuts for the
kitchen
and the
bathroom
to get you going.
Image - Americasrevival.com
Buy Smart
This is a precursor to keeping your home clean and sparkling quickly, and though buying something and cleaning your home may not seem connected on the surface of it, they are! When you apply this principle to your purchases you will actually save time spent cleaning, for example, buying an exhaust fan or chimney for the kitchen? Buy one with a higher suction capacity and your kitchen will need less frequent cleaning because there will be less dirt and grime deposited over time as the exhaust fan or chimney will efficiently suck out cooking vapors and odors. Buy easy to clean, stain resistant upholstery fabrics, non-iron clothing, stronger cleaning products!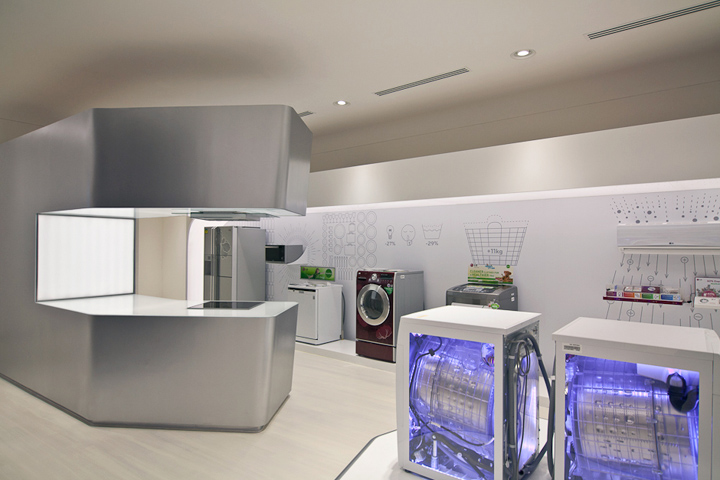 Image - Retaildesignblog.net
Other simple lifestyle choices that reduce cleaning time in households are common sense like choosing to take off your shoes at the door, having designated chores for family members, use mats at kitchen and balcony doorways! The list is endless!
Do you have a quick shortcut around a boring cleaning chore? Whats your favorite time saver cleaning technique?