Interior Design, Painting & Decor
Top 13 Tips To Make Your Own Halloween Haunted House
Are you hosting the spookiest night of the year, Halloween 2021? It's never too late to give a makeover to your house before you invite all your ghost friends to your house. Here are some interesting and easy DIY Halloween 2021 House decoration ideas.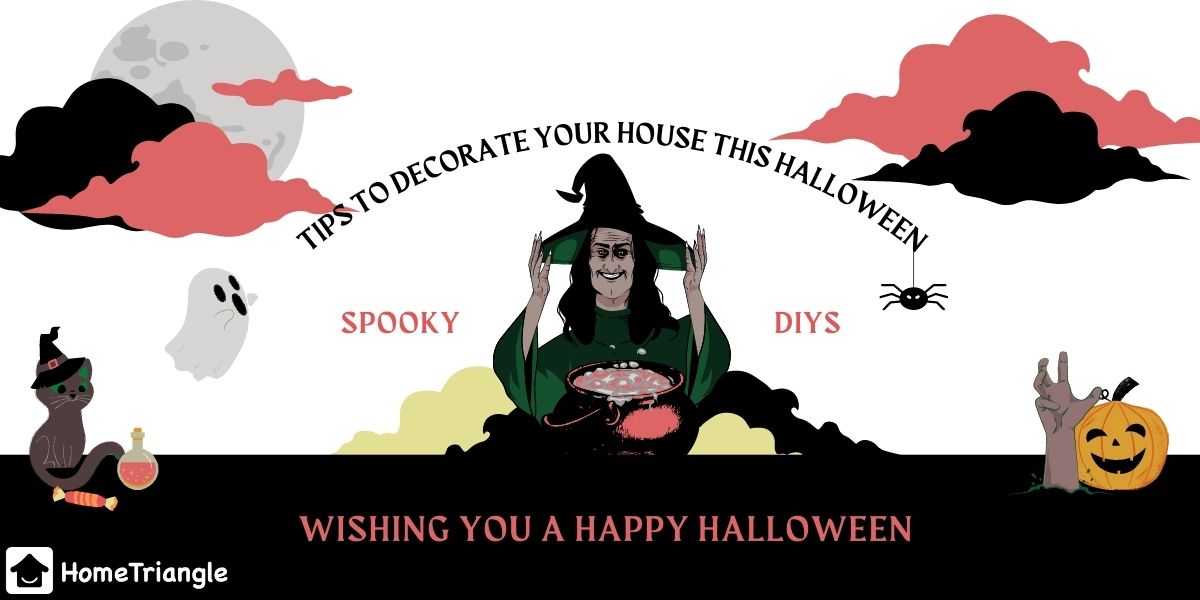 Are you hosting the spookiest night of the year, Halloween 2023? It's never too late to give a makeover to your house before you invite all your ghost friends to your house. Whether you want to give a full Halloween party makeover to your house or engage your toddlers in fun spooky activities so that you can focus on those delicious Halloween treats, there are many different ways you can make all those with some DIY Halloween decorations ideas.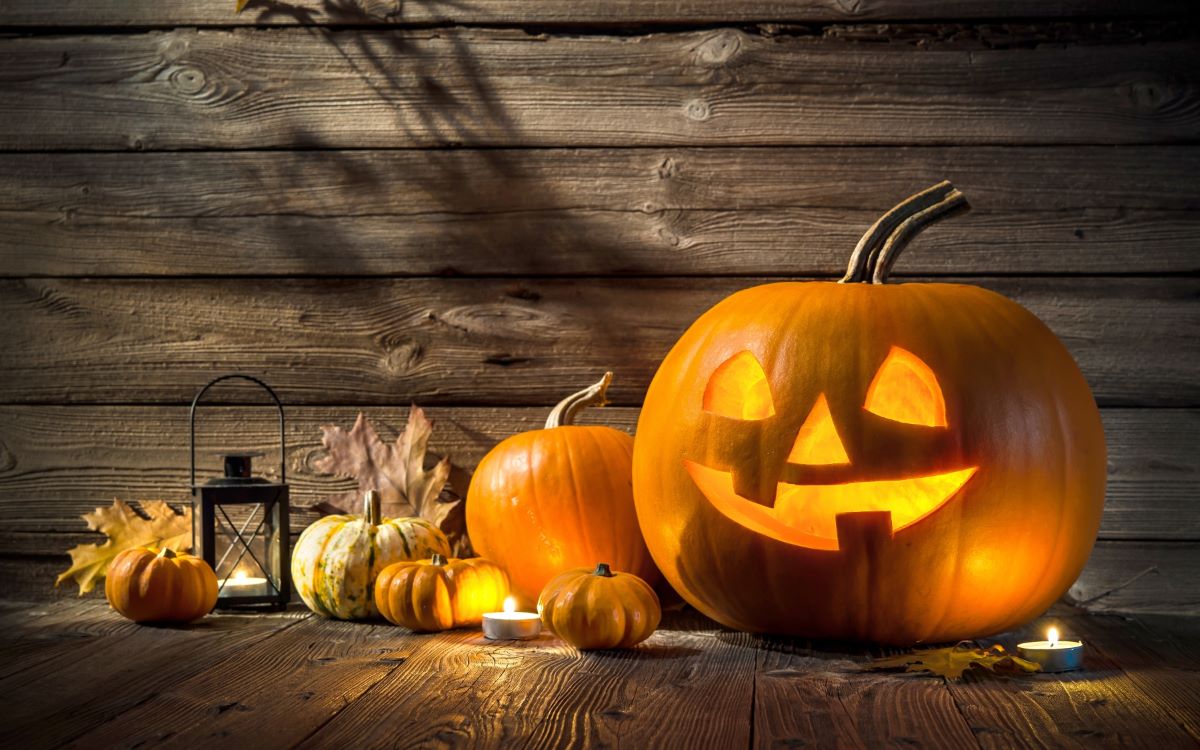 Haloween: Scary but fun!
Back in the Halloween history, Saints and priests believed that on the night of the last Sunday of Summer, that is, October 31, the two worlds of spirits and humans collide and we honored and invited spirits of our foregone relatives and family members to have a meal beside us. Trick-or-treat, carving Jack-o-lanterns and preparing sweet candies are a few major rituals nowadays. Trick or treating initially got its significance where people would keep treats for the good spirits on their way back into their realms before new eve starts on November 1. With growing time the significance of these rituals have changed a bit but the excitement to spook friends and relatives remains the same. Here are some interesting and easy DIY Halloween 2023 House decoration ideas.

Haunted Lawn Archway:
If you have a grand house, better start with the entrance of the land. To create a spooky, easy-to-make archway, use large dry branches and anchor them together from the top. To give them a spooky covering use a DIY cobweb from yarn or cotton balls by stretching them and spraying hair spray to give them a sticky property. You can also use a few spooky elements to decorate this archway such as plastic spiders, plastic skulls etc. This can be a great Halloween yard decorations idea.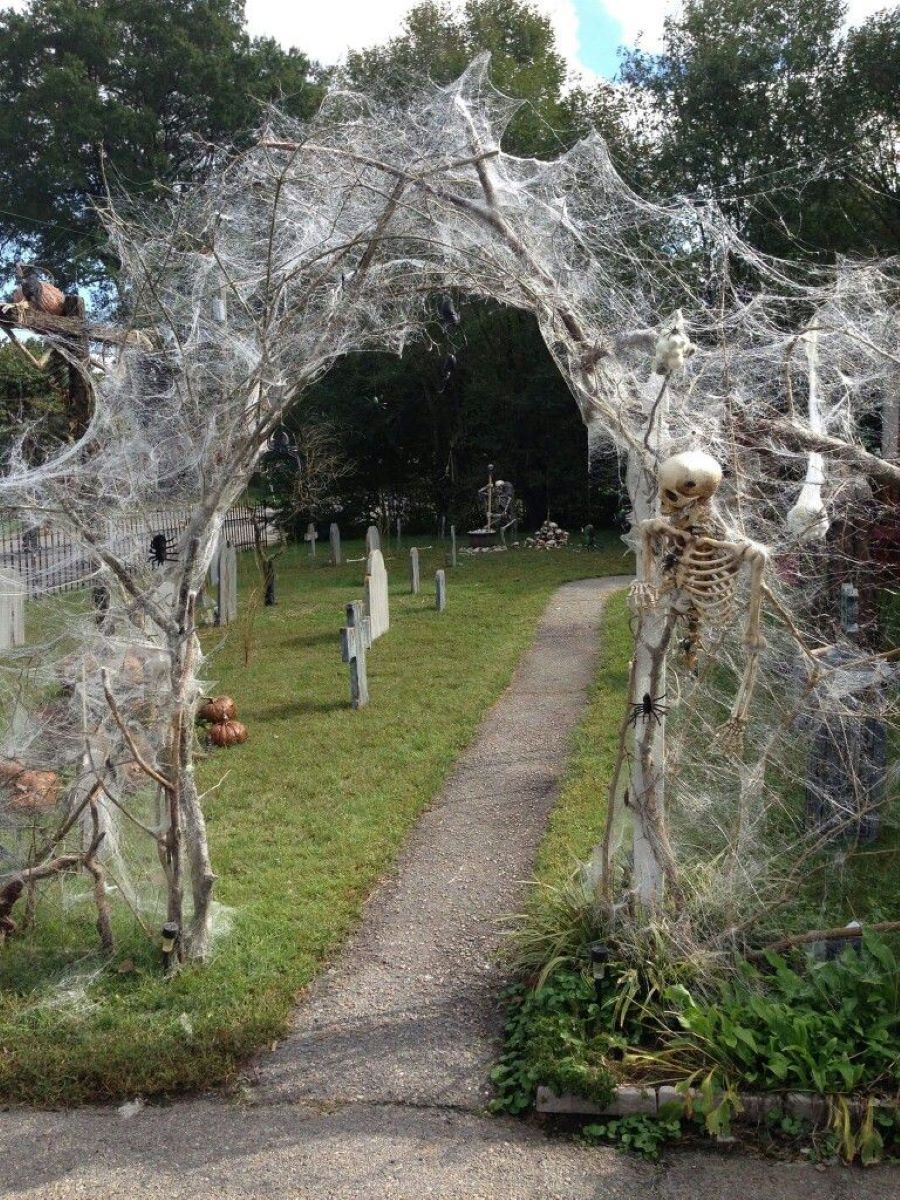 Spook The Gourds:
Out of Pumpkins? Better use different gourd vegetables to give your entrance a haunting makeover. Use raw guards and make their facial features with cotton balls and push pins. You can also make these features with paints and pens. The spookier looking the gourd the spookier your entrance to the house. You can place these in a corner of your front entrance or stack them near the main door.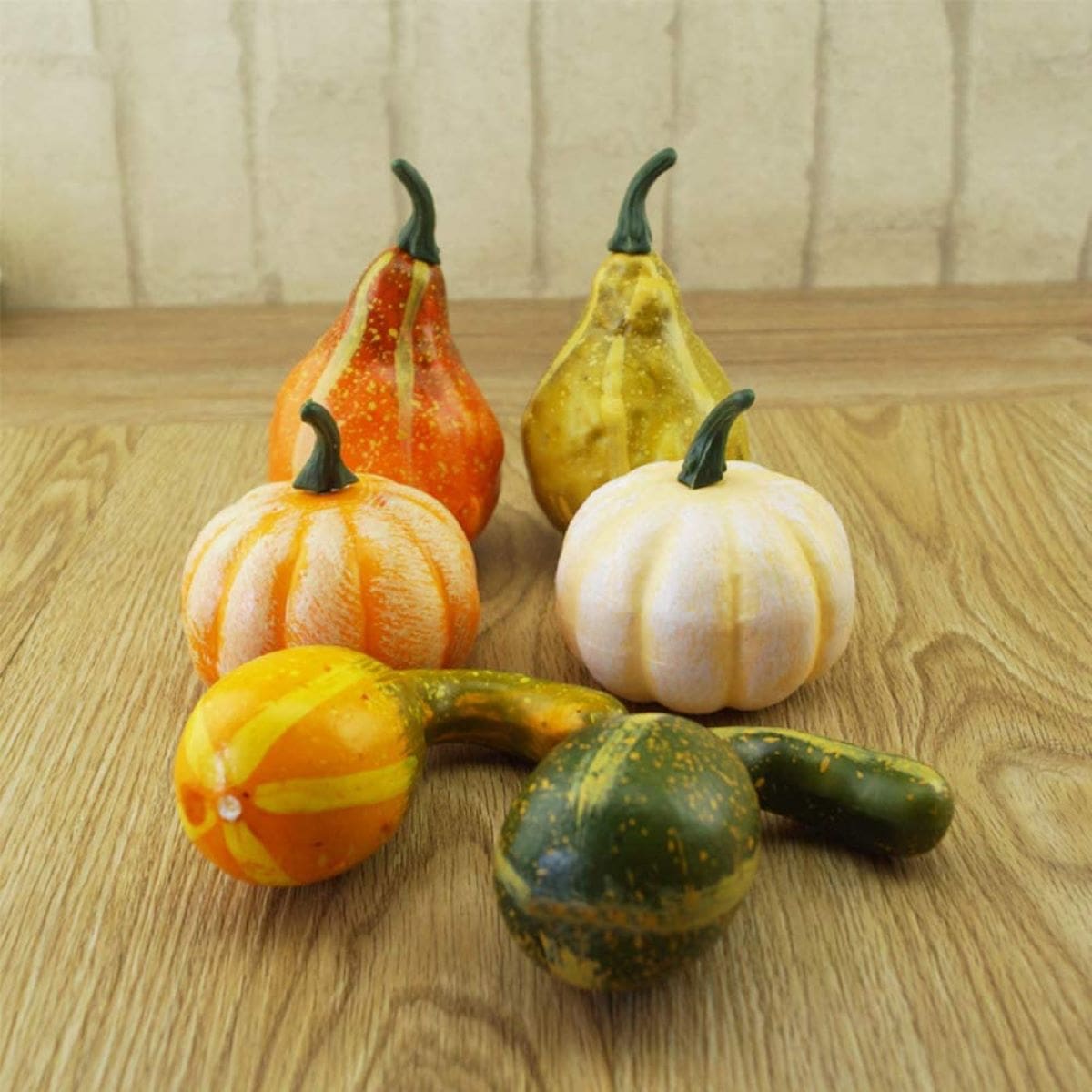 Groovy Wreath:
The most required element in Halloween is the front door wreath made out of twigs and dried leaves. You can also use dried leaves to give an old and haunted pretence to your house. You can also decorate them with twigs and cobwebs, with small plastic ants or spiders.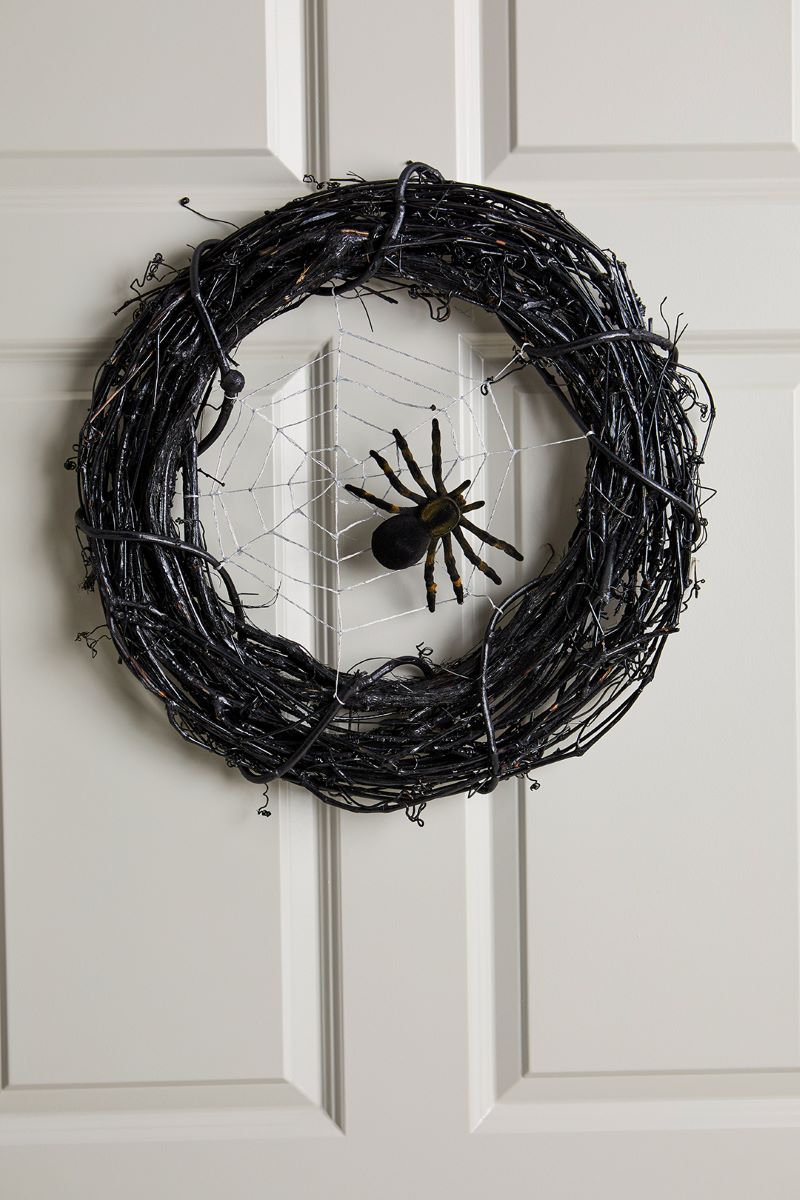 No Carved Pumpkins:
If you have no time carving your pumpkins just spray paint the pumpkin black and cover it in gauze. The same you can do with the Gourds if you don't have pumpkins. A cute and spooky mummy in minutes.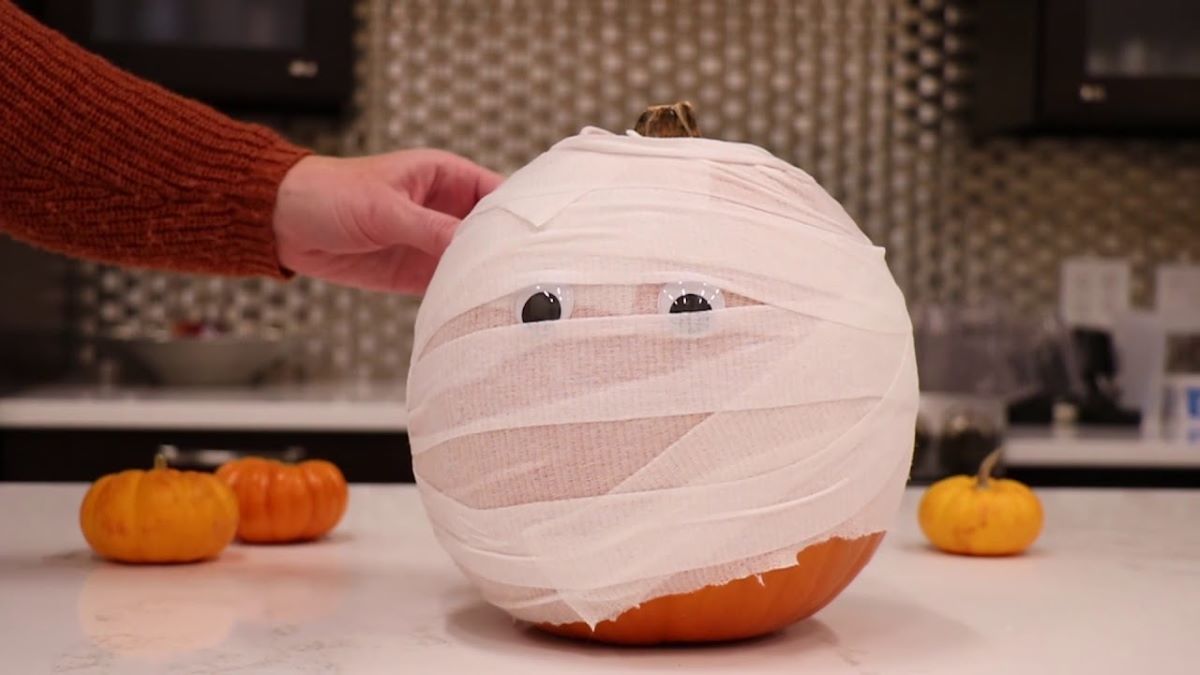 Ghostly Candle Wine Bottle Sticks:
When a guest enters the house their attention is taken to the lighting which sets their mood for the night. What better way to make this ambiance than candles. To make it spooky use wine bottles and paint them black. Use these bottles as candlesticks and see the spooky magic.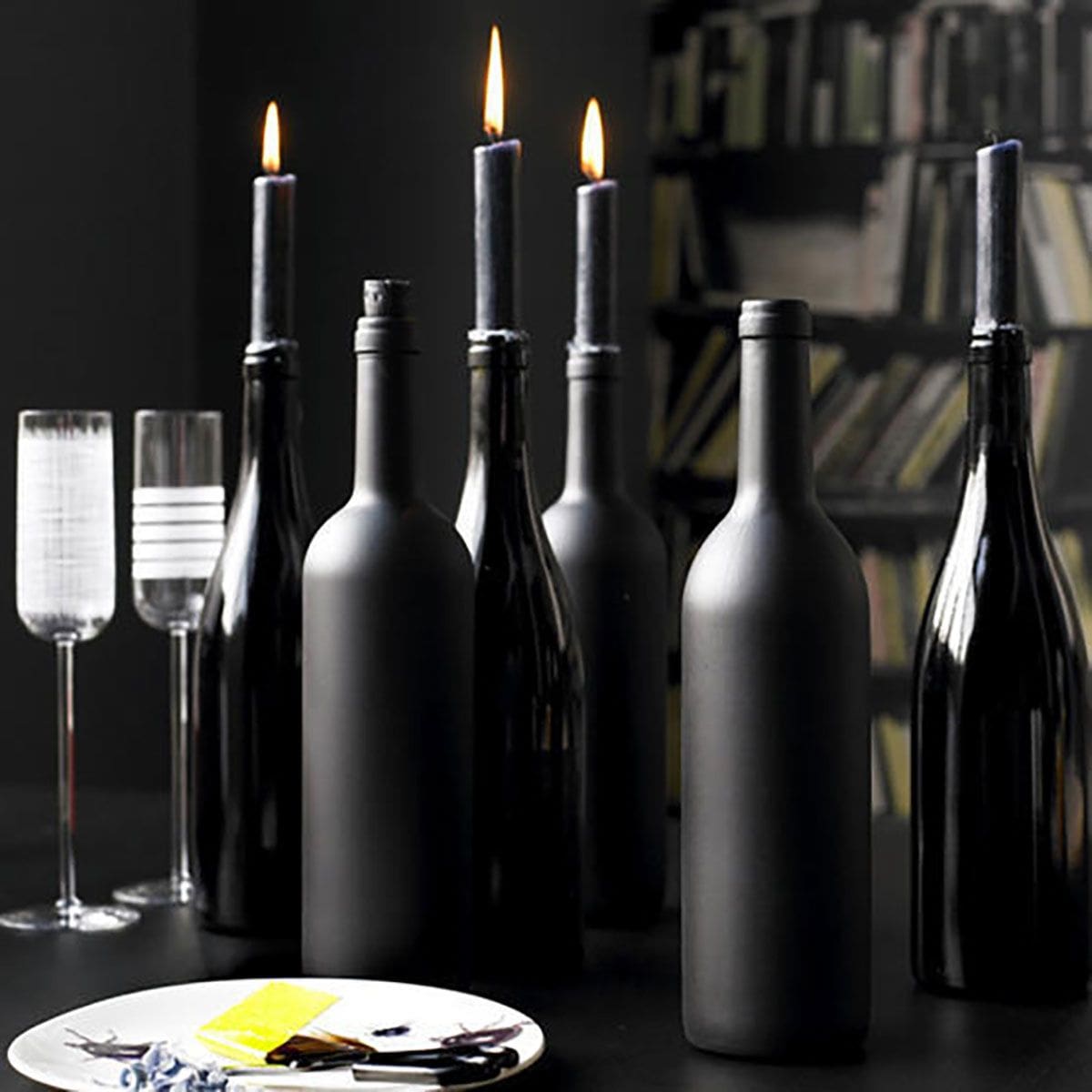 Scary Mirror Trick:
If you have lots of mirrors in your house this is the best and easiest trick to horrify your guests. Just spray some matte finish spray on letter cutouts lay on the mirror, remove the cutouts and voila! Your spooky old mirror is ready.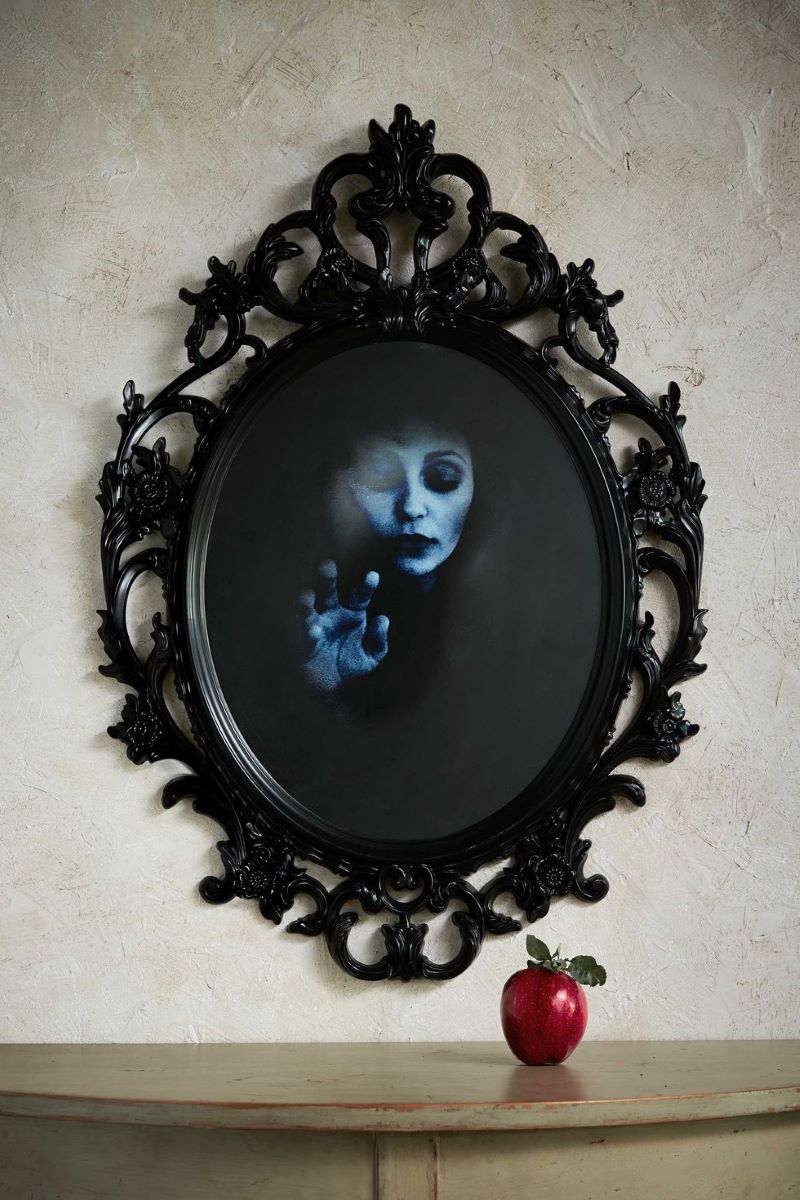 Make A Cemetery:
Making a DIY Cemetery can be very easy, you just need a foam sheet, some paint and a paper cutter to make realistic tombstones. If you are not looking forward to being crafty then you can easily order one online shopping portal. Place these Tombs on your lawn or in the front lobby of your house.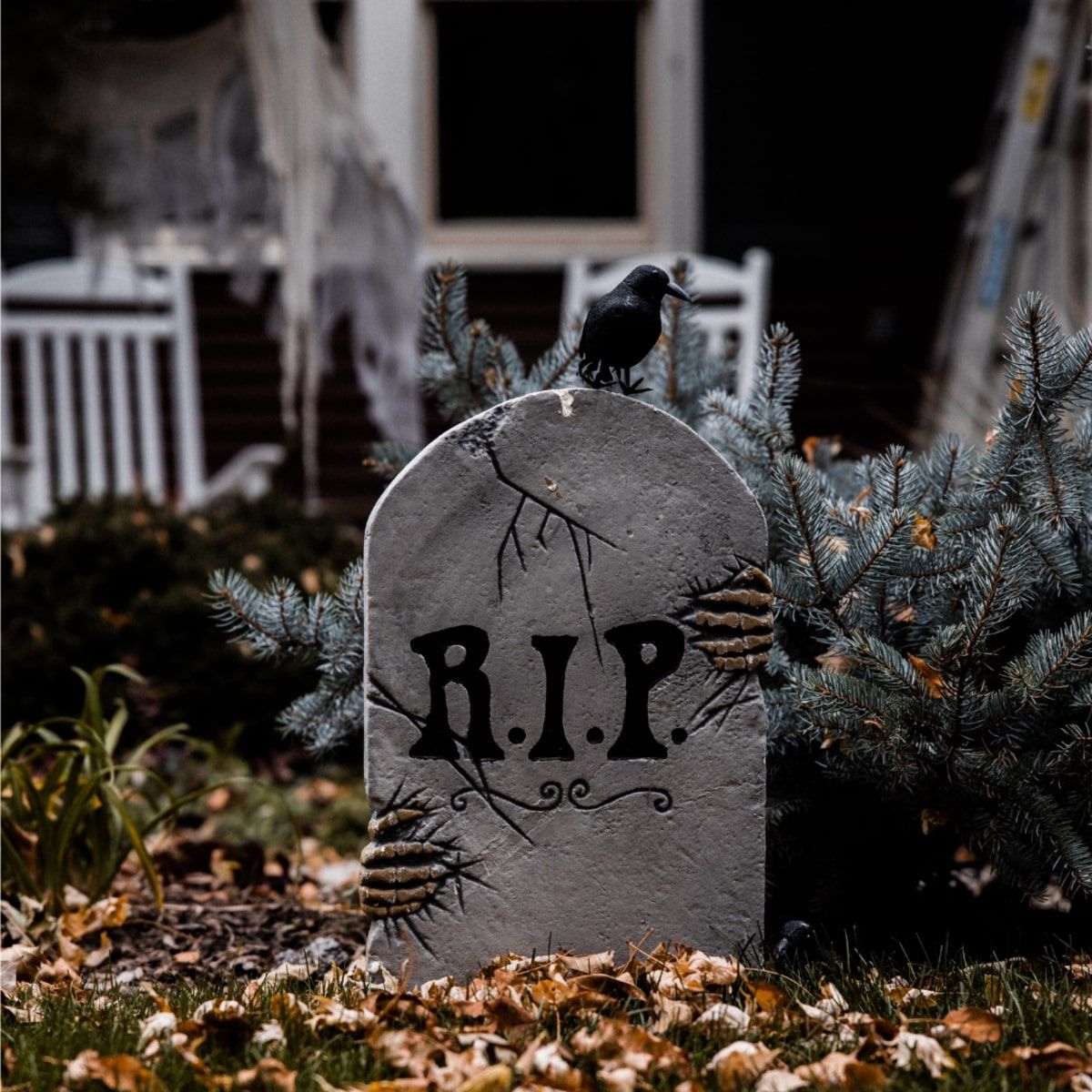 Dry Leaves Carpet:
To give an old and haunted look inside the house, lay down a carpet made of any type of old leaves, that is easily available on the streets as well.
DIY Trick and Treat Bucket:
Trick or treat bags for little ones only require a few materials. A simple technique to make these trick or treat epiphanies is to prank your guests with chocolates replaced by plastic spiders.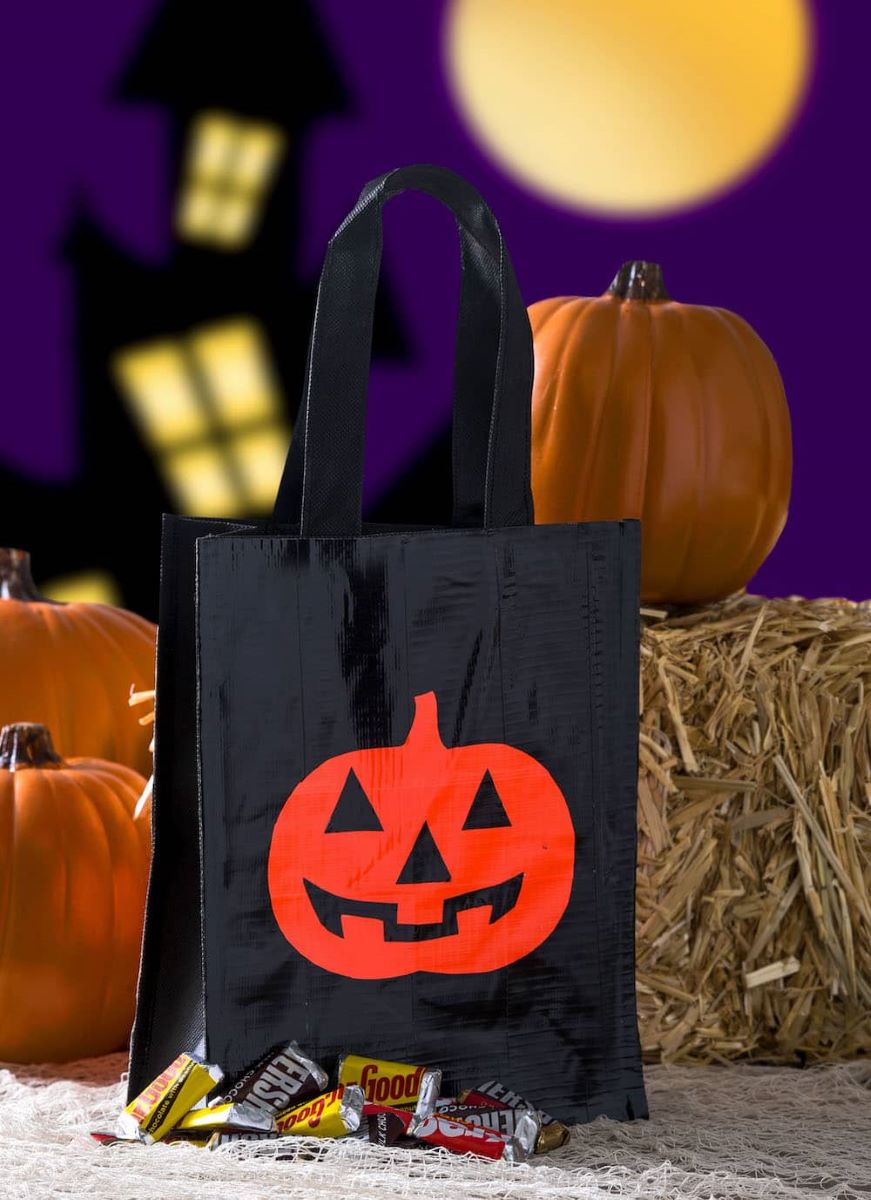 Glass Lantern:
Use your old transparent glasses to turn them into votive that can be placed anywhere in the house. Just use a marker to give them a ghostly attire and keep floating candles inside the liquid with red pigments that is available in any general store.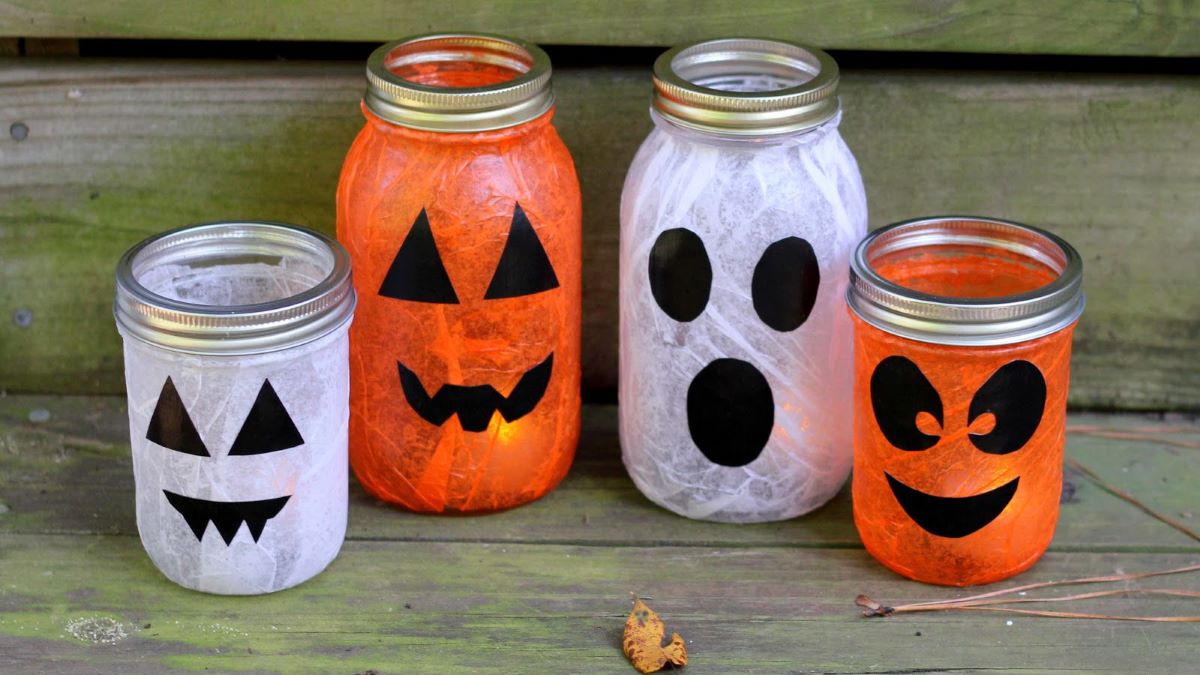 Photo-witchery:
If you are worried about the family and ancestral photo images hung up on your walls, do the witchcraft DIY. Use a black sheet and scissors to cut out scary hands and hats for your family member's photographs or you can use LED lights such as these to scare even yourself..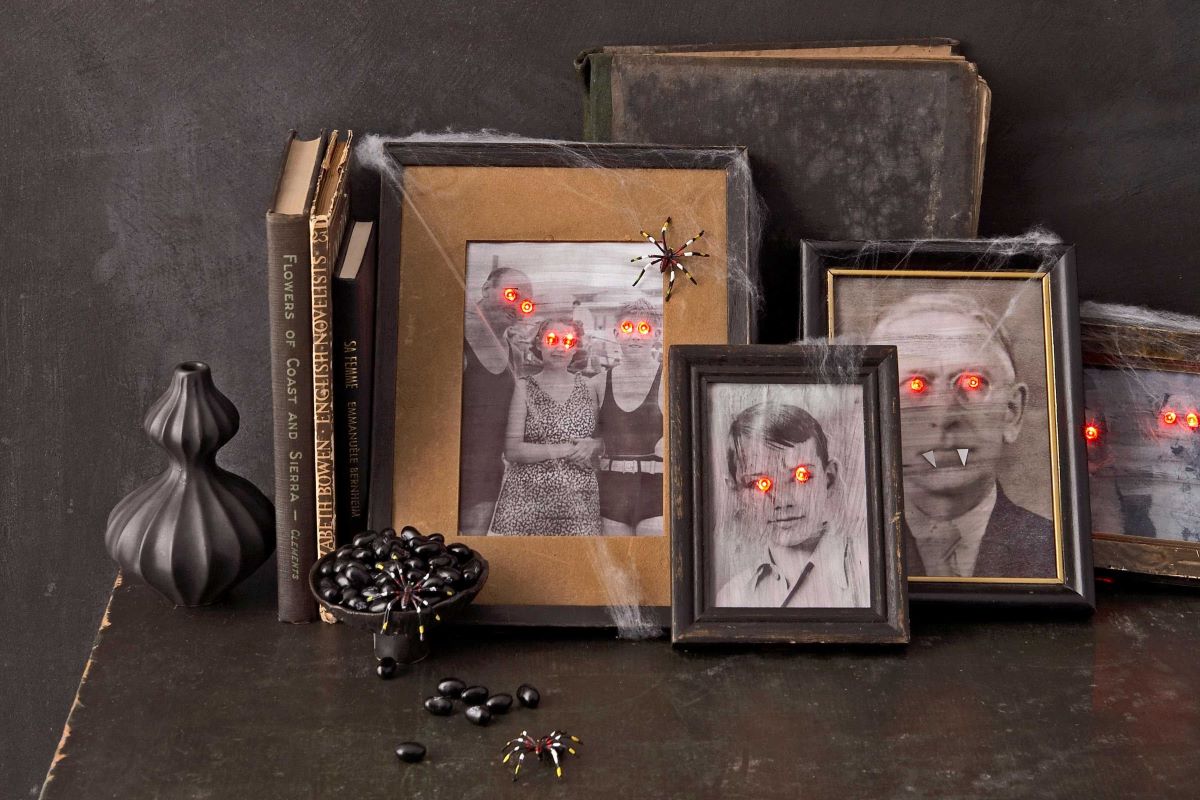 Wicked Witch Legs:
Have upside-down creepy witch legs stuck in the ground by just cutting two pool noodles into two halves and placing them on the ground. To give the shape of knees cut a tiny bit of the foam and dress them in long socks. Finally tie boots at the bottom end and secure them tightly with ribbon. You can also hang these legs to your ceiling fans with the help of a floral wire.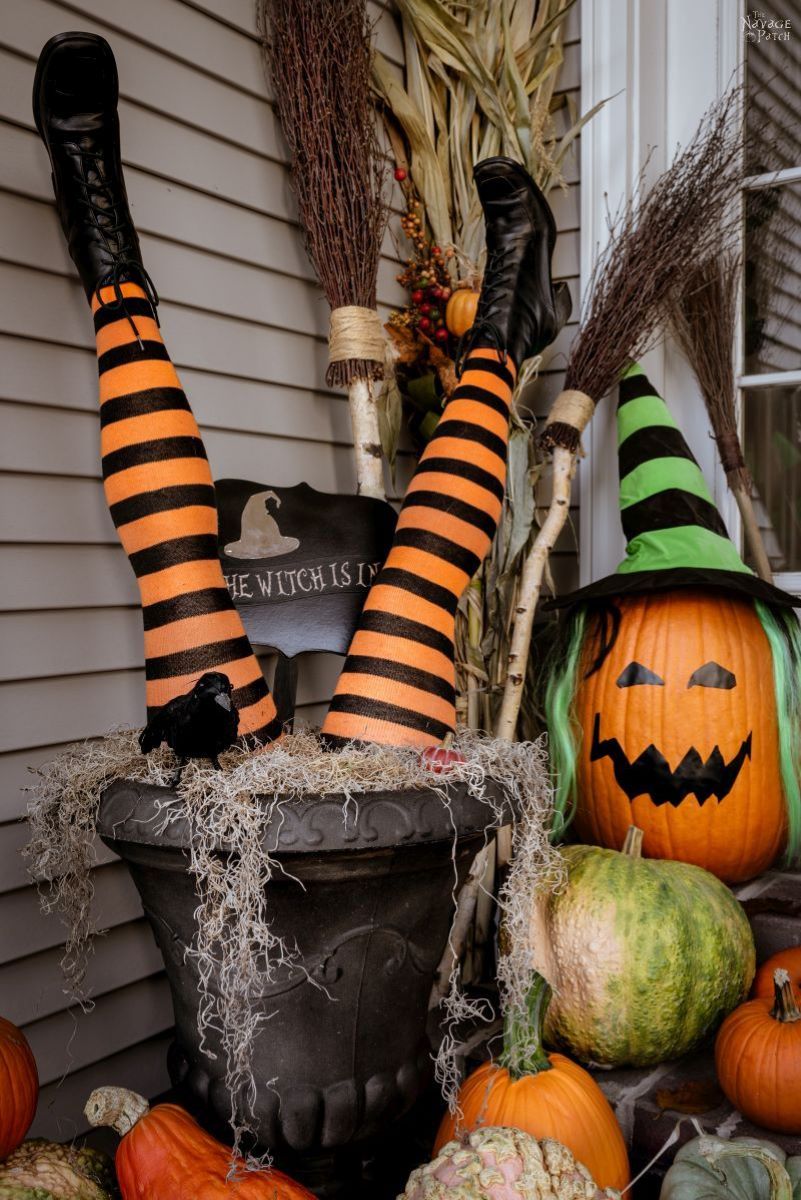 Haunted Placards or Sign Boards:
Lastly don't forget to make lots of instructive placards. Even if you don't put effort into any other DIYs, placards are those elements that always work. Sign Boards can easily haunt your guests, you can either print them out or burn the edges of sheets and write with red paint to give them a haunted look.
Make your house a fantasy dream
A house becomes haunted the minute you transform yourself. Here you can find best ideas for Halloween Costumes. But before you invite make sure your house is perfectly beautiful. How you can keep a check on it? Just note down all damages and improvements your house requires and contact HomeTriangle and have hassle-free professional services such as House Painting, House Cleaning, House renovations and more.

Let us know what you think about these ideas in the comment section below.