A Homeowner's Guide To Hiring Professional Tree Removal Services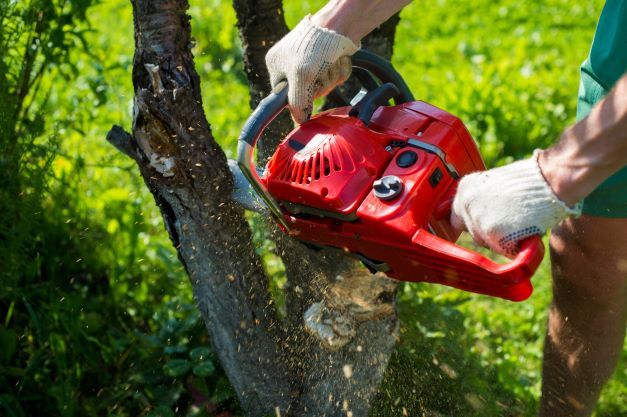 Trees can be a beautiful addition to any home. In fact, a study found that properties with trees could increase your home's market value from 3.5% to 15% and more.
But as lovely as they are, trees can also be a nuisance and pose a danger to your home. Overgrown trees shed leaves, twigs, and branches that can clog your gutters and damage your roof. Likewise, these elements may also fall when there's a storm or strong winds, causing serious injury or posing a safety hazard.
When trees become a problem, removing them is your best solution. However, this job isn't something you should attempt om your own. It's best to leave tree removal to the professionals.
When to hire a tree removal service
As this task isn't for a do-it-yourself project, you may be wondering when is the right time to hire a tree care service company. Here are some instances you need to consider:
The tree is dead or dying.
The tree is leaning.
The tree is too close to power lines.
The tree is obstructing your house or other structures.
The tree is in the way of construction.
You want to relocate a particular tree to another spot.
You want to improve your house's curb appeal.
If these scenarios apply to you, it's time to hire a reputable tree care service.
How to choose a professional tree removal company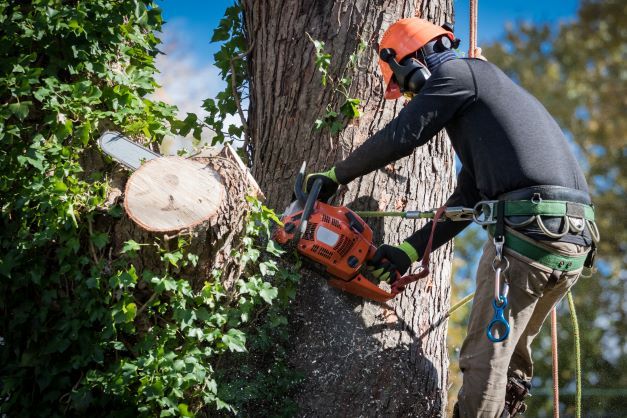 Hiring a tree removal expert can be overwhelming because of the growing number of companies that offer this service. According to a recent study, the worldwide tree care service industry is expected to grow by about multi-million by 2028, larger than in 2021. This growth makes it more challenging to choose the right tree removal expert for the job.
To narrow down your search, here are helpful tips for choosing the best tree removal service:
1. Assess the company's insurance policy
Insurance is vital for any tree service company. This coverage serves as your protection in case of accidents. For example, the company will shoulder the repairs if your property is damaged during the tree removal process. You won't have to worry about footing the bill for the damage.
It's best to ask for proof of insurance when meeting with a potential company. Request to see a copy of the policy and check the following:
The insurance policy should be current.
The policy should cover property damage and personal liability.
The policy should cover the company's employees while working on your premises.
All these coverages should be indicated in the insurance policy. If you can't find this information, it's better to look for other services.
2. Look for their certifications and licenses
It's essential to work with certified arborists. These tree care professionals have the skills and training to do the job correctly. Certifications by the Better Business Bureau (BBB) or International Society of Arboriculture (ISA) are a good indication that the company is reputable. On top of that, a reliable tree care business should also have a license to operate in your area. These credentials will give you peace of mind knowing that you're working with a legitimate company.
3. Check their website
A website serves as your first introduction to a company. It gives you a good overview of what it does, how long it's been in business, and the types of services it offers. Look for a company that has a professional-looking website with clear and concise information about what areas it serves and what its removal process entails. You should also see evidence of its work, such as photos and videos of past projects.
4. Read online reviews
Did you know that 93% of consumers read online reviews before buying goods? This statistic also applies when hiring a tree removal service.
Customer feedback is an excellent way to get insights into a company's work ethic, customer service, and overall quality. After all, customers are the best people to tell you whether or not a company is worth your time and money.
When reading reviews, pay attention to the following:
The company's overall rating
The number of reviews
The kind of feedback received
What people are saying about the work done
It's also essential to note that positive reviews may not always be credible. Some aren't honest feedback but instead are paid advertisements. So, take everything you read with a grain of salt. If possible, contact some of the past clients to get a first-hand account of their experience.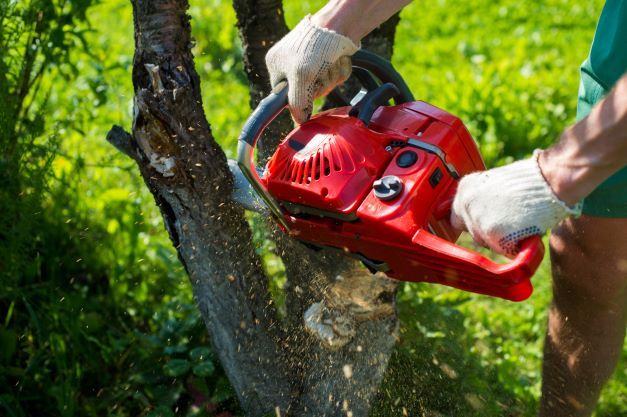 Ideally, genuine reviews usually have detailed information about the customer's experience. They often mention the company by name with the media profile attached. On the other hand, fake reviews may sound vague, lack specific details, and sometimes be too good to be true. So, when in doubt, it's best to err on the side of caution.
You can find reviews on the company's website or social media pages. You can also check reviews sites like Google My Business, Yelp, and Angie's List. Read feedback from the past few months to get an idea of the company's recent work. All it takes is to balance the positive and negative reviews to get an accurate picture of what the company is really like.
5. Inquire about their removal methods
There are different ways to remove trees. The method that'll be used depends on the size of the tree, its location, and your preferences.
The common tree removal methods are as follows:
Felling: This is the most common way to remove trees, but it can also be dangerous. A report found that among patients hospitalized due to tree-related injuries, such as felling and pruning, 38% were severely injured. Felling involves cutting the tree trunk's base until it falls. A good tree care service will carefully plan where the tree will fall to avoid accidents. This technique is ideal for properties that can accommodate or have enough space for the tree to fall. This will ensure the safety of your home's structures and those around it.
Climbing: Climbing is a more technical job when removing trees. It requires some arborist gear, such as ropes, harnesses, and other safety tools, to climb the tree and cut it down from the top. This method is often used for trees near power lines, buildings, or other structures. The arborist will climb the tree and cut the branches section by section. This process is time-consuming, but it's also one of the safest.
Removal by crane: As the name suggests, tree care services will use a crane to remove the tree. This practice is considered a last resort as it only applies to difficult-to-reach areas and when felling or climbing is too dangerous.
These are just a few ways of tree removal that companies use. Each one has its own purpose and is only applied in certain situations. A reliable tree care service will first inspect the tree and your property to gauge which tree removal method is best.
6. Evaluate their experience
Tree removal is a complex job that requires a lot of experience and expertise. Many things can go wrong, so you can't afford to take any risks. That's why extensive experience is crucial when hiring a tree care service. This criterion will determine its ability to handle your project efficiently without complications.
Ideally, a reputable tree removal company must have at least five years of experience. An arborist with comprehensive experience is likely to have a good track record in the industry. Because the company handled different types of tree projects, it knows how to deal with various situations, complicated or not. But this doesn't mean you should rule out new companies altogether. They may be new as a business, but their arborists may have years of experience in the field. You can ask about their individual experience to better understand their abilities and skills.
The bottom line here is it's best to base your decision on the company's experience, not its tenure as a business. After all, it's the quality of work that counts.
7. Consider their rates
Like any home improvement, the cost is always a primary factor. Hiring a tree care service is no different.
You need to know how much you need to prepare for the project. But, more importantly, you should also be aware that the rates vary, depending on the company and the scope of work.
The price will depend on the type of tree, its size, and the difficulty of the project. Typically, the average cost of tree removal is USD$1,200. Some tree care services charge ranges from USD$900 to USD$1,300. Get quotes from multiple tree removal companies to make the most value for your money.
Once you have a few options, compare their rates and see which has the best deal. But don't let the cost be your only deciding factor; consider experience, skills, and reputation. The key is to hire a tree removal company that provides superior services at a reasonable price.
Conclusion
Tree removal is a complex and dangerous job. It requires knowledge, expertise, and the right tools to get the job done efficiently.
Hiring a professional tree removal service is the best way to ensure your home's safety. Consider this guide when choosing a reputable tree removal company that meets your needs and budget.