Home Maintenance & Repair
10 Must-have bathroom accessories that you can buy from amazon
HomeTriangle brings you ten must-have bathroom accessories to make your life easier, especially the part of it that you spend in your bathroom.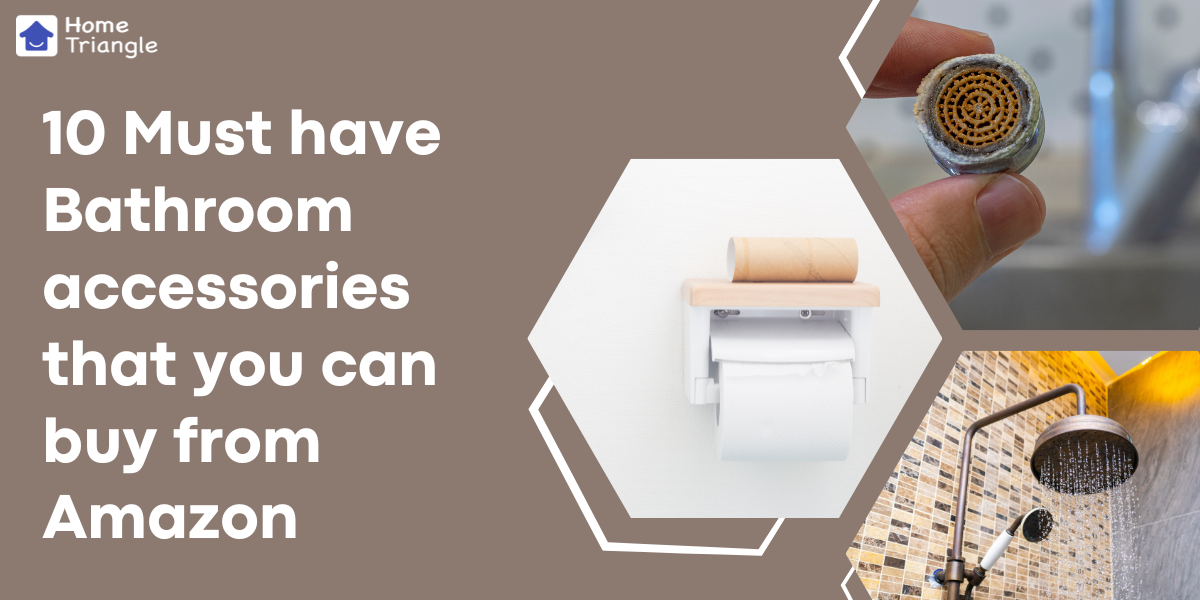 HomeTriangle brings you ten must-have bathroom accessories to make your life easier, especially the part of it that you spend in your bathroom.
We have a list of accessories that can make organizing your toiletries easier, improve your bathing experience, and give your bathroom a fresh look. The best part is that all these bathroom accessories can be easily procured with a single click from Amazon.
The List:
To Clean A Clogging Drain
We all know how irritating hair can be when it clogs up your drain, it is such a pain to unclog it. Hence we bring you the perfect solution to this problem, we will tackle this at the roots, and no, going bald is not the solution. Instead will make sure that not even a single strand of hair gets into the drain.
How? you ask, it is fairly simple with KRISMYA's drain strainer. You just have to place it on your drain cover and that is it. The drain cover traps all the stuff that would clog your drain, you can remove the cover, clean it, and put it back. No more clogged drains for you.
You get six of these star-shaped drain covers for only Rs.239 from here.
The Indispensable Dispenser
This multipurpose dispenser from Bath Guru can come in handy for various purposes. You can use it to dispense shampoo, liquid soap, lotion, sanitizer, conditioner, and so on, all separately of course unless you actually use all of them mixed together, we aren't judging.
Anyways, you receive a sturdy dispenser made of abs plastic which can be mounted on the wall. It can contain 400ml liquid at its full capacity. With a push of a button, it dispenses 1.5 to 2ml of the liquid contained within.
For Rs.999 you can 3 of these dispensers from here.
Make It Rain At Your Will
Usually objects with a good form lack proper function and vice versa. But this showerhead from MARCOWARE surprisingly has both. It has a classy look and does exactly what it says. That is providing you with 9-inches of a therapeutic rainfall shower.
This showerhead's relaxing mist shower is a great way to start or end your day. It is made from ABS and can be adjusted easily in your angle of choice. The silicon nozzles ensure that it neither clogs nor needs cleaning. But to function properly it requires high water pressure, else a pressure pump has to be used.
Get this Showerhead for Rs.1,646 from here. (Arm is not included)
Shelf-Sufficient
This multipurpose bathroom shelf from Plantex is all you will need to hang towels or stack toiletries in your bathroom. You can actually use this in your kitchen or living room too, that's how multipurpose this shelf is. It has four hooks for your hanging needs and a whole shelf for stacking your things.
This shelf is wall-mounted, but there's no need to damage your walls with a drill, you can instead stick it on your wall with the help of the adhesive stickers provided. You can use it without the fear of rust as it's built to last.
For Rs.379 you can stick this shelf wherever you want once you buy it from here.
Paste, Brush, And Countertop
Calling this just a toothpaste dispenser is an understatement of the highest order, for this, is capable of much more. It can store toothbrushes, hold two cups, and has a countertop to store additional items, while also possessing a small storage drawer. Now, that's something.
ZOQWEID has gone all out with this space-saving design. It can be easily installed without the need for a drill. Since it is made from ABS it is compact, lightweight, and non-toxic. You can store four toothbrushes inside it, with ample space for cosmetics and toiletries in the space available above, while storing small accessories in the storage drawer. And of course, you get an automatic toothpaste dispenser bundled with all of these features.
Make this compact beauty yours for only Rs.939 here.
Cabinet Cabinet On The Wall…
There are two things without which a bathroom does not make much sense, one is a mirror and the other is a cabinet. You can solve both those problems with this single cabinet, thanks to Plantex.
This cabinet has four spacious compartments with a provision for storing toothbrushes and razor blades. It is built with stainless steel thereby giving it a solid build quality. Additionally, it has a nickel-chrome coating giving it a mirror finish. This coating ensures that the cabinet does not rust, while also adding beauty to it and proving scratch resistance. Its magnetic door is the cherry on the already premium-looking cake.
Make this sleek storage unit yours for Rs.3,799 from here.
Warm Outside, Foamy Inside
It is soft, warm, and fluffy, and laps up water in seconds. Your perfect after-bath companion to dry your feet. And before any animal welfare activists slap us, we are not talking about a dog, it is a bath mat rug that we are talking about.
This bath mat by Olanly provides a comfortable experience for your feet, as it is made of memory foam and microfiber. It boasts its ultra-absorbent nature, and non-stick backing to make sure that you don't slip away to infinity and beyond.
Show your feet some long-deserving love for only Rs.399. You can buy it from here.
Will Hold Your Toilet Paper For $$
They say people come up with great ideas while on the toilet seat. We don't know if that's true, do you? Anyways we are here to improve your toilet experience with this toilet paper holder from HOKIPO.
It flawlessly does what is expected of it i.e., holding the toilet paper up for you, while also ensuring that the toilet paper roll stays clean and dry as it is encased in the holder while leaving out a strip of paper for you to pull.
You can easily stick this onto your wall without any need to drill and damage it. The best part of this toilet paper holder is its flat-top design, which allows you to stack a few items.

You can buy this Toilet paper holder for Rs.899 from here.
A Filter That Actually Changes Your Face
People keep changing soaps, shampoos, and other cosmetics to prevent skin and hair damage, but there's one crucial factor they forget to account for, Water. Yes, water, more specifically hard water can cause dry skin and hair. RIVERSOFT has the perfect solution to this problem.
RIVERSOFT's shower filter reduces the adverse effects of hard water on your hair and skin while also enriching that water with minerals and vitamin C. It also claims to remove odor and reduce hair fall, other than that it can easily be installed in your shower or tap.
Get this filter for Rs.1,989 from here.
Let Your Water Breathe With This Aerator
Aerators are something that most people are not aware of, yet they have seen them and most probably have them in their homes too. Most of the modern taps come with an aerator, they are this small meshed filter at the end of the tap.
Though tiny, the role they play is an important one. Aerators help reduce your water usage, they achieve this by mixing air with water, hence the name. They can also change the water pressure and the stream, prevent splashing and filter out tiny debris.
If taps do not have an aerator, then it's okay to get this. But what if they already come with aerators? Why use this instead? Well, this is where Waternymph's innovation comes into play. Their aerator's angle can easily be adjusted to suit your needs, the water flow can be changed too, making it very convenient to use.
Convinced yet? You can get it for Rs.269 from here.
Footnote
Liked our list of bathroom accessories? We have a handy water heater buying guide in case you are looking to buy a water heater. We have many more guides and informative articles for your home, so be sure to check them out.
If you need help with fitting accessories in your bathroom, you can hire our expert plumbers. And if you want to give your bathroom a nice new makeover, then look no further, our expert renovators are here for you.