Superb small bathroom interior design ideas that actually work! What can you do to survive the space crunch in your small bathroom? Find out now.
Superb small bathroom interior design ideas that actually work!
Stuck with a bathroom a tad tiny for your comfort? The best way to address this problem is to make sure that every inch of space is put to good use. Enhancing the aesthetic appeal with great interior design will likely add life to your bathroom. Similar to other small spaces, a generous supply of light and air will help overcome the obvious lack of square feet area.
What can you do to survive the space crunch in your small bathroom? Find out now.
A More Functional Interior

Clean lines in an all white small bathroom
Image - Kaboommagazine.com
There's no dearth of options here, but you'll need to pick what best suits your interior needs. Mirrored vanity cabinets serve the dual purpose of creating storage and enhancing space, while open floating shelves and towel holders help organize essentials within the bathroom. Corner cabinets, drawers beneath the sink etc. are compact and still offer sufficient space to store personal items. A wall-mounted collapsible towel dryer can prove invaluable.
Are you making the best use of the space behind the swing door of your bathroom cabinet? A few hooks or shelves can create much needed extra storage space. The same applies to your bathroom door as well!
Visual Appeal Is Important

A simple, comfortable and inviting bathroom

Image - Valleyhomeimprovement.com
The idea of interior design for a bathroom may seem foreign, especially in the typical Indian home, but this simply means that your small bathroom should be comfortable and inviting, no matter how little time you spend in there. This is especially important if children are using the space. Pleasantly colored or patterned tiles on the wall and floors, shiny metallic finishes, shower curtain rods, and lighting fixtures etc., bright lights on the wall and ceiling, accent lights as preferred – all add their own appeal.
Create An Illusion Of Space In A Small Bathroom

A small bathroom that looks spacious
Image - Rachelslookbook.com
Experiment with light, color and mirrors to create a sense of spaciousness. Settling for a single color is quite effective but it may be too clinical or boring, without suitable embellishments. Installing large mirrors on existing walls also achieves a spacious intended effect. White planned lighting, colors that reflect light and visual continuity all ensure that small bathrooms look larger.
Keep Your Bathroom Squeaky Clean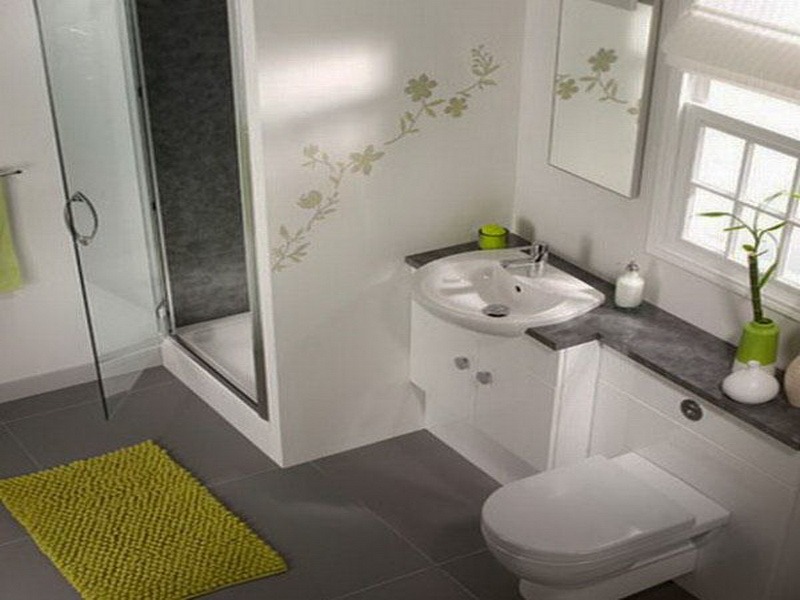 A super clean loo!
Image - Bathroomblogs.com
Pleasant smelling yet effective cleaning agents are a boon, and g
iven the scarcity of space, a small bathroom, especially if shared, should always be safe and usable. Dry floors, clean, hygienic and odor free interiors are a must, even if you need to hire a professional cleaner once every few months.
Maximize Floor Space With Thoughtful Interior Design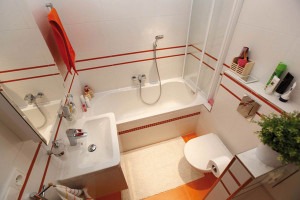 A tub? Maybe!

Image - Goodshomedesign.com
A bathtub may seem a luxury in a small bathroom, but you can combine a tub with a shower to save space. Open showers are ideal for small bathrooms that are waterproofed. Compact wall mounted WCs are better suited for small bathrooms as they occupy less space. Corner sinks again are space savers! But should you consider replacing the existing ones? Only if other ways to maximize floor space aren't that successful.
Still not sure? Hire an interior designer in Bangalore to help you plan your small bathroom for the most effective use of space.