Living space in a prime locality is costly, especially if you are a city dweller. Residing in a small apartment may be a matter of preference, but there are some of us who don't have a choice. So, making the best possible use of all available space is a great way to come to terms with reality and perhaps enjoy it too!
Here are few tips that can help you do just that!
Natural Lighting & Ventilation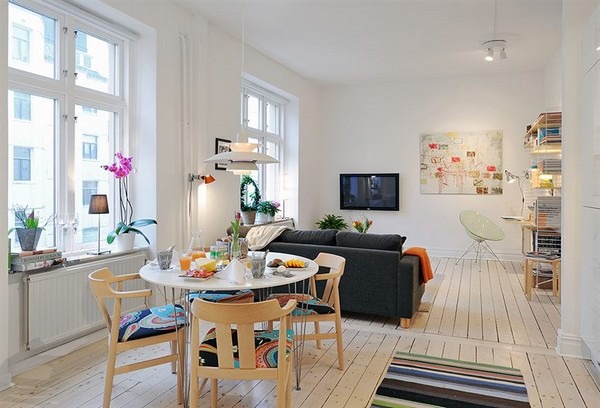 Ample Light and breeze add a sparkle of life



Image - F

reshome.com



Remember, small apartments need not be stuffy. Ensure that furniture or home appliances don't block the flow of light or air. Moving them away from doorways, windows will prove helpful.
Maximize Storage Spaces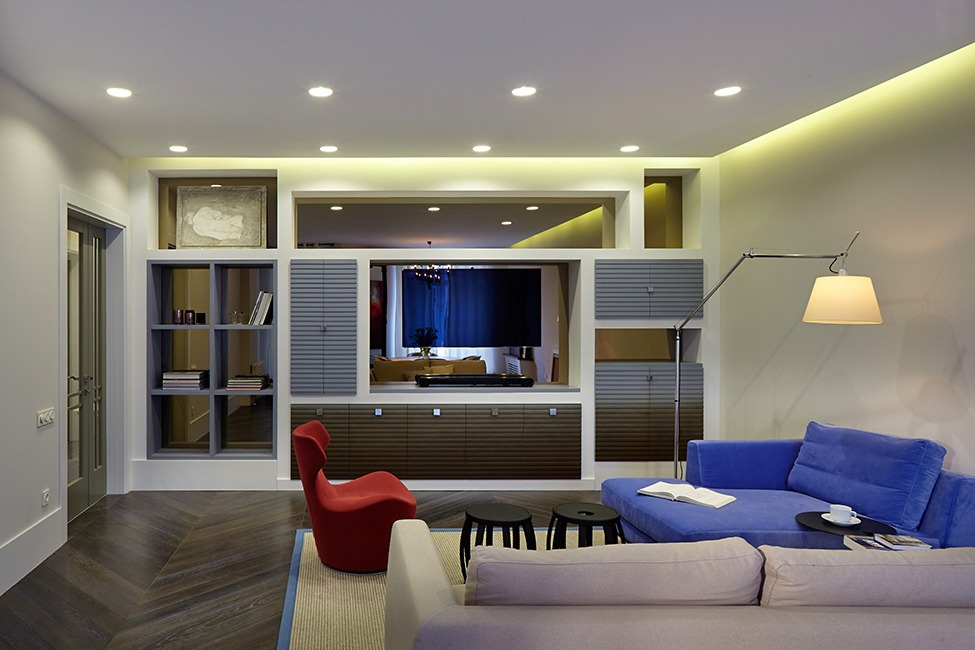 A wall of shelves provides ample storage in this living room
Make the best use of shelves, cabinets and lofts in your apartment to neatly organize belongings. In case you own the apartment, explore possibilities of adding a couple of floating shelves, cabinets or corner shelves on the walls without of course compromising on the visual appeal of the place. Need more space? Check out furniture with hidden storage spaces.
Space Saving Furniture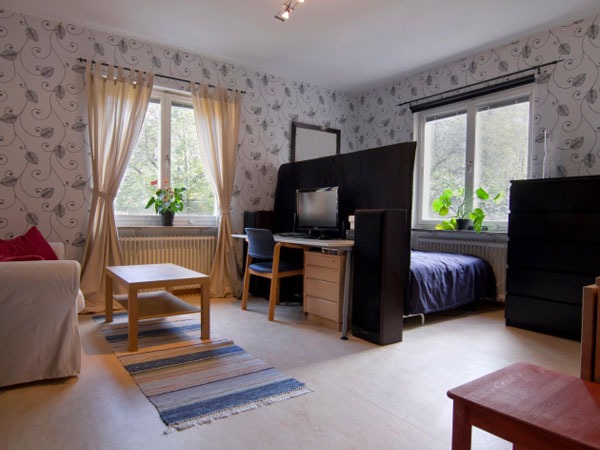 A dresser used as a room
separator
and storage!
There's a whole new world of portable, flexible, foldable, multi-purpose furniture waiting to be explored. From foldable chairs and wall-mounted flat surfaces that double up as a counter-top, work desk or dining table, to sofa/bunk beds, and height-adjustable tables, options available are literally mind-boggling.
Just make sure whatever pieces you choose to buy, fit the place and allow sufficient space to move around when they are in use.
Creative Interior Decor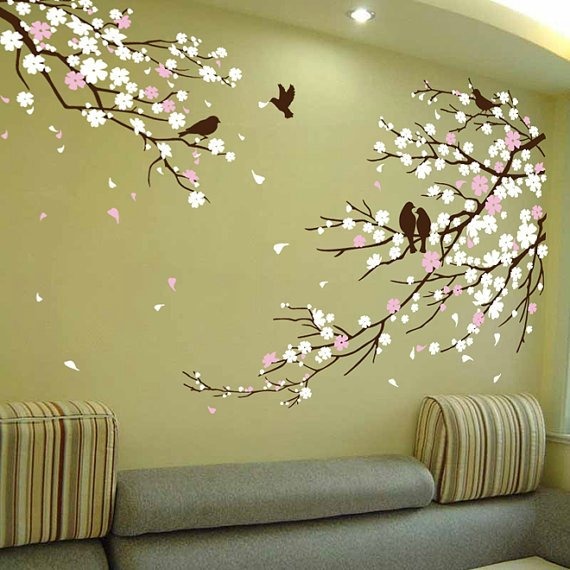 Full-wall decals can literally transform your living space
When space is scarce, it is important that you limit decor to make the right impact via calculated trade-off between the number and size of the decorative pieces, better still settle for decals. If you do have a vast collection of memorabilia or antique stuff, shuffle the display to make interiors more interesting, by creating a different look as often as you feel like.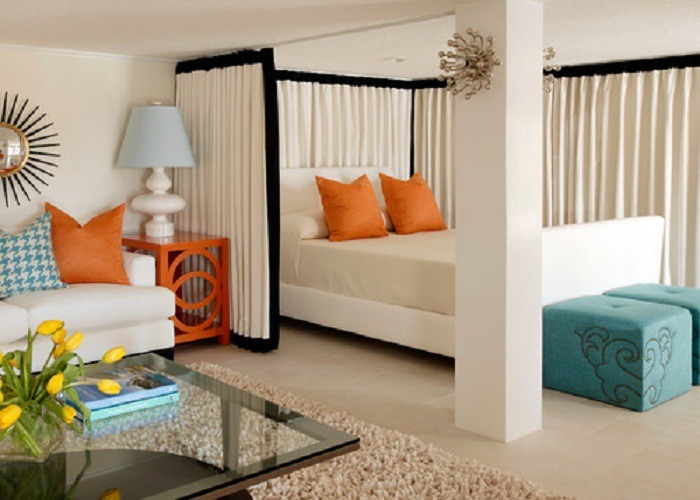 Create an illusion of space with light neutral colors
Image - Myshopps.com
From the paint on the wall and flooring to upholstery, curtains and bed-linen, you need to work on the color scheme of the entire apartment to create an illusion of space. Simple patterns, prints in muted pastel shades are a pleasure to the eye. Dark colors, bold prints and heavy fabric can suffocate small spaces.
Door & Window Styles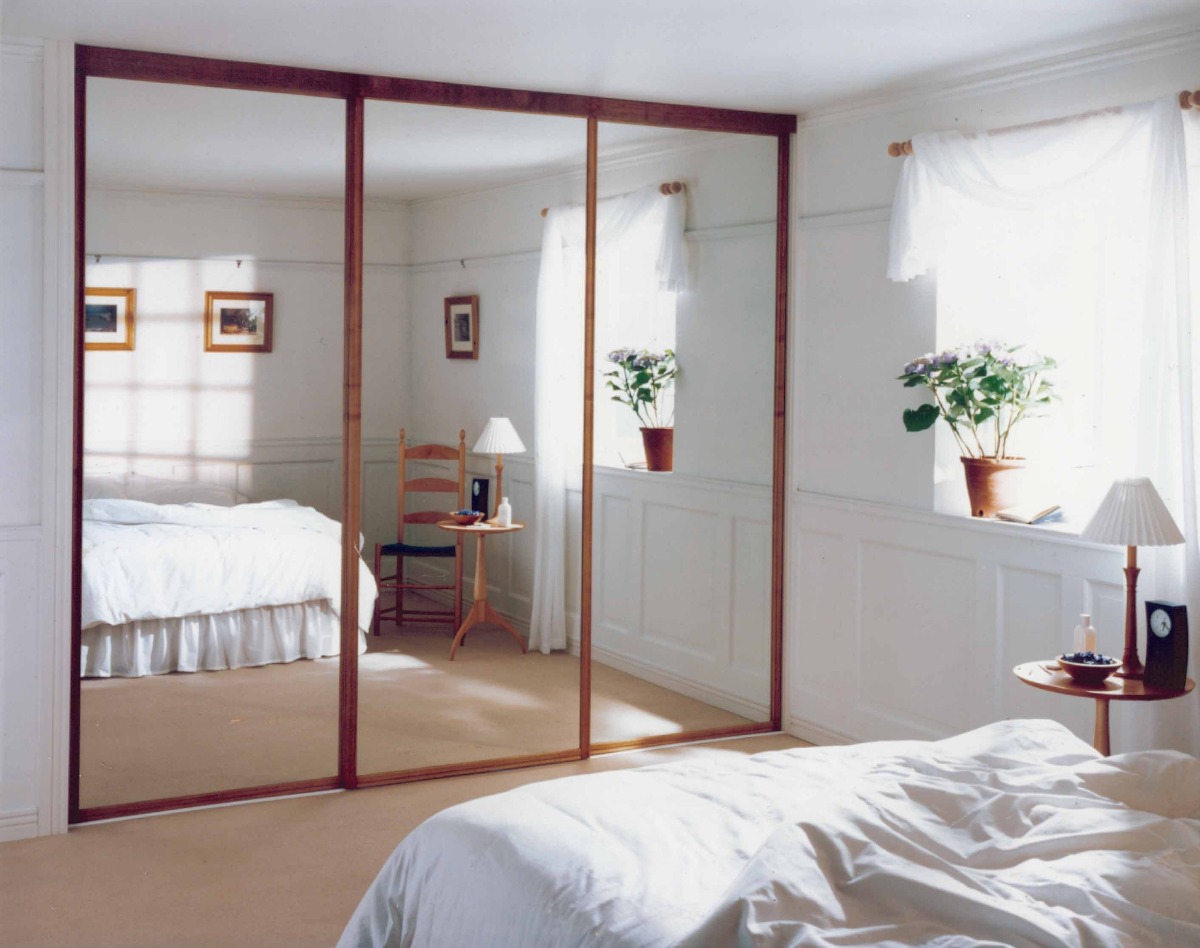 Mirrored sliding doors offer stunning results
Image - Slideandhide.co.uk
Most Indian homes and apartments are fitted with swing doors that open into or out of the living space, encroaching on much needed floor space. Consider sliding doors on wardrobes, kitchen cabinets, windows, or the bathroom, make prudent use of shutters, or even curtains can prove effective alternatives.
Demarcate Space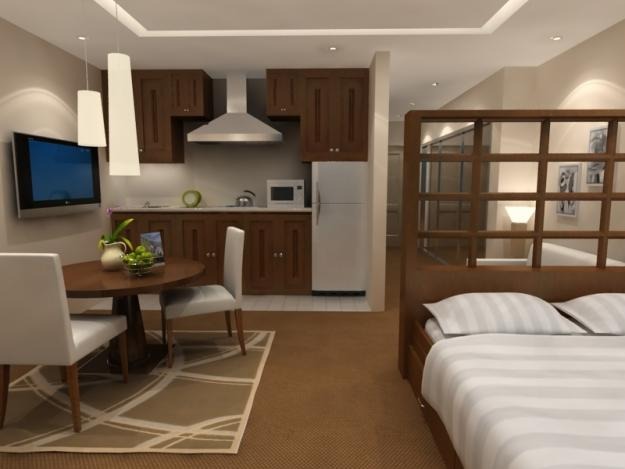 An open rack effectively divides space
Image - F

reeadsinindia.in
Interior walls are a luxury in a small apartment. If present, make the best use of the wall surface. Otherwise you can settle for innovative room dividers such as open racks, foldable screens, fabric or beaded curtains or even floor mats or carpets to separate the dining, living and sleeping quarters, depending on your need to maintain privacy.
Mirrors of the right size in the right places can also make a room feel more spacious. Nurturing herbs on the window sill, bonsai, or a small indoor plant is also likely boost the appeal of a small apartment. Make sure your compact and cosy apartment stays clutter-free, airy and well-lit and you'll definitely learn to appreciate and enjoy its comforts!