Outdoor or landscape lighting can add to the night time appeal of your home, and its value, as well as provide an added measure of safety and security.
Outdoor or landscape lighting can add to the night time appeal of your home, and its value, as well as provide an added measure of safety and security. Outdoor lighting is usually installed along features like walkways or staircases but professional lighting design for home exteriors is a new trend that is fast catching on.
Here are a few reasons to
install well planned outdoor lighting in your home.

Trendy outdoor furniture glows with embedded lighting
Style
Well designed lighting is an aesthetic plus, helping to focus attention on features like trees, plants, water fountains and textures of the walls and walkways. Recessed lighting can guide the eye around a gardens features while lending a stylishly functional glow to the outdoor area.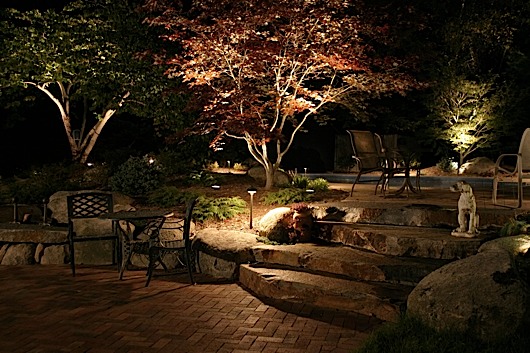 Outdoor lighting illuminates stairs and trees in a garden sit out area
Another option is using the element of light itself as an accent or standout feature. A trail of fairy lights hung over a patio table, or glowing orbs floating in a pool or water body can be eye catching and a lovely addition to perk up the conventional look of your outdoor space. Well designed lighting can make even the smallest garden or patio glow like an inviting island in the night making your outdoors feel luxurious and welcoming.
Lit up orbs nestled in the foliage at the base of a tree
Safety
Outdoor lighting enables easy movement around your garden, patio or yard without the risk of untoward accidents. Aim for good lighting along walkways, drive ways and staircases so that you can negotiate the outdoors after dark without fear of a fall or serious injury. A floodlight near an outdoor basketball ring will let your kids play and practice well after the sun goes down, well lit access to and from the external garage door will let you carry bags of groceries in from the car without hurting yourself, and friends and relatives visiting your home at night will easily distinguish it from the neighbors home!
Lights installed on an outdoor staircase
Outdoor lighting is especially important when entertaining outdoors as your guests may not be as familiar as you are with you home and may injure themselves if the area is unlit or under lit.
Security
A well lit outdoors keeps petty thieves and prowlers at bay, making your home more secure. If you live in an area where petty theft is common, installing outdoor floodlights or having a well lit landscape will help deter thieves and vandals. Concentrate bright lighting around points of access to your home like a main gate or a side or rear entry, essentially light up areas that are vulnerable and an easy targets for miscreants for a more secure home.
A well lit main entry to a house
Property Value
A well lit outdoors or garden will add to the asking price of your home and help to sell it faster.
Most homes with working owners are showcased to prospective buyers in the evening time. Let prospective buyers tour your home interior and then finish off the tour with a walk around your beautifully lit outdoors, to give them another great reason to buy your home versus the one down the road.
A beautifully lit garden and outdoor staircase area
Enjoy the pleasures of a gently illuminated yard when you entertain outdoors, designed for your lifestyle! Do share all your innovative ideas for a beautiful outdoors with us in the comments below.