Interior Design, Painting & Decor
Top 4 bed designs for kids you can't miss in 2023.
Here is a guide to help you choose the most popular bed designs for the bedrooms of your children. For advice on new designer beds for your kids, read the blog.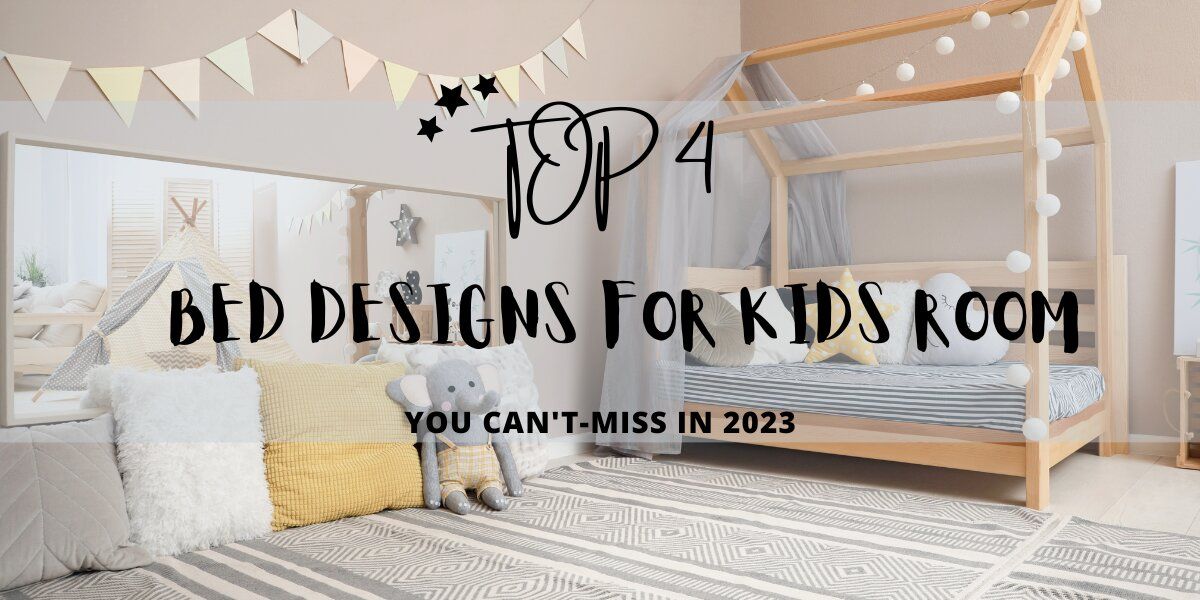 When selecting a bed for kids, there are several factors to take into account. Prioritise the safety, size, comfort, available storage space, and design of the bed. The bed is unquestionably one of the most important items of household furniture. People spend approximately a third of their lives in bed, according to Pubmed.gov. Therefore, it's crucial to get the correct bed, especially for kids. Lack of sleep has a greater impact on their everyday activities than anything else.
Good interior design impacts children in a lot of positive ways. A well-designed space fosters a sense of calm and order, which helps children feel more secure and comfortable. Not only this, a good bed has a positive impact on a child's sleep in lot of ways. Therefore it is important to choose a bed that is appropriate for the child's age and size and meets their individual needs and preferences as well as making the room look beautiful and modern.
Here are top 4 trending bed designs for all age kids that can get your child a bed of his/her comfort and desires. Read further to know more.
1) BUNK BEDS
Kids' bunk beds are a special kind of bed that have two beds piled on top of one another. Since they enable two youngsters to sleep in the same room without taking up too much space, they are a popular option for kids' rooms. Typically built of wood or metal, bunk beds may feature stairs or a ladder to reach the top bunk.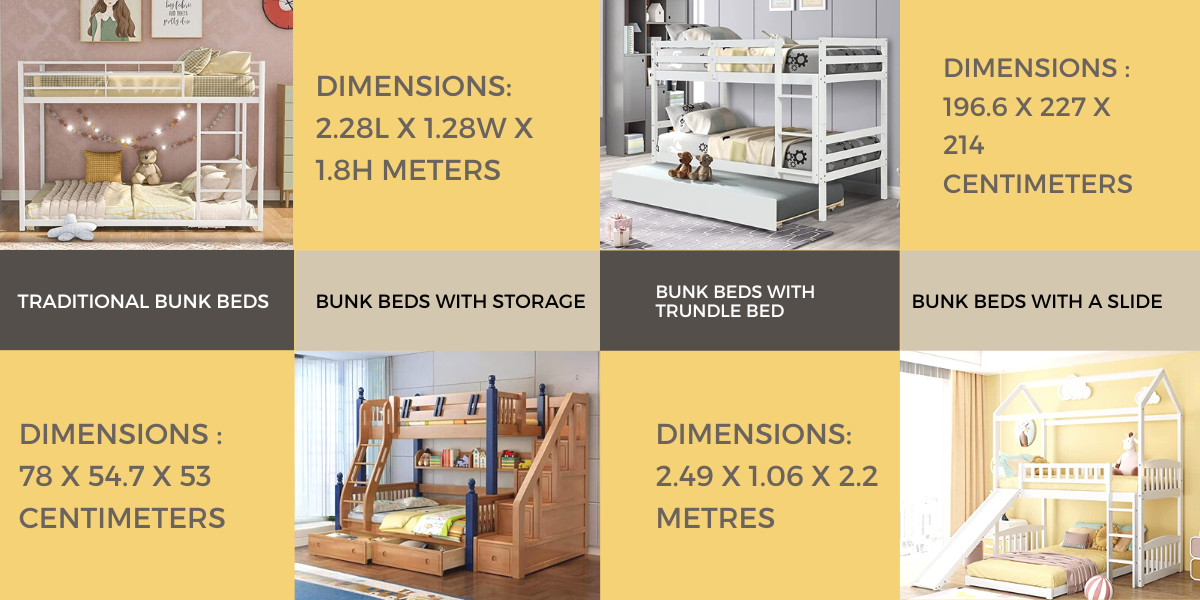 Traditional bunk beds, bunk beds with storage, bunk beds with a trundle bed, and bunk beds with a slide are just a few of the several varieties of bunk beds that are available for youngsters. Children's bunk beds may be a creative and entertaining solution since they promote play and imagination.
It's crucial to pick a bunk bed that is reliable, safe, and complies with all applicable safety regulations. Along with the age and maturity of the kids who will use it, it's a good idea to consider about the bunk bed's size and weight restrictions. For children who share a bedroom or for small households, bunk beds might be a wonderful solution.
2) CANOPY BEDS
A canopy bed is a type of bed that is characterised by four posts and a canopy/cover that is draped over the top. For kids they are typically smaller in size than those designed for a2) CANOPY BEDSdults, and they can be made from a variety of materials such as metal, wood, or plastic. Canopy beds may also feature colourful designs or themes to appeal to children.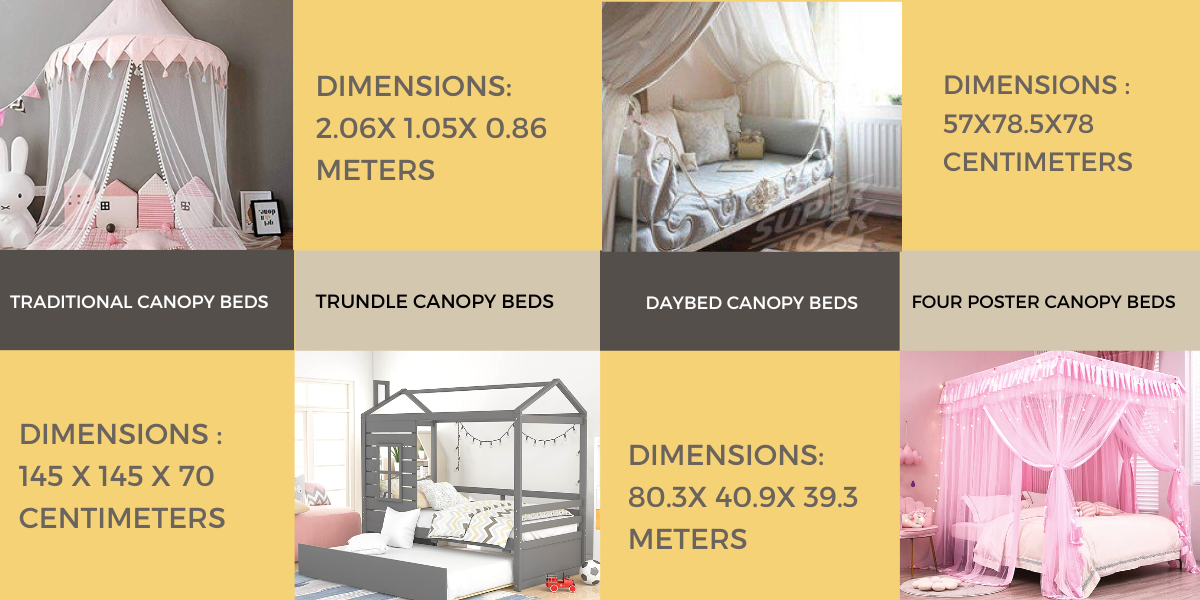 Traditional canopy beds, trundle canopy beds, daybed canopy beds, four poster canopy beds are just a few of the several varieties of bunk beds that are available for youngsters. Younger children may find canopy beds especially appealing since they could feel more secure and at ease resting in a small, enclosed environment.
3) TRUNDLE BEDS
Trundle beds are beds that have a pull-out trundle underneath, which can be used for sleepovers or as extra storage space.They allow you to have an additional bed in the same amount of space as a single bed, making them an excellent space-saving alternative for a child's bedroom. They come in a number of styles to suit various tastes and can be built from a variety of materials, including metal and wood.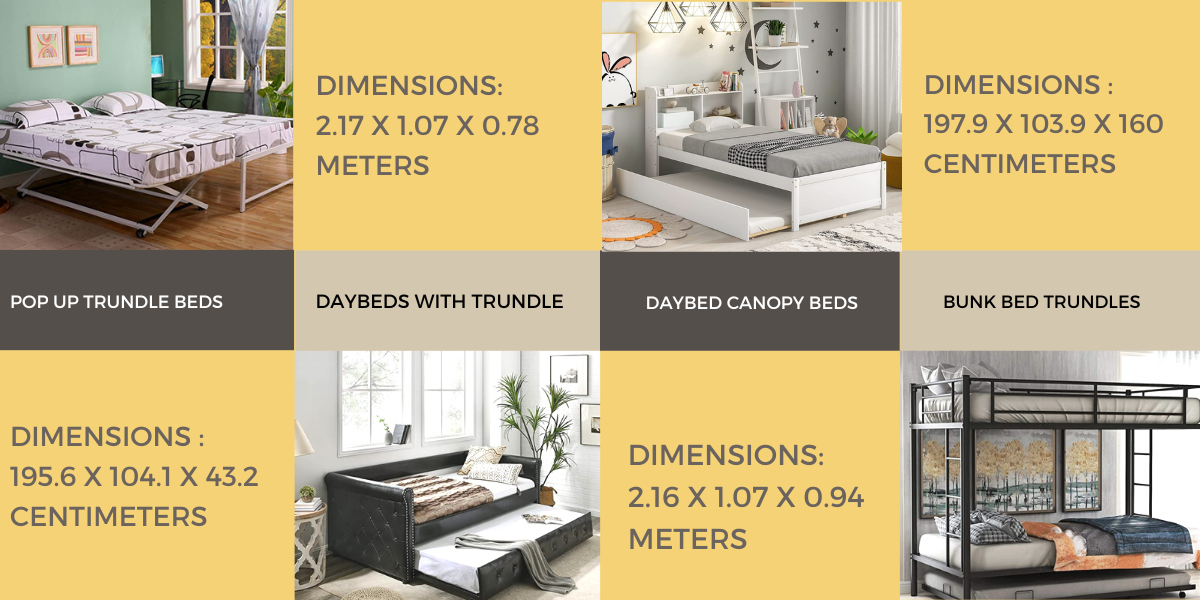 Pop up trundle beds, Daybed with trundles, Platform trundle beds, bunk bed with trundles are just a few of the several varieties of bunk beds that are available for youngsters.
You just pull out the trundle from below the main bed and set it up with a mattress and bedding to utilise a trundle bed. It  can be quickly stowed beneath the main bed when not in use, taking up very little space in the room. Children's bedrooms often have trundle beds since they offer an additional bed for sleepovers or when friends visit. They are also a practical choice for families that don't have a lot of room because they let you have an extra bed without taking up too much space.
4) THEME BASE BEDS
Theme-based beds are those beds that are designed and decorated with a particular theme or concept in mind.Any figure or property, such a Disney princess or a Star Wars character, as well as a certain look or colour scheme, might serve as the theme. These beds are frequently made for children and are intended to be entertaining and interesting. This encourages the youngsters to be enthusiastic and imaginative.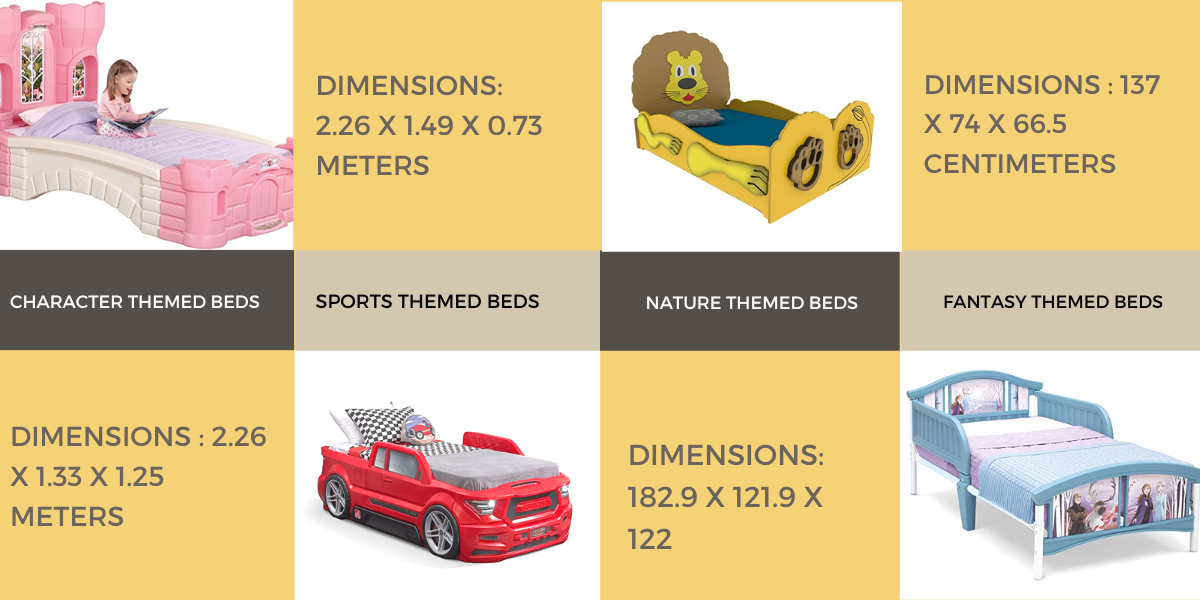 Character-themed beds, Sports-themed beds, Nature-themed beds, Fantasy-themed beds are just a few of the several varieties of bunk beds that are available for youngsters. Some theme-based beds may also come with additional features or accessories, such as built-in storage or a desk area, to help create a more functional and convenient space for the child.
The safety, comfort, development, and general well-being of your kid may all be positively impacted by selecting the correct bed for them. As a result, it is crucial that you take into account all the variables while selecting the ideal bed for your child. At-last safety, size, durability, comfort, style, age appropriation and budget is all what matters. Last but not least, what counts is safety, size, durability, comfort, style, age appropriateness, and affordability. So keep in mind all important factors and then only consider the right bed for your kid.Therefore, take into consideration all of the important facets before deciding on the ideal bed for your child.