Questions You Need To Ask Yourself While Purchasing An Air Conditioner
It's the season of chilled mango juice round the corner! Here is a list of questions that should influence your decision of split versus window AC.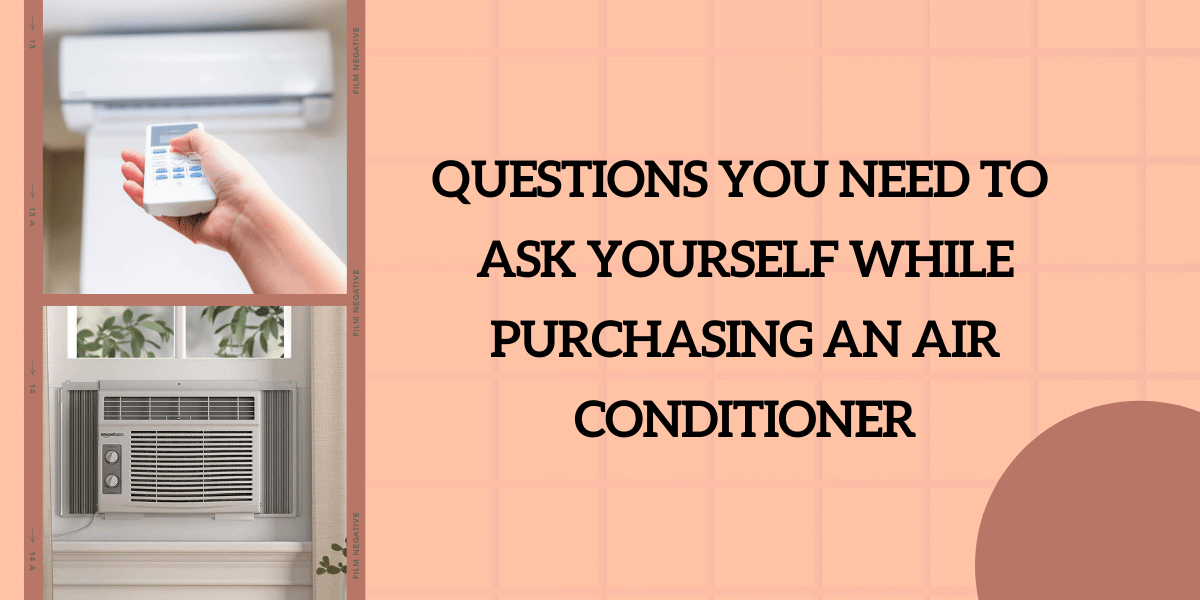 The summer season is round the corner and so is the season of Air Conditioners. If you are looking to install a new air conditioner in your house, the debate: Split vs. Window AC is natural.
Though ultimately the purpose of both the Air Conditioners is to cool the room, there are several characteristics that differentiate them due to which they are used at different places. Here are several factors that should influence your decision while buying an Air Conditioner.

An AC is one of the most expensive and long term purchases you will make for your house. The expense does not end with its purchasing and installation, it extends to high electricity consumption, maintenance and its half-yearly usage.
Here are some questions you need to ask yourself while picking the type of AC that works best for you: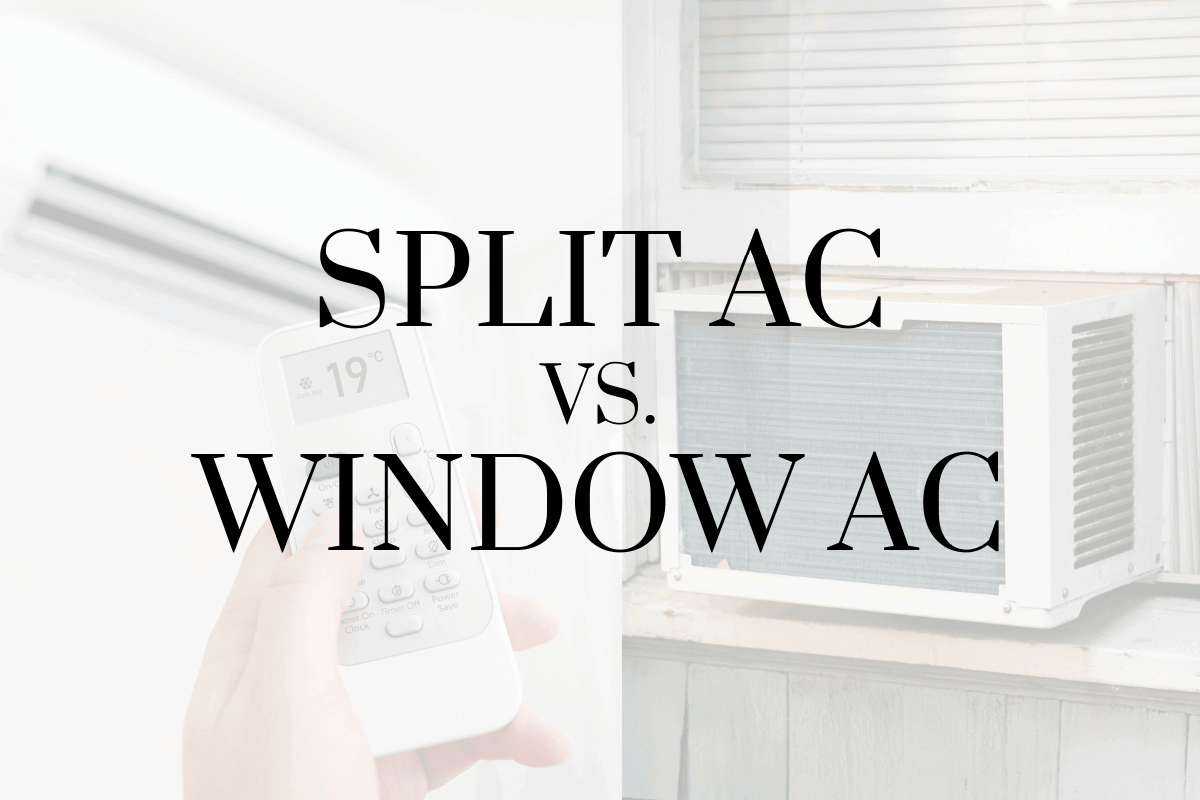 Question 1. Where do I need to install my AC?
Primarily the area of cooling is important to be considered. Whether it's for house or office, whether the room is a larger hall or a smaller space/room. Window AC works best for smaller spaces it would not require any extra space in your small room. In case it is a hall or a larger space like a commercial floor, split AC would make more sense.
Also read: HomeTriangle Guide: Where To Place Your AC?

Here, you essentially need to consider the tonnage of the AC.
Fun Fact and Point to Note:
You see the stars on the AC? They are not merely ratings, they are the depiction of the Energy Efficiency of any electrical appliance (the higher the number the more efficient it is with regards to energy consumption). This System is devised in a range of 1 to 5 stars by BEE (Bureau of Energy Efficiency), India.
So if you have a smaller room, for normal usage, you'd choose a 3 star AC, perhaps 1.5 tonnage.
The larger the are the more tonnage AC required. For instance 600sqft would require 1 tonnage, 900sqft- 1.5 tonnage, 1200sqft- 2 tonnage and so on. If you want air cooling and heating not only in one room consider RMS ducted reverse cycle air conditioning that provides maximum flexibility and control over where and when you use your airconditioner and heater plus greatly help to reduce your energy consumption.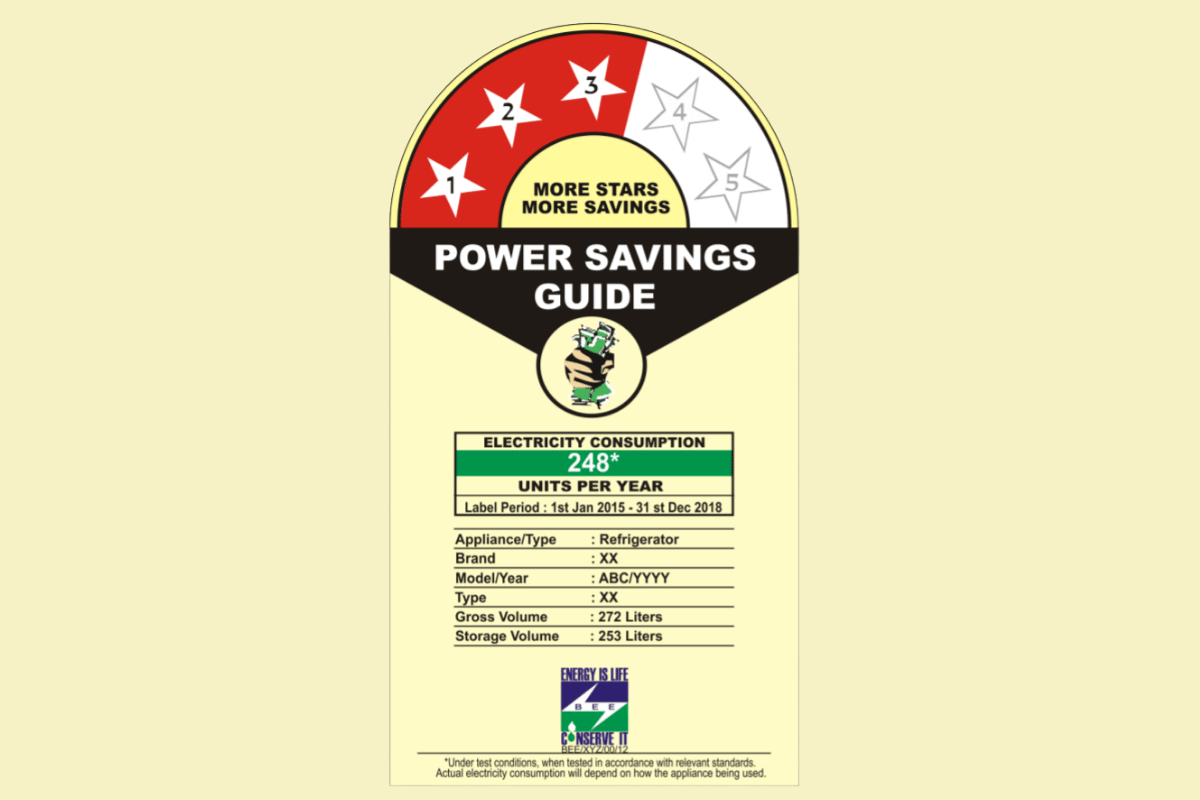 For further detail read here: HomeTriangle Guide: Choosing The Right Capacity For Your AC

Question 2. What is my budget?
Definitely prices influence our decision more than anything else. Naturally since the Split AC is a more complicated model, it is much more expensive as compared to Window AC. While window AC ranges from 16,000 INR to 40,000 INR, Split AC goes up to 60,000 INR starting from 20,000 INR.
However, when you are setting a Budget, you should not stop thinking here! An AC is an investment for at least the next 10-12 years. It would require maintenance, would be used for perhaps 4 months a year and would significantly add to your electricity bills.
Both would require installation, window AC might also require a carpenter to fix it in the window. You would need to avail installation services by professionals too.
In terms of maintenance, Split AC requires periodic maintenance while Window AC can comparatively be self-maintained.
Also read, Just How Often Should You Get Your Air Conditioner Serviced Or Looked At?

Question 3. What are my plans for the next 10 years?
If you shift around a lot, it is also important to look into the portability of both the types of air conditioners.
Fun Fact: The Real Difference between Split AC and Window AC.
Split AC is called so because it is literally split into two or more parts majorly being the 'indoor unit' and the 'outdoor unit'. While Window AC has all its components in one box, Split AC has its counterparts split outdoors(condenser) and indoors(evaporator).
Since Window AC is one unit, it has easier portability and re-installation, while, Split AC is more complicated to transport and reinstall, though it is more flexible to carry.

Question 4. What about the aesthetics and noise?
You might have guessed that keeping one window occupied for AC would definitely hinder the aesthetics and the light source of the room while one sleek AC up on the wall would barely bother the same.
Window ACs also make more noise due to having the condenser inbuilt and being on the window, while the split AC is almost absolutely silent.
Though the noise in window AC is common, it does not mean that it should go unnoticed, you should be aware of the amount and source of the noise, you might have to get it checked by professionals.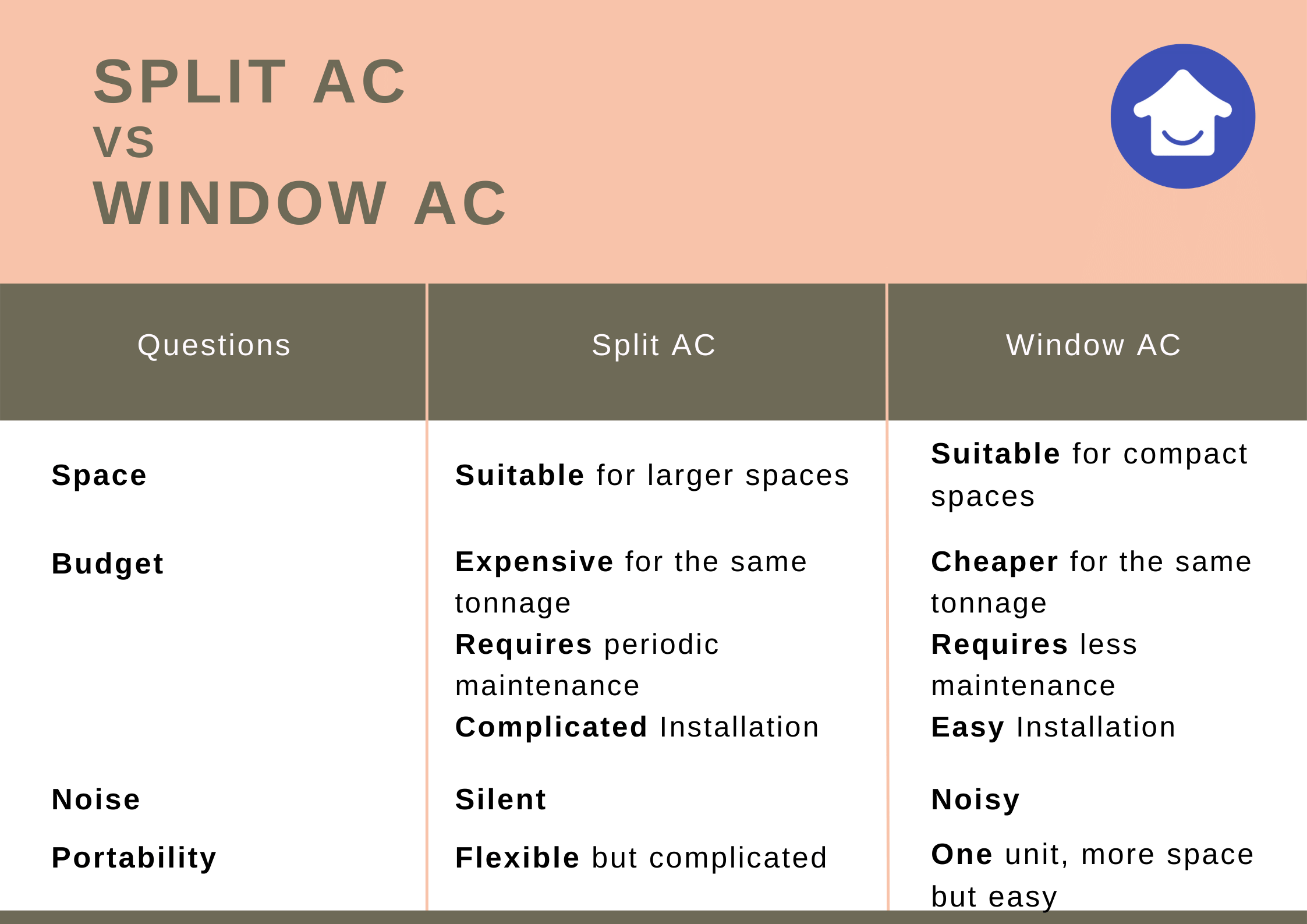 With this, hopefully your journey of choosing the right AC was made easier. For Further queries regarding AC installation, repairs, maintenance and services visit HomeTriangle.com