Real Estate & Property Management
Property Maintenance Budget Plan Every Property Owner Must Know
Efficiently manage property expenses with a tailored maintenance budget plan and maximize your property's potential as well as its long-term success.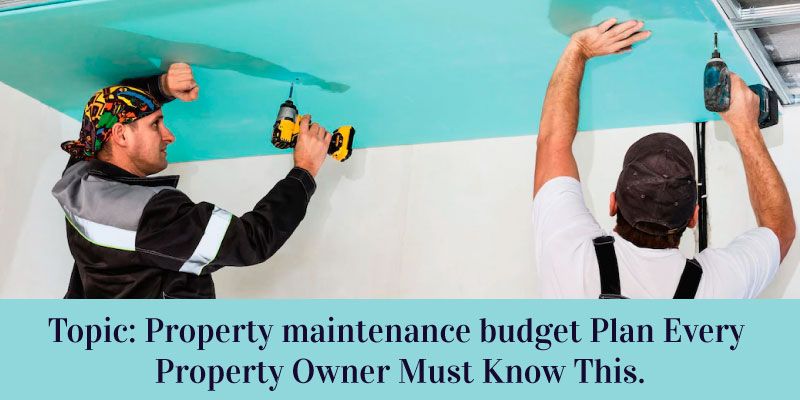 Property maintenance is quite a daunting task. But not for the property managers. They can do the job efficiently with the help of management budget planning. Such planning can help one prepare for any unexpected cost while allocating the funds effectively.
At the same time, it can let the property owner have control over their finances and track down the long-jump performance of the property by predicting the budgetary needs.
Purpose of Budgeting for Property Managers
The process of budgeting for property managers can help them to stay one step ahead. During budgeting, the property manager plans the fiscal year. Therefore the budget acts like a guide for the properties' financial performance in the future.
Besides, budgeting helps to achieve the financial goal and help the manager to plan for building investments. It also ensures that the property spends its money wisely to achieve the performance one expects year after year. Let us know some of the expected tips on budget planning in the realm of Property Management

6 Tips for Effective Property Management Budget Planning
Every property management company must indulge in budget planning to improve and scale efficiently. Here are some tips to help your budget session glide like a breeze.
Create a Budget Planning Schedule
The planning method is a year-round effort. Make sure you create Apply cushion time for the collection of material and obtain the necessary approvals.

Account for Changes in Occupancy
The occupancy level can fluctuate at any point. And it is imperative to identify the wishes and needs of your tenants to determine how your team can sit them to stay in their position.

Use Work Order Data
Equipment breakdowns are inevitable and unwelcome. Hence staying and stepping ahead by analysing work order data in case of equipment repairs can help you to manage your Property Management budget conveniently. Even if you are indulging in rental property management, you must use the work order data to access the company staffing level. Since engineering payroll can be one of the heavy expenses in Property Management budget planning, hence, maintaining the headcount would be a critical aspect.

Benchmark the Operating Expenses
Data without any context has very little value. To identify the areas that require improvement, the best property management companies in Bangalore help to measure the ex-operating expenses against the competitive portfolio. Having a relevant point of comparison can help every property manager justify the expense and control the cost to stay competitive.

Incorporate Technology
Technology helps to streamline the process of compiling large amounts of information in a short period. It can free up time and let you manage other avenues of workload.
As you move away from the spreadsheet or any other manual process, it can save your time by significantly reducing the risk of human error. Taking the help of Property Management software can let you compile data efficiently while improving your budgeting further.

Stay Ahead of Tenant TrendThe priorities and needs of every tenant change quickly. It can make any property manager feel one step behind. Staying updated with current tenant experience trends can let you be at ease.

Ways a Property Manager Creates, Monitors, and Improves a Budget
Apart from that, the manager can utilize techniques like:
Indulging in research work
Working with the team
Creating a uniform spending process
Anticipating income and expenses
Home Triangle is a well-known platform where you can find many reputed and professional property management companies. We are connected with a network of service providers offering property management and help you in finding the right one as per your requirement. We have been trusted by clients for our seamlessness and transparency.

If you have been in search of a property management professional near you, you may consider Home Triangle. We will help you find the right person for the job. Moreover you can also check the reviews from our website before you book a service provider listed at our portal.