Photography & Event Services
Pre-Wedding Photography: The Complete Guide
If you are wondering what Pre-wedding photography is and its ideas & benefits, then this one is for you.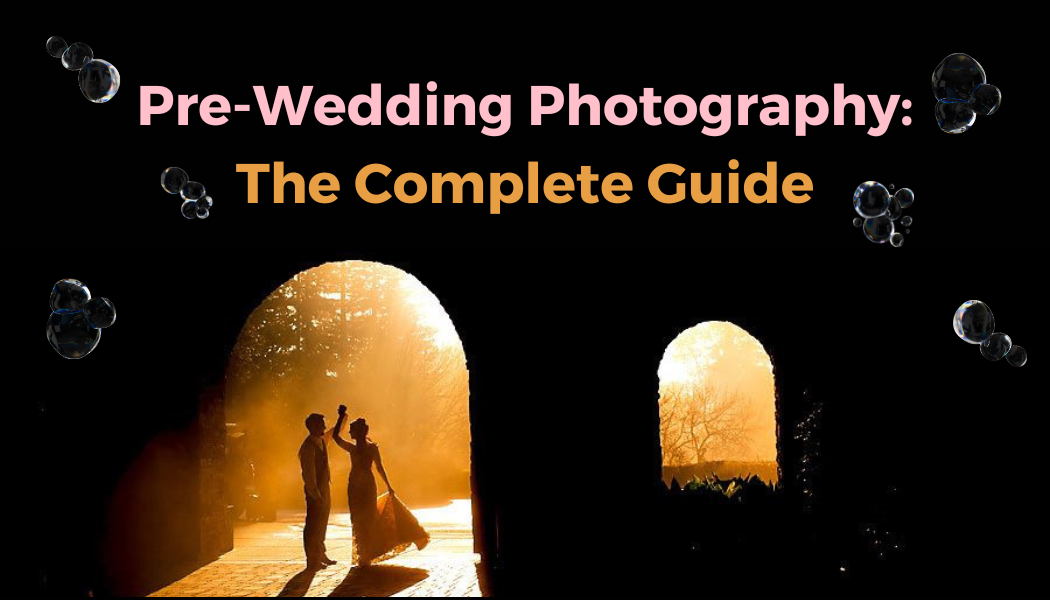 The Practice of Wedding Photography began in the early 1840s to celebrate the togetherness of a couple and have a personal memory. The latest trend has been Pre-wedding photography, and we have to give it to all the Brides who popularized this practice. Pre-wedding photography is pretty much prenuptial photography, where the intention is to capture the couple's moments together and their journey till the big day. Now, let's get into a detailed analysis of the benefits of Pre-wedding photography, Ideas for a pre-wedding photoshoot, Budget-friendly locations for a pre-wedding photoshoot, Creative couple poses and more.
Benefits Of Pre-Wedding Photography
1) Recreating Memories
Couples love to have a memory they can show to their kids, family, friends, and what better way than photographs. The first time they met, The first time they went out, and The first food they shared are all moments stored in their hearts and souls forever. To recreate those moments and have a physical memory in the form of photographs is nothing less than serving the whole purpose of pre-wedding photography.
2) Customizing Moments
Don't we all have moments in our relationships that we would like to alter? Just a little bit? No?
Anyway, Pre-wedding photography helps you to recreate those moments you want to alter with a different environment or wardrobe. Let's accept that it is filmy and fun to relive those moments while also giving it a change in the way you want.
3) Capturing The Journey
Every couple has their own journey, and unlike in old times, even in an arranged marriage, the couple gets a good time to know and understand each other. Pre-wedding photography can be a great tool to capture those important moments in their journey to marriage. But at the end of the day, the whole purpose of Pre-wedding photography is to have a memory that celebrates the union of two people in love.
Pre-Wedding Photoshoot Ideas
In a Pre-wedding photoshoot, there are numerous possibilities and no limit to creativity. Every couple is different, their journey is different, and naturally, their ideas will be. However, here are some themes you can use to capture your lovely moments and the journey of the relationship:
1) Connecting Nature
This is the common theme couples use because of the aesthetic appeal in photographs. Browse outdoor locations like a waterfall, forest, park, or beach, and choose the one you love. Apart from the aesthetic appeal, having nature as a backdrop in your photographs can give them a relaxing and romantic vibe overall.
2) Just Like Old Times
We have to agree that for now, we don't have the ability to time travel (Maybe Never?), but we can click photographs using vintage items in the background. There are places to rent vintage items like Gramaphone, Retro Wardrobes, Telephone, etc. You can also visit museums (Confirm with the museum officials if they allow photographs), retro-themed cafes, and vintage buildings. This theme can bring a nostalgic feel and a timeless vibe.
3) Monuments
Fortunately, there are still monumental buildings around and using them for pre-wedding photographs is clever and can give a unique touch to the pictures. Go through monumental buildings on the internet and confirm if the location goes well with the clothes you will wear. Sometimes having the same colour background as the clothes you wear can dull the photographs.
4) Reel To Real
Recreating iconic or favourite cinematic moments is another fun idea for pre-wedding photographs. But before doing it, ensure your partner and the photographers are well-prepared and aware of those moments so that you can recreate those moments with extreme authenticity. Choose your favourite movie scenes, poses, and recreate them with your partner.
5) The Four Seasons
Coordinate with your photographers about this idea and get props to recreate the seasons. Although generally expensive, recreating the four seasons at one time can be nothing but a fulfilling and romantic experience. Fake Cherry Blossom leaves, Snow Sprays, and Flowers can be used as props. Bring in your creativity to recreate the four seasons with your partner.
Apart from these five themes, You can explore the Urban Cities, Cultural Heritage and Go on adventure rides or exotic destinations to use them as backgrounds for your photographs.
Budget-Friendly Locations In India For Your Pre-Wedding Photoshoot
India is known for its diverse range of locations. And if you are someone who lives in India and also doesn't want to spend a lot for the sake of pre-wedding photographs, here are some budget-friendly locations for you:
1) Parks
Cubbon Park in Bengaluru, Lodhi Gardens in Delhi, and Victoria Memorial Gardens in Kolkata.
2) Colourful Streets
French Quarters in Pondicherry, Fontainhas in Goa, Lodhi Road (Lodhi Art District) in Delhi, Old City in Udaipur, Bandra in Mumbai, Malleswaram Road in Bengaluru for their artistic artworks, Brigade Road in Bengaluru.
3) Heritage Sites
Ajanta, Ellora Caves in Maharashtra, Agra Fort, Taj Mahal in Uttar Pradesh, Sun Temple in Odisha, Kaziranga National Park in Assam, Monuments in Hampi and Pattadakal, Great Living Chola Temples, etc.
4) Beaches
Chandipur Beach in Odisha, Cavelossim Beach in Goa, Butterfly Beach in South Goa, Om Beach in Karnataka, Varkala Beach in Kerala, Mandarmani Beach in West Bengal, Kodi Beach in Karnataka.
5) Hill Stations
Manali, Dharamshala, Shimla in Himachal Pradesh, Shillong in Meghalaya, Mussoorie, Auli in Uttarakhand, Darjeeling in West Bengal, Coorg in Karnataka, Munnar in Kerala, Ooty, Kodaikanal in Tamil Nadu, etc.
Creative Pre-Wedding Photoshoot Poses
If you are someone who wants to stand out from the conventional poses for your pre-wedding photographs, here are some creative ideas for you:
The rings are placed in the forefront of the image, and the couple is at the intersection of the circle, thus highlighting the metaphor, which is their union.
The couple poses within a close range, almost the size of one person, emphasizing the idea of 'two souls and one body'.
The Groom holds a mirror in which the reflection of the Bride is visible. This is a unique way to place two subjects in close range.
A couple holding each other, while two different colours of fog are shot from each side, representing their different personalities and togetherness.
The couple poses from both ends of the picture, with spotlights on them, meaning even when the whole world is dark, they are the only source of light for each other.