Interior Design, Painting & Decor
Nailing the Modern House Vibe: Top Tips
Unlock the secrets to a modern home aesthetic with our comprehensive guide. From furniture picks to color schemes, learn how to create that contemporary vibe.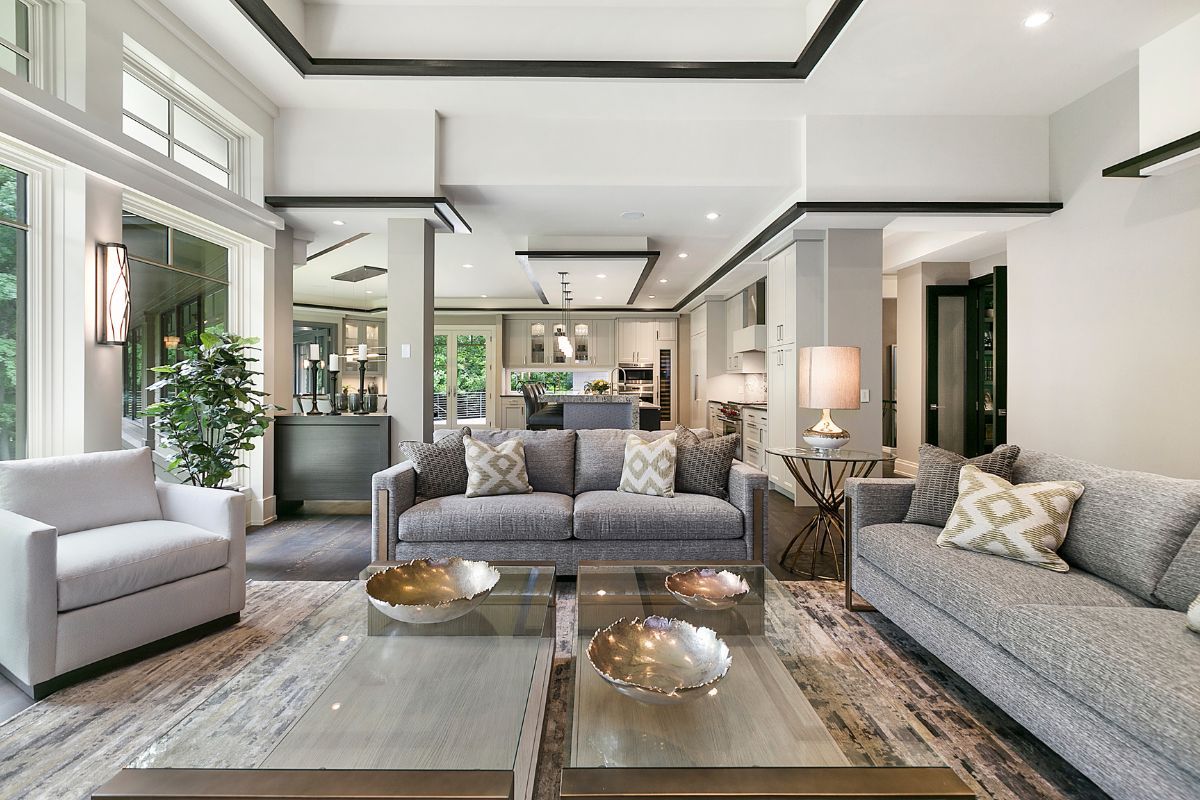 So, you've got an old house. It feels like home to you, and you'll never choose to live anywhere else. You feel privileged to live in an old house and be part of keeping it alive for future generations to enjoy and learn from. An old house is a delight, but there are differences in day-to-day life between now and when the home was constructed.
If you want to make serious changes, it's difficult, if not impossible, to change the overall look without some kind of demolition or huge investment. Renovating the entire home can be costly, not to mention time-consuming, so stick to small changes. Continue reading to discover what you can do to bring your house from drab to fab.
Highlight The Space With An Eye-Catching Pop of Colour
Neutrals create consistency and set a calming tone, but colour is the missing piece from your jigsaw puzzle. The right colour has the power to upgrade the house and create a long-lasting impression; it can make your home look more refined, which is good news if you're renovating on a budget. In modern interiors, bright colours are consolidated with a simple aesthetic and smart design and curb appeal. Paint a room or two to change the overall atmosphere of the house. If you want to draw attention to a part of the home that might be overlooked, create an accent wall. Accent walls are popular in living rooms and bedrooms, but you can have one in the kitchen, bathroom, or hallway.
Give Your Kitchen A Facelift
Just because the kitchen isn't new, that doesn't mean that it has to look that way. If you have a shaker kitchen, you're in luck because its simple and minimalist design can be adapted for a modern look. For example, you can incorporate a kitchen island, which can be used as a gathering spot or workspace; it's equipped with cabinets, drawers, and shelves. A shaker kitchen pairs well with any type of countertop, but it's recommended to go with recycled glass or concrete if you want a truly modern twist. Even if most modern kitchens these days feature painted cabinetry that exudes personality, you can say yes to the natural patina of wood.
You've got the vision, and nothing is stopping you from bringing it to life. Turn your imagination into a finished design to create a sophisticated and distinctive kitchen. As a way of illustration, you can combine different cultures and styles. Use different materials together; they don't even have to be the same colour. When choosing a backsplash for Shaker-style cabinets, there are several ways to make a combination, with options that range from marble slabs to subway tiles. Even to the untrained eye, it's evident that a tasteful backsplash can make the kitchen look more modern (and more expensive). You can give your shaker kitchen a je ne sais quoi with a mix of rustic and refined elements inspired by the French countryside.
Replace Outdated Light Fixtures
Old light fixtures are prone to faults due to loose electrical connections, loose contacts, or a damaged contact in the socket base. Even if a repair is possible, it's not a long-term solution. If you're unhappy with the performance of the lighting fixtures, have them replaced as soon as possible. Equally, if they're outdated, you'll want a new design or look. Switching up your lighting arrangement will give your house a new look or feel, so you can go modern while adding value to your home. Decorating trends come and go, but mid-century décor is here to stay, so look into styles from this period.
Rethink The Fireplace
On a crisp winter day, nothing can compare to the crackle and pop of logs burning, the beauty of the dancing flames, and the dim light glow. Besides the all-mighty heat it creates, the fireplace is treasured for its aesthetic value and the welcoming ambiance it creates. With the right trick, your fireplace will stand out as the focal point of the room. If you want to make yours look timeless and stylish regardless of what time of the year it is, we've got some ideas for you. For example, you can paint the brick surround, mantel, and wall to create a viscid background. The simplest yet most elegant fireplace is one painted in your favourite shade. You can paint it a moody black or charcoal grey.
Instead of using oversized pieces of art, you can opt for coordinating frames. The photos will stand out when you have a mix of colour, texture, and material. You might be tempted to hang dark artwork to harmonise with the stone, but the fireplace leaves enough white space above for a vividly coloured piece. Don't be afraid to use a large statement piece -it helps tie things together. Last but not least, you can use a mirror to bring in light. It creates the impression of an extra window in the living room, so you can add character to your old house. Hang a large mirror rather than a lean one.
Opt For Easy to Lay Prefinished Flooring
Replacing your carpets with pre-finished flooring helps get rid of harmful toxins and improves the quality of your indoor air. What is more, flooring gives your home an elegant look, enhancing your interior décor. There's no denying the fact that carpets are a fantastic floor covering choice, but for a modern look, stick to prefinished flooring. As the name clearly suggests, pre-finished flooring can be installed right away, as it's already sanded, sealed, and ready to nail into place. It's easier to find than an unfinished floor. Although the initial cost might appear higher, the flooring will end up costing less.
Concluding Thoughts
The home improvement tips discussed earlier will take your old house into the new decade. You'll want to plan ahead because little updates here and there will leave your home feeling ill-matched. Take enough time to plan your look. Old houses have incredible décor features that newer homes lack, so draw attention to these features by painting them differently. As an example, you can paint your external doors in a bold colour to make them stand out.