Construction, Architecture & Renovation
Kitchen Installations - What to Expect & Timelines
Revamp your kitchen with a process that combines careful planning, furniture selection, and appliance choices for a modern, functional upgrade.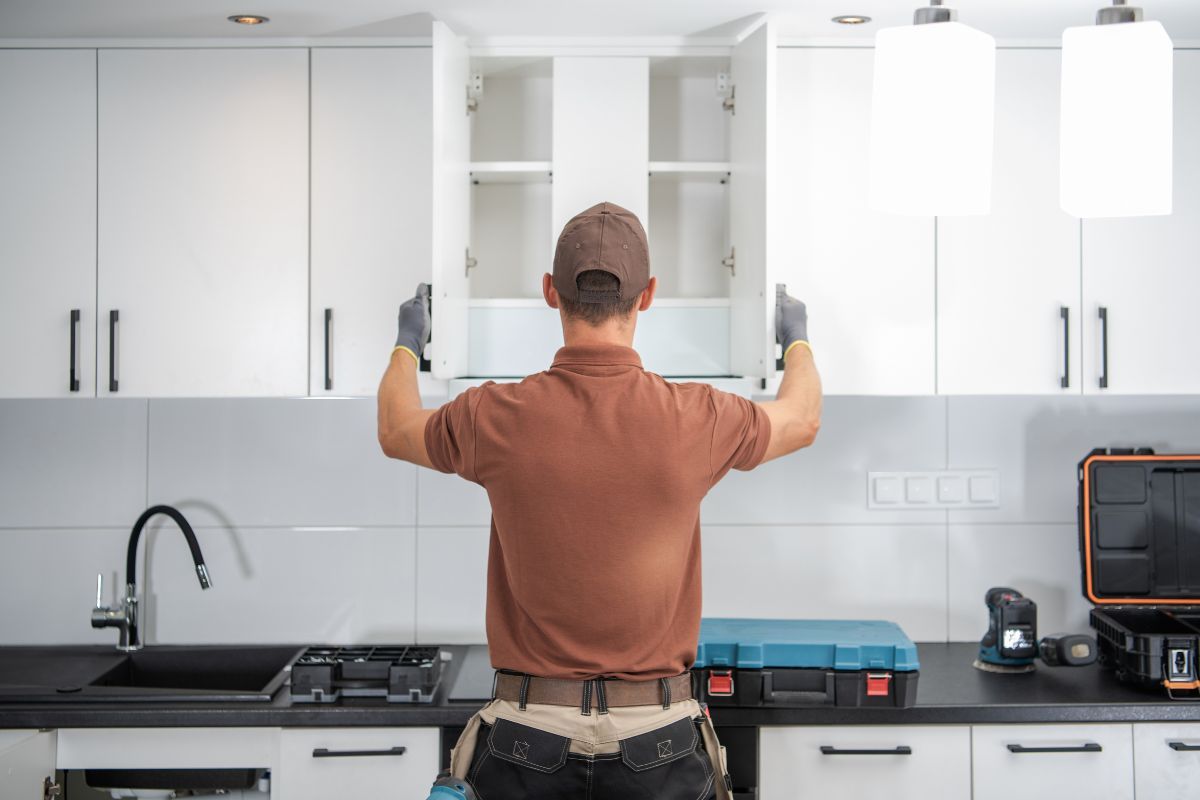 Key Takeaways
On average kitchen installation will take from 1-3 days for a basic installation to 1-4 weeks for more complex remodelling projects.
A standard kitchen installation will usually cost between £1500-£3500 (labour only)
You will often be unable to use your kitchen during a new installation, so you must plan alternative means to accommodate this inconvenience.
Kitchen Installations
Whether driven by necessity or the desire for a modern refresh, the process of kitchen installations encompasses a series of calculated steps that start with meticulous planning and incorporate everything from furniture selection to identifying the perfect appliances.
This comprehensive guide aims to demystify the 'whats', 'whys', and 'hows' of kitchen installations and provide a realistic timeline for this transformative endeavour.
Designing Your Kitchen
The blueprint of a well-executed kitchen installation begins with a robust design and planning stage.
This phase is the cornerstone that dictates how well the space will work functionally, how efficiently you will use the space that is available to you, and the overall aesthetic appeal of your kitchen. Important elements include:
Layout and Functionality
Central to kitchen design is choosing a layout that best suits your space and lifestyle.
The classic kitchen work triangle, optimising the placement of the sink, refrigerator, and stove, is aimed at reducing unnecessary movement.
However, a more modern alternative exists; the zoning layout, which organises the kitchen into distinct functional areas for preparation, cooking, and cleaning.
Units and Furniture
The choice of units - whether you prefer modern, sleek handleless cabinets, or are aiming for a more traditional, minimalist, Shaker-style - should marry functionality with personal taste.
If you have sufficient floor space, it is well worth considering the inclusion of an island for additional counter space and seating.
There are also a wide range of smart storage solutions like pull-out pantries, and open shelving for easy access and display purposes that are worth serious consideration.
Materials and Aesthetics
The choice of materials is also a fundamental decision you are going to face.
Quartz countertops, hardwood flooring, or backsplash tiles not only define the look of your kitchen but also its longevity and, to a large degree, how long you are going to have to spend cleaning and maintaining it.
The colour scheme and lighting will set the mood, while ergonomic considerations ensure comfort and safety.
Kitchen Appliances Installation
Factoring in what appliances you will incorporate into your new kitchen demands attention to detail, as it involves electrical, plumbing, and often gas connections.
All of these need to be considered, particularly in the case of complete redesigns.
If you are simply replacing like for like in terms of cabinets, units, countertops etc then the process should be much easier.
Below we consider the most common appliances:
Cookers
The installation of a cooker can vary from a simple slot-in affair to a more complex fitting if it's a high-end model or if it requires a gas connection.
It's essential to consider the extractor setup above the cooker, ensuring efficient ventilation.
It is strongly advised that you use the services of a gas-certified engineer for installing new gas cookers.
Dishwashers and Washing Machines
These appliances require both water and power supply. In a new build property or a straight replacement, this won't be much of an issue in most cases but for totally new layouts, you need to consider the plumbing and power connections.
Additionally, consider the proximity to the sink and the potential need for cabinet adjustments to accommodate built-in models.
Extractors
The role of extractors is crucial, not only for air quality but also for preventing the build up of mould and potential damage to paintwork..
The installation might include venting to the outside, which can be more complex if ductwork is needed.
How Long Does Kitchen Installation Take?
For a basic installation (old units already removed) of units, cabinets, and worktops you can expect installation to take between 1-3 days.
With more complex installations that might involve new floors, the relocation of appliances etc. you are most likely looking at between 1-4 weeks.
How Long Does it Take to Install New Kitchen Appliances?
New appliances shouldn't take more than 1-3 hours unless they require unique installation methods, or with some smart appliances that may require some type of network connection, in which case it might take up to 1 day.
Kitchen Installation Cost
A kitchen installation cost in the UK should cost you between £1500-£3500 on average. This and the figures to follow are based on a kitchen that is approximately 190 square feet/18 sq metres.
This will be the range you are typically quoted for the installation of new units, cabinets, and worktops, to a full remodel, including new flooring, a new sink, and tilling.
Additional units or furniture and the installation of appliances can increase the total cost to over £5000+.
Avoiding Common Pitfalls
To ensure a smooth kitchen installation, be mindful of these common pitfalls:
Underestimating the Budget: Always account for unexpected costs by setting aside an additional 10-20% of your total budget for contingencies.
Overlooking Functionality: Aesthetic is important, but not at the expense of functionality. Ensure your design allows for comfortable flow and usage.
Neglecting Storage: Ample and accessible storage is a must. Plan for enough cabinets and drawers to accommodate all your kitchen essentials.
Forgetting Ventilation: Good ventilation is key to maintaining air quality, especially with gas appliances. Ensure your design includes an effective exhaust system.
Skimping on Countertop Space: Adequate counter space is vital for meal prep and daily activities. Plan for as much work surface area as your space allows.
By adhering to the checklist, understanding the variable nature of timelines, and steering clear of common pitfalls, you're setting the stage for a successful kitchen installation that's as efficient and stress-free as possible.
FAQs
What factors can extend the timeline of a kitchen installation?
Several factors can extend a kitchen installation timeline, including delayed material delivery, unexpected structural issues that require additional work, changes to the original design, and the complexity of custom elements.
Additionally, if any part of the installation requires special orders, such as custom cabinetry or imported materials, this can also add time to the project.
It's wise to factor in extra time for contingencies when planning your kitchen renovation.
Can I use my kitchen during the installation process?
Kitchen use may be limited or not possible during certain phases of the installation process, particularly during demolition, flooring, or when utilities are disconnected.
Planning a temporary kitchen area with essentials like a small refrigerator, microwave, and a water source can help manage the inconvenience during this period. If it's during the summer, it would be a good idea to give the barbeque a clean!
Should I purchase appliances before or after the cabinets are installed?
It's best to select your appliances before the cabinet installation begins.
The exact dimensions of your appliances are crucial for the cabinetry layout to ensure a perfect fit.
Having your appliance specifications on hand during the design phase can prevent potential issues and delays in the installation process.
Getting a New Kitchen - it's a Counter-Revolution!
A kitchen installation is an orchestrated process that should follow a clear sequence of events from design conception to the final touches.
While a standard update might be completed within a few days, a full-scale renovation could extend over several weeks or even months
Being prepared for this progression is crucial. By factoring in time for planning, construction, and the unexpected, you'll navigate the journey with foresight and ease.
Ultimately, the investment of time ensures a kitchen that's tailored to your lifestyle, promising enjoyment and functionality for years to come.