Interior Design, Painting & Decor
Is It Worth Investing In Luxury Garden Furniture? A Complete Guide
Investing in garden furniture is a wise choice for several reasons. Firstly, it enhances the appearance of your outdoor space.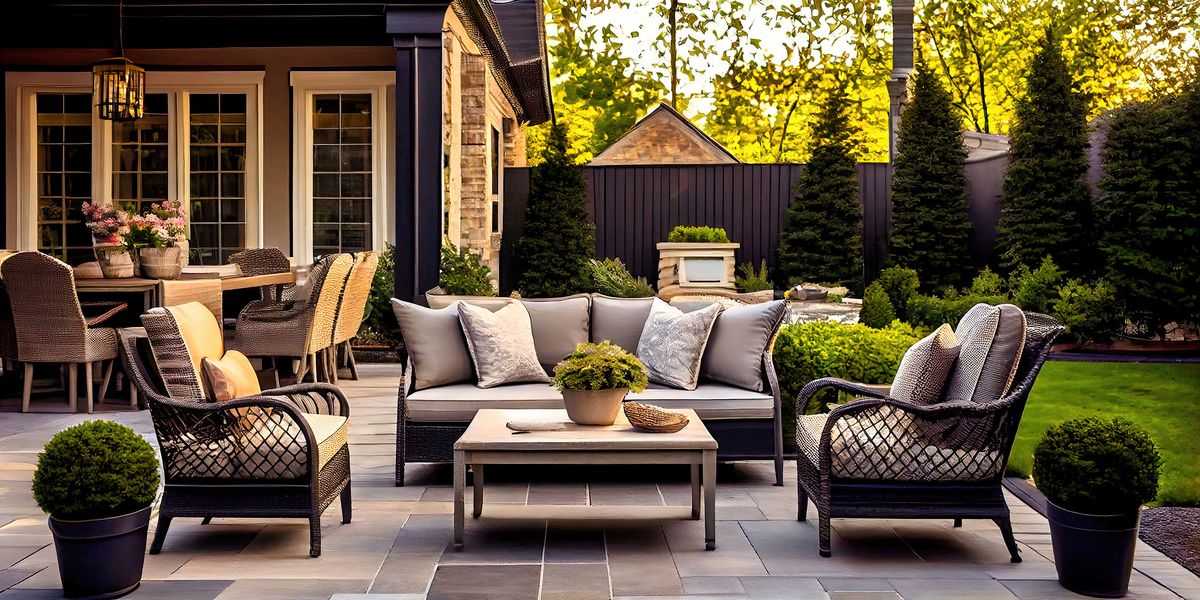 Investing in garden furniture is a wise choice for several reasons. Firstly, it enhances the appearance of your outdoor space. Secondly, it provides a wonderful place to relax, unwind, and enjoy the weather. Therefore, it is crucial to understand the important factors and make an informed decision when investing in garden furniture.
Features such as durability, style, and maintenance significantly impact your decision when selecting furniture. Additionally, considering the quality and functionality ensures a worthwhile investment.
For a stylish garden, it is recommended to include luxury furniture. However, selecting the best furniture for your garden can be challenging and time-consuming for most homeowners. If you're unsure about the process, this comprehensive guide on investing in luxury garden furniture will provide you with the necessary information.
Garden Furniture To Consider
Various types of garden furniture are suitable for a luxurious garden space. If you prioritize comfort and style, it's best to explore different options.
Here is a list of furniture types that you can consider:
Reclining Rattan Furniture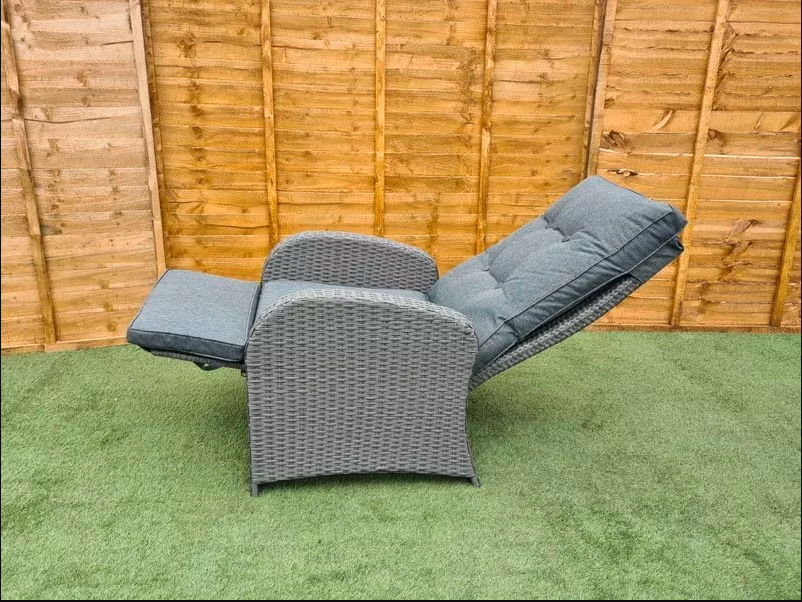 If you want to add even more luxury to your garden, why not consider reclining furniture? This lets you adjust the seat backrest to any angle, which is much more comfortable when sitting for longer periods, or if you have back discomfort after sitting. The range at Garden Centre Shopping includes weatherproof reclining furniture, which means you can also leave it outside all year without needing a cover.
Rope Garden Furniture
Rope design consists of classic furniture pieces firmly strapped with cords on a solid frame. When tightly woven, it provides cushioning and prevents discomfort from metal and wood structures. This timeless design has proven to withstand the test of time for outdoor spaces. However, it can attract pests that may affect the appearance of your furniture.
Wooden Garden Furniture
Wooden garden furniture is one of the most commonly sought-after types. As it ages, it develops a rustic look, adding to its charm. Typically made from teak, oak, or cedar, wood furniture has a sturdy texture. However, it is prone to warping, swelling, and twisting. Applying a preservative coat is advisable to protect it from weather elements and maintain its good condition.
Upholstery Luxury Garden Furniture
Upholstered luxury furniture replicates indoor furniture but is designed to withstand outdoor weather conditions. It is available in various forms, including recliners, beds, sun loungers, and armchairs. However, the material used is more susceptible to wear and tear compared to rattan and metal furniture. To protect it from extreme weather elements, additional costs may be incurred to purchase undercover.
Metal Garden Furniture
Metal furniture is an excellent choice for incorporating ruggedness and durability into your garden. Unlike several other materials, it can withstand all weather conditions as long as it is occasionally treated. Metal furniture comes in several styles, such as vintage and rustic, which adds aesthetic appeal. However, due to their weight, they are more suitable for fixed positions.
The beauty of outdoor furniture lies in personal preferences. You can choose to stick to one type or mix and match different furniture pieces. For example, you can pair wooden tables with rattan chairs. It is important to evaluate how each type behaves in your specific weather conditions, as the environment can affect their durability.

Factors To Consider For Luxury Garden Furniture
Your outdoor space can serve a variety of purposes, such as hosting barbecues, entertaining guests, or creating a relaxing spot for yourself and your family. Several aspects contribute to creating a luxurious garden:
Space: Determining the available outdoor space is crucial. It helps you determine how many people you can host and choose an appropriate style that complements your surroundings. According to thedevondaily.co.uk, homeowners with ample space are fortunate, as it significantly affects furniture arrangement and the overall look.
Comfort: Since you are likely to spend a significant amount of time in your luxury garden, ensuring the furniture is comfortable is essential. Consider adding accessories like throw pillows and rugs to maximize comfort.
Material: When selecting garden furniture, it is important to consider the material used, as it influences durability and maintenance requirements. Choose materials that can withstand the specific weather elements in your area.
Cost: Luxury garden furniture can be quite expensive. It's advisable to obtain quotes from multiple sellers and compare prices to make an informed decision. However, it is important not to compromise on quality for cheaper alternatives.
Climatic conditions: Extreme weather conditions can have an impact on the condition of your furniture. It's ideal to take note of the most suitable materials, quality, and designs that can withstand the specific weather conditions in your area.
Purpose: Consider how you intend to use your garden to determine the best furniture for your space. For a relaxed and chilled spot, recliners may be ideal, while a working area might require shade accessories to protect you from direct sunlight.
Aesthetic appeal: Designing your outdoor space depends on your preferences and tastes. You can choose a rustic, vintage, classic, or modern theme for your luxurious garden. Remember to decorate it with additional features that match the pieces.
Alternatively, you can also mix and match. However, ensure the details coordinate for excellent results. Remember crowding the space with several patterns makes it dull and becomes an eyesore.
Choosing your garden furniture requires attention and proper research. Consider the factors mentioned above to make an efficient purchasing decision.

Advantages Of Investing In Garden Furniture
Garden furniture serves a purpose beyond mere decoration. It enhances the functionality of your outdoor space and creates a conducive environment for relaxation. A calm and relaxed ambiance significantly affects your overall well-being.
Additionally, a luxury garden can increase the value of your home, making it more attractive to potential buyers. Connecting with nature is often desired when working or reading, and a luxury garden can provide the perfect escape from an indoor lifestyle.

How To Maintain And Care For The Garden Furniture
Maintaining and caring for garden furniture can be a daunting task, but it depends on various factors like weather and usage.
If you live in an area with extreme weather elements, it's best to consider appropriate materials for your furniture. For instance, the fabric on the chairs might collect dust in summer, which can spike your allergies.
How you use the furniture determines how often you need to clean your furniture. You can use laundry soap for regular cleaning. Alternatively, you can set aside a day for a thorough cleaning using appropriate cleansers and cleaning detergents.
Pay attention to glass tabletops and frames if you have glass furniture. You might scratch them and damage their finish. Consider fillers and buffing to reduce gouges or nicks on sensitive surfaces. Alternatively, you can sand outdoor furniture if it's weathered and give them a new lease of life.
Another maintenance tip is to use removable and washable materials for loose fixtures like cushions and seat covers. It makes maintenance and cleaning easy.
Accessorizing With Finishing Touches
The best way to maximize your outdoor space is to accessorize it with value-adding features. It gives your outdoor space the aspect of being fully round and able to withstand extreme weather. Some of the features you can include in your outdoor space include: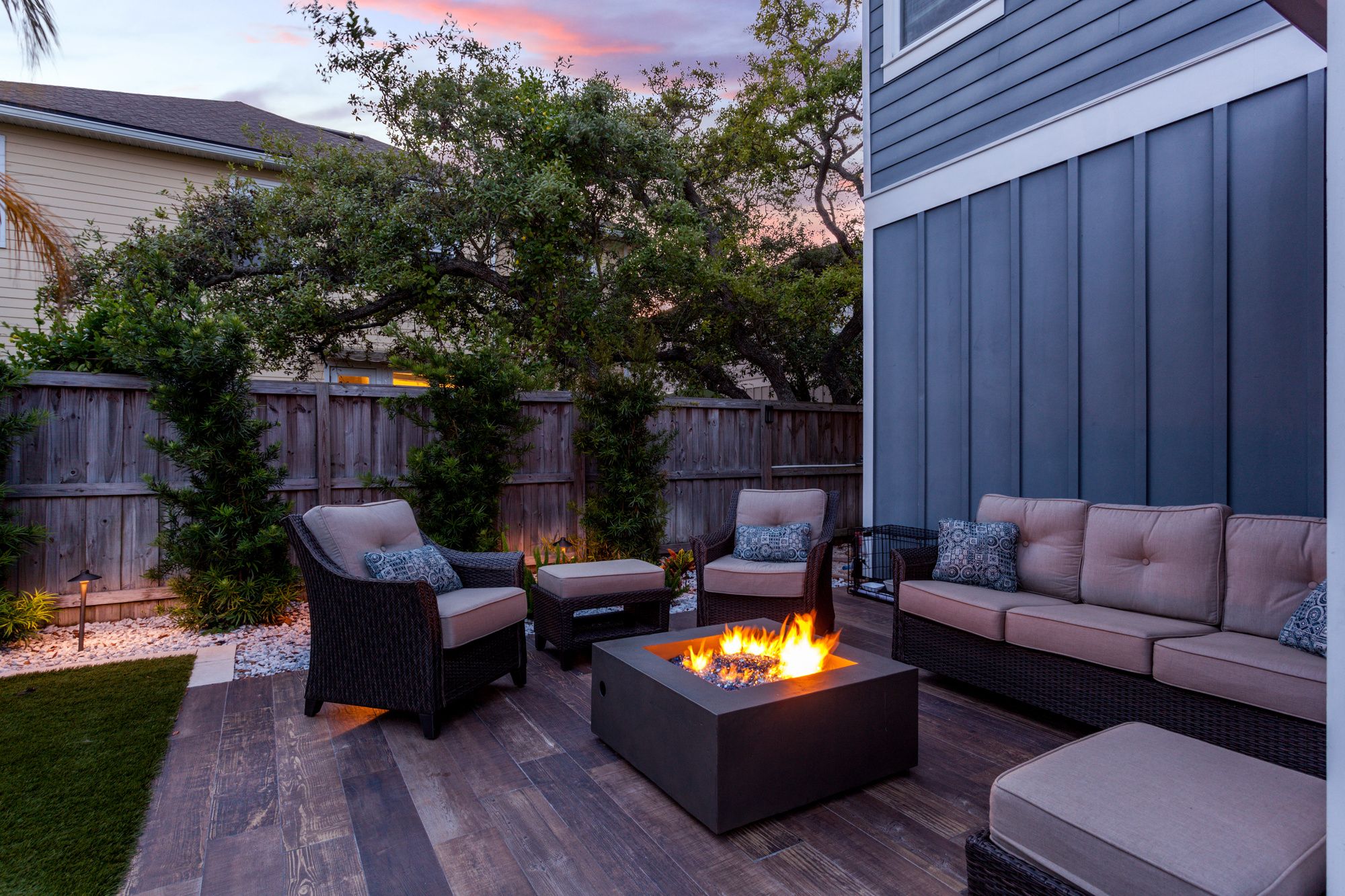 Fire pits: They're more valuable when it's chilly in the evening. With recent developments, you can accessorize with innovative fire pits that are smokeless and don't require wood for fuel.
Pillows: Accessorizing your furniture with throw pillows can help add a pop of color to the space. Additionally, pillows provide back support and can serve as decorative elements. Choose fade-resistant pillows to retain their colorful hues.
Shade: While enjoying the sun is a common desire in an outdoor space, it's important to protect yourself from its harmful effects. That said, you may incorporate shade options, either permanent structures or umbrellas, to shield yourself from direct sunlight.
Lighting: Although the starlit sky and moonlight can be excellent lighting for your outdoor space, you can't rely upon them every night. Lighting furniture such as lamps and illuminated tabletops are ideal light sources and can bring charm to your curb appeal. They create an incredible ambiance when you want to sit in the dark.
Rugs: Rugs are excellent decorative pieces that also serve a functional purpose. They protect your furniture from sliding on smooth surfaces and provide cushioning for your feet.
By considering these finishing touches, you can create the perfect ambiance for your luxury garden space.
Conclusion
Investing in luxury garden furniture is more than just a purchase; it's an investment in creating a space that brings joy, relaxation, and beauty to your outdoor oasis. As discussed above, there are various factors to consider when making this decision.
By carefully selecting durable materials, considering your space and climate, and choosing furniture that aligns with your personal style, you can create a luxurious garden that not only enhances your home but also provides a haven for rejuvenation and entertainment.
Take the time to research, compare options, and invest in quality pieces that will stand the test of time. As you embark on this journey of creating your luxurious garden, let your imagination guide you. Experiment with different styles, mix and match furniture pieces, and create a space that reflects your unique personality and preferences.