Construction, Architecture & Renovation
How To Add A Pop Of Trendiness To Your Kitchen
Discover how to blend style with function in your kitchen. Elevate your culinary space from just utilitarian to a stylish hub of family gatherings.
The kitchen, long considered the heart of the home, is where culinary magic and family gatherings blend to create a haven of memories and experiences. It's an area where functionality often takes precedence, yet that doesn't mean style should be overlooked. With the evolution of home dynamics, kitchens have morphed from purely utilitarian spaces to ones of communal gathering and expression.
One good starting point is to transform your kitchen into a more up-to-date, trendier one. Injecting trendiness into your kitchen not only elevates the look of your home; it can also change your relationship with the space. And with a well-designed, trendy kitchen, you can make time spent cooking or cleaning feel less like a chore and more like an extension of your creativity. More than anything else, it's a place you'll love to be in, whether cooking for yourself, your family, or guests.
This article guides you on transforming your kitchen into a space that perfectly marries practicality with modern aesthetics, offering tips catering to various budgets and tastes.
Repaint Your Kitchen Cabinets
One of the most transformative yet cost-effective ways to add a pop of trendiness to your kitchen is by repainting your kitchen cabinets. This simple change can drastically alter the appearance and vibe of your kitchen, making it feel like a brand-new space.
Choosing the right color is key to this transformation. Neutral tones like whites and grays have long been the go-to colors for many homeowners, thanks to their timeless appeal. However, if you want to infuse a sense of contemporary flair, consider bold hues like deep blues, forest greens, or even muted pastels. These colors are trending as the kitchen cabinet colors for 2023 in kitchen design and can add depth and personality to your space.
If you're apprehensive about committing to a dramatic color change, consider two-toned cabinets. This design trend involves painting the upper and lower cabinets in different colors, often a lighter shade on top to give the illusion of space and a darker one on the bottom for grounding.
Essentially, while repainting your kitchen cabinets might seem like a minor change, it's an investment that can significantly elevate the aesthetic appeal of your kitchen.
Install A Pot Filler
Are you tired of lugging water-filled pots from the faucet to the cooktop? Installing a pot filler is, therefore, something you should look into. While not a design facet per se, pot fillers are almost always must-haves in modern homes, making them a trendy piece to have in your kitchen.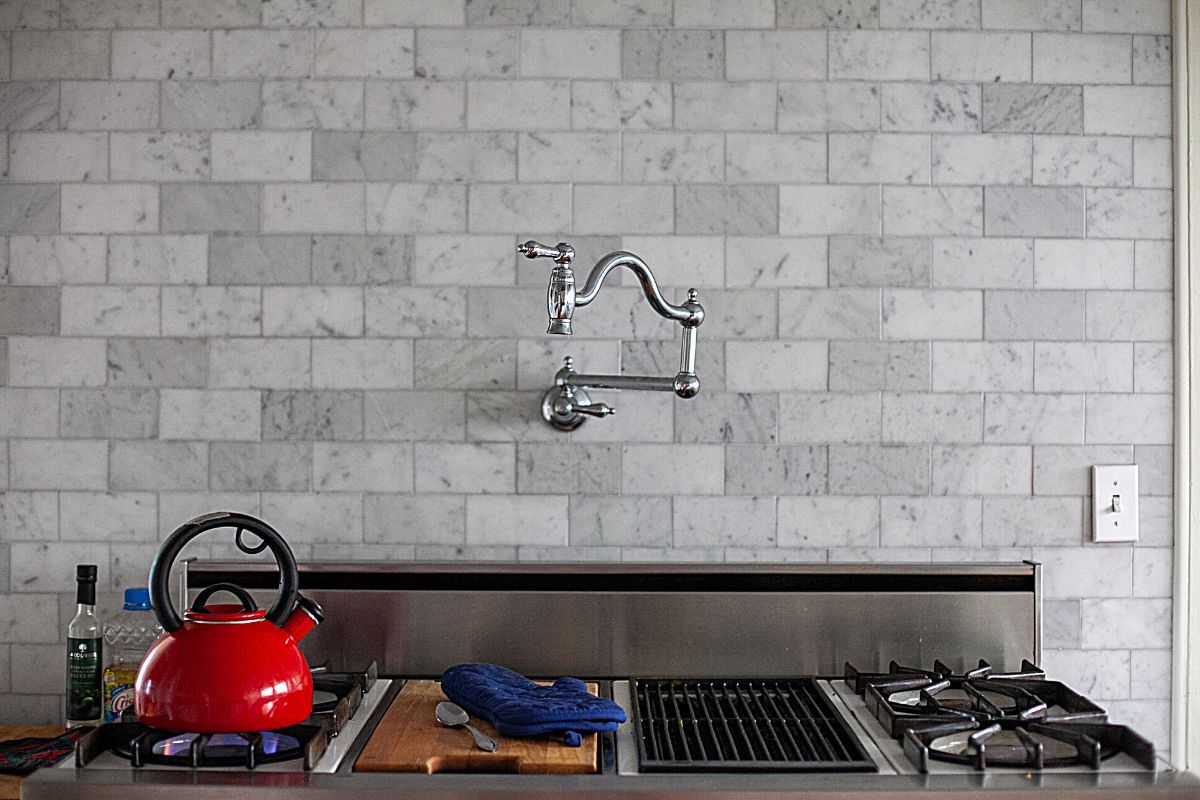 A pot filler is a faucet installed directly over the stove, designed to fill pots with water. This feature saves you from lifting heavy pots from the sink to the stove and adds a professional, gourmet touch to your kitchen, giving it an upscale feel.
When choosing a pot filler, you'll want to consider both function and aesthetics. Stainless steel or brushed nickel finishes can provide a modern, sleek look. But for a more traditional or farmhouse-style kitchen, consider a bronze or copper finish. Also, think about the design details of your kitchen. A square or angular pot filler might suit your style if you have a modern design with clean lines. But if your kitchen has a more traditional feel, a pot filler with curves and ornate detailing might be more appropriate. Guided by the expertise of the specialists at renovation capital, selecting the appropriate pot filler style becomes a strategic decision that aligns with your kitchen's aesthetics and also maximizes the value of your renovation project.
Consider The Kitchen Backsplash As An Added Design Element
Often overlooked, the kitchen backsplash is a practical solution to protect your walls from spills and splatters. However, it can also be an impactful design element that adds style, playfulness, and personality to your kitchen.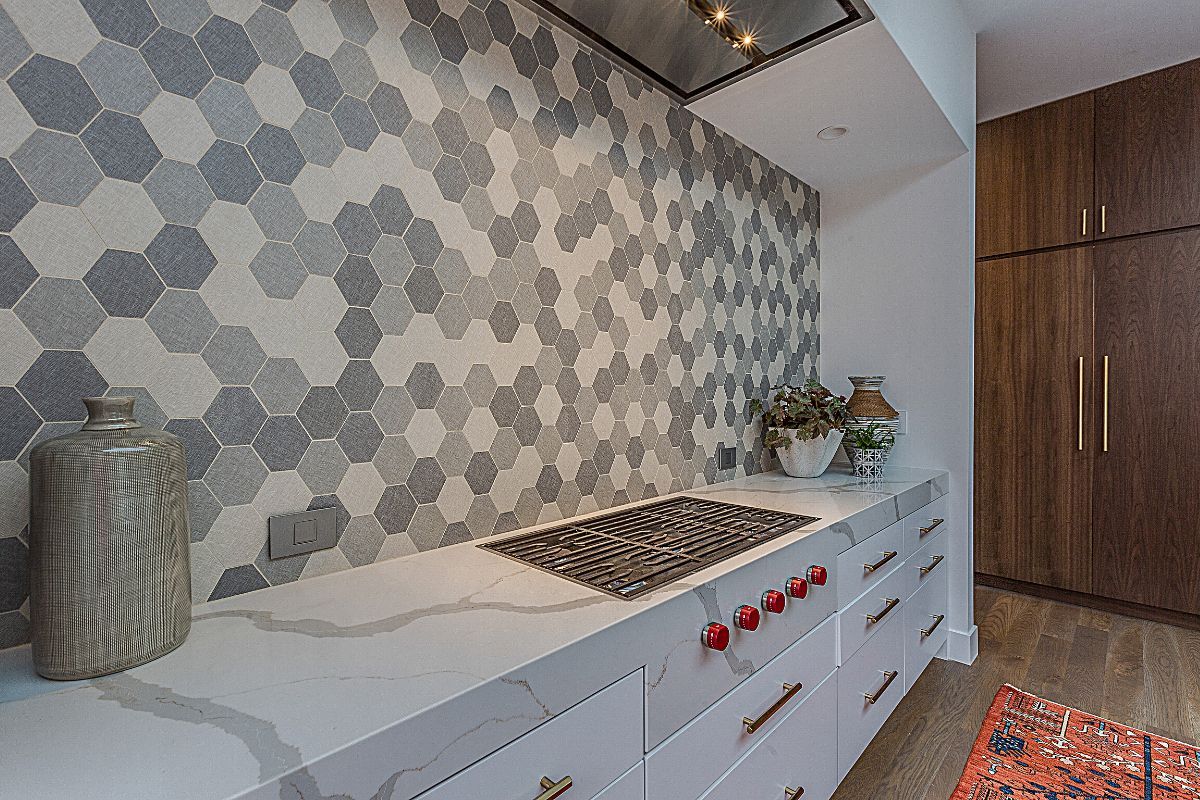 If you want to make a bold statement, consider going for a vibrant tile color or an unusual geometric pattern. For instance, you can explore Moroccan or subway tiles and introduce a dash of exotic allure or urban chic to the space. On the other hand, for a more subdued yet elegant touch, natural materials like marble or granite offer a timeless appeal. They provide an understated backdrop that adds texture and depth to the kitchen without overwhelming the space. Lastly, for an ultra-modern look, stainless steel or glass backsplashes offer a sleek, reflective surface that can make your kitchen look larger and brighter.
Installing a new backsplash or updating your existing one is a relatively straightforward project that can dramatically alter the look and feel of your kitchen.
Create Mood Lighting
Lighting is a crucial yet often underappreciated aspect of kitchen design. However, the right lighting scheme can instantly elevate your kitchen, adding a trendy edge while also enhancing functionality. In particular, creating mood lighting can transform your kitchen into a warm, inviting space that appeals to the senses and facilitates different activities, whether it's early morning breakfast, mid-day meal preparation, or a late-night snack.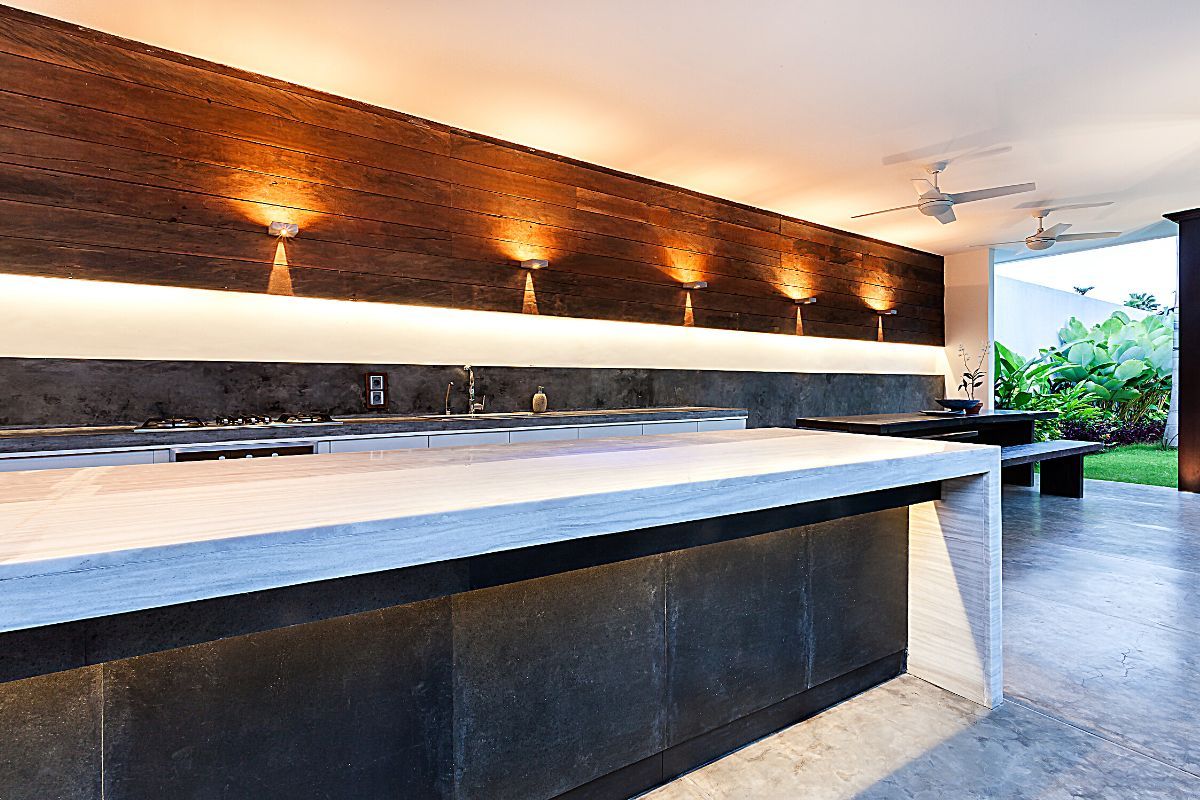 Start with a good layer of ambient lighting. This is your general light source, often coming from ceiling fixtures or recessed lights. You can also add a dimmer switch to adjust the lighting level, brightening it up when you need to see clearly during cooking or dimming it for relaxed dining.
Next, consider task lighting. These lights illuminate specific work areas, such as under-cabinet lights for your countertops or pendant lights over a kitchen island. Choose fixtures that complement the overall design of your kitchen, from sleek and modern LED strips to rustic, antique-style pendants.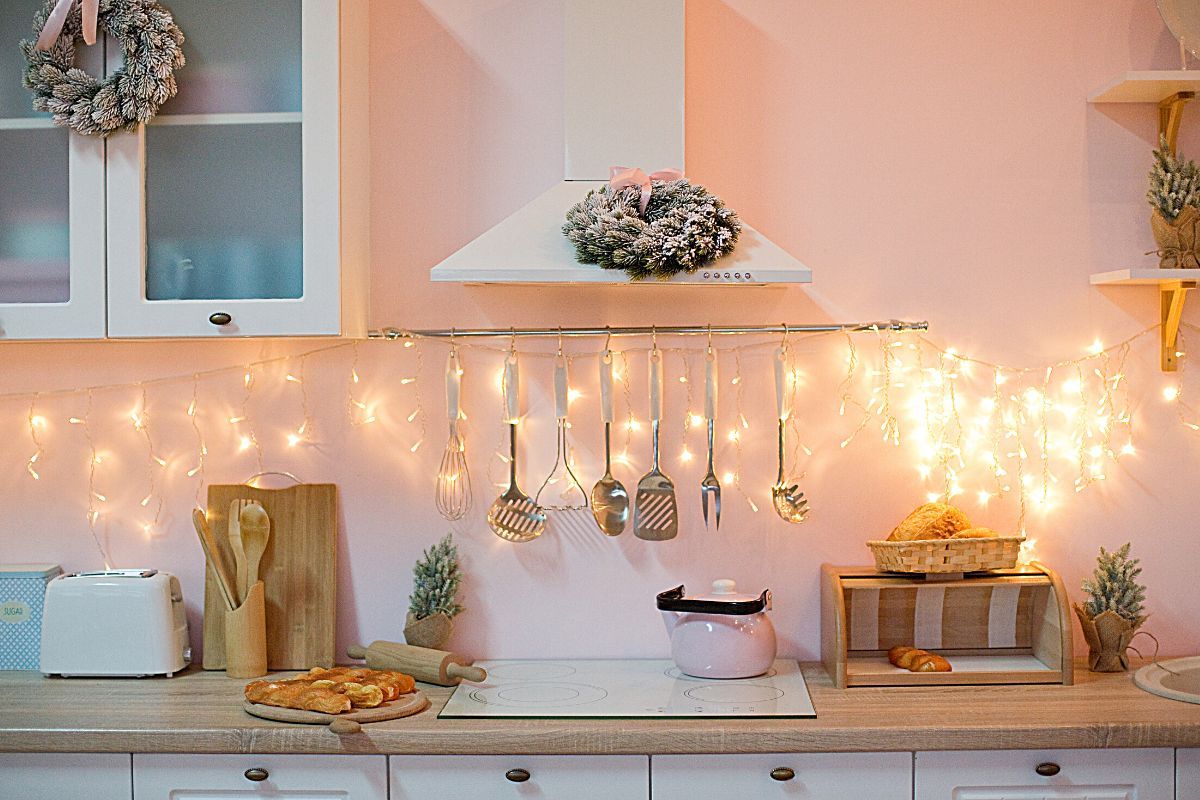 Lastly, consider accent lighting. These can be in-cabinet lights that showcase your dishware, toe-kick lights that provide a gentle glow from the base of your cabinets, or LED strips above cabinets that add a soft, indirect light to the room. This is your opportunity to get creative and make your kitchen shine.
When done right, lighting can significantly enhance your kitchen's design and atmosphere. It's more than just about visibility; it's about setting the right mood, highlighting your kitchen's best features, and creating a comfortable and inviting space.
Build A Kitchen Island
Incorporating a kitchen island into your design is a surefire way to add functionality and a splash of modernity to your kitchen. The popularity of kitchen islands has risen over the years due to their versatility and the added value they bring to the space. Whether you're looking for extra prep space, additional storage, or a social hub for family and friends to gather around, a well-designed kitchen island can deliver all these and more.
When it comes to the design of your kitchen island, the possibilities are endless. You could opt for a simple, minimalist design or a multi-tiered island with built-in appliances. You can also incorporate bar seating for casual dining or install a sink or stovetop for convenience. The choice largely depends on your space, needs, and the overall style of your kitchen.
Building a kitchen island is a significant project, but the payoff can be immense. It offers the chance to add a significant dose of trendiness to your kitchen, providing a centerpiece that combines style, function, and social interaction. To ensure that your kitchen island project is executed flawlessly together with other changes you want to make in this area, it's beneficial to seek guidance from professional Austin kitchen designers who can help you materialize your vision while considering your specific requirements and available space.
Don't Forget The Decorative Elements
In the quest to add trendiness to your kitchen, it's easy to focus solely on the large, structural elements. But the devil, as they say, is in the details. Decorative elements are often the final touch that brings a design together, infusing the space with personality and style.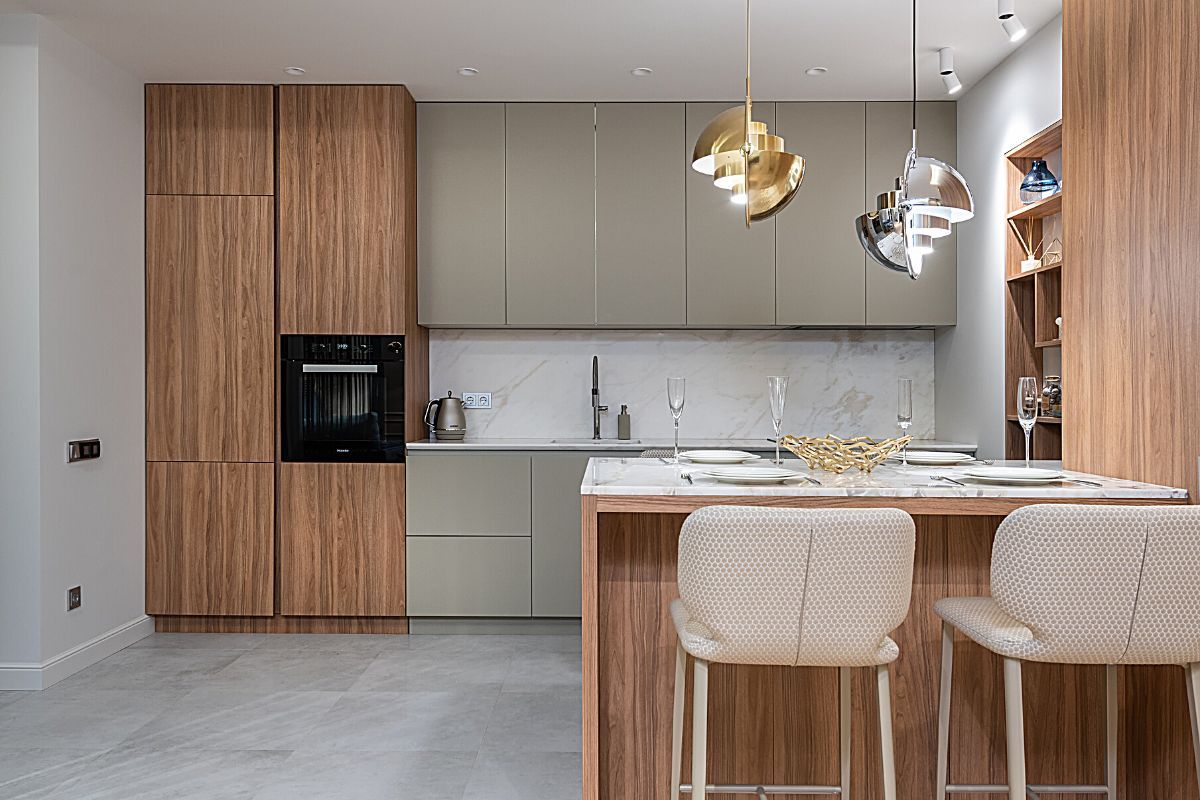 Start with your countertops. These spaces provide an opportunity to display stylish items like artisanal cutting boards, quality cookbooks, or a bowl of fresh fruits. Choose pieces that are visually appealing but also functional. However, note that clutter can be visually disruptive, so less is often more.
Moreover, consider adding plants to your kitchen. They can bring a pop of color and life to the room. Herbs like basil or rosemary are not only beautiful but can be used in your cooking. If you lack a green thumb, succulents or low-maintenance indoor plants can be a great option.
Lastly, don't forget the textiles. A chic set of tea towels, an attractive runner rug, or comfortable and stylish seating cushions can add a trendy look and enhance the comfort of your kitchen.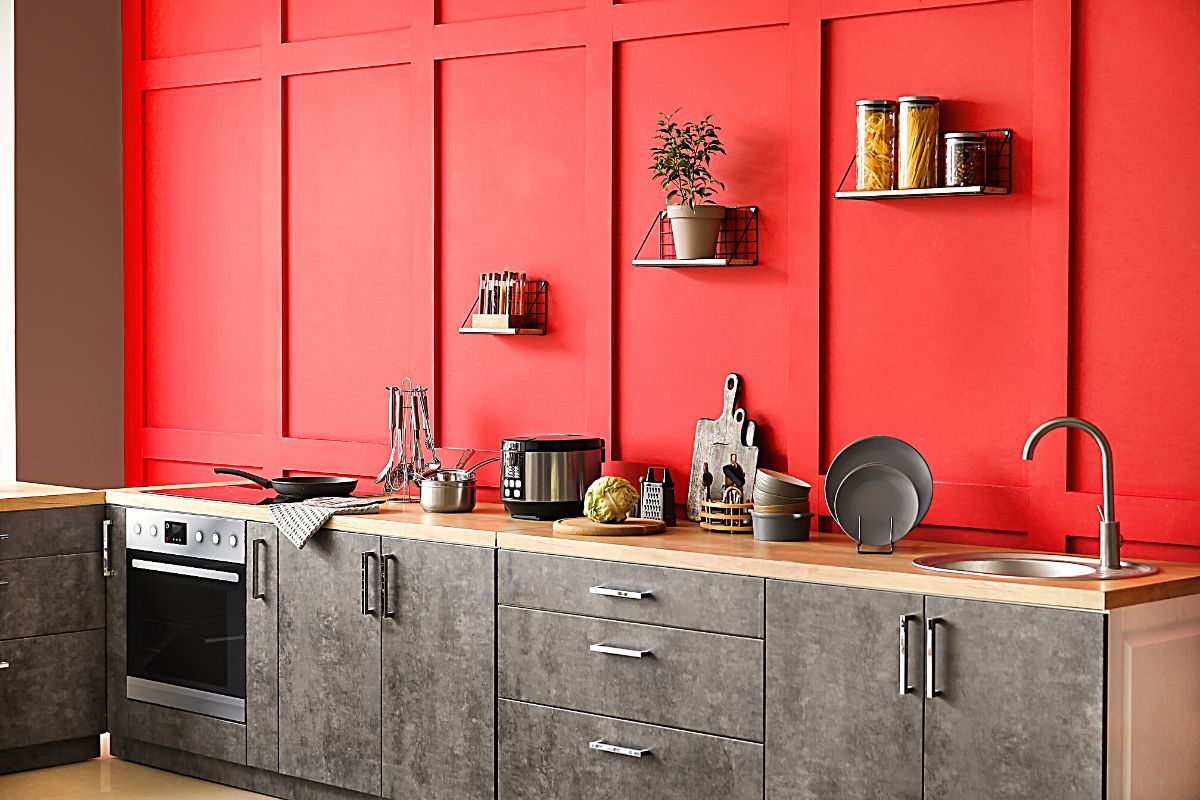 Incorporating these decorative elements can add that final layer of trendiness to your kitchen. Each piece is a chance to show off your personal style and make your kitchen feel like an integrated part of your home.
Think 'Out Of Sight' Storage Solutions
Efficient storage solutions are the backbone of a well-functioning kitchen, and clever 'out of sight' solutions can keep your kitchen looking trendy and uncluttered.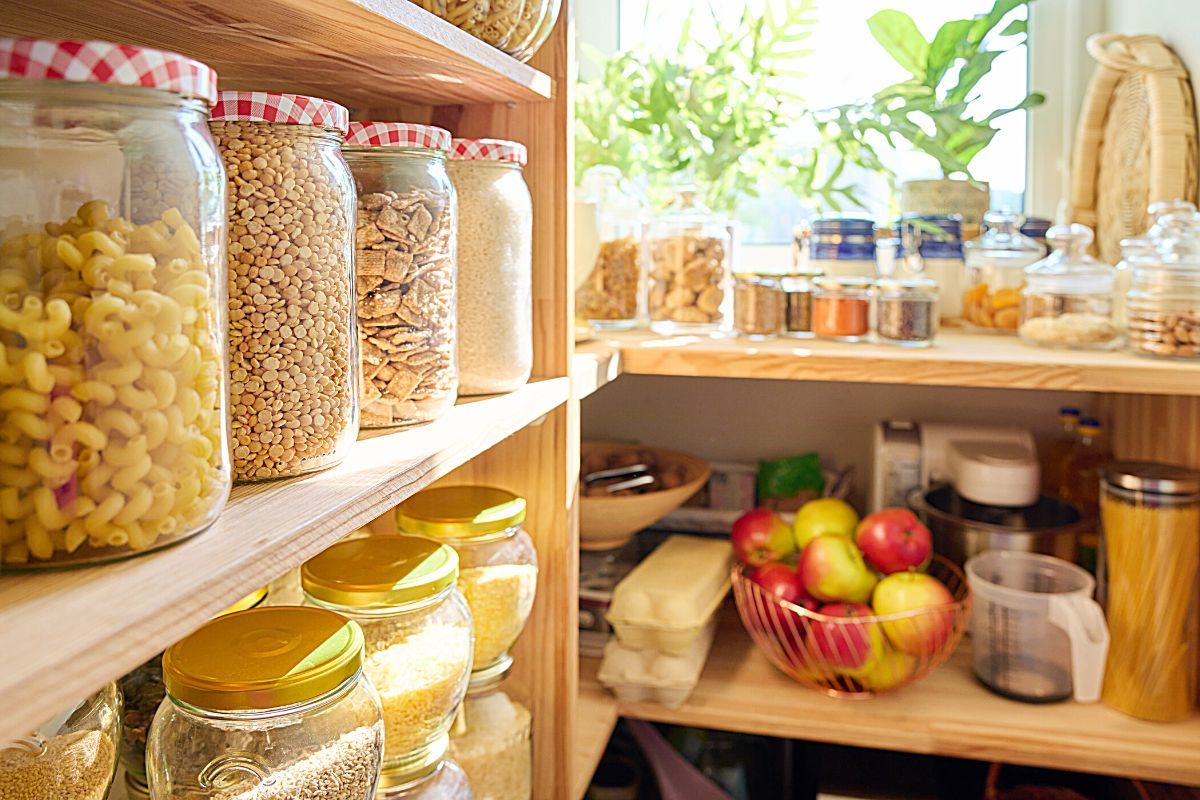 Start by incorporating integrated storage solutions. This involves innovative cabinet designs that hide kitchen essentials when they're not in use or deep drawers that neatly store away your pots, pans, and other kitchenware.
Pull-out pantry systems are another trend-worthy storage solution. They make excellent use of narrow spaces, are easily accessible, and help keep your pantry items neatly organized. Another popular trend is the 'appliance garage,' a dedicated cabinet space that hides away smaller appliances like your toaster, blender, or coffee machine. This keeps your countertops clear, giving your kitchen a streamlined, minimalist aesthetic.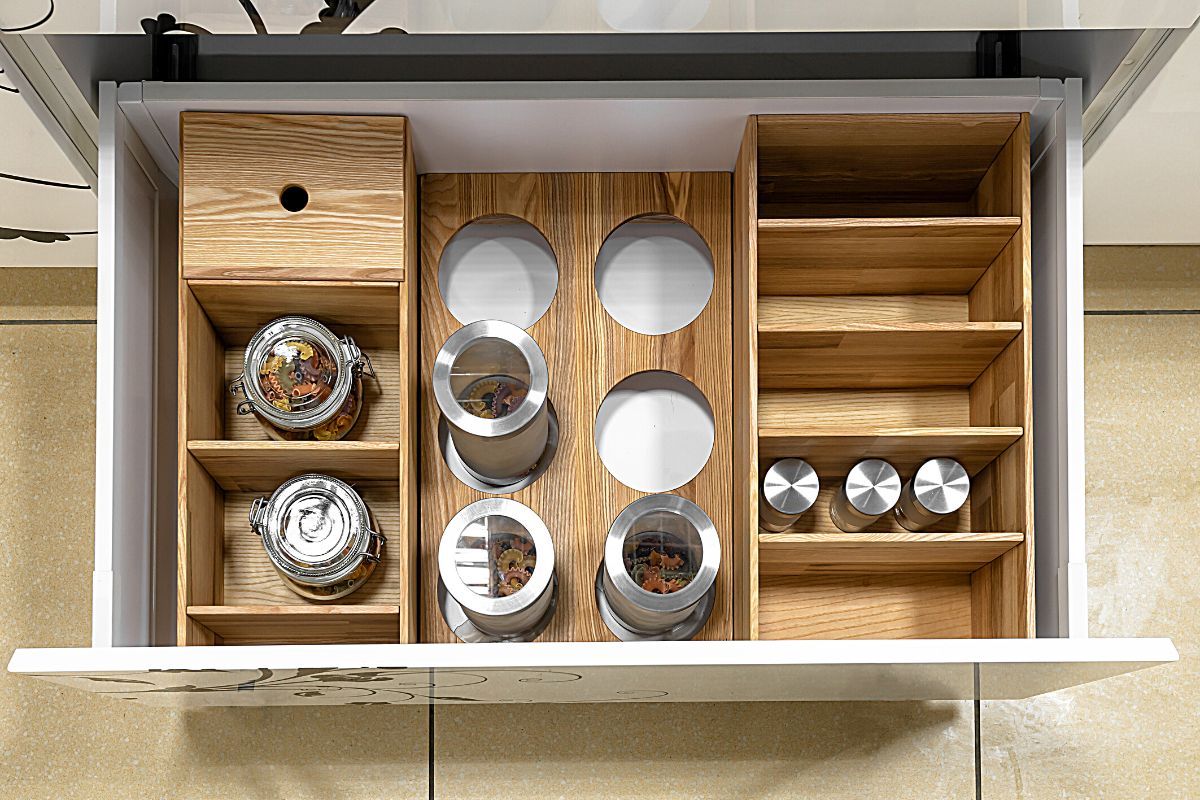 While storage might not be the first thing that comes to mind when you think of a trendy kitchen, it plays a vital role in maintaining a clean, clutter-free space that's as functional as it is stylish.
Final Thoughts
Adding a pop of trendiness to your kitchen doesn't have to be an overwhelming or expensive project. By focusing on key areas such as color schemes, lighting, and kitchen storage and incorporating current design trends, you can effortlessly elevate the aesthetic appeal of your kitchen. However, your kitchen should not only align with current trends but also showcase your style and complement your home's overall aesthetic.
Ultimately, your kitchen isn't just another room in your house - it's the heart of your home, and it should reflect that, bursting with trendiness and brimming with personality.