Looking for Cupboard design ideas for your small bedroom? Here are some tips and ideas to make the most out of your bedroom space.
Space can often turn into a serious limiting factor when it comes to furnishing or decorating rooms, but it does not have to be so for you. With effective and creative utilization of your available space, you can find the perfect cupboard for your bedroom no matter its size.
Here are some tips to help you make the most of your bedroom space when getting a cupboard installed.
Go Vertical
When the floor space is low, it is time to latch onto the walls. Wall-mounted floating cupboards and Overhead cupboards are perfect for small bedrooms. Both these cupboard types leave the floorspace free letting you use it for something else.
Floating cupboards make the room look bigger than it is. They can be used to store things that you don't use on an everyday basis. Overhead cupboards on the other hand are an excellent choice for placing books and decor. You could even use them to create a mini home office space.
Door Choices
Sliding Doors
Sliding doors are the best for small spaces, they should actually be your priority. They allow easy movement of the doors, therefore, you can leave a minimal amount of space in front of the cupboard.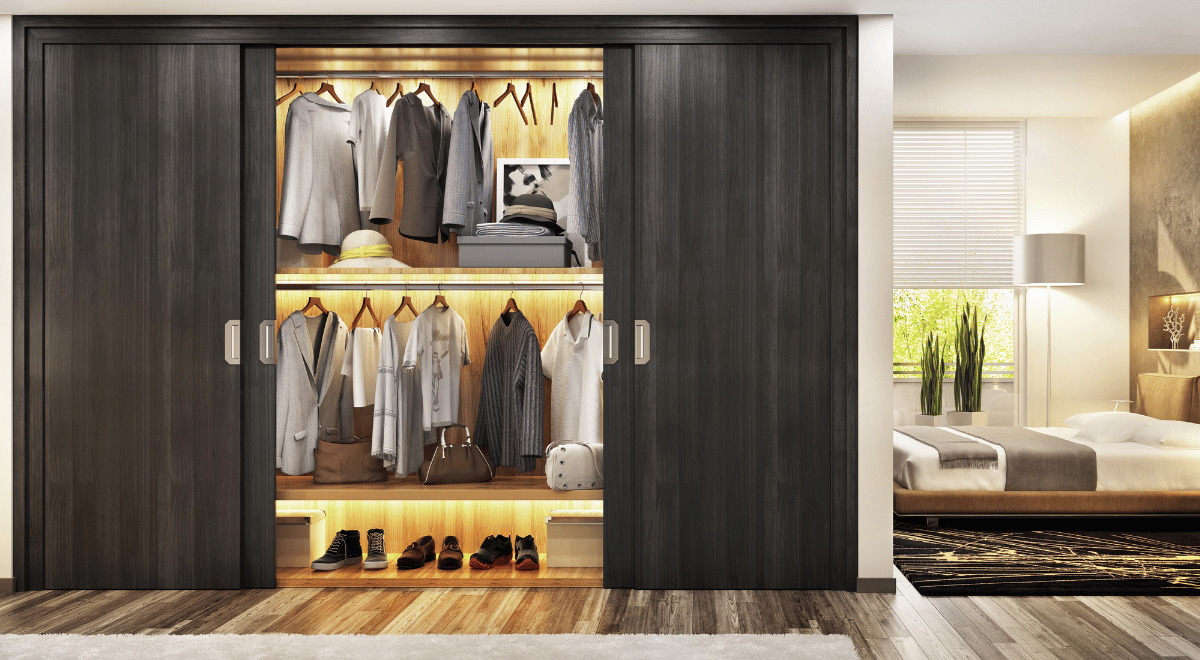 Swinging Doors
If you have cupboards with doors that swing out, you will need that much more empty space in front of the cupboard for the door to swing out freely. These are highly NOT recommended unless it's for places where they are less disruptive like the overhead cupboards.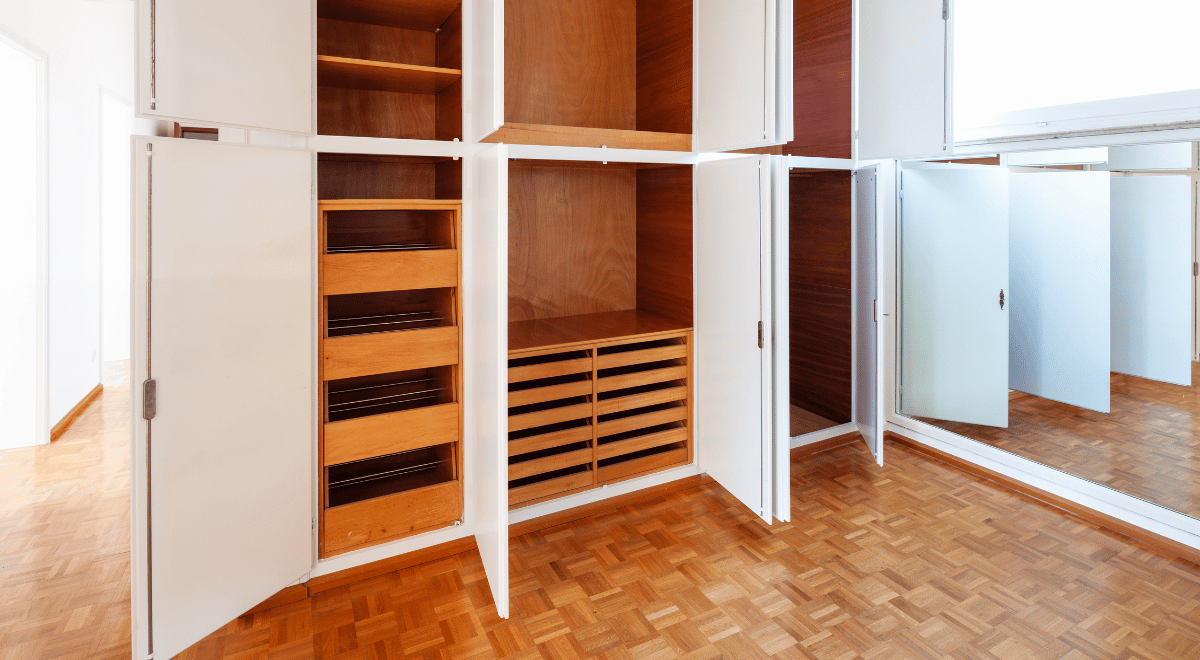 Tambour Doors
These are rolling doors that slide on a track, when open, the doors are concealed giving you full access to the insides of the cupboard. They have the advantage of sliding doors, with sleek and modern aesthetics.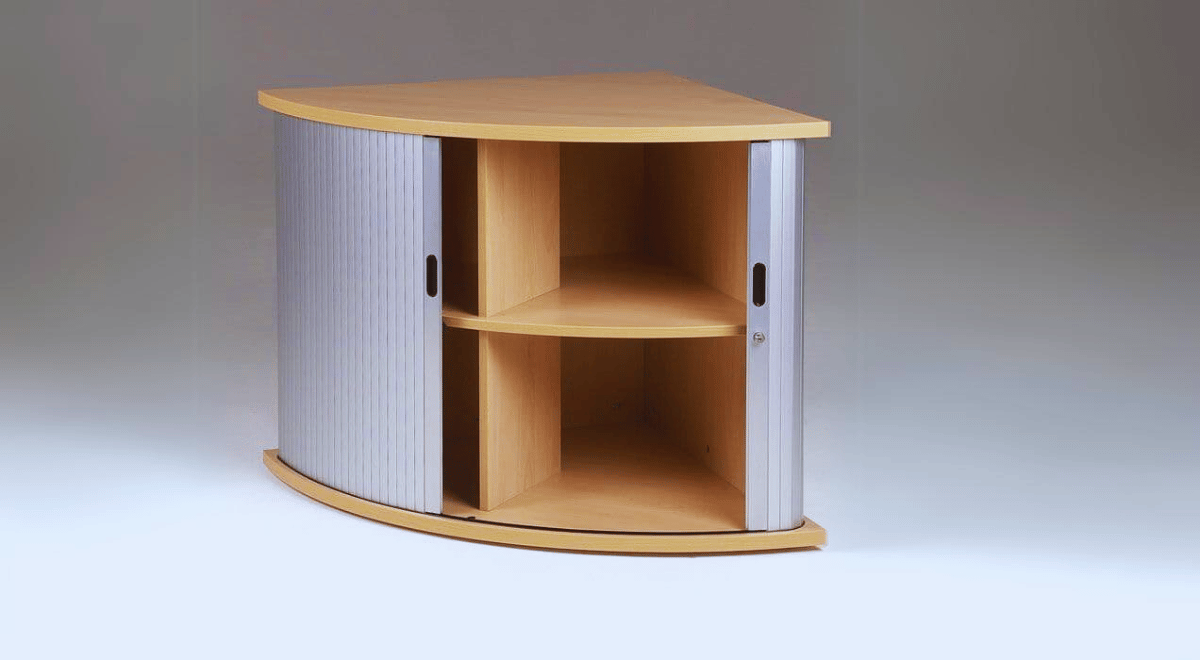 Pocket Doors
Pocket doors combine the features of Swinging and Tambour Doors. They can be opened like a swinging door and when it is open 90 degrees they can be pushed inside on a track, concealing the door. But again it has the same disadvantages of using a swing door, i.e. the space. You will still need enough space outside the door for it to swing out.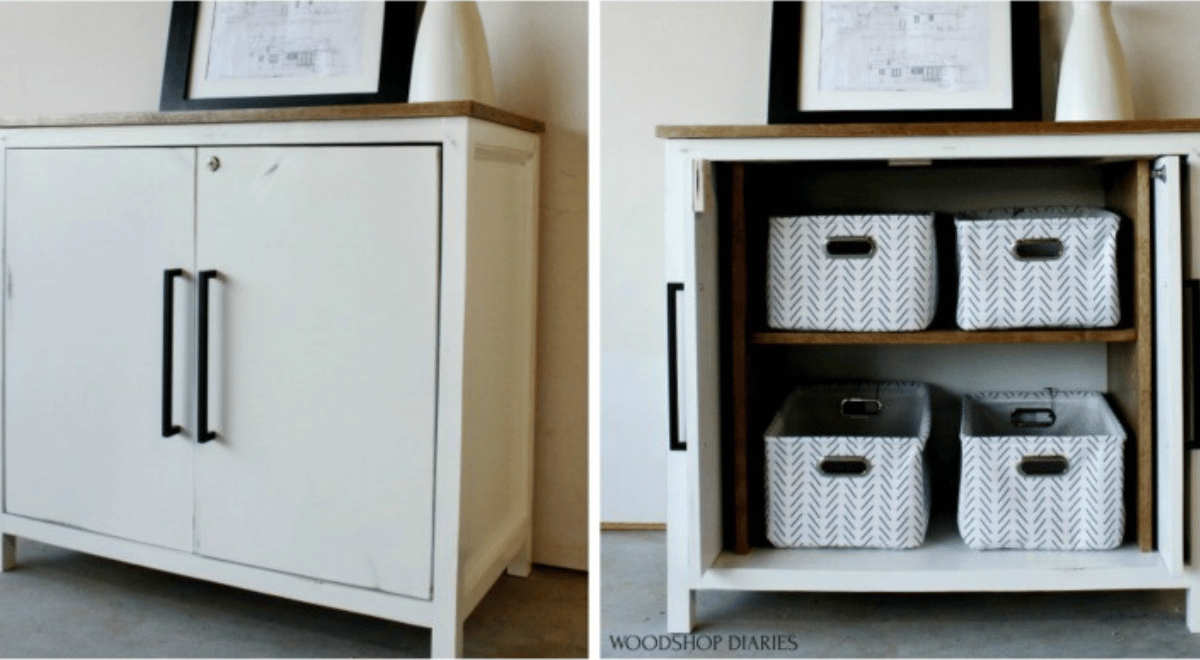 Lift-Up Doors
Lift-up doors open up vertically when lifted up, they usually employ hydraulic hinges to assist with the lifting operation. They don't require as much space as swinging doors to open up, and they have a cool modern aesthetic to top that off.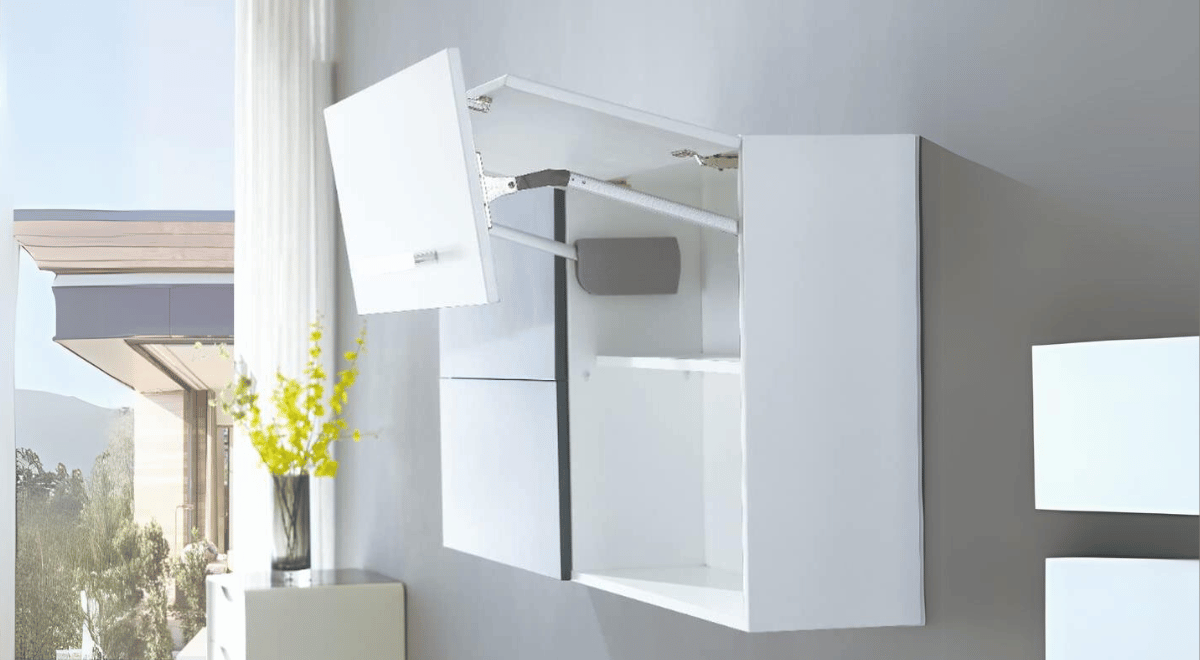 Without a doubt, Sliding and Tambour Doors are your best bet for cupboards in small bedroom spaces. You could still consider other types of doors for overhead cupboards, based on the space constraint.
Multi-Utility Tactics
When you are low on space, furniture that can fulfill multiple functions is a huge plus. That leads us to this question- what else can function as a cupboard? Still thinking? Maybe you should lie down and ponder while staring at the roof. If your answer was bed then you are right, but if you thought it was the roof, you are right too, i.e. if your bedroom is up there somewhere in outer space where gravity works differently.  
Unless you are saving space for the Boogeyman under your bed, you have plenty of empty space to pack with. If you already have a bed, then you could get storage containers that fit under your bed, if not, you could get a bed with built-in storage shelves. These days you can find some amazing multipurpose beds.
Other than beds, if you have a stool or chair in your bedroom, you can swap them with a storage ottoman, to get that extra bit of storage.
Squeeze Every bit of Space
Use every nook and corner of the bedroom, how? With Corner Cupboards and Alcove Cupboards. The space in the corners is usually wasted, but with Corner Cupboards you can make maximum utilization of these corners. Open shelving is another easy choice to deal with corners. If your room has an alcove, then getting a custom cupboard built for that alcove is the best way to make full use of that space.
Some Cupboard Design Ideas
Here are 10 design ideas from Pinterest to inspire your bedroom design.
Cupboard with Study
Cupboard built around a Window
Cupboard built around the Door
Bed in the Alcove of the Cupboard
Overhead Cupboards
Open Cupboards
Modern Cupboard with Study
Minimalist Overhead Cupboard
Minimalist Open Cupboard
Alcove Bed
With proper planning, you can just about make any room look aesthetically pleasing. So, plan out your room's layout before purchasing any furniture for it.