Discover budget-friendly coffee machines that deliver rich flavor without emptying your wallet. Sip and save with our top picks for affordable brewing!
Introduction
In how many movies, or TV shows, have we all seen people use coffee machines? Whether it's the fancy coffee machines with coffee tampers or a simple French press, we are here today, to let you know that if you want to meet your caffeine intake of the day, you needn't rely on shops or online food delivery. You can now do it yourself! And no, this will not burn a hole in your pocket. Unless, of course, you already have a hole in your pocket.
Let's first set a budget, so that you can decide from here on if these machines will be taking up your kitchen space, or only your headspace.
It doesn't matter if you are a coffee connoisseur or someone who just discovered that coffee exists. We will set some prerequisites that the products will have to fulfil in order to be included in this list. Okay, let's lay out the prerequisites.‌
The Pre-Requisites
The Coffee Machine in question should be under Rs 5000/-
Should offer manual mode with or without an automatic mode.
Should have a pressure bar above or at least 3.
Should have at least 2 years of warranty.
Should have a robust built quality (BPA-free body) for a long lifespan.
Should make more than 2 cups worth of coffee at once.
Okay then, with these things in mind, we are going to make a list of the best coffee machines under Rs 5000 that you can purchase as of now.
We cannot talk about coffee machines without mentioning the types of coffee makers. So let's talk about them a little.
Types Of Coffee Maker
Drip Coffee Maker
If it's not obvious from the name, a drip coffee maker brews coffee by dripping hot water over ground coffee beans. That's it. No fancy modes or anything like that. The first option in our list is a great example of a drip coffee maker. It has a timer so that it can stop at either 1 cup equivalent coffee, or 7 cups equivalent coffee, depending on your need.
Espresso Machine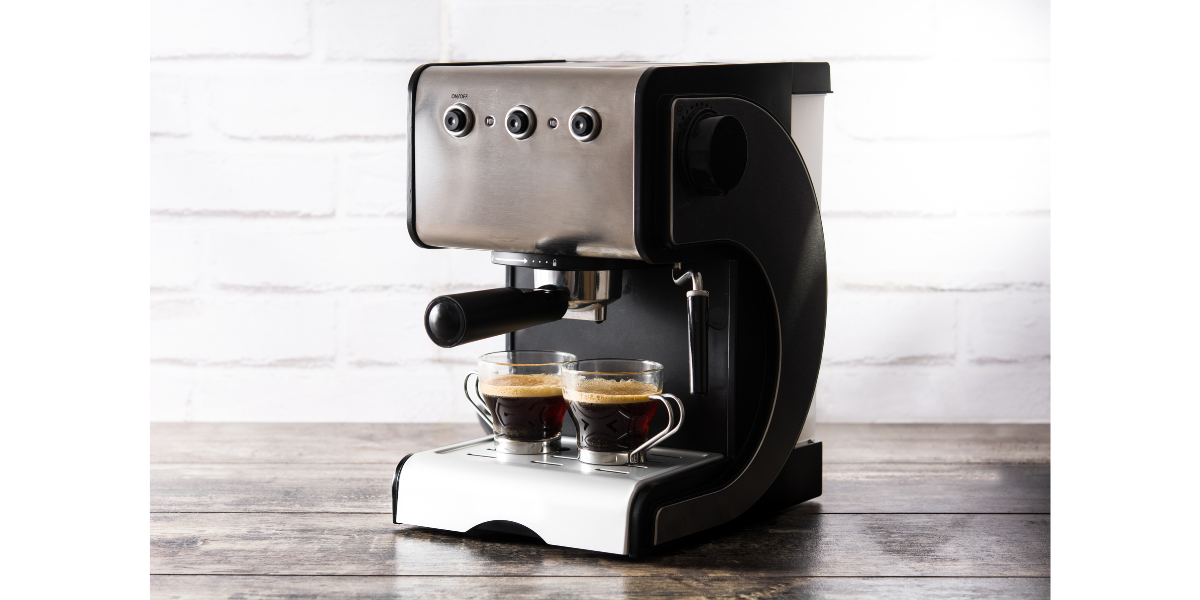 Perhaps the most well-known, widely used coffee maker in the world. Do you desire a cappuccino? You got it! An espresso shot? Sure! Oh, you like Americano? Here you go. And a plethora of other options to choose from, the espresso machine is the Jack of all trades. While these may sound too costly to put into one machine, there are 4 coffee makers that actually support all these modes! And that too under Rs 5000/-
French Press (Press Pot)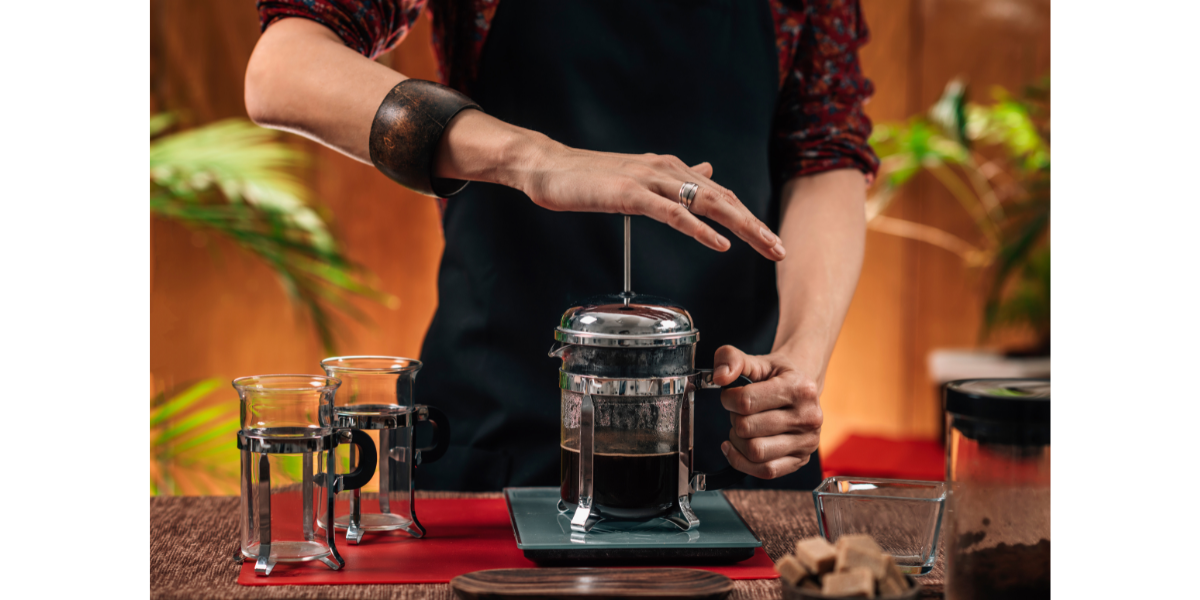 Last, but not the least, it is the French Press. The simplest of the 3 that we have discussed till now, the French Press is also the only one with the highest ease of use. As the name suggests, the French Press is an actual press, encased inside a cylindrical glass or metal container. You add the grounded coffee beans, then add boiling water to it, and then press. The result is a texture and taste-rich, full-bodied coffee. There's one on our list, for those who are confined to a very restrictive budget, but would still like to have coffee without having to go out regularly.
The List
PHILIPS Drip Coffee Maker HD7432/20, 0.6 L
First on our list, is a brand known by the majority of the population in our country. Philips has been a reputed brand in our market for years now. Some of the features include -
Makes 2-7 cups in 10 min brewing time, compact design that takes little space in your kitchen, water level indicator
Aroma twister nozzle to circulate inflowing coffee evenly for optimal & consistent coffee aroma from first to last cup
Interrupt coffee brewing whenever you like, with its drip stop feature, comes with an illuminated power switch,
Ease of cleaning and maintenance with dishwasher-safe jug & filter holder comes with a 2-year warranty
Alright, with this out of the way, let's move on to the second product on our list.
Singer Xpress Brew - Espresso Cappuccino Coffee Maker
If you are somewhat into coffee, you might have heard the name Singer. It is a reputed brand in the world of coffee. Here are some of the features it provides -
Stainless Steel Filter & Metal Funnel
Automatic Pressure Release Protection with Frothing Function
Glass Carafe (container) with 4 Cups Capacity and removable Drip Tray for Easy Serving
Warranty: 2-Year Manufacturing Warranty
800 Watts Espresso/Coffee Machine with 4 Cups Capacity
Apart from this, the machine comes in at around 3 kilos. So you might wanna keep it on something robust.
Black+Decker BXCM0401IN 870W 4-Cup Espresso and Cappuccino Coffee Maker
Third on our list, is a coffee maker from Black + Decker company. Again, if you are not well-versed in the world of coffee, then you probably haven't heard this name. But trust us when we say this, it is one of the best values you can get from a coffee machine under the set price bar.
Some features include -
4 Cup espresso and cappuccino maker
Steam knob for coffee and frothing
Die-cast aluminium alloy boiler for long life
High-temperature carafe with water level indicator
Detachable drip tray for easy cleaning
Warranty: 2 years on product
Power: 870 watts; Operating voltage: 22 - 24 volts
Includes: Espresso machines, instruction manual and carafe
Morphy Richards New Europa 800-Watt Espresso and Cappuccino 4-Cup Coffee Maker
Perhaps the best coffee maker in this list, for the price, Morphy Richards New Europa almost negates the existence of other, much costlier coffee makers in the market.
Apart from the fact, that you have to make your coffee manually, you basically don't need another coffee maker! 95% of the population will be happy with this coffee maker right here. It is also the bestseller on Amazon under coffee makers. So that itself is a testament to how good the actual product is.
Some of the features it has are -
Makes espresso, cappuccino and latte coffee
Milk frothing nozzle: Use the milk frothing nozzle for making Latte, Espresso Macchiato, Caff. Breve, and Caramel Macchiato varieties of coffee; Turbo cappuccino nozzle: Use this special nozzle exclusively for achieving a satisfactory froth in your favourite Cappuccino
Warranty: 2 years on product
Power: 800 watts; Operating voltage: 230 volts. Bar Pressure: 4 bar. Function select knob: Yes
Includes: Coffee maker, Instruction manual, Customer care list and Guarantee card
Cafe JEI French Press Coffee And Tea Maker
The last one on our list is a French Press. What is a list, without variety eh?
This one is for those who are on a tight budget or do not want the complexities that come with the Espresso machines. They just want a simple machine that will make them coffee. That's it.
Even then, this French Press has features that make it a bang for its buck -
4-LEVEL FILTRATION SYSTEM - Double stainless steel screen filters on a plunger supported by a spring-loaded base plate to seal the edges, followed by a final top lid strainer to give you a pure brew with no grounds, unlike other cheap presses.
ONLY THE FINEST QUALITY MATERIALS - Every single metal piece is high-grade stainless steel giving the French press a resilient shine protecting it from rust. The large carafe is made of thick borosilicate glass that can withstand boiling water!
INCLUDED - 2 Bonus Stainless Steel Screen filters, 0.20 oz coffee measuring spoon, and cleaning tool in the package.
Included Components: French Press, 2 Filters, 1 Measuring Spoon, And 1 Cleaning Tool
So that was a list of 5 coffee makers under Rs 5000/-
Conclusion
Whew! All this coffee talk has me wanting an espresso shot.
Now, you may argue that there are a lot more options under this price bracket, and you are right. There are, but just because they exist, doesn't mean they get to be on this list. We have carefully selected the best of the best under this price bracket. The best value for your money.
But if you feel that your money will be well spent on something that is not on this list, go right ahead!
But for those, who are having a hard time selecting, this will help you with forming a general output of things you'd want from your coffee maker.