DIY and Hacks
6 Simple Rangoli DIY Designs and Tips to make your Diwali Memorable!
Rangolis have always been a part of our Diwali celebrations. Everyone tries their best in getting their rangoli game up every Diwali. Here we have added some of the DIY tips to make yours look more beautiful.
Diwali is not just the festival of lights, it is also a carnival of colors and symbols, where rangolis are made its stunning components. Everyone celebrating this amazing festival desire to draw a special and meaningful rangoli that welcomes the positivity and blessings of the gods. They truly make a beautiful spectacle.
People use materials like dry flour, colored rice, flower petals, vermilion/turmeric, etc., to make the rangolis at home. It has been written and told from time to time by the sacred texts that rangolis are auspicious, they make the festive celebration complete. Most of them are dedicated to the goddess Lakshmi Devi to welcome prosperity and good luck.
Rangolis can be drawn in countless ways, there are innumerable designs that compliment the significance of the festival and catches the eye of guests. Which one to choose, that is the question. But don't you worry, we got you, we have handpicked some of the best rangoli designs that you can use to welcome the gods and guests alike.
Rangoli Types you can play around with
These beautiful symmetries can be drawn, not just on the floor but on many objects and in many ways. Let us show you what we are talking about:
Hand-painted rangoli: If you want to mix up your painting skills with drawing skills then this type is the best way. Pick a basic and easy rangoli idea to try out and how you can play around with it.
Embroidery-styled rangoli: This one while being the most attractive also has the quality of being tricky. If you are a curious experimenter with some fashion skills then by all means make Diwali more fun and special by drawing out this one. You can customize your rangoli style when you are buying a rangoli set.
Floating rangoli: You might have come across this kind at least once right? It is definitely not a common household rangoli type but it will more than do for enhancing the overall festive mood in your home. Try this out!
Rangoli made with the help of tiles and glass: You can make an effort with this and you won't be disappointed! A lot of people have already tried and had a nice experience making a rangoli with the combination of glass and tiles.
Acrylic rangoli: To put it simply, it is a rangoli made with precise canvas style. The design here is very simple and basic and you will be able to draw them after trying them out just a few times. Get 11 piece set of arylic rangoli and more in just Rs.369.
Beautiful rangolis that make the floor their canvas!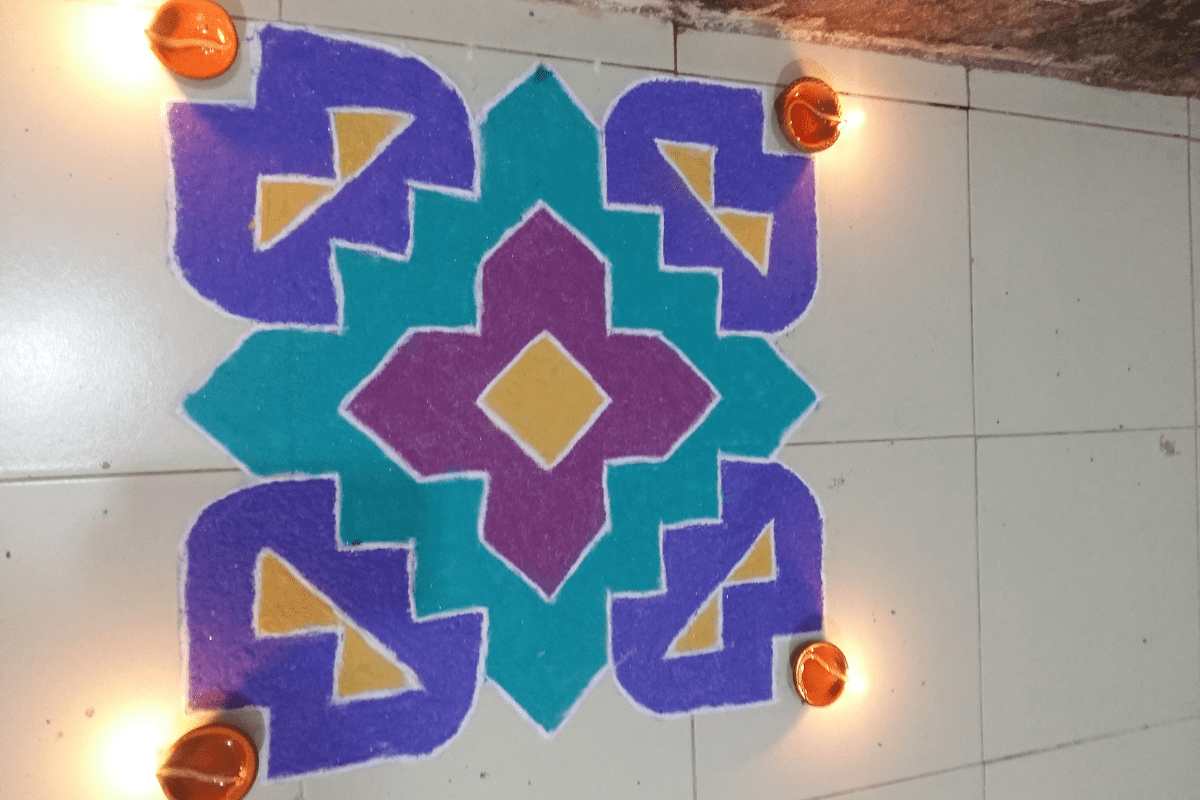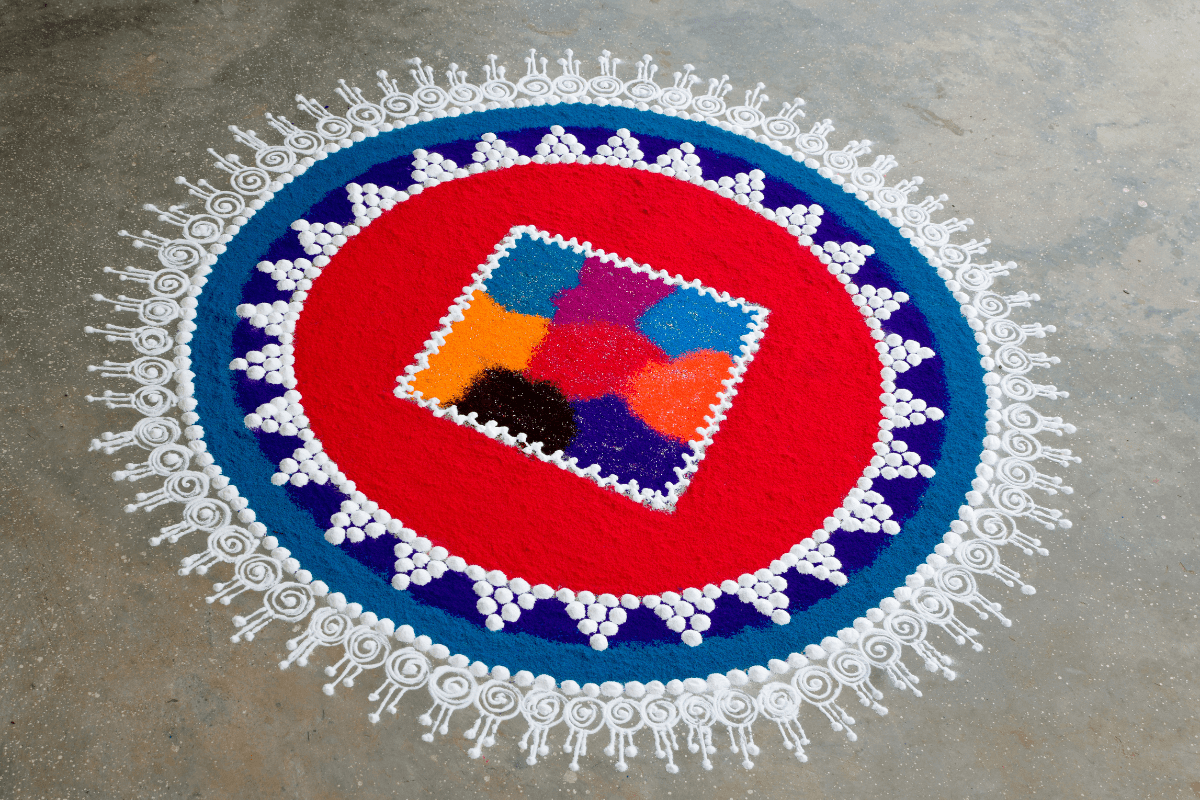 Tips to make your rangoli look better:
Flowers- Natural Enhancers:
The aromatic scent of flowers dwells deep into the rangoli making it look more impressive. Flowers also do an excellent job at concealing any flaw or mistake that might have gone unnoticed in your rangoli, another reason why you should use them, flowers are the best.
Always outline your rangoli design:
This might sound like the most obvious thing to do, but alas, most people do not think this is important. Creating an outline first gives you a sense of perspective for your rangoli design as a whole.
Make use of cones to intensify your rangoli:
You can use Mehendi cones or paper cones to modify the style of your rangoli. Cones are good for filling in many colors in an organized way, this method also prevents you from making a mess. Click here to buy beautiful rangoli cones and mandanas.
Use stencils to create beautiful designs:
Stencils are a great way to make your rangoli look good with minimum effort. There are numerous types of stencils you can check out for your Diwali rangoli.
Take a look at these beautiful stencils which are pocket friendly as well as elegant
Diwali, in the end, is not just about worship, food, and fireworks; it is also about loving your home enough to give it a sense of celebration and festive authenticity. Rangolis are the best way of accomplishing that.
Speaking of Diwali and festive celebrations, have you checked out our Festive Dhamaka Offer yet? You can be the one to win some really exciting prizes and make your Diwali celebrations grander! (Hometriangle Festive Dhamaka Contest is valid only till September 10th, so hurry up and book your services!)
Know more about our Festive Dhamaka Contest!!!