Festival Season
4 Quick and Easy Must Try Diwali Sweet Recipes This Year
These scrumptious sweets are the perfect way to celebrate the festival of lights. They are easy to prepare and taste great too!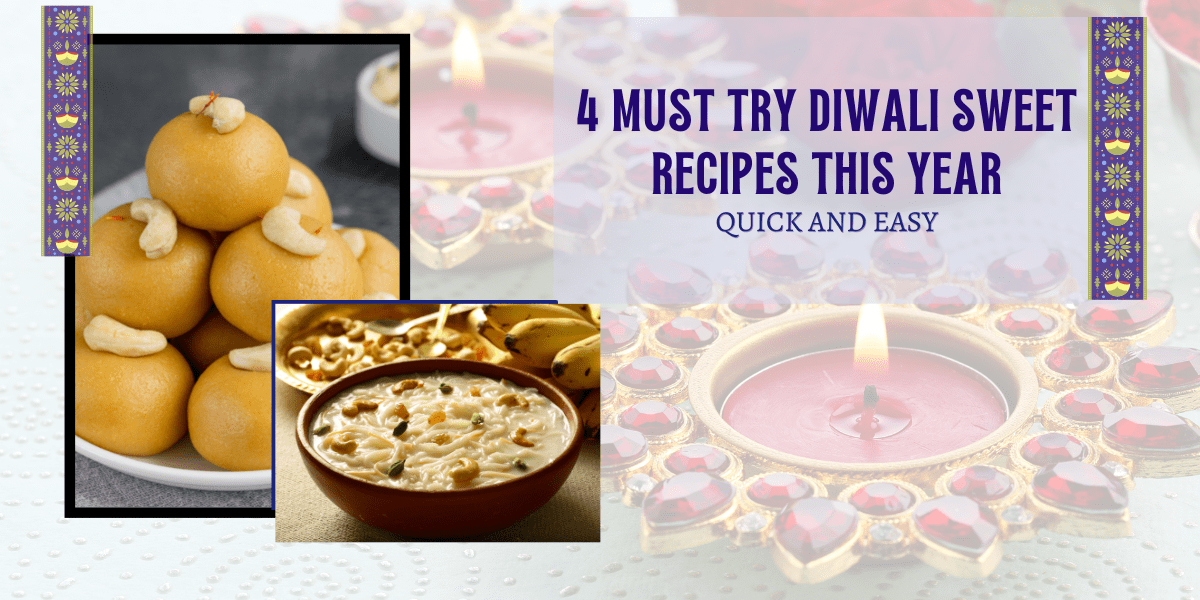 In India, Diwali is a festival that is widely celebrated. The five-day festival of light is significant to many people and its culture because it represents the triumph of good over evil, knowledge over ignorance, and light over darkness.
With this spiritual festival comes the preparation of sweets in our homes. No Indian festival is complete without making sweets, so we have compiled 4 quick and easy sweet recipes that are simple to make without any chaos and are a must-try at home. They are also beginner friendly if you're planning to prepare them for the first time.
Go Ahead, Enjoy The Preparation, And Savor Them To The Fullest.
It's time to get started!
Besan Ladoo
Besan ladoos are never out of fashion! Loved by all, this popular sweet recipe is easy to make and time efficient. You can quickly make it with basic ingredients available in your kitchen cabinets.
Recipe:
Take a pan, add ghee into the pan, and heat it.
Next, add the besan (gram flour), roast it thoroughly until it turns a little light brown color, and then thoroughly combine the ghee with the roasted besan.
Once the second step is done, turn off the stove and shift it into a different pan and allow the mixture to cool.
Now in a blender take sugar and green cardamom pods and blend them well into a fine powder.
Make sure to check the temperature of the mixture, if the besan is cooled then its the right time to add the powdered sugar.
You can also add roasted cashew to the mixture to make it more royal (This step is Optional).
Using your hands, mix everything together.
Now is the fun step, to turn this mixture into a ladoo (ball shape), Take the mixture between your palms and roll gently, and give them a beautiful ball shape and here you're done with preparing Besan Ladoos. Easy Pissy!
Rava Ladoo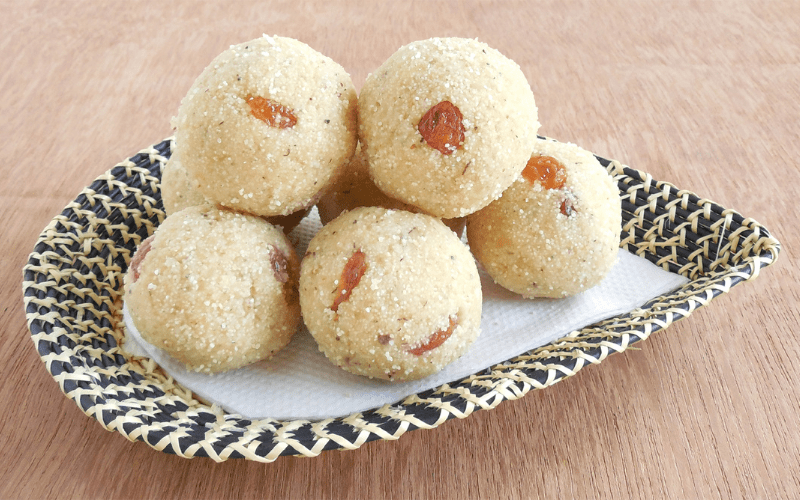 Another easy-to-follow ladoo recipe using Rava (also known as suji), sugar, and coconut. Since it is easy to prepare and doesn't require a lot of time or effort, this dessert is a popular choice for happy occasions in India, especially during Diwali.
Recipe:
Roast ghee and Rava in a pan over a low flame; continue roasting until the Rava becomes fragrant and begins to change the color.
Now, add grated coconut to the roasted mixture and stir it over low heat, being careful to prevent the mixture from burning or sticking to the pan.
When finished, set the mixture aside and allow it to cool completely.
In the meantime, grind the sugar into a fine powder in a jar. Next, add the Rava and ghee mixture to this, and grind everything together to a semi-coarse consistency.
You can now roast cashews, raisins, and almonds in ghee. Add the mixture to the roasted nuts and combine everything.
Now roll the mixture between your palms to form a ball, and your delicious Ladoos are ready to serve.
7 Cup Burfi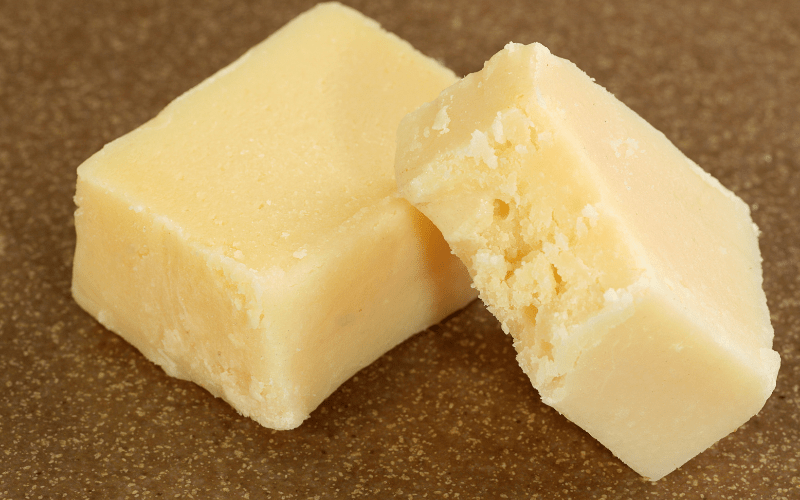 This delicious sweet recipe is made up of 7 ingredients using 1 full cup measure of milk, coconut, flour, ghee, and 3 full cups of sugar making it a 7 cup burfi. This sweet dish is hassle-free and gets ready in 30-40 minutes. Let's make it!
Recipe:
First pick a measurement cup as per your choice of size, in which take 1 cup of besan(gram flour) roast until it turns aromatic.
Now to this add 1 cup grated/desiccated coconut and roast besan and coconut together.
Now add 1 cup ghee to the besan-coconut mixture, and cook in low flame.
Now after roasting three ingredients together, add 2-3 cup of sugar (as per your sweet level preference) and 1 cup of milk.
Remember to stir it well, ensure there are no lumps.
Next, you see the mixture turning thick and all ingredients are well put together. This is the sign to turn off your flame.
Take a tray and grease it with ghee.
In this tray add your thickened mixture, spread it well and once completely cooled, give them your desired shape and relish it!
Rice Kheer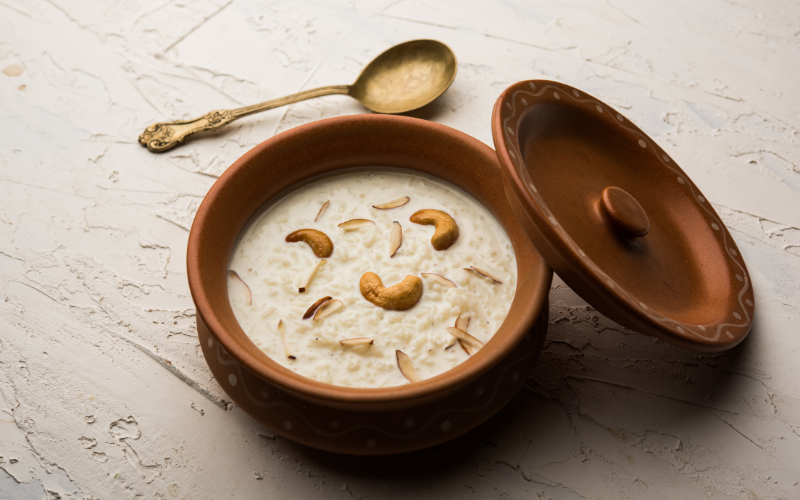 Various varieties of Kheer's are made in India. Every state or culture has its own recipe, but Rice Kheer (Chawal Kheer) is one of the most popular varieties and is found throughout the country. This dessert is a perfect festive dish to make easily at your home, so let's get started!
Recipe:
To make this recipe, first, wash and soak rice in water for at least 30 mins.
Now take a pan, on a low flame start heating the milk and bring it to the boiling point.
Once nicely boiled, add the soaked and drained rice to this boiled milk and cook them together on low heat for at least 45 mins or until the rice is half cooked. Remember: During this step keep string to avoid any burns.
Depending on how sweet you want your Kheer to be add the sugar and keep stirring until the Kheer texture thickens.
At this point, you can add roasted nuts like almonds, cashews, pistachios or any of your favorites, and a lil cardamom powder to the Kheer and cook it for 3-5 mins.
Once you get a good consistency switch off the flame and serve it hot!
Don't forget to try these recipes out, and do let us know what you think!
Are you interested in reading more content on such related topics? Check out Hometriangle and enjoy!