An organised kitchen is a pleasure to work in, providing an uncluttered environment for you to create culinary masterpieces and simple weekday dinners with equal ease.
An organised kitchen is a pleasure to work in, providing an uncluttered environment for you to create culinary masterpieces and simple weekday dinners with equal ease. If the cutlery drawer is in disarray, and the ladles, pots and pans are all in a big old jumble in one drawer, cooking even a pack of instant noodles will become a chore. Your kitchen needs clear work spaces, plenty of light, gadgets that do double duty and adequate storage for everything from expensive stemware to garbage bags.

Here are some ideas to help you reorganize your kitchen and inspire you to use your storage more efficiently.
Use All Available Space
Under the sink, behind the door, in the empty oven, use every available inch. Go into the kitchen and make a mental map of all the areas, vertical and horizontal, that are free. Now start by figuring out how to put this space to the best possible use. Why not install a pull out drawer under the sink to stock garbage bags, floor mops, dish sponges, dishwasher detergent etc. Put up pegs or rails on clear wall spaces, hang a magnetic knife and spice rack, even appliances like microwaves can be wall mounted.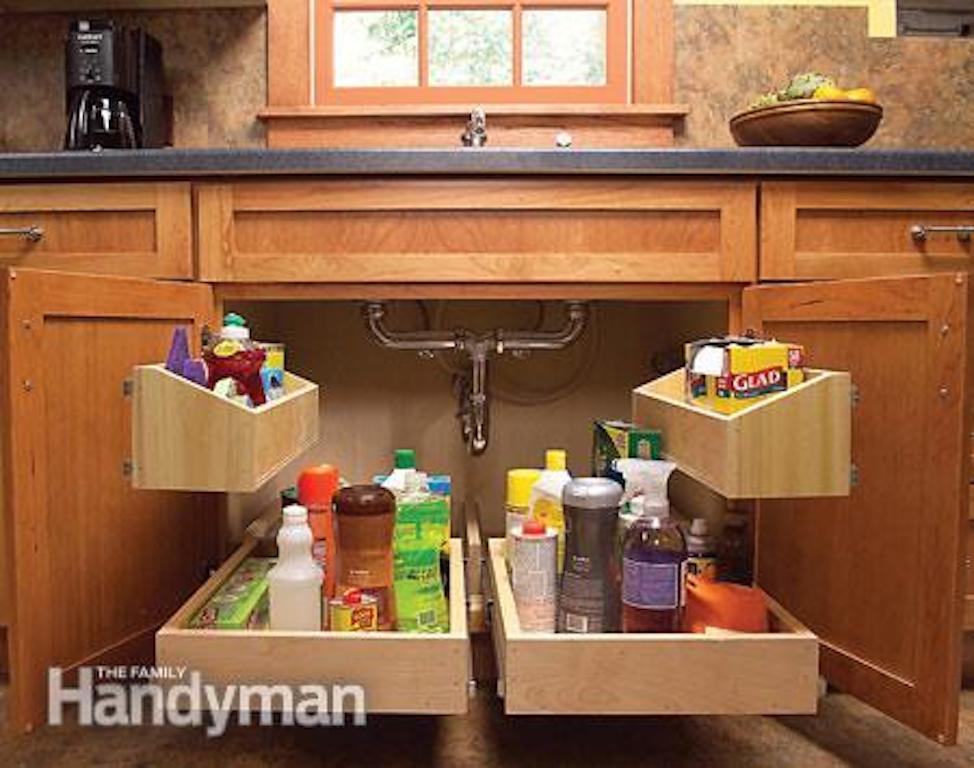 Pull out drawer under the sink
Movable Work Space - A Rolling Cart
To add clear counter space consider a kitchen cart/ trolley on wheels. If it's large enough it can double-up as a casual kitchen dining table, in a smaller avatar it still provides some storage and will easily roll out of the way when you don't need it.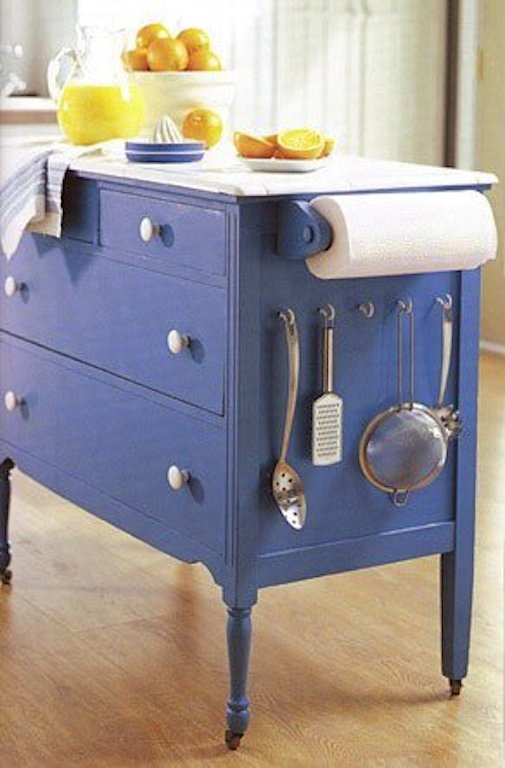 Kitchen cart with storage and counter space
Racks And Rails
Installing a dish rack over the sink or a pot rail from the roof will vacate drawer and cupboard space. The handy location of the dish-rack over the sink will make your work easier, while the pot rail will make all the different pots and pans easily accessible instead of stacked together. You can put pretty plates and elegant dinnerware in the dish-rack, and gleaming pots on the pot rail so they add interest to the kitchen decor.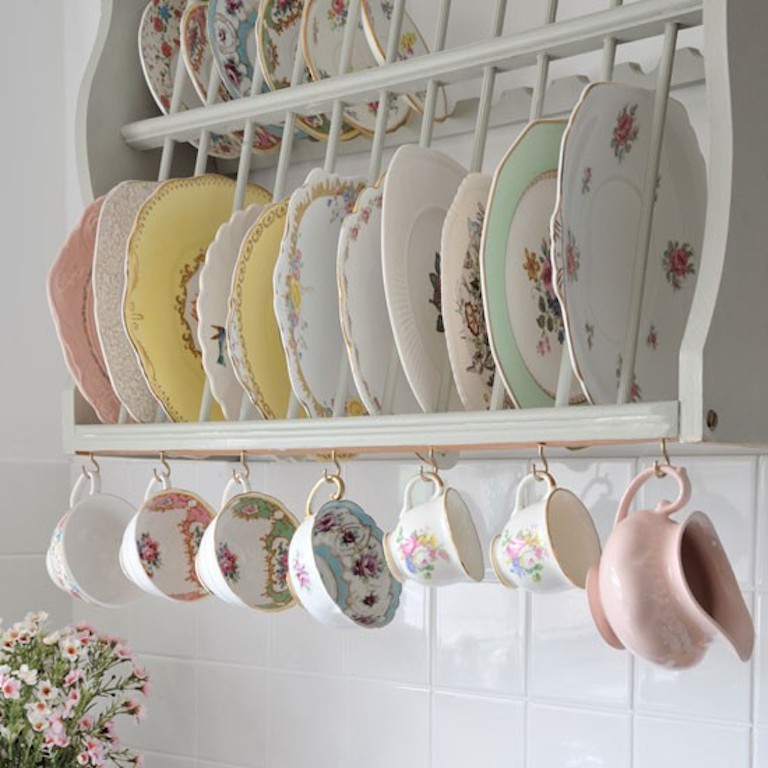 Pretty plates and elegant dinnerware in a dish-rack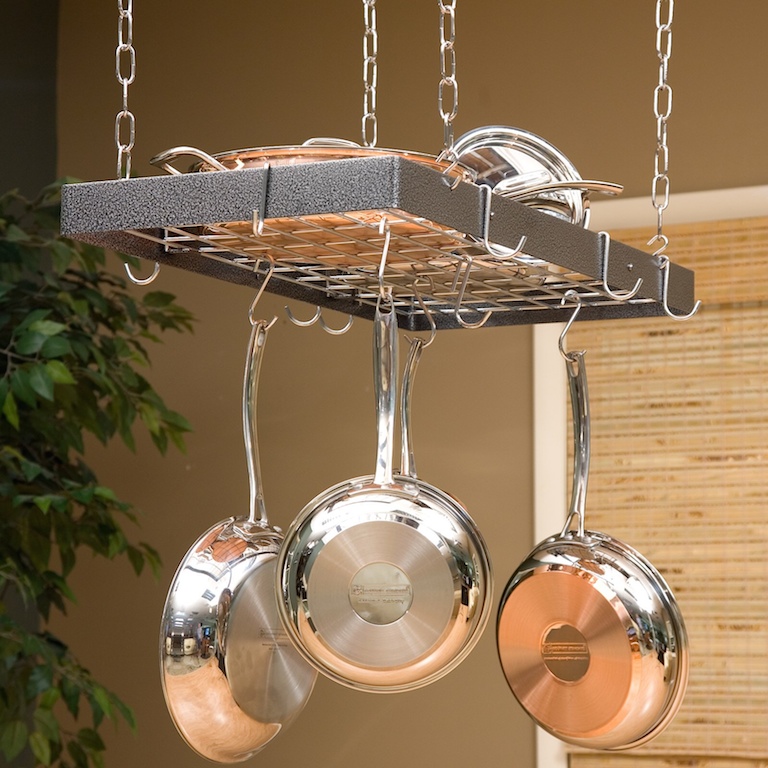 Pot rack hung from the ceiling
Corner Conundrums
Corner cupboards in the kitchen are a nightmare to access. How often have you found yourself on your hands and knees trying to peer into a dark corner cupboard? Professionally customizing corner storage by putting in pull out half-moon racks on rails makes this dead space available and easier to reach. Drawers in the corner will also use every last inch.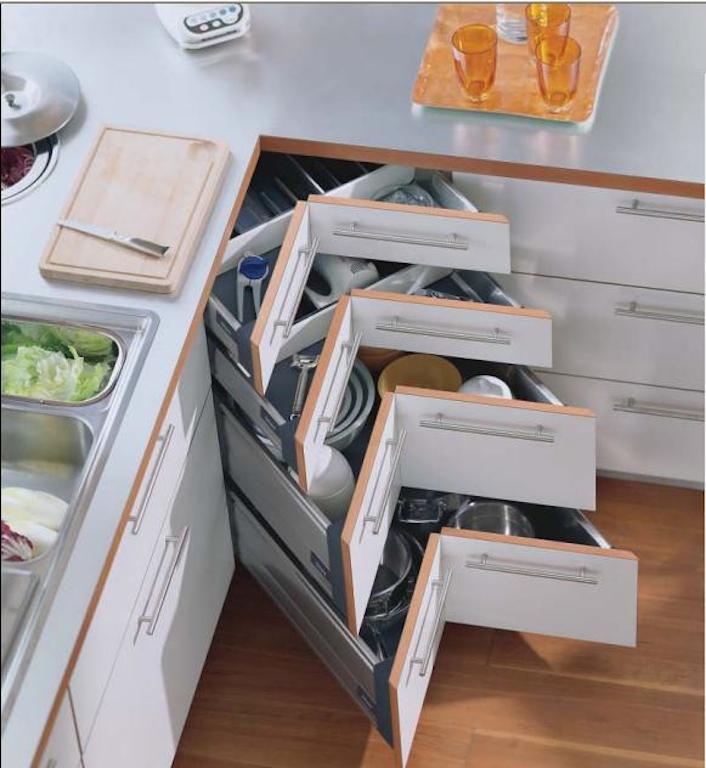 Synchronized
drawers in a kitchen corner
Double Duty Appliances
While buying appliances remember to buy combination utilities, this will save you money and space in your kitchen. A juicer-mixer-grinder combination versus buying three separate appliances is a no brainer. It'll also help keep your counter uncluttered while you cook, giving you more space and there will be less tidying-up to do afterward.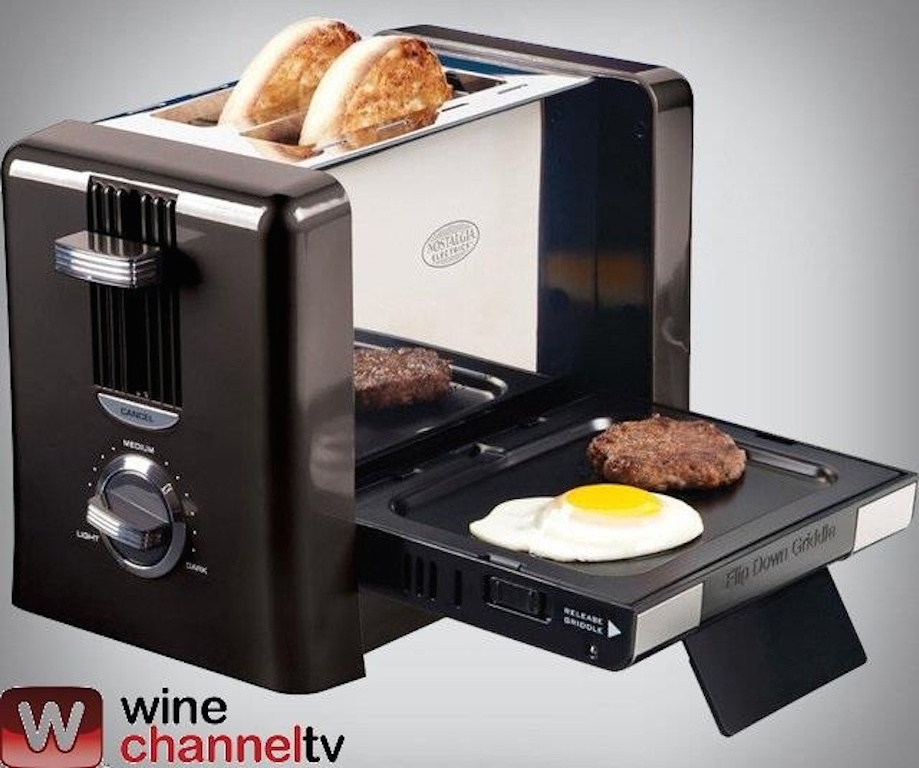 A toaster and a griddle together makes breakfast less work
Rethinking Design Details
Consider making minor changes that may involve some remodeling, this may go a long way in adding storage and clear space. Built-in appliances like embedded stoves, refrigerators, drawer dishwashers etc. become a seamless part of your kitchen cabinetry while using space more efficiently and unobtrusively. Adding a jut out to an existing counter can add more space and storage, and cabinetry can be extended till the ceiling, library style.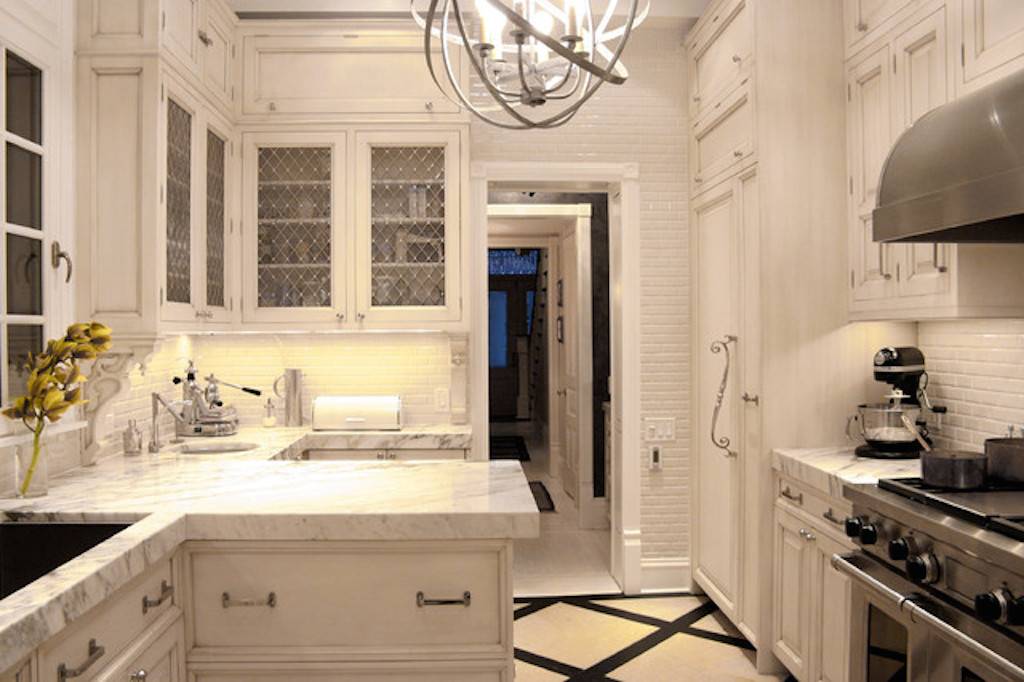 Add a jut out to an existing counter
Drawer Dilemmas
Solutions like dividers in drawers and stackers in cupboards, even the simple configuration of shelves inside a cupboard will help you find space where there wasn't any before. Organize by like, everyday use dishes together in more accessible spots, pans n ladles near the stove and seldom used items like stemware higher up in a cupboard.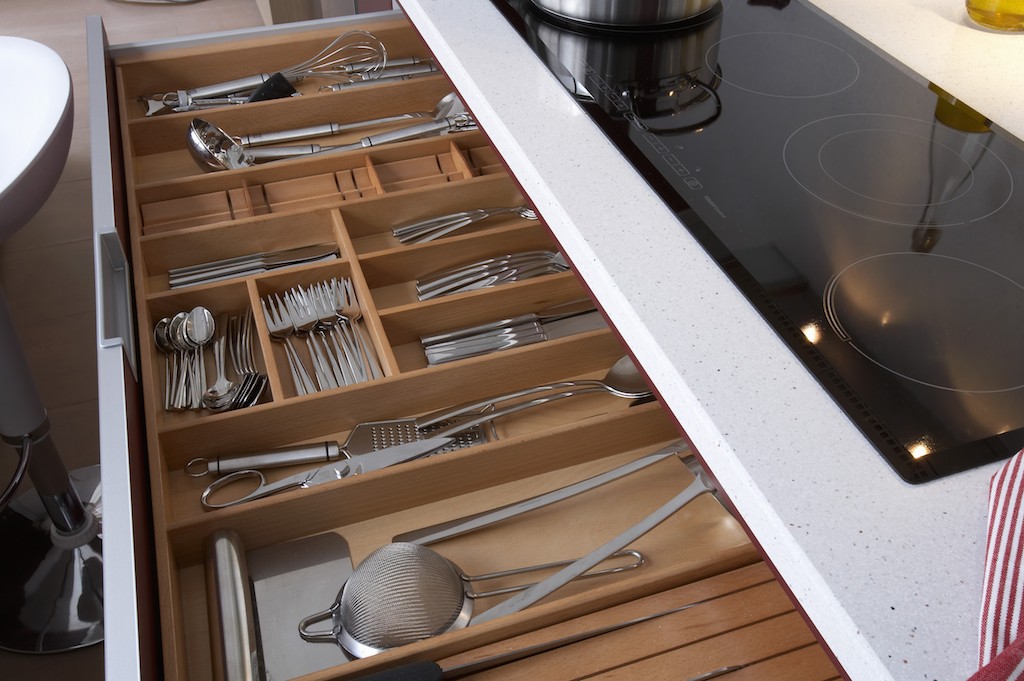 Drawer dividers organize cutlery
Implement your storage ideas and organize ruthlessly. Well organised storage in the kitchen is a small way to help you save time and energy, making your life better and more productive!