Kitchens are the most crowded rooms of any homes in the 21st century. With the increase in popularity for open kitchens and more people being welcomed into our kitchens, we feel concerned about the space in the kitchen.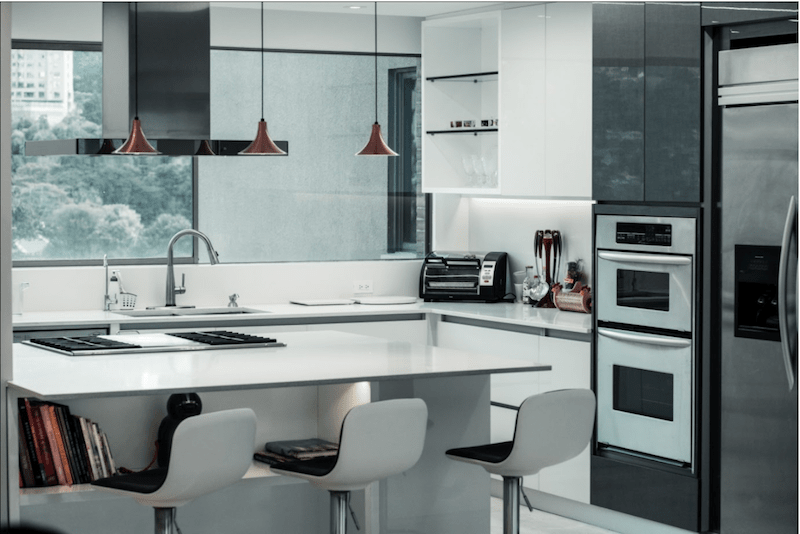 Kitchens are the most crowded rooms of any homes in the 21st century. With the increase in popularity for open kitchens and more people being welcomed into our kitchens, we feel concerned about the space in the kitchen. Modular kitchens have been overcoming this for a few years now. A residential kitchen can be equipped with a stove, a sink, a refrigerator, and worktops and kitchen cabinets arranged according to a modular design to optimize the space in the kitchen and our comforts.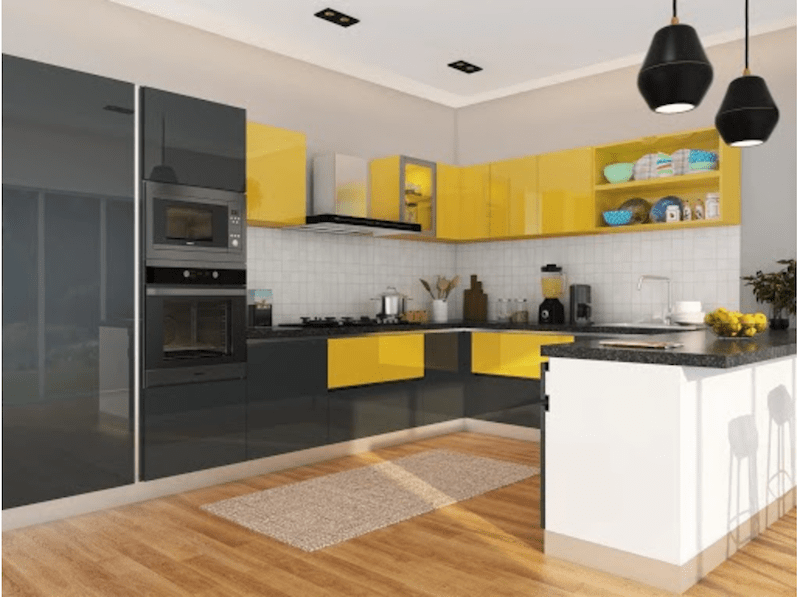 Modular kitchens mainly consist of several modules in a row starting from drawers to cabinets, shelves, racks, kitchen counters, etc. Your kitchen along with these different modules can be customized according to your wish and the shape of your kitchen. This is the best solution possible for proper space utilization with an elegant and chic look. An experienced professional could create a lot of space even in a seemingly tiny kitchen.
Different Types of Modular Kitchens -
1. Straight-line Kitchens :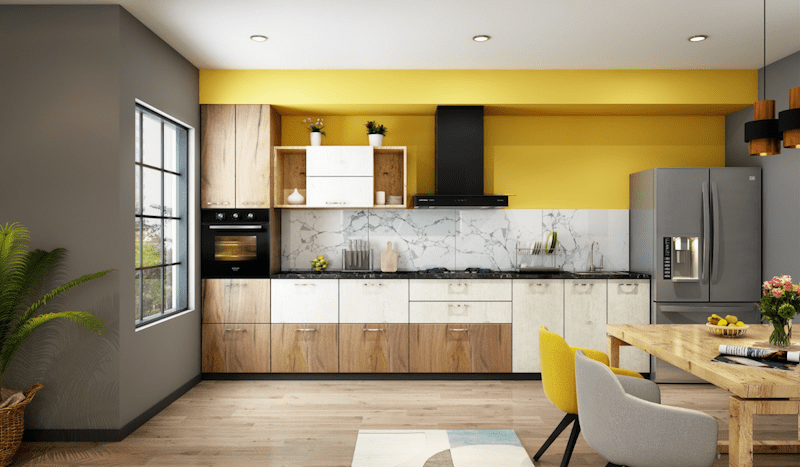 A straight modular kitchen gets its name from the straight-line layout of the three main parts of the kitchen; sink, hob, and refrigerator. A straight-line kitchen gets an overall organized look as they are usually designed with various cabinets to hold different kitchenware and other accessories. This kind of kitchen gets an open floor plan providing easy access to all parts of the kitchen.
2. L-Shaped Kitchens :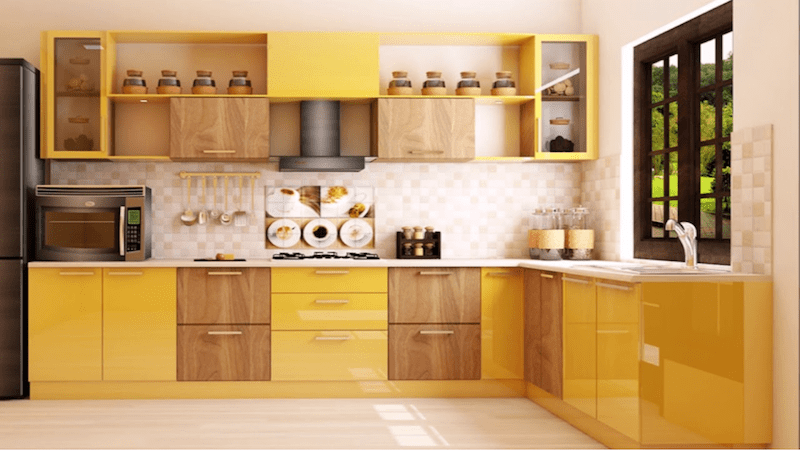 L-shaped kitchens are the most commonly used kitchen layout for kitchens without a lot of space due to the compact but discreet and versatile ability to use the maximum area for storage. The hob placed at the junction of the refrigerator and sink makes a working triangle that separates storage from work is an ideal L-shaped modular kitchen design. This type of modular kitchen might be expensive than other kitchens but the convenience and style it brings to your kitchen are unparalleled.
3. U-Shaped Layout :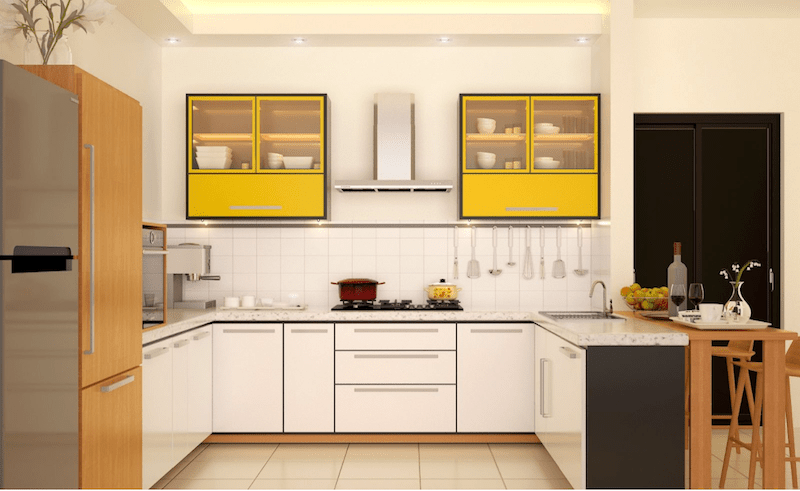 U-shaped modular kitchens are designed with the most efficiency in mind. This provides an effective working triangle and abundant space for storage and working. These kitchens are perfect for big houses with a lot of space available for the kitchens. An ideal u-shaped kitchen has the hob placed at the curve surrounded by the sink and refrigerator on either side, making a perfect triangle. U-shaped kitchens are best suited for families with more than four members
4. Island Layout :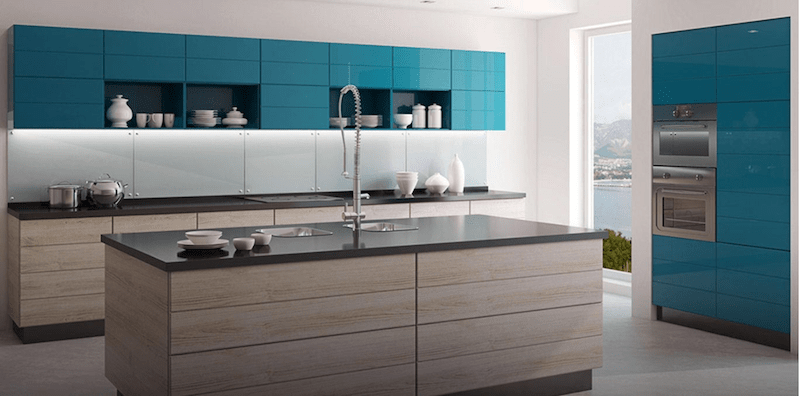 These are our favorite type of modular kitchens because of its high adaptability. These give you the ability to use your kitchen space as you see fit. The ideal design of an island modular kitchen is a combination of a straight and L-shaped layout having a disconnected island in the center. Island modular kitchens have an organized look and give your whole kitchen a much more contemporary look.
5. Parallel Kitchen Layout :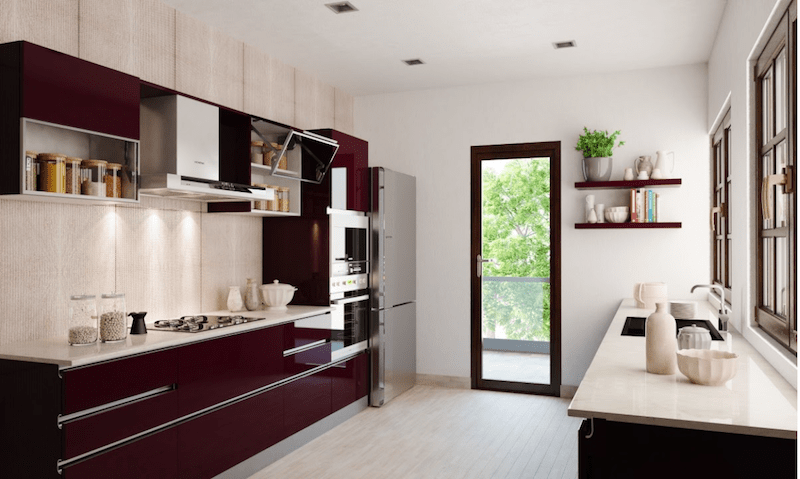 A parallel modular kitchen is designed by keeping one of the three components; hob, sink, and refrigerator, parallel to the other two. These kitchen arrangements divide the working space in the kitchen by splitting it into separate areas for wet and dry work.
6. G-shaped kitchens :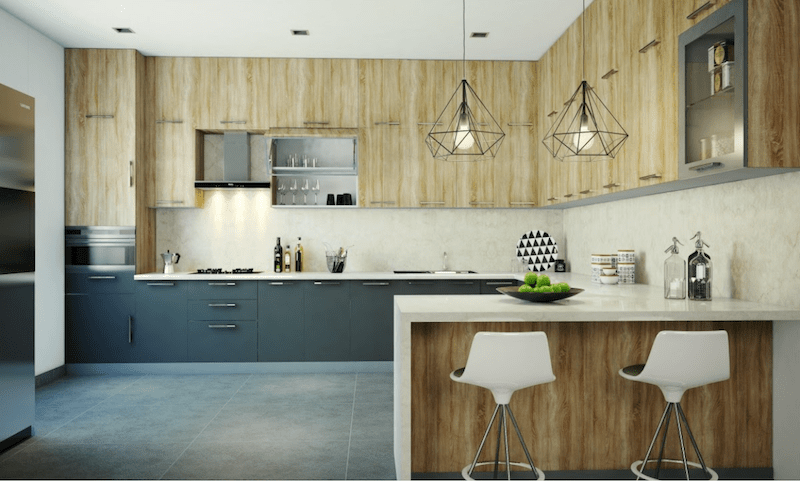 A g-shaped kitchen is similar to an island kitchen but the island, in this case, is joint to the counter and mostly acts as a breakfast table. This is best suited for kitchens of small size or areas where a dining table cannot be accommodated.
Advantages of Modular Kitchens :
The best advantage of a modular kitchen is its efficient use of space. They have the ability to make a small kitchen seem uncluttered and organized.
1. They are also extremely flexible. They can be installed easily and any repair work doesn't affect any other parts.
2. It provides a wide range of customization to homeowners. With plenty of colors and patterns to choose from, only your imagination is the limit while designing your kitchens.
3. Modular kitchens are usually long-lasting and durable in nature. Cleaning and other maintenance procedures are quite easy and simple.
4. The sleek, clean, and trendy designs give a minimalistic and elegant look.
5. Modular kitchens are designed to improve the convenience of working. With compartmentalized spaces for cooking, washing, and storage, working in the kitchen is easier than ever.
Disadvantages of Modular Kitchens :
Modular kitchens don't pose a lot of problems disadvantages. That is one of the main reason why we at HomeTriangle loves them. The only two minor inconveniences they pose is
1. The initial cost of installation is higher in comparison to other more conventional kitchens.
2. Any installation or repair work needs technical assistance.
Get the Best Modular Kitchen Installation and Service from HomeTriangle :
Finding a good service provider for installation and service is very important. Since they need mechanical know-how about installing or servicing a modular kitchen, it's best to go with a trained, qualified, and experienced professional. HomeTriangle has compiled a database of the best modular kitchen service providers all over the country. We understand how much you love your home and we are committed to giving you the best service possible. Our professionals will help you choose the best design for modular kitchens depending on your home. Follow the link to find the
best modular kitchen installation
and service in Bangalore.