Painting your home is the best way to grant your home a new and a fresh look. Paintings can be Interior Painting , Exterior Painting and add to these we have more options like Decorative and Textured painting to enhance the look of the Home/office.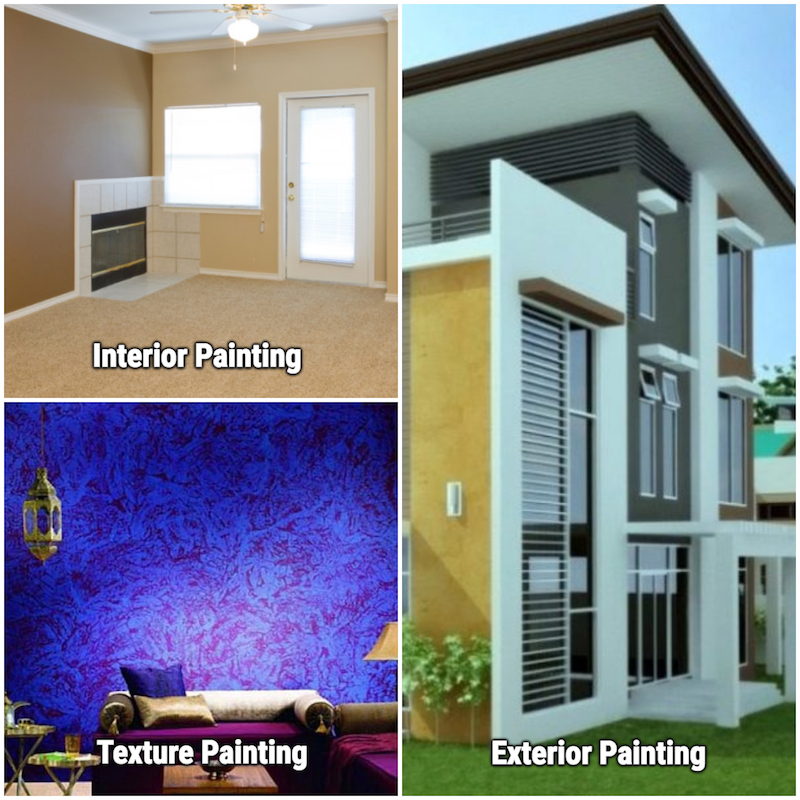 Source : hometriangle
If you have no experience in painting your house and are planning to get a fresh paint job, then all you need to do is follow these steps given from Hometriangle and you will find the approximate price of what this paint job is going to cost you.

Source : homepainterstoronto
There are several factors on which the Painting cost calculation depends.
Labour Charge : According to market price this year, Painting labour charges ranges between 800 to 1200 per day for an experienced labourer.
Materials Cost : This cost can range between 5,000 to 20,000 depending on the type of paint. Paints, are of different types Tractor Emulsion, Premium Emulsion and Royale paints .
Area of Painting : Area of walls to be painted considered for calculating Painting costs.
For Example: For a 2 BHK house with 800 sq ft carpet area the walls dimension would be taken as 2.2 to 2.5 times of carpet area. that is 800 * 2.2 = 1760 being minimum area to be considered for painting.
Year 2018 - Market Prices for Painting Services as per Hometriangle Survey :
( Includes labour charges and Material )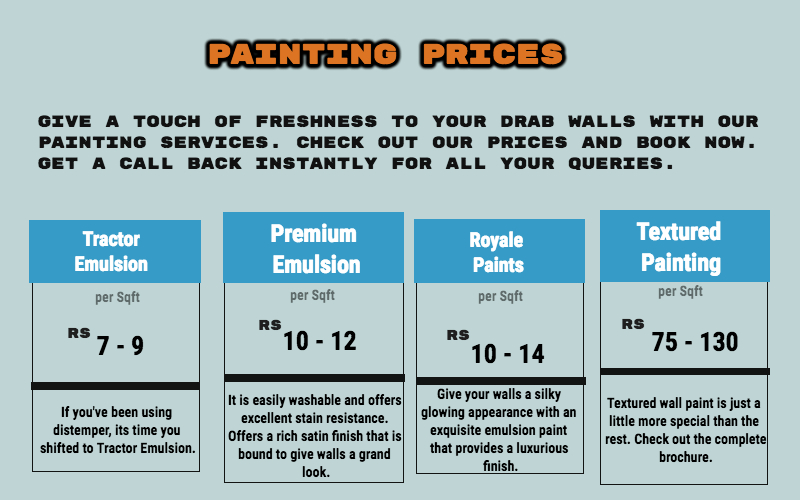 Source : Hometriangle
Tractor Emulsion best of choice for Rental Painting, re-painting which costs between Rs 7 to Rs 9 per sqFt (based on the vendor you choose).
Premium Emulsion (comes with the property washable walls) best for both rental painting and own house painting which costs between Rs 10 to Rs 12 per sqFt.
Royale Paints comes with royal effect with decent shine best for Own houses and Reception areas in offices / Hotels paintings. Area Measurement. This costs Rs.14 to Rs 16 per sqFt .
For Decorative and Textured painting services usually used on single walls of a room accentuate the look of a room or living room or reception area in the Home. Prices totally based on design and the colour we chose. Price rages between Rs 75 to Rs 130 per sqFt.
So now thinking where to find a Painting Service Provider in Bangalore, Chennai, Hyderabad, Pune, Mumbai, Kolkata, Delhi ? Hometriangle is the place .