Got new home and time to choose between a hinged door or a sliding door when you are purchasing or fabricating a new wardrobe into bedrooms , Confused?
Got new home and time to choose between a hinged door or a sliding door when you are purchasing or fabricating a new wardrobe into bedrooms , Confused? A hinged door is fixed on to the wardrobe with simple hinges while sliding shutters are panels that slide on tracks. To start with, check for ease of use, how much maintenance is required and what will suit the kind of space marked for the wardrobe .

Hometriangle helps you choose one giving their pros and cons which can help you decide.
1. Hinged doors
Commonly used and very conventional wardrobes are hinged wardrobe doors .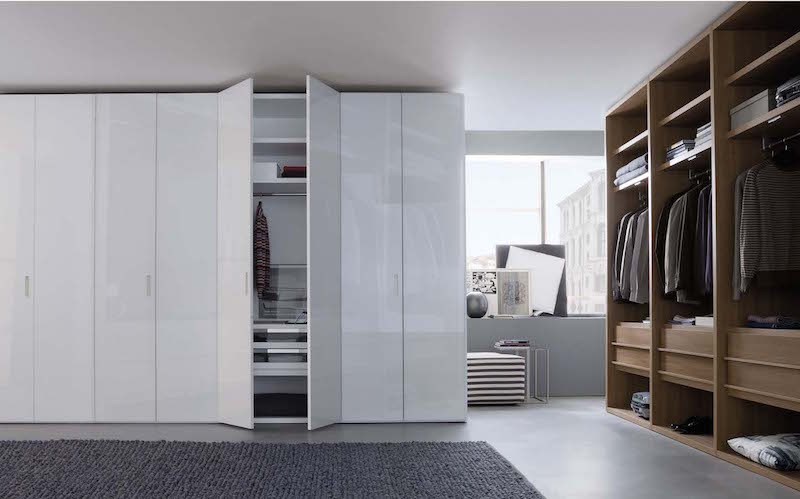 Source : lamco-design
Pros are :
1. Full visibility
Hinged wardrobe doors is that they swing wide open, enabling a full view of the closet. Hinged door gives a provision to install hooks, pockets or racks on the inside surface of the shutter for accessories such as ties, belts, clips and so on.
2. More Designs and options
Since hinged wardrobes are very commonly used, these wardrobes come in many designs, colours, materials and textures. Additionally, one can incorporate decorative door handles of stainless steel, brass or leather that match with the design of the wardrobe.
3. Easy to maintain
Hinged wardrobe doors are low-maintenance. The hinges can be easily tightened or replaced in case of damage. Also, hinges are much cheaper and readily available in comparison to good-quality track systems that are required and used for sliding doors for wardrobes.
Con : Take up space
Hinged wardrobe doors take additional space as they swing outwards and open into the room. In small rooms, one must ensure that the swing of the shutters does not obstruct any kind of traffic or other functions.
2. Sliding doors
Sliding doors require a floor track as well as a top track with rollers for the doors to slide on.Note the minimum width of a sliding-door wardrobe should be at least 7 feet. This is allows for two 3.5-foot doors and an opening that is 3.5 feet wide at most. Any less, and it will be too narrow, making it difficult to get at the contents of the wardrobe.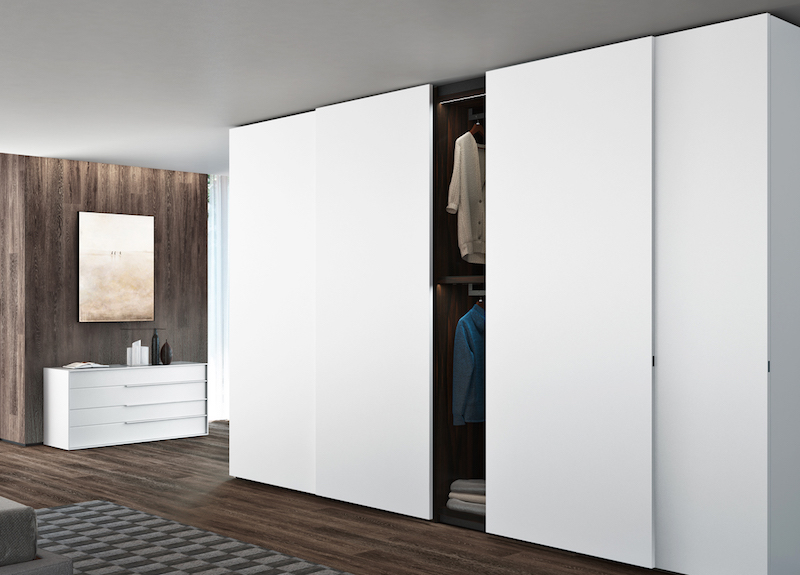 Source : gomodern
Pro are :
1. Give a sleek, modern look
The straight lines of these huge floor-to-ceiling sliding panels look neat and impart a sleek, modern look. This makes the doors suitable for long wardrobes. Each panel of a sliding wardrobe door can have a maximum width of 4 feet, or the panels will become too heavy to slide easily.
2. Space Saver
Sliding door panels work as space savers since they open sideways along the front of the wardrobe. This arrangement does not take up additional space in the room.
Con are :
1. Limited visibility
The main drawback of a sliding wardrobe door is that one side of the cupboard is always covered, making it impossible to open and see the cupboard in its entirety.
2. Need gentle handling
Sliding-door wardrobes should be handled gently and not subjected to rough use while opening or closing. Remember, rough use may damage the alignment and cause the shutter to slip off the track.
3. High maintenance
For long-term durability, it is important to ensure good workmanship and opt for only good-quality hardware that is rust-proof and ensures swift movement of the sliding shutters. Do make it a point to clean the tracks and lubricate the rollers regularly; also get a carpenter to periodically readjust the sliding panels for a stable fit.