Holi is the festival of colours and is celebrated on a full moon day during the Hindu month of Phalgun. It is a festival of colours and fun and there is a reason behind it.
Holi is the festival of colours and is celebrated on a full moon day during the Hindu month of Phalgun. It is a festival of colours and fun and there is a reason behind it. As the legend suggests, Holika, the sister of then Multan king, Hiranyakashyup, on the command of her brother tried to kill his son, Prahlad.

Hiranyakashyup was a powerful king who considered himself to be the God of all. He forced all his subjects to worship him including his own son who was a devotee of Lord Krishna. His father subjected the little boy to various punishments but the little boy never deviated from the righteous path.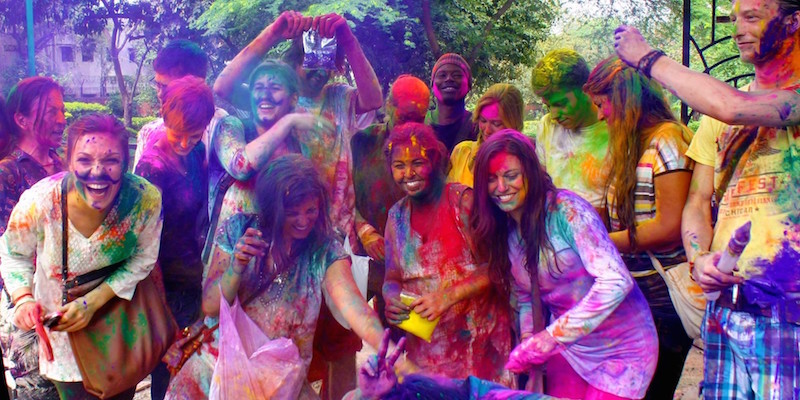 Source: huffpost
As an end resort, Hiranyakashiyup asked his sister, Holika to use her cloth that protected her from fire and sit with Prahlad on a pyre which will burn him. When it happened, it was Prahlad who got saved and Holika got burned. This was considered a victory of good over evil. The next day, people put the ashes of Holika on their foreheads as a sign of victory of the little boy.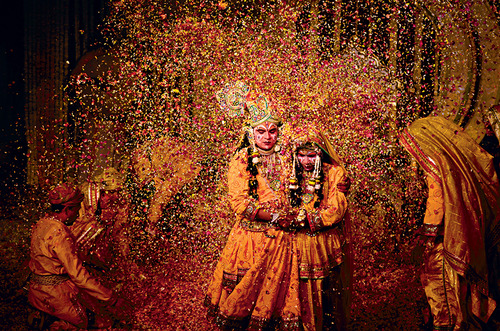 Source: tumblr
In the present day, colours have taken up the place of those ashes. Here are the other ways how Holi is celebrated in different parts of India.
1. North India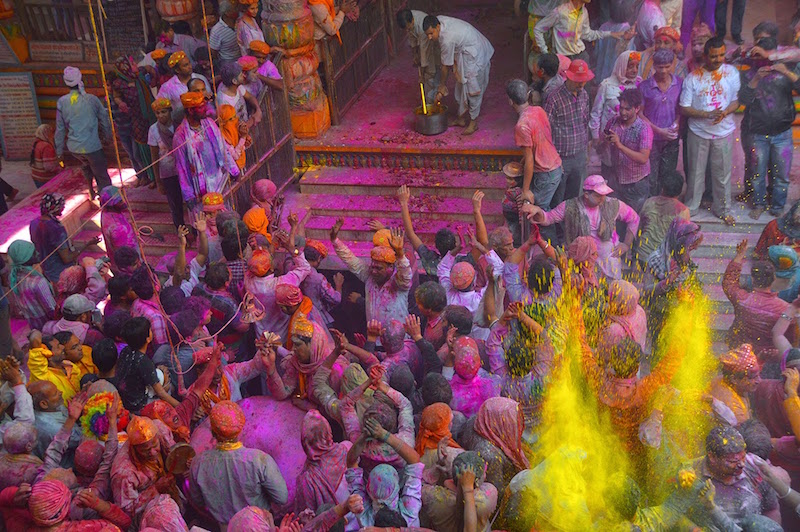 Source: blogspot
Holi at Mathura and Vrindavana is celebrated with great gusto for many days. For, these were the places where Krishna spent most of his childhood. Situated in the North Indian state of Uttar Pradesh, the celebration there spans over a week or so. Each major temple, housing the idols of Krishna and Radha, celebrates Holi on a different day. People throng the temples to get drenched with colored water and consider it a blessing from the god.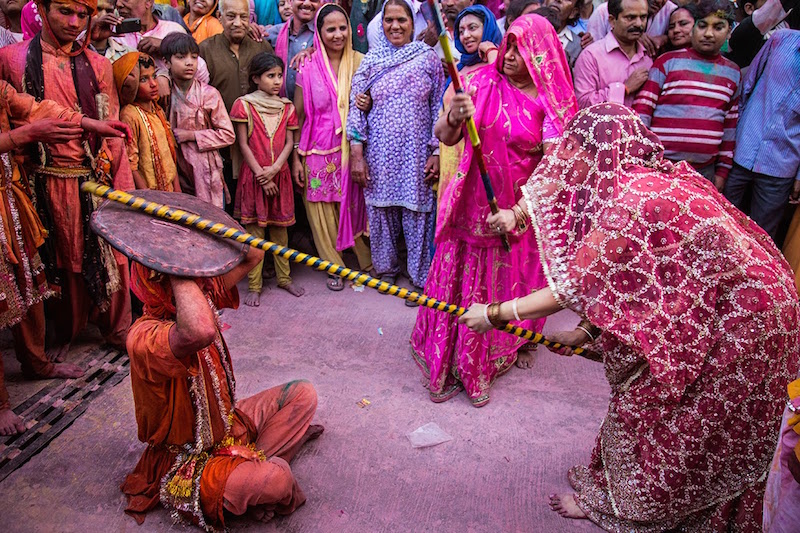 Source: blogspot
In Uttar Pradesh, effigies of Holika are burnt a day before Holi. In Braj and in Barsana, people indulge in 'Lath Maar' Holi where women have fun beating men with sticks!
In Punjab, a ritual called Hola Mohalla was initiated by the Sikh Guru, Guru Gobind Singh where Holi is celebrated by demonstrating physical agility by indulging in martial arts.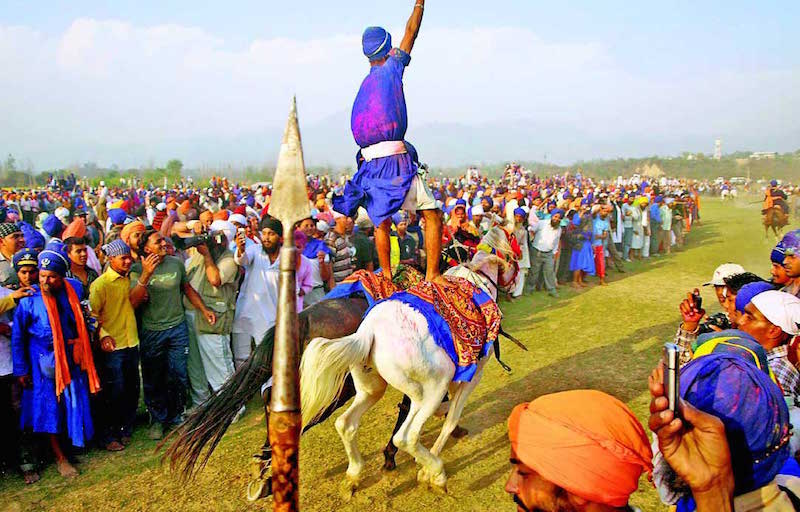 Source: yexplore
In Haryana, boys gather up and make a human pyramid to break the earthen pot full of buttermilk that hangs at a great height.
Source: nomadsventure
2. East India
The people of East India have their own unique ways of celebrating every festival.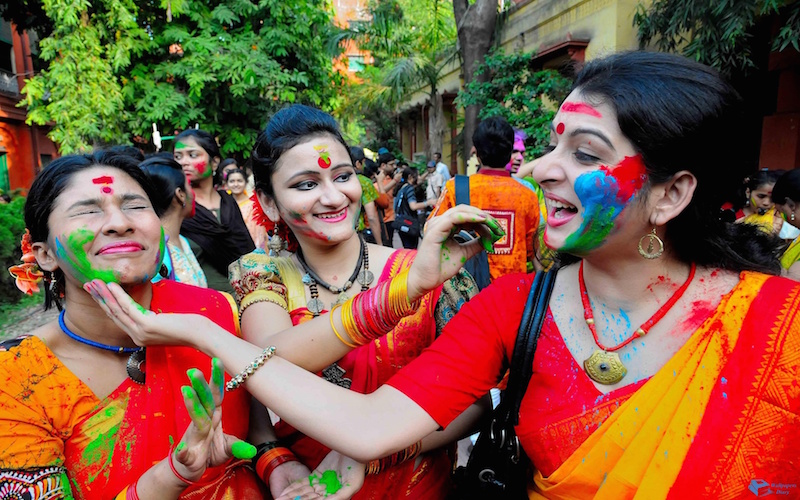 Source: skymetweather
In Bengal, Holi is called Dol Yatra, or the swing festival. Traditionally the festival is celebrated with idols of Krishna and Radha are placed on swings and devotees take turns to swing them. Women dance around the swing and sing devotional songs, as men spray coloured water and powder called "Abeer". However, recent trend doesn't see much of those traditions. People play with colored waters, powders in the morning. And later take out processions on the streets with bands and with faces and bodies covered with Holi colors.
The Nobel laureate Indian poet Rabindranath Tagore introduced Basanta Utsav to relive the ancient tradition in the school of Shantiniketan,the seat of learning he founded.
The Basanta Utsav means Springfest.There the boys and girls would greet the spring at this time of the year. Not only with colors, but with recital of songs,dance and hymns in a serene environment. Today Shantiniketan is a full fledged university butlives up to greet the spring every year with the same tradition.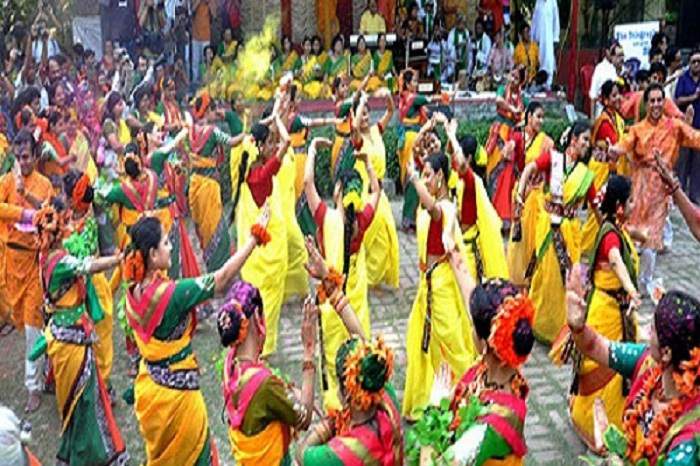 Source: skymetweather
Purulia is a rural area near Bengal where you can enjoy the three days long festivities with the locals. Their ways are very different. Their style of playing Holi incorporates local dance style.
The traditions of people of Orissa with reference to celebrating this colourful festival is quite close to that of Bengal. The people here welcome the spring season, but instead of the idols of Lord Krishna and Radha, they worship a different avatar of Lord Krishna which is Lord Jagannath.
3. North East
In Manipur too, Holi is extremely interesting. It is a six-day festival here, commencing on the full moon day of Phalguna. The traditional and centuries-old Yaosang festival of Manipur amalgamated with Holi in the 18th century with the introduction of Vaishnavism. In earlier times, folk dances were performed with folk songs under the moonlight . The only musical instrument used was an indegenous drum. Presently, these have been replaced by modern bands and fluorescent lamps. Beginning days before, people of collect money from the community to spend on the festivities.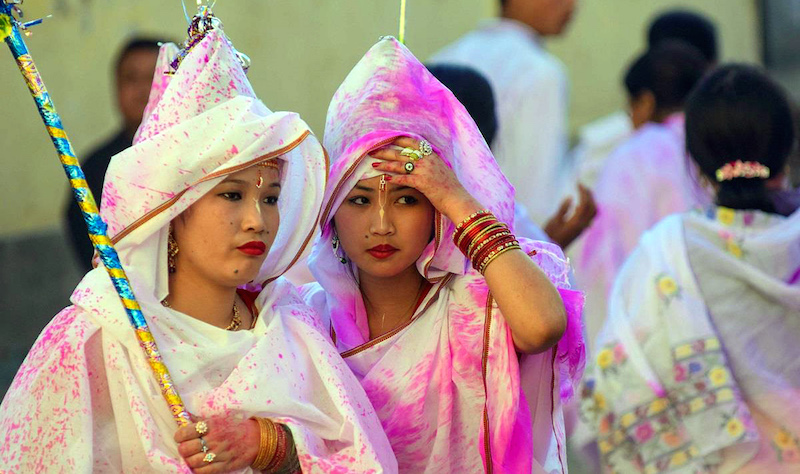 Source: skymetweather
A thatched hut of hay and twigs and sticks is built and then set ablaze. The next day, boys go in groups to play gulal with the girls. And in return for playing with them, the girls extract money from the boys. Also devotees play gulal and dance in front of the temple of Krisna dressed in thetraditional white and yellow turbans, and sing devotional songs. On the last day of the festival, hundreds of devotees take out processions towards the main Krishna temple, 3 km west of the state capital, Imphal. There various cultural activities are performed.
4. West India
Lord Krishna's character has always been depicted as a mischievous one. He is known for stealing butter and milk from the pots.
So, in Gujarat, all the men drenched in water and colours take out a procession where they catcall and warn all the ladies to guard their pots as Krishna while soon come to steal butter and milk from them. The tradition of breaking the buttermilk pot which is famous in Haryana is practiced here as well. The tradition of making gujjiyas originated here.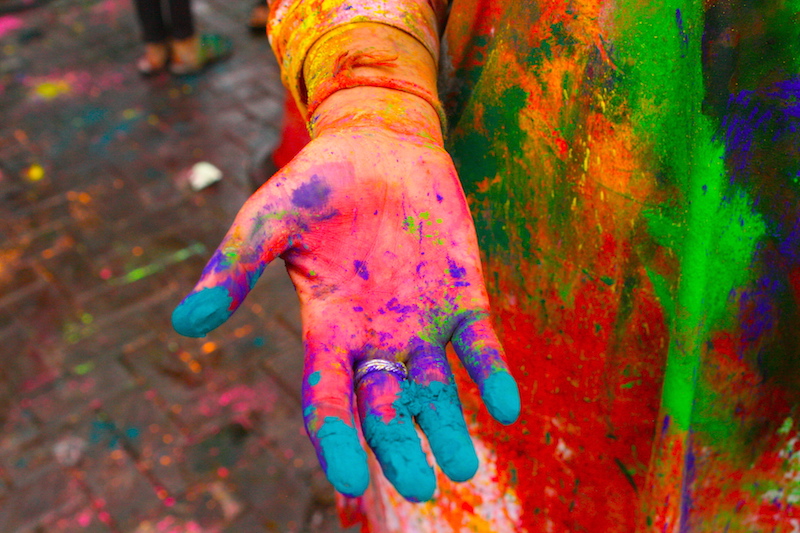 Source: kaysarahsera
In Maharashtra, the fishermen's community celebrate Shimga/Rangpanchami on Holi and inculcate their folk dance, songs and activities in the celebration.
In Goa, processions playing mythological stories start taking rounds performing naman from the ninth moon day to the full moon day. They avoid non-veg and alcohol during this time and decorate their house doors with toran.
5. South India
In South India, Holi is called by many names like Kaman Pandigai, Kamavilas and Kama-Dahanam. People sing melancholic folklores during this time to narrate the story of Kama Deva's wife, Rati. It celebrates the victory of spiritual bliss over marital bliss, hence, making the festival a love festival. It is basically celebrated to help relieve Kama Deva's burns.
Holi is not just a festival of colours, but it also celebrate the victory of good over evil. No matter how it is celebrated, it signifies the killing of the evil. Not only in India, but people from all around the world come together to celebrate this merry festival. We hope that you will have fun too.