Update your mundane dining area with unusual ideas to achieve a dazzling effect. Refurnish or up-style a boring dining room and surprise your friends and family over a homemade meal!
Update your mundane dining area with unusual ideas toachieve a dazzling effect. Dining rooms are the spot for your family to eat,catch up on their day and socialize. Refurnish or up-style a boring dining roomand surprise your friends and family over a homemade meal!
Color All The Way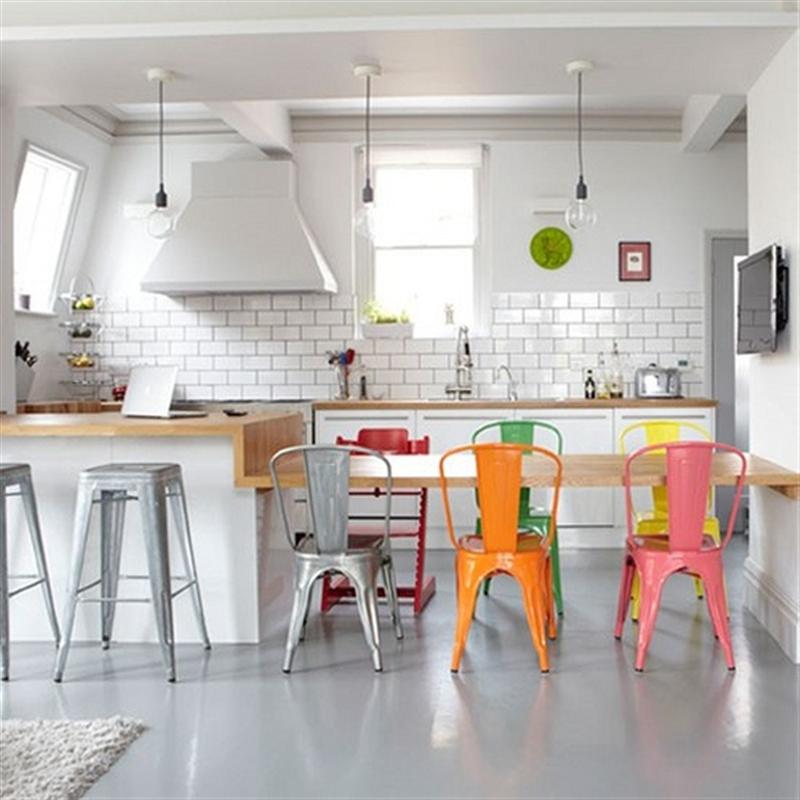 Bright chairs add a color pop to a white kitchen cumdining area
Colors are the best way to bring cheer to the table besideshot food! Paint or upholster your chairs in funky colors and swap boringupholstery for lively patterns to add fun to supper time!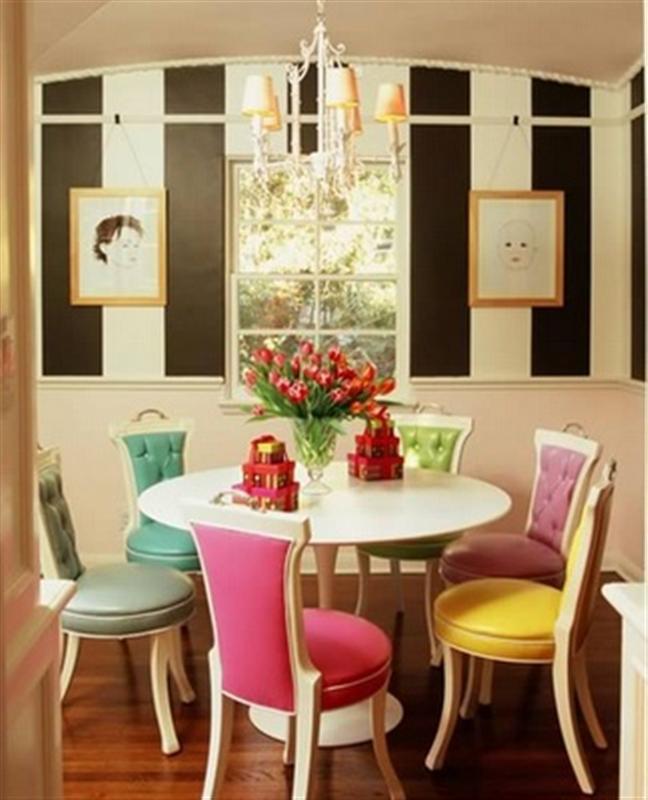 Create the same colorful look with upholstery
Hanging Table top
Ditch old school table legs and suspend your tabletop fromthe ceiling with sturdy cables, poles or ropes to keep it stable. Serve food inbright tableware to add a color pop to this innovative idea.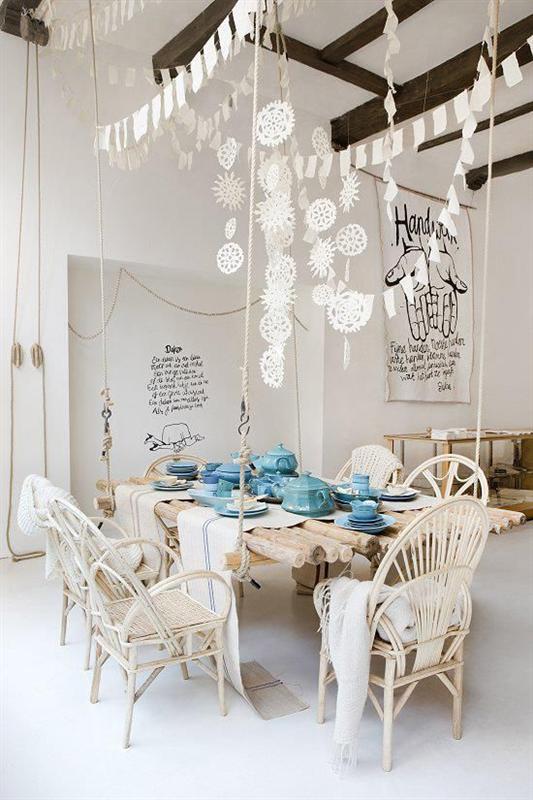 An unusual bamboo raft tabletop suspended from theceiling
Elegant Accessory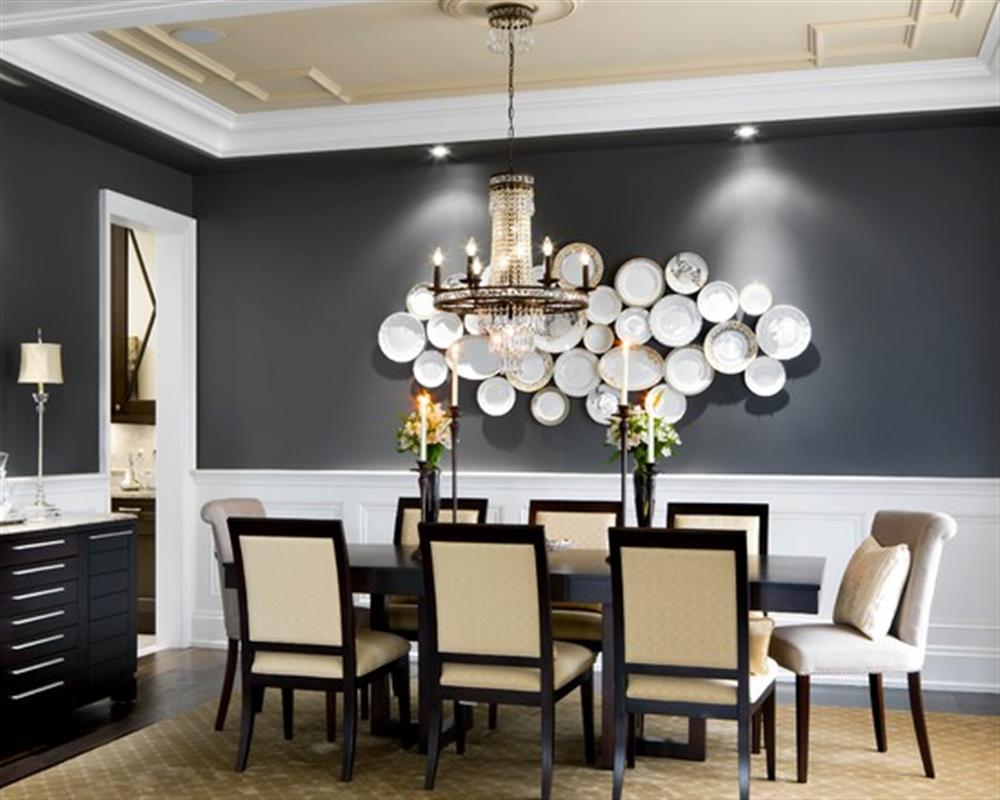 Tableware as a backdrop for candlesticks and flowerson the tabletop
Nothing beats the old school classic look updated for acontemporary feel. Decorate the table with candlesticks, flowers and asuspended chandelier as a centerpiece! Match tablecloths and runners tochair upholstery and dress up the tabletop with accents and accessories tomatch your decor theme. Wall decor using antique tableware or ladles can beused to create an interesting focal point.

Ornately Ethnic
A little ostentatious display of taste with a tribal, Indianor Moroccan theme can make for a regal dining experience, straight out of apalace! Choose an ornate table of wood or marble with intricately carved chairsfor a 'wow' factor, and accessorize with brass candlesticks and lamps for aregal ambience.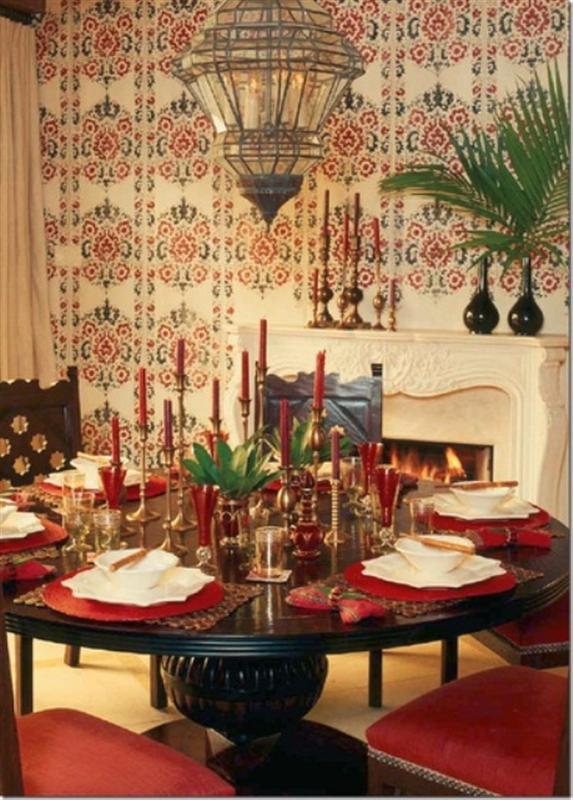 An ornately decorated dining room
Statement Pieces
Use sight lines creatively as well as paying attention tothe height at which things are hung/suspended to create visual texture usingstatement pieces. The asymmetrical pattern of the light orbs withconspicuous wall art as a backdrop defines the room's character while theearthy hues of colors accentuate overall decor perfectly.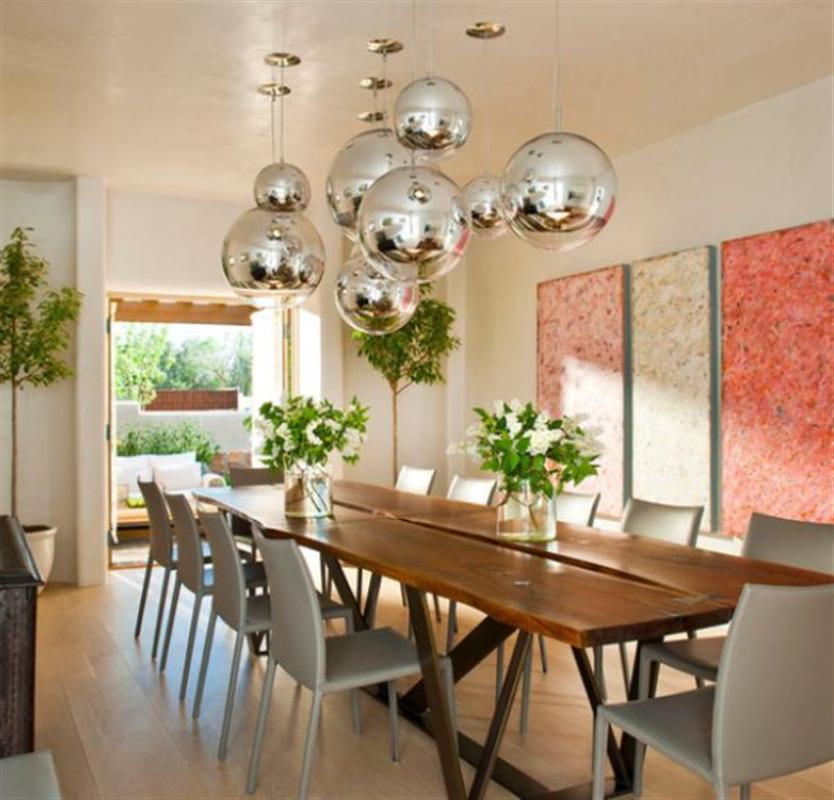 Draw the eye with creative accents like light fixturesand wall art
Clever Cover
Change the entire look of your dining room by tailoring fitted slipcovers for dining chairs. Slip covers are removable, so youcan have multiple sets for formal and informal use. They are also a great wayto protect your dining chairs from spills and stains.
Light-Up Mealtimes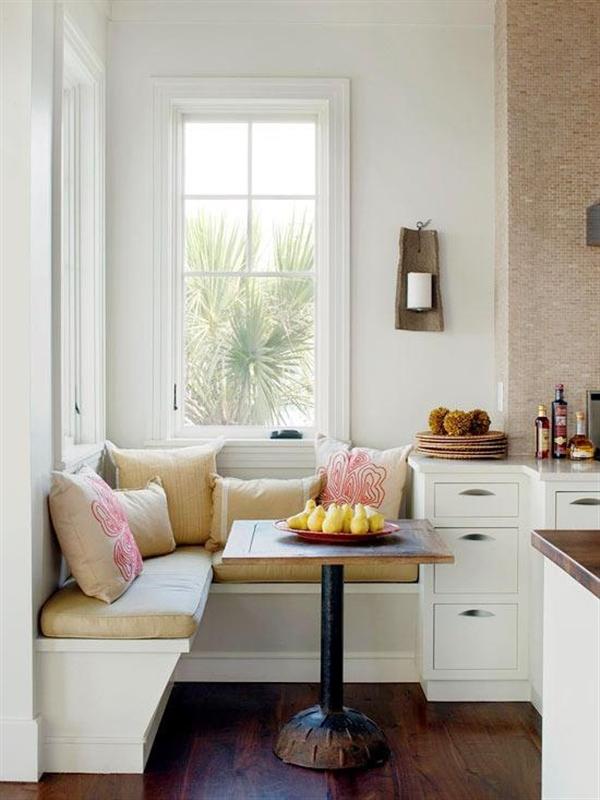 A cosy breakfast nook for relaxed mealtimes
An intimate dining nook right next to large windows withairy curtains and bright upholstery is a perfect 'pick-me-up' spot, idealfor breakfasts and relaxed dinners. Colorfully patterned, oversized cushionscan be strewn around for comfort.
Outdoor Diner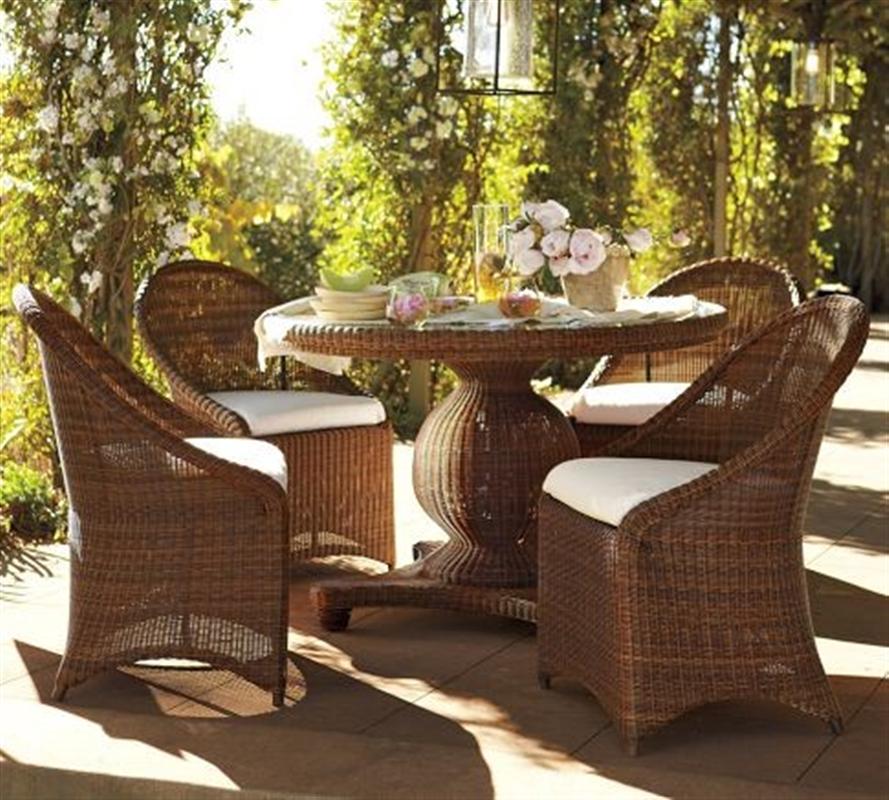 Eat your meals outdoors in the lap of nature
Nothing is better than sharing an al fresco meal withfriends and family by the soft glow of candle light and natural breeze for airconditioning? Create an intimate dining space in your back garden or balconyfor a natural experience!

Table Topper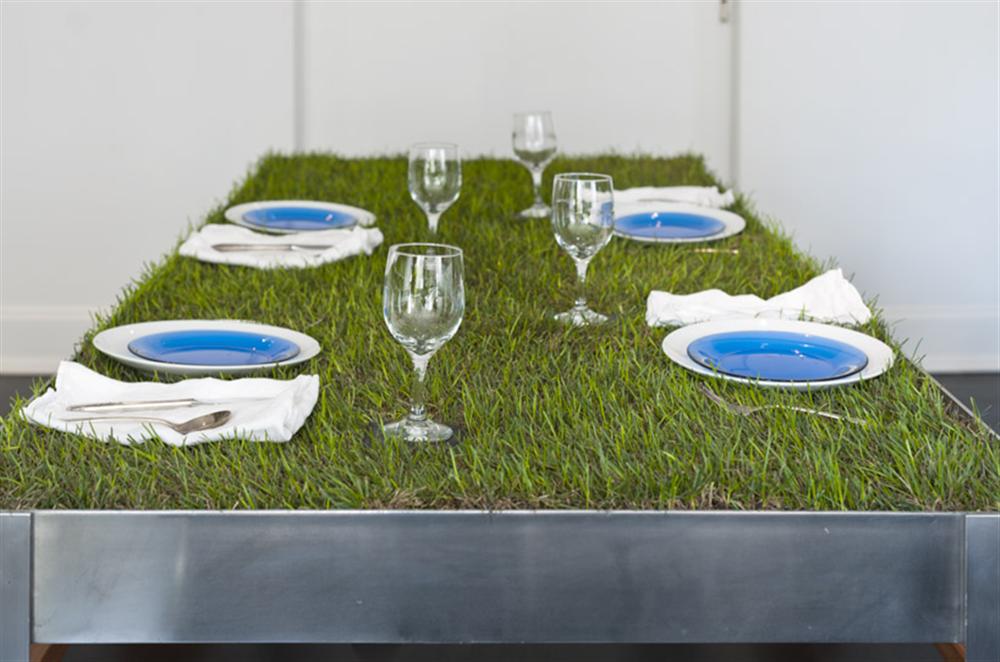 A growing green tabletop!
An unusual tabletop can be a conversation piece in a diningspace. Think out of the box and you never know what you can convert into adining table. You may have an old door frame or a vintage mirror lying around?Attach four legs and voila! it's an innovative dining table! If you have agreen thumb, grow a table top! All you need is a deep frame, some soil and alittle daily watering for a natural grass topped table. No need to worry aboutspilled glasses of water anymore!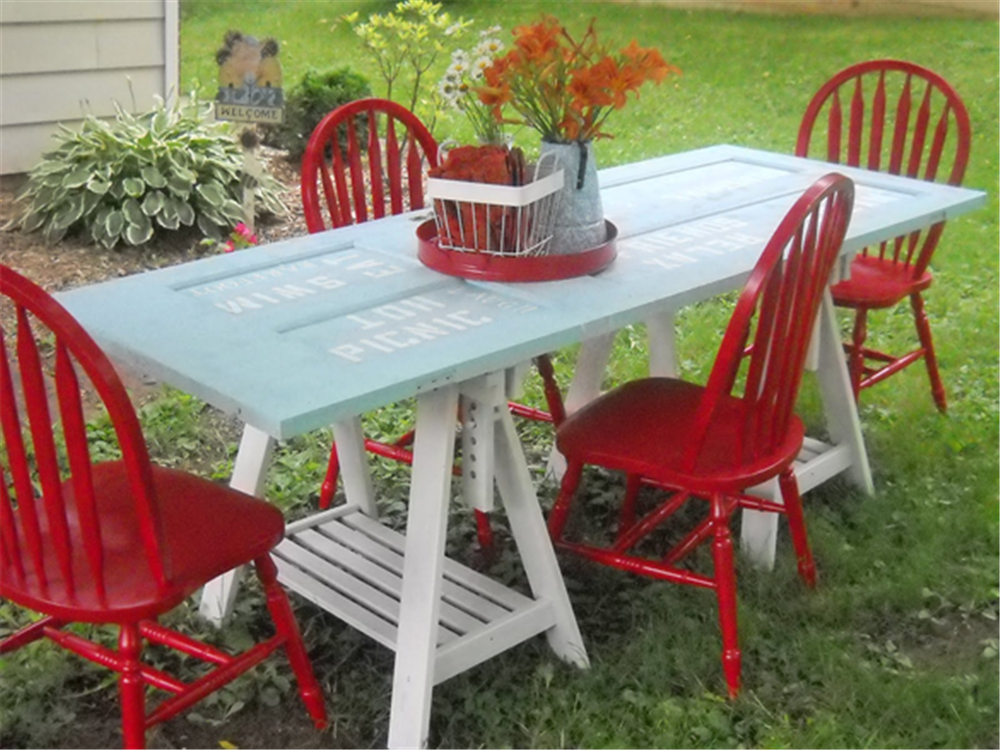 A door is used as a tabletop for an al fresco diningtable
With these innovative new ideas it will be more thanenjoyable to catch up with everyone in your dazzling dining space!