Ugadi is a South Indian Hindu holiday celebrating the turnover of the Hindu lunisolar calendar, the annual shift in the moon's orbit and the transition from winter to spring.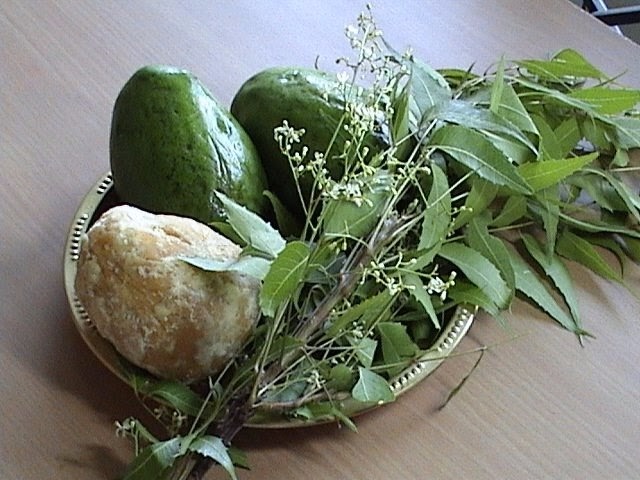 The actual date of Ugadi falls on a different day every year, but always takes place during the month of either March or April.
Ugadi is mostly observed by the people of India's Decca region.
The word Ugadi is derived from the Sanskrit words for "age" (yuga) and "beginning

(adi), literally meaning "the beginning of a new age".
Because of its nature as a celebration of new beginnings, Ugadi is considered an especially auspicious time for people to undertake new ventures.
The traditional Ugadi festival is nine days long and centers around a holy ritual known as the Panchanga Shravanym, which is performed by priests in the local temples. This ritual consists of chanting mantras and reading out predictions for the new year.
The preparations and decorations for Ugadi point to its symbolic nature of a new beginning. As the beginning of the mango season in the region coincides with Ugadi, the locals decorate the floors of their houses with mango leaves. Fresh flowers also adorn these homes as a symbol of spring, hope and new life.
There are seven traditional rituals associated with Ugadi which the locals perform. Each of these rituals somehow symbolizes the shedding of the old or the welcoming of the new, along with paying tribute to God and seeking His blessing in the new year.
A dish known as Bevu Bella, prepared with local herbs, spices and produce, is traditionally eaten during Ugadi. The six different tastes that make up this meal symbolize the different phases and emotions one goes through in life, as well as the temporary nature of life itself.