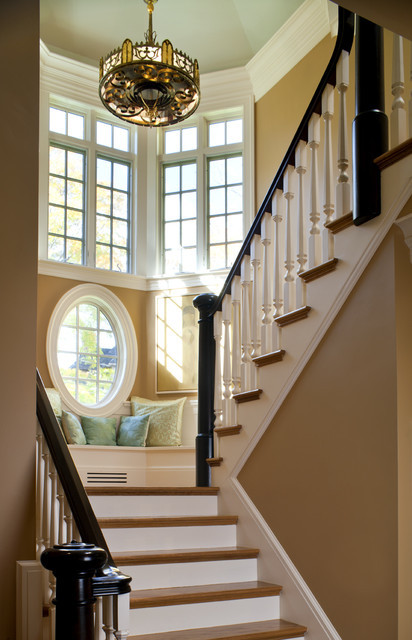 A reading nook on a mezzanine landing utilises otherwise wasted space
Many of us wish we could have had more space in our house - luxurious large bedrooms, walk-in closets, spacious kitchens and spa like bathrooms, the dream list goes on! If you are one of those people, struggling with space issues and daydreaming about the perfect home, don't despair.
Here's some usable tips to make the most of your small space.
House Of Mirrors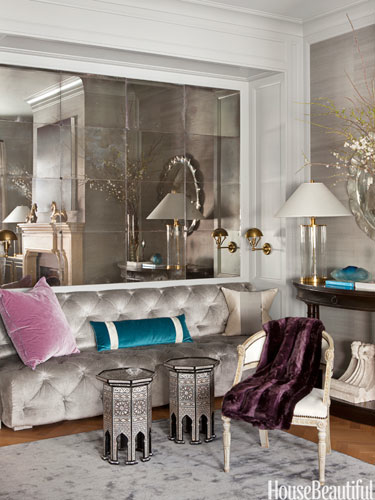 A large wall mirror creates a visual illusion that enlarges a room
If you have a small bedroom or living room, a mirror along an entire room wall will light up and brighten the room. The mirror image in the reflection will also create the illusion more space in the room.
Tall Order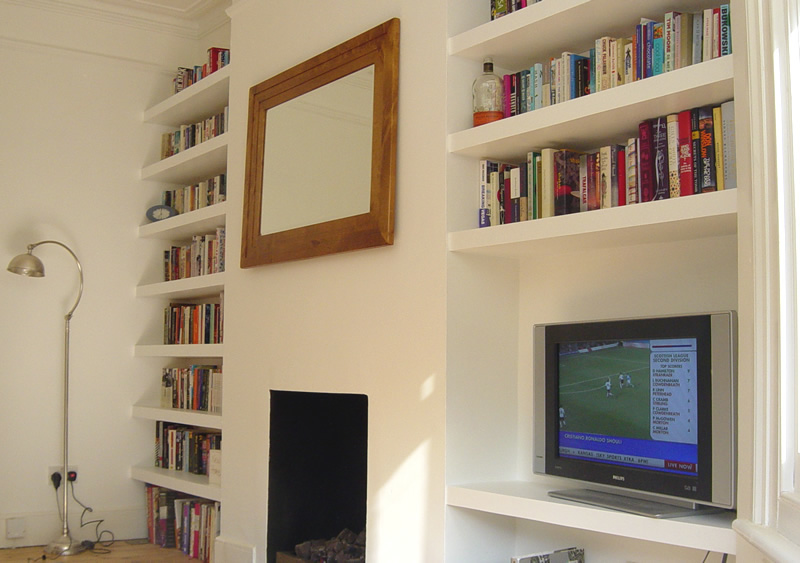 Floor to ceiling shelves in a lounge
Squeezing mountains of stuff into inadequate display and shelving units is a task, let built-in floor to ceiling shelves come to the rescue. Floor to ceiling shelving are a vertical display that utilises space that is usually left empty. Tall shelving units will provide a home for books, a functional display area for a selection of teas and spices in the kitchen or a dedicated place for attractive arrangements of precious knick-knacks.
Secret Spaces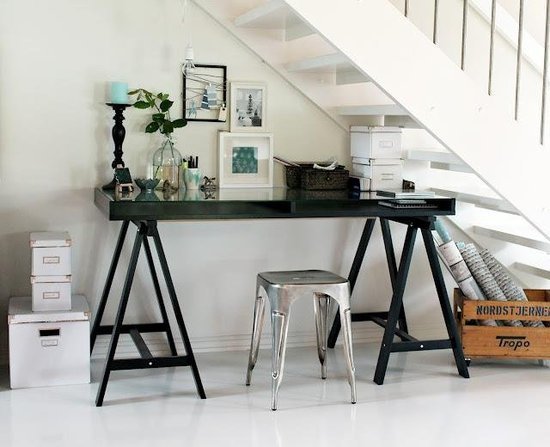 Under utilised space below a staircase is reinvented as a home office
Locate spots in your home to double up as an office space or as storage. Exploit the space under the stairs or on a small mezzanine by installing a shelving unit for books, a reading nook or a built in desk for a home office. Find under-utilised space under your kitchen island and sink, install shelves to store your spices and cutlery at the island and for dish washing soaps and cleaning essentials under the sink.
Floor First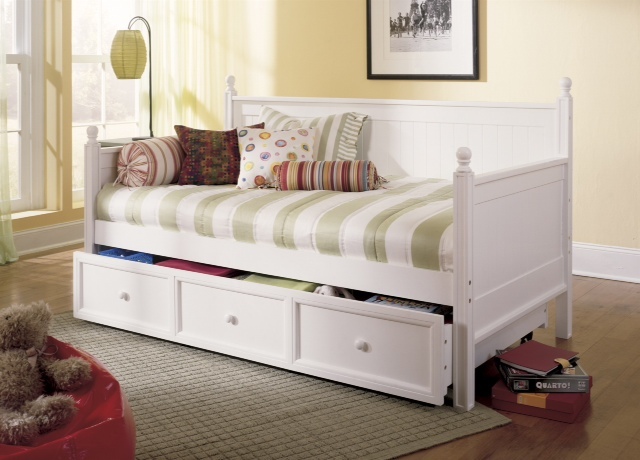 Pull out storage under the bed
Keep things off the floor for visually clear space. If your room is stamp sized, invest in a bed that has built in storage drawers instead of putting in a cupboard along the wall that will eat up precious square feet. A sofa cum bed is the perfect choice for a small guest room, as it is easy to pull out to make a bed for overnight guests, but leaves the room clear in the day making it look spacious.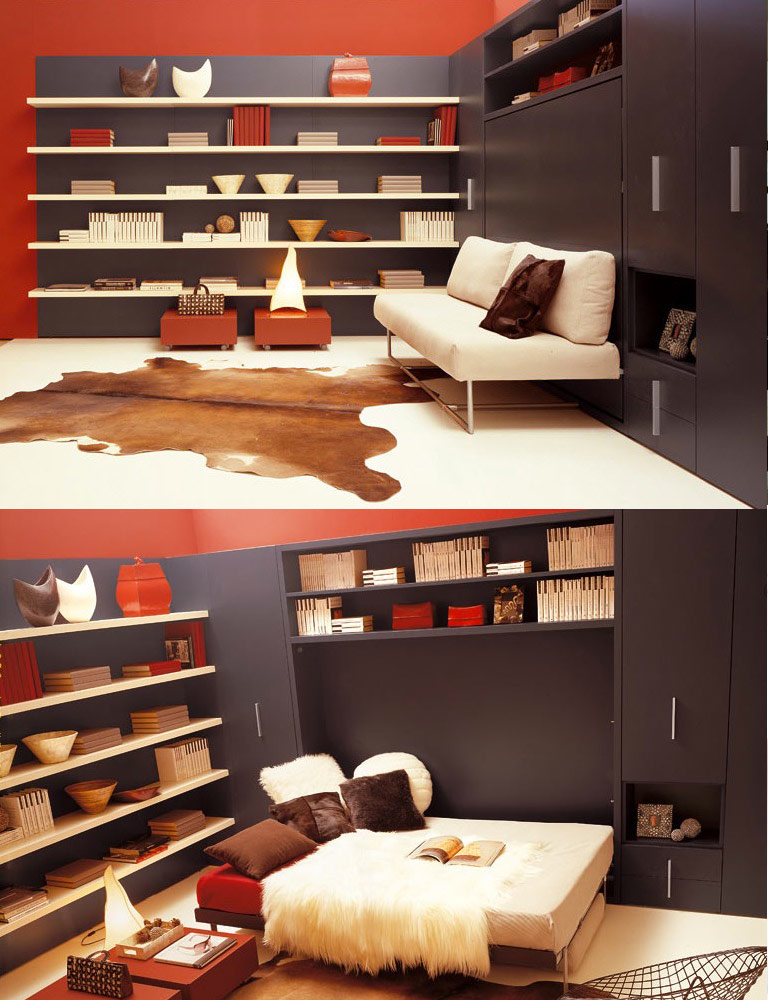 A sofa cum bed folds away in the day to clear space
Shade Smarts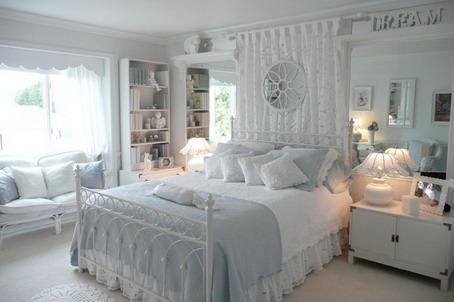 Decor in shades of white with pale blue accents creates a light and airy feel
An innovative way to make your room look bigger is to pick out, or paint, all furniture the shade of your walls, or paint the walls the shade of your furniture! Your furniture blends and disappears into the walls with this 'pro' interior design trick. This design illusion works best with white or light shades of paint.
Three In One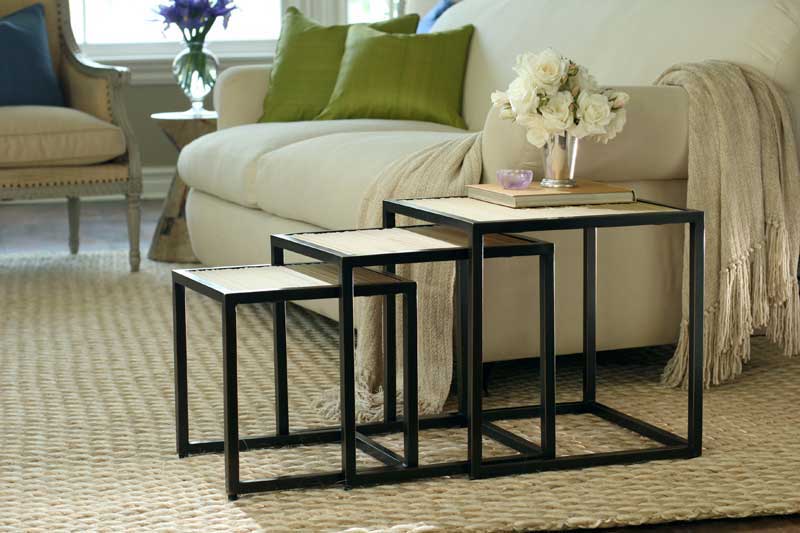 Nesting tables are flexibility and functionality combined
If your living room is smaller than a closet, a set of nesting tables will help to keep the living space clear on a daily basis. Nesting tables usually come in sets of three tables that are graduated in size and neatly stack under each other when not in use. When entertaining, the other two tables will come in handy and easy to pull out for convenience.
Simple but creative design ideas make for better living spaces. Who knew you could create extra visual square feet simply through better design!