If you have a balcony and don't know what to do with it, allow us to present you with creative ideas that will make it one of the most comfortable and relaxing spaces in your home.
Many people view balconies as wasted space. While some hurry to enclose the space to extend their living/bedroom others permanently assign it to store brooms and buckets. If you have a balcony and don't know what to do with it, allow us to present you with creative ideas that will make it one of the most comfortable and relaxing spaces in your home.
Light Up My Life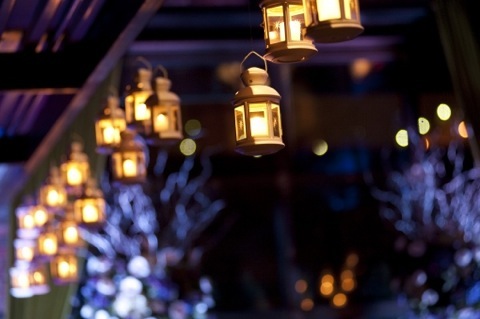 Lantern light add soft romantic mood lighting
Want to cozy up in your balcony at night? Use a few well placed paper lanterns, tiki torches or tea lights to create romantic mood lighting in the balcony. If you are aiming for sophistication, pick up Moroccan or antique style lanterns. Chinese paper lanterns are perfect for a more colourful look while tiki torches made of bamboo or metal are a good way to achieve a beachy feel.
A Green Touch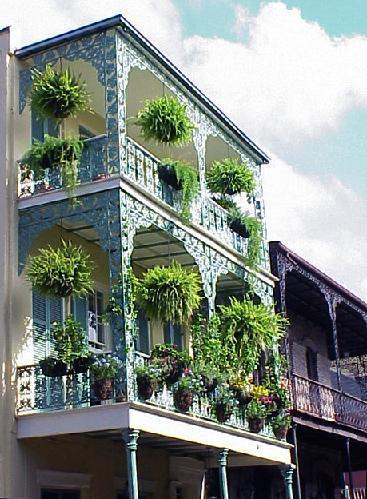 Decorate your balcony with plants for a fresh oxygen fix
Adding the right plants will give your balcony a nice green look and bring you closer to nature. Some plants that are easy to grow on a balcony are Ivy creepers, Hosta, Golden Pothos, Vinca and hanging Petunia. If you dream of growing your own herbs, plant a selection of herbs in containers. Instead of just adding pots in a line, think of unusual arrangements with plant brackets, flower box holders or window boxes for a chic and stylish balcony.
Faux Grass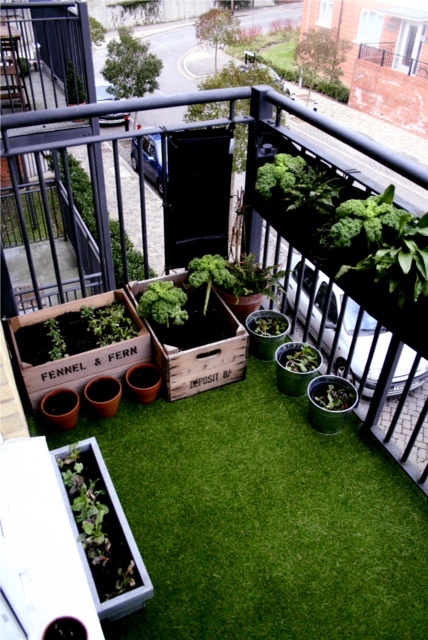 Faux grass is used to cover a balcony floor
If laying down a grass lawn on your balcony is beyond your skills or budget or simply not a risk you want to take to avoid water damage, buy a faux grass mat instead. Get the exact dimensions of your balcony to imitate a natural but seriously low maintenance green patch.
Exclusive Balcony Seats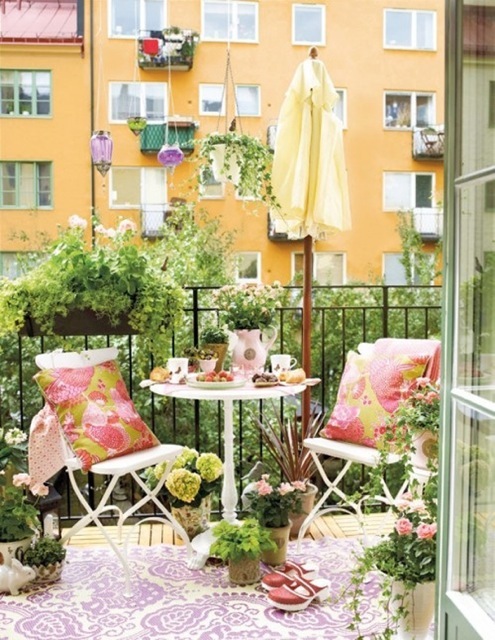 Comfy furniture in a balcony
Select comfortable furniture to sit back and enjoy your balcony. In a small balcony a café table and chairs or a quaintly painted wicker set will look very stylish while larger balconies can accommodate a sun lounger or a swing set.
Barbecue Fun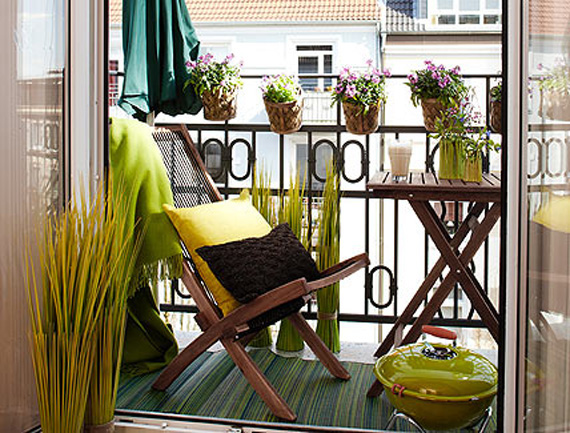 A small green barbecue matches the bright green theme of the balcony
Invest in a small but colourful barbecue to use of the balcony when the weather is nice outdoors. Use the barbecue as a fun activity to do with friends when you entertain.
Stone Décor
Increase the visual appeal of your balcony by adding a few decorative stones or pea gravel on the floor. Round white pebbles, polished black pebbles or striped amber pebbles, pick one to suit your taste and match with your balcony decor to achieve a designer look.
Feathery Pit Stop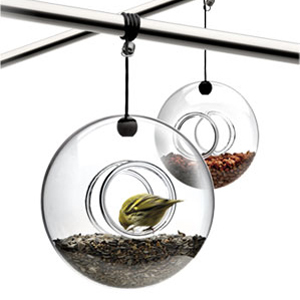 A clear glass bird feeder adds a modern touch to balcony decor
Invite the birds to sing a song on your balcony with an attractive bird feeder. A bird feeder will not only serve to attract a variety of colourful garden birds but also double up as a great decorative item.
Read and Rest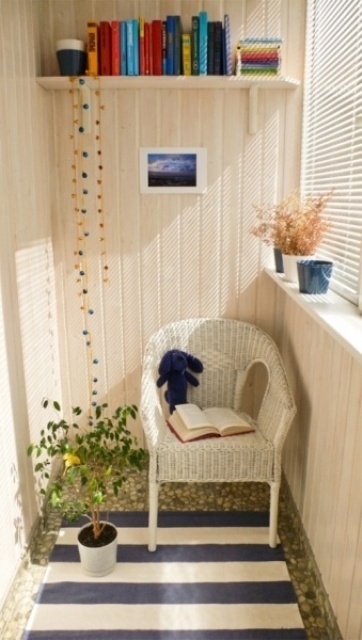 A bookshelf and comfy chair in a balcony
If you plan to use your balcony for catching up on the morning news while sipping a steaming cup of coffee, then adding a magazine rack or a wall mounted bookshelf, will keep your newspapers, books and magazines organised and accessible.
Tinkle Tinkle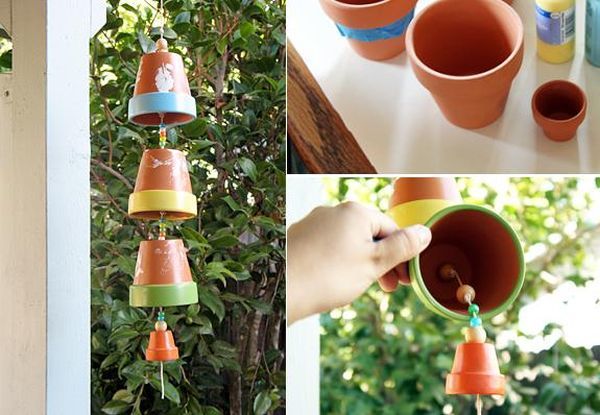 A DIY windchime made with inverted terracotta pots and beads
Wind chimes can bring soothing music to your balcony. If you love the sound they make then choose bamboo, pipe or metal wind chimes. If you want to see them but not hear them, terracotta, seashell and beaded wind chimes are the perfect choice for you.
Color Corner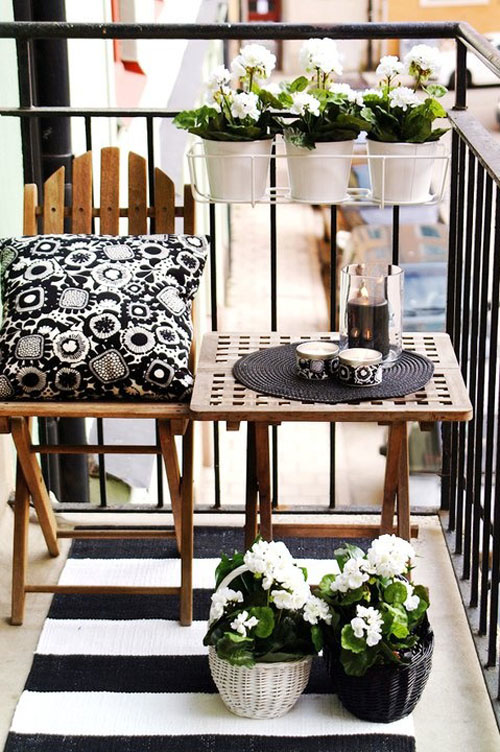 A black and white themed balcony
Even a balcony can benefit from a colour scheme to bring the decor together. Choose a palettes and stick to it from the cushions on your outdoor furniture to planters right down to the flowers you decide to grow
Picnic Perfect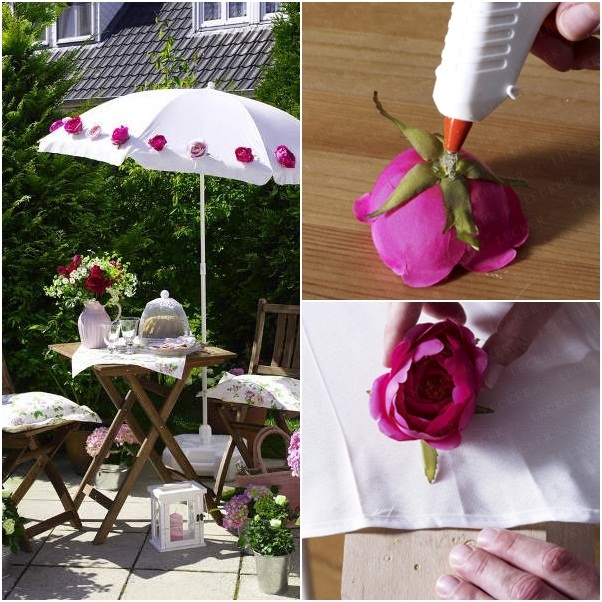 Dress up a store bought umbrella with simple DIY
A foldable garden umbrella will keep the sun at bay, letting you create a private picnic spot on your balcony to enjoy on your day off. Dress up a humdrum store bought umbrella by gluing a ring of faux flowers around the edge for a fun and simple DIY project.
Once you decorate your balcony with things you love you won't be able to get enough of it!