Every room in the home can benefit from a change of decor once in a while. Try these simple and fun but oh-so-easy updates to create a fresh new look in your bathroom.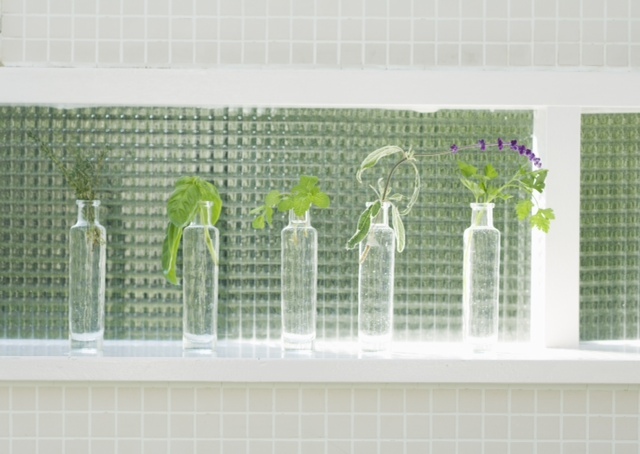 Leaves displayed in the bathroom
Every room in the home can use a small decor update once in a while, even rearranging the existing decor itself or adding small vases filled with a bunch of green leaves from your garden is enough to make a room look fresh.

When in your bathroom try these simple and fun but oh-so-easy updates for a fresh new look.
Bathroom Set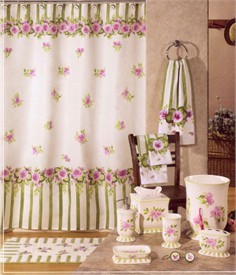 Pretty pink flower themed bathroom set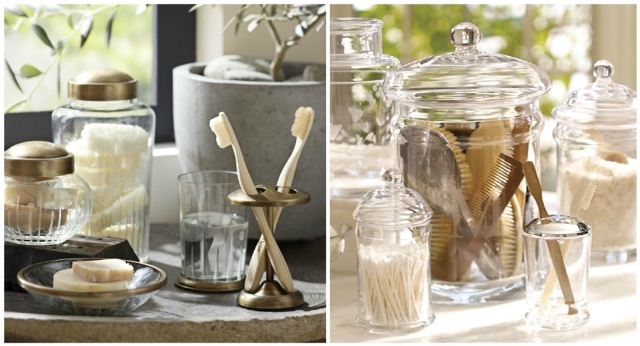 Neutral wood, metal and glass bathroom set
Decant liquid hand soap into a decorative soap dispenser with a matching set to house toothbrushes, bar soap and cotton balls or earbuds. Take it a step further and buy matching towels, shower curtains and foot mats too! Choose a flower theme for a girly theme or a neutral wood and glass palette for a man's bathroom.
Hook, Trolley And Box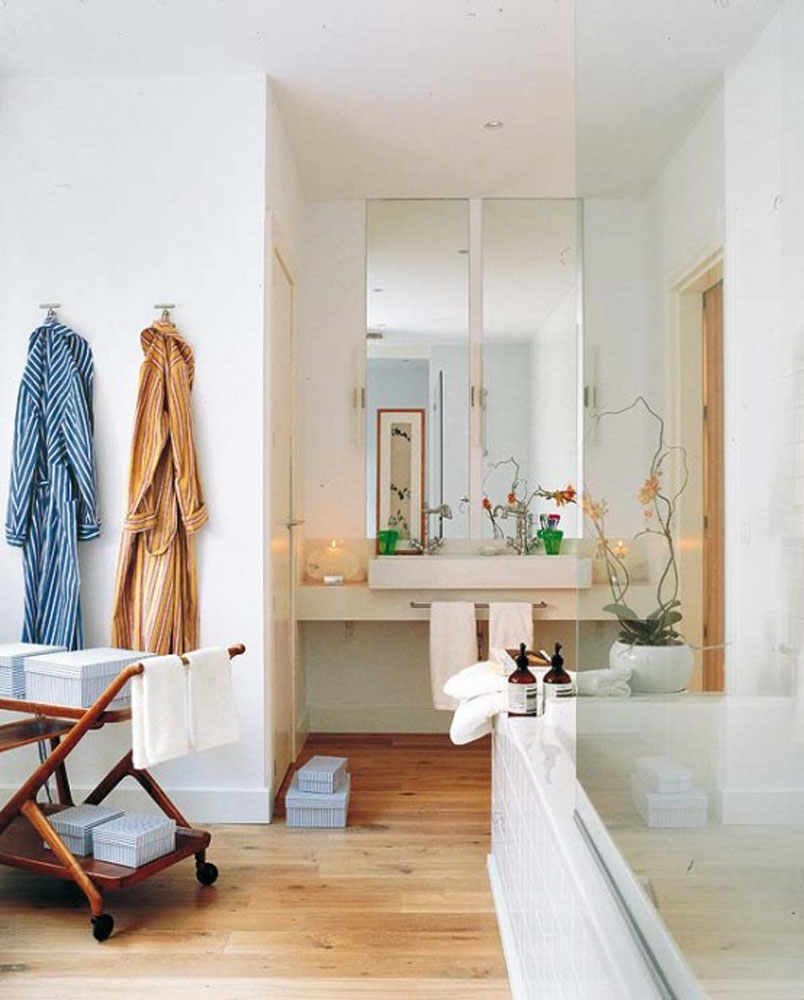 A neat bathroom with pegs, a trolley and multiple storage boxes
These three ideas help to cut down on clutter in the bathroom. Put up pegs on the wall to hang robes and towels. Use patterned paper to cover old shoe boxes that can be used as storage boxes for bathroom clutter. Match the pattern of the paper to the decor in the room to make them decorative. Repurpose an old wooden kitchen trolley to wheel around in the bathroom, you'll have everything handy whether you're in the tub or standing at the sink, so it'll cut down on doubles of a favorite toiletry at each location.
Colour Up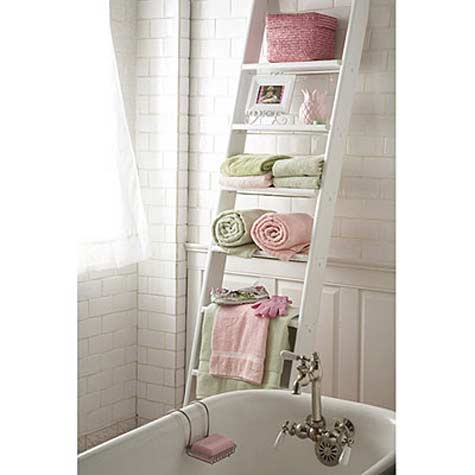 Pink and green accents dress up a plain white bathroom
If your bathroom is a dull beige or a plain boring white, replace all bathroom essentials like towels, storage baskets and even the bar of soap you use with similar color coordinated ones to create a color theme in the decor.
Crafty Curtain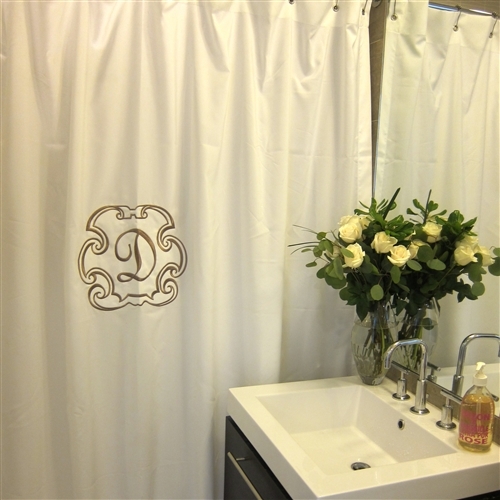 A monogrammed shower curtain
A monogrammed shower curtain is another simple way to add an individual touch to your bathroom. The shower curtain is important because it takes up a large visual space in your bathroom. Make a weekend DIY project out of painting an initial on a plain white curtain to create customized decor.
Masquerade Storage As Decor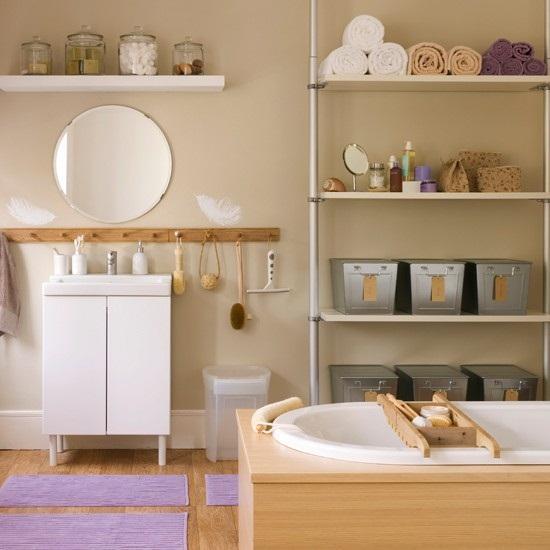 Display created with glass jars and matching metal storage boxes
A bunch of transparent glass cookie jars can be used to elegantly display essentials like cotton balls and extra soaps, while a long line of pegs on a bar near the sink keeps things neatly accessible. A nondescript shelving unit houses extra towels and tagged metal bins arranged attractively for visual effect.
Think Multipurpose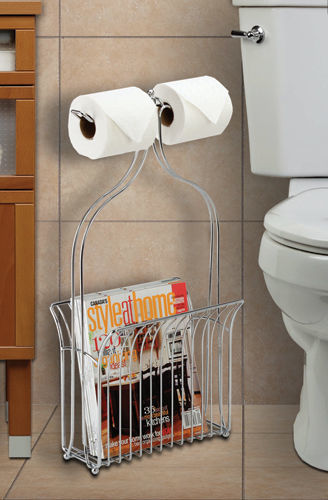 Multipurpose magazine rack and toilet paper dispenser
Bathrooms usually lack for space, so it's good to make your decor do double duty with the use of small additions like a stool or a chair that is also a laundry basket and a toilet paper holder attached to a magazine rack.
Mirror Moments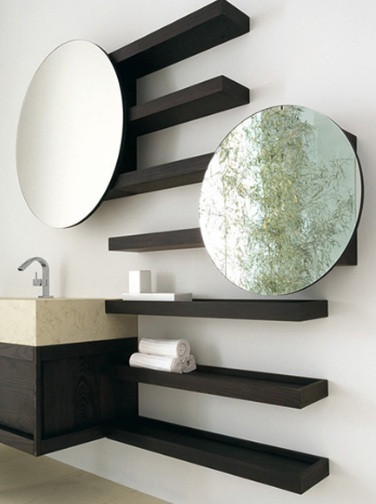 Modern mirrors mounted on shelves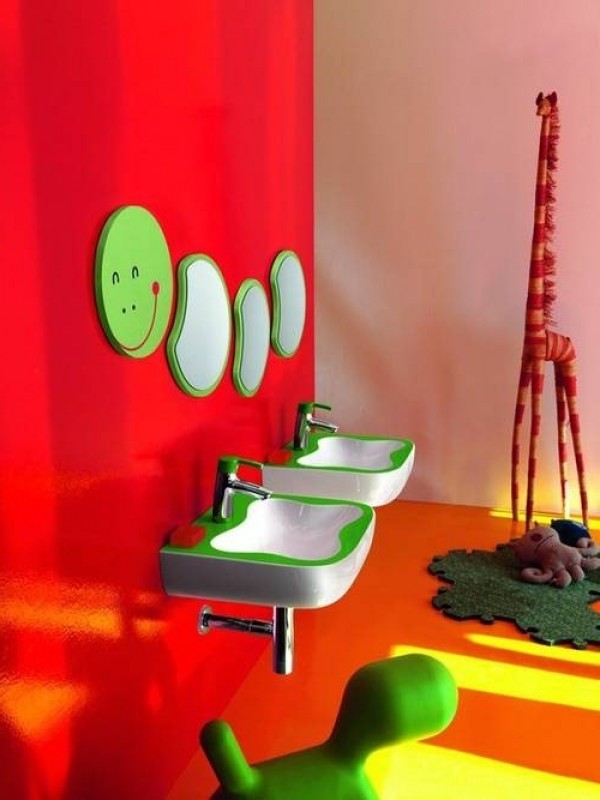 Mirrors shaped like a caterpillar
Mirrors are a functional but a very basic part bathroom decor. Put some thought into choosing an unusual or innovative mirror for your bathroom. Decorative mirrors in varying shapes like the caterpillar above for a kids room or modern round ones mounted on a wooden shelving unit instead of the wall, are functional and decor appropriate.
Vertical Baskets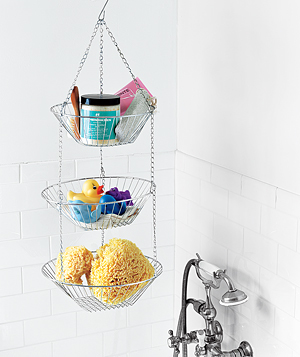 Hanging wire basket used in a bathroom
Adapt an idea from the kitchen to the bathroom with this hanging basket. They're often seen in kitchens and are used for keeping produce dry and well aired. Store your toiletries, kiddy bath toys, bath sponges, etc., in hanging wire baskets near the sink or the shower so they dry quickly keeping them mold free.
Tub Caddy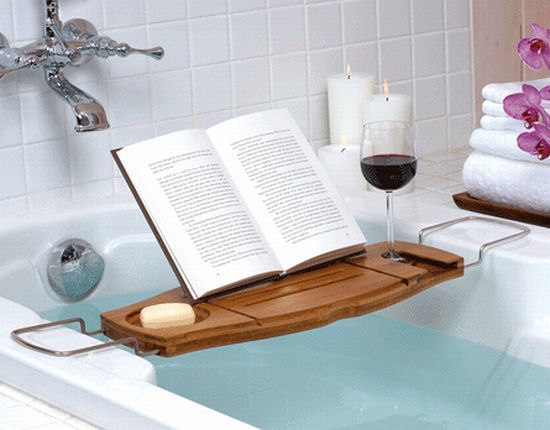 A tub caddy holds indulgent bathroom luxuries like a good book and a drink
If you have a tub acquire a tub caddy to dress it up. A tub caddy is basically an adjustable shelf that sits across the width of your tub. You can use the caddy to keep things dry but accessible while you take a long soak in the tub.
Break The Piggy Bank
An exceptional chandelier juxtaposes the modern style of this bathroom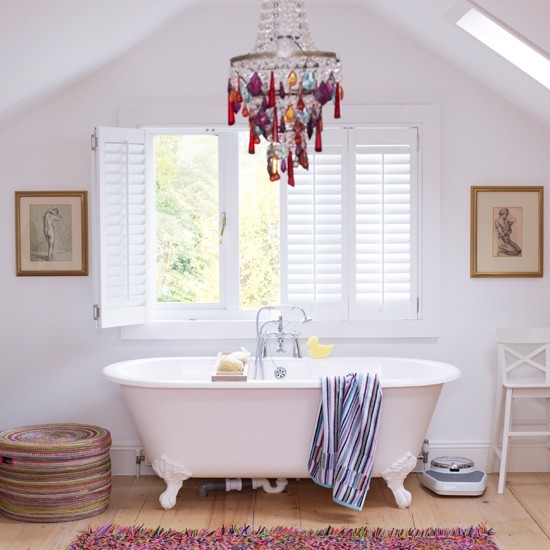 Framed art, a rug and a chandelier in the bathroom
Stretch your budget a little for the ultimate bathroom update. Add a pricey but spectacular ceiling chandelier, a colorful woven floor rug or framed artwork to dress up bathroom walls. If you're in no mood to spend the money, scout the local flea markets and seconds sales to find interesting but salvageable pieces to brighten up your bathroom.