Arranging and updating your storage shelves for an interesting decor plus is one of the simplest way to create a stunning visual in your home.
Practically every room in the home will have a shelf or two to house all your bric-a-brac, books and photographs. Even the bathroom and kitchen have shelves for dishes, cookbooks or soap and towels. Arranging and updating your storage shelves for an interesting decor plus is one of the simplest way to create a stunning visual in your home.
Stack Like Together

Attractively arranged dishes and jars on kitchen shelves
Try to group similar items together on kitchen shelves, like dishes on one shelf and cookbooks on another. Replace mismatched jars with matching glass ones and group them together on a shelf, use them to store colorful pulses and staples. Even dishes of a similar color piled together on a shelf look pleasing and are easily accessible too.
A Photo Oppurtunity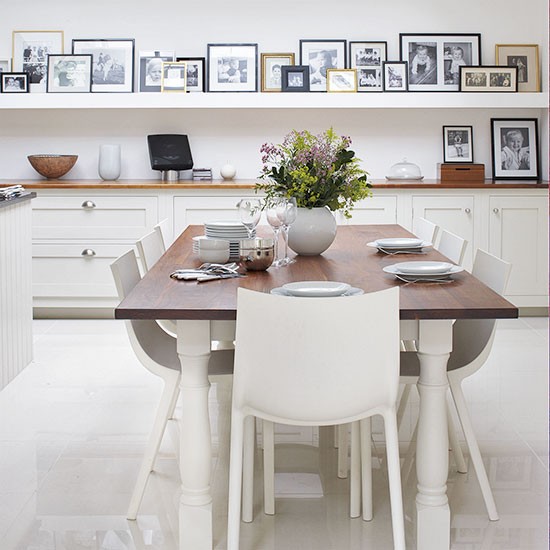 A multitude of amily photographs displayed on a shelf
Arrange a shelf full of family photographs as a replacement for wall art in a living or dining space. Exhibit personal memories, and family moments that you cherish together on a shelf. Photographs are personally relevant decor and lead to many funny but personally relevant stories being told over intimate dinners with friends or shared laughs over shared history in large family get togethers.
Color Pop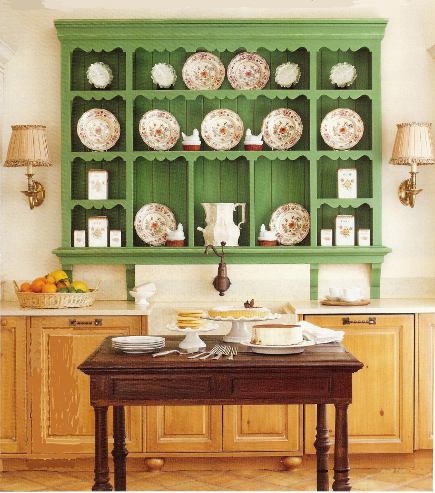 Green shelves are a focal point in a rustic room
Painting the shelf or unit of shelves is wonderful way to make it stand out in a room as well as make the contents of the shelf contrast with it for better dramatic effect. Shelves are painted a bright green in the photograph above creating a striking contrast with both the room and the collection of plates displayed in themselves.
Against A Window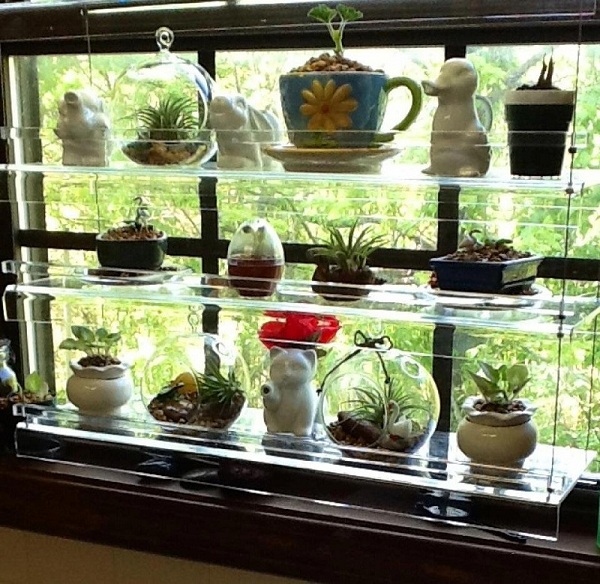 Pots of herbs on glass shelves against a window
Shelves can be mounted in front of a window to use natural light to maximum advantage to help show off your prized possessions. A colorful glass vase lit from behind by the varying light of the sun through the day will create colorful pattern on your walls. Window shelves are also suited for growing terrariums and herbs indoors.
Light Focus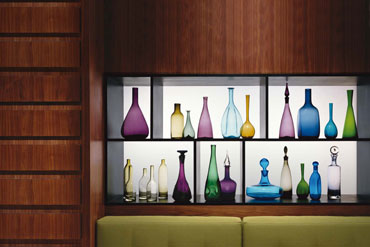 Backlit shelves frame a collection of colored glass decanters
Add light to shelves. They can be backlit, lit from above or beneath or with a focus light. Light can be used to emphasize the aesthetic arrangement of books, vases and knick-knacks placed on the shelves. Lighting the contents of a shelf is a great way to draw the eye and create a focal point in a room.
Color Blocked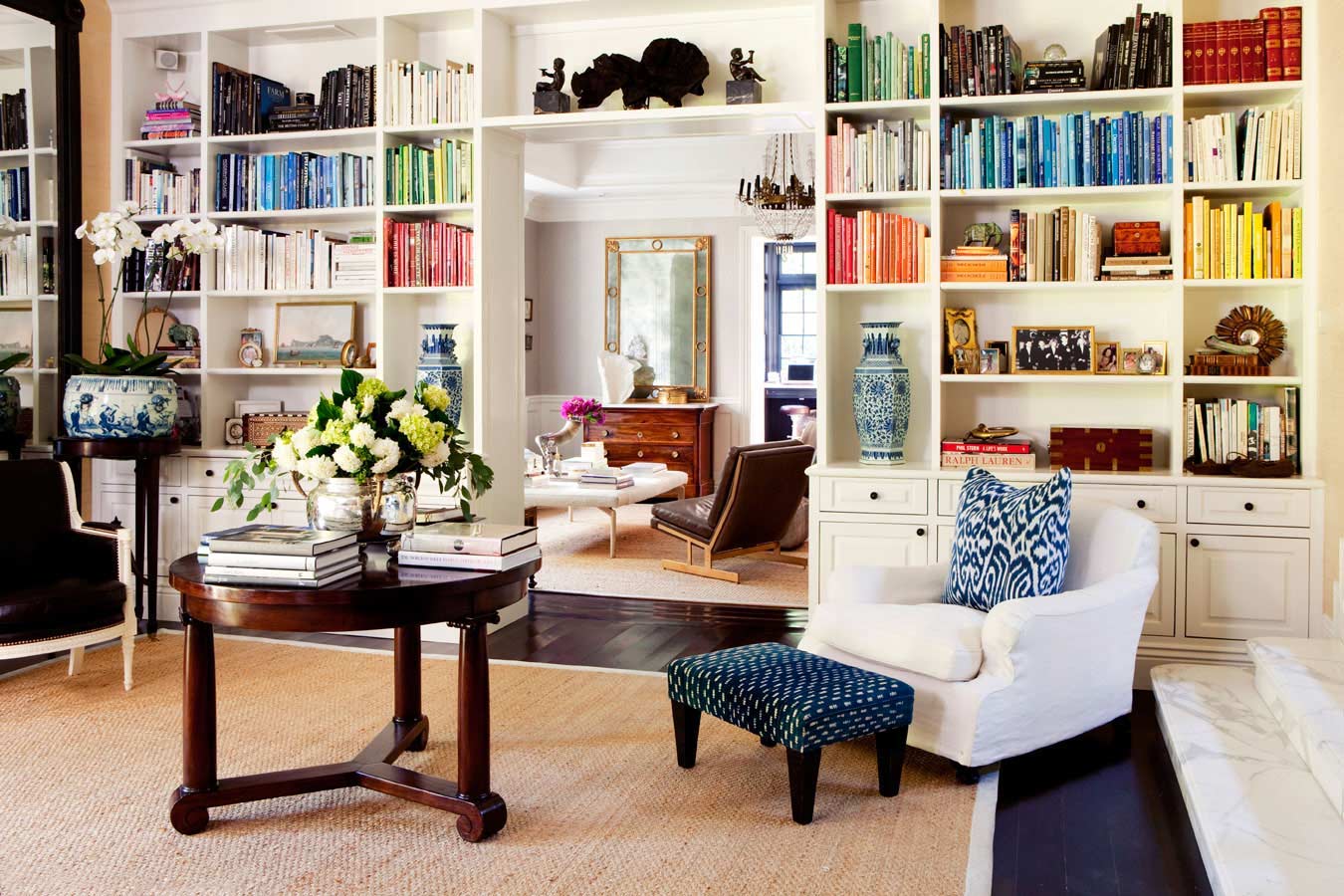 Bookshelves arranged by color
Arrange a large collection of books by color instead of arranging by author. It's a fun organizing system that creates visual blocks of color as a backdrop for the room like in the photograph above.
Painted To Frame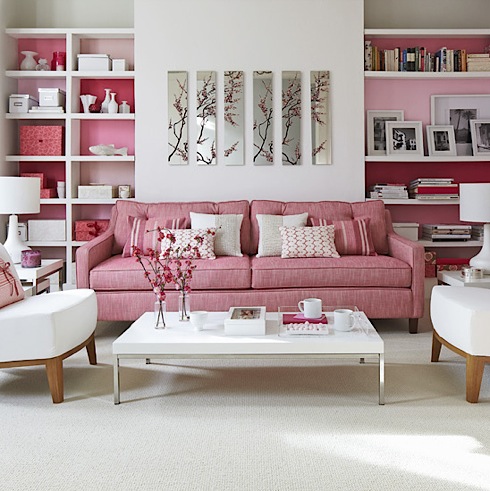 The back of a shelving unit painted in hues of pink, a predominant color in the room
Pick a color from the decor in the living room and paint the back of a shelf unit with varying shades of the same color. The varying hues of the color will frame your display and make the decor come together, instead of it looking cluttered and mismatched.
Toy Story
A collection of dolls on a shelf
Don't forget the kids room! Most kids have many versions of a favorite doll or the entire transformers collection, it's time to put it on display. Arrange a shelf with your child's prized possessions, it's appropriate decor for their room and encourages them to keep it neat if they want to show off their collection!