Design trends are a great starting point when you decide to makeover your home. In 2014 pick an international decor trend that reverberates with your own sensibilities to update the decor of your home, to make it look fresh and contemporary.

HomeTriangle recommends 5 new interior decor trends that are easily adaptable for your home in 2014.
Changeable Accents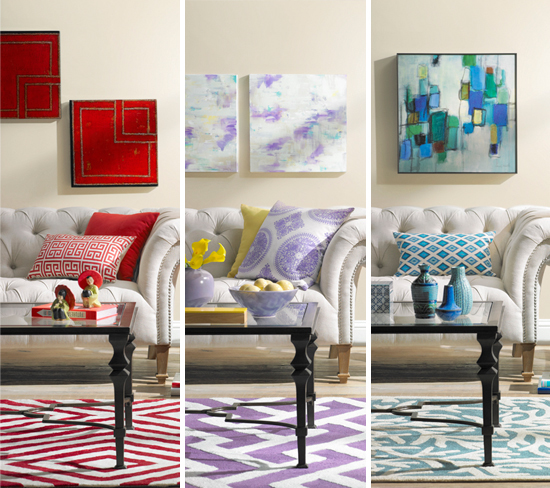 Different looks created with the help of accents in one room
The idea of being stuck with one look for a long time is passé, instead decor trends are shifting towards an adaptable, unsaturated base colour in which accents are used to create a look. A room with furniture and walls in a neutral base colour is an empty canvas that allows for many decor experiments. Change the accents to change the decor, and you've got yourself an updated new look when you swap out just a few pieces, this could be cushions on the couch, wall hangings, vases or place rugs.
Indoor And Outdoor Come Together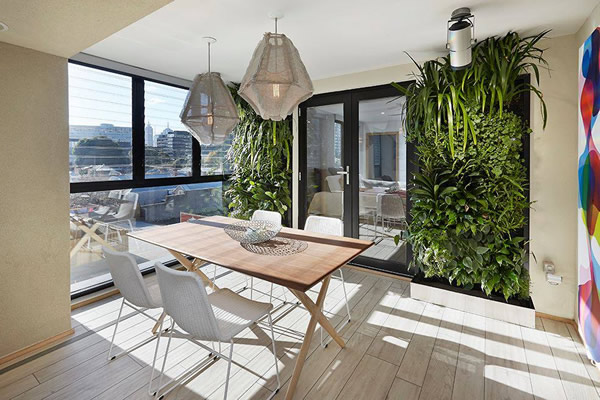 A vertical garden in a dining room
The lines of distinction between the indoors and out will blur with this look. Incorporate a green wall into the decor of your space to bring the outdoors inside and make it a part of the decor. This is a modern trend that creates decor accents like living walls to invoke a sense of awe in the beholder because it is an unusual visual element for your decor. Indoor and outdoor furniture will look more alike with the evolution of better weatherproof materials used in the manufacture of outdoor furniture.
Vintage Wow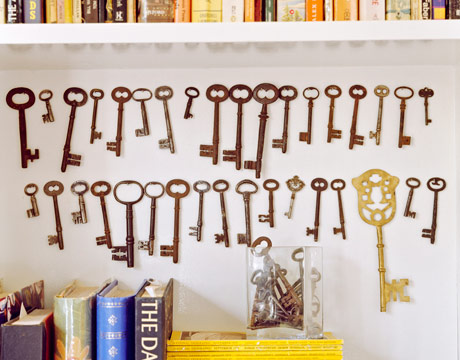 A collection of old keys used as a vintage decor accent
The inclusion of one of a kind vintage or antique pieces will be a big trend for 2014. Displaying a prized collection accumulated over years is a great way to put your own individual stamp on your home decor. You could also use a painting you inherited, an old mirror in a vintage frame, or a lamp you found at the flea market. Your accent pieces will be uniquely you.
Return To Traditional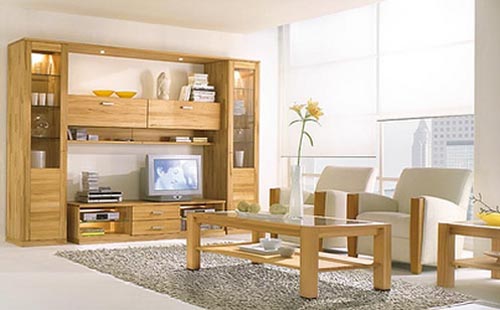 A modern traditional living room
Interior decor will return to a modern but timeless traditional look. The fads of the recent years will be overtaken by a classic style more appropriately suited to the tough economic climate, and to allow for the fact that in many a household renovating is definitely not budgeted for in 2014. Traditional decor is timeless and will not look dated as time passes, and is a safe choice that has staying power.
Airy And Light

Honey toned wood used in a living room
Because modern day homes are getting smaller and smaller and space is increasingly at a premium, the use of light colours in decor is a way to enhance a feeling of space and lightness. Wooden furniture, doors and windows, will be in light coloured woods and polished in lighter tones. Honey toned woods will be the new trend, a departure from dark wood and finishes. Sheer curtains are another element that will provide privacy but still let in adequate light. This also goes towards creating a feeling of lightness and space instead of densely woven fabrics that create a visual break, whereas sheer curtains are see through in comparison.
Interpret any of these decor trends to use in your own home in 2014 for an updated feel that is of this moment. We would love to see the look that you create in your own home, do share it with the community on hometriangle.
Happy decorating!