If baby related expenses have exhausted your budget and the nursery still looks a wee bit drab. Don't be blue! It's not too late to give the nursery a DIY makeover!
You've just been blessed with a beautiful baby or you're still awaiting the stork's arrival, your home is abuzz with excitement but the many medical and baby expenses have exhausted your budget and the nursery still looks a wee bit drab. Don't be blue! It's not too late to makeover the nursery.

These darling ideas will help transform your nursery into the cutest baby pad ever.
The First Blankey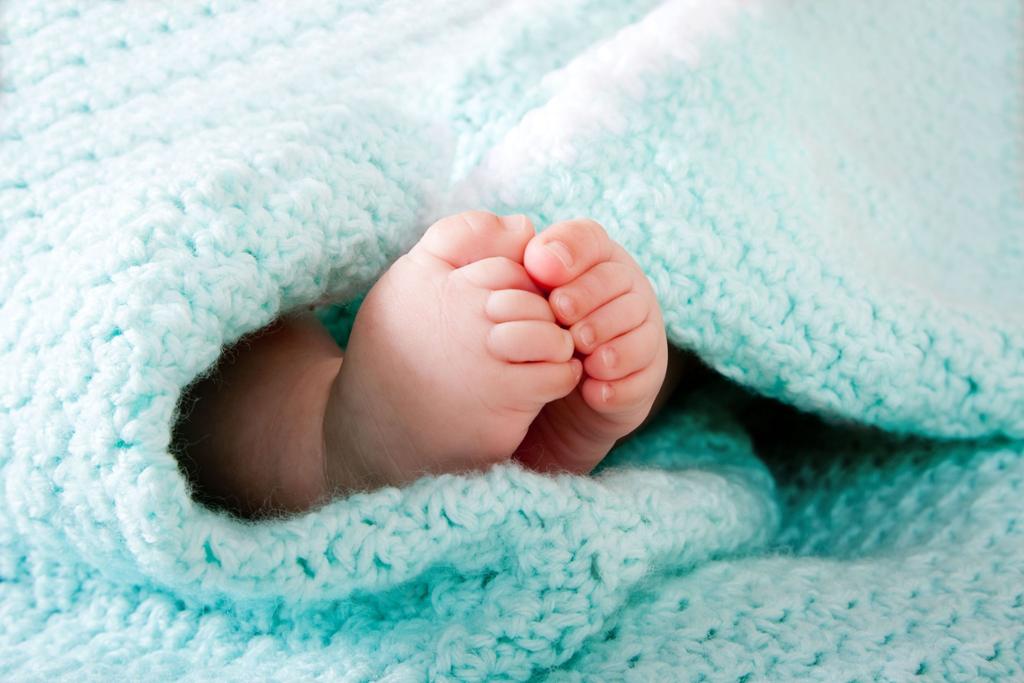 A DIY blanket can become a keepsake and an heirloom
If you're nimble fingered and good with a needle, think about making a handmade baby blanket. A photo baby blanket is a really cute idea, Its a personalised piece of art and a great way to display your special moments.
Doll Up The Wall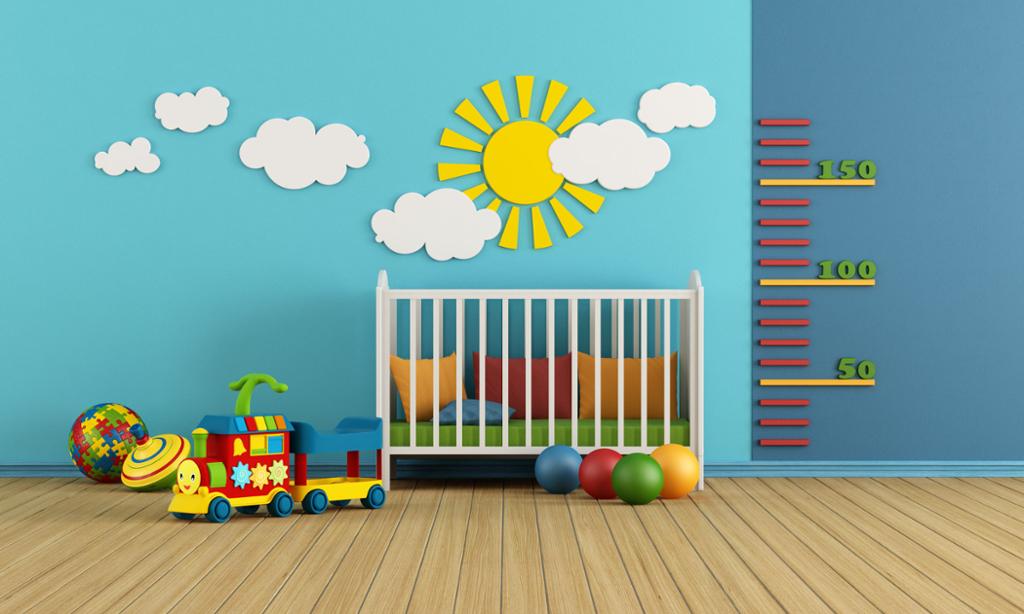 This wall has sunshine and a height measure, bright and functional!
Thanks to the digital age, you have dozens of great pictures at your fingertips. Find one that screams Kodak Moment and frame it up. In addition, add pictures of fairytale characters, baby animals, or cartoon sketches. Organise a pre-baby DIY project with your friends and paint old photo frames pink or blue, making them look as good as new.
For individual touches stick up some shells, colourful buttons, mirrors, etc. You can even stencil your baby's name on paper, cut out the letters, glitter them up and paste them on the wall.
Bin Buddy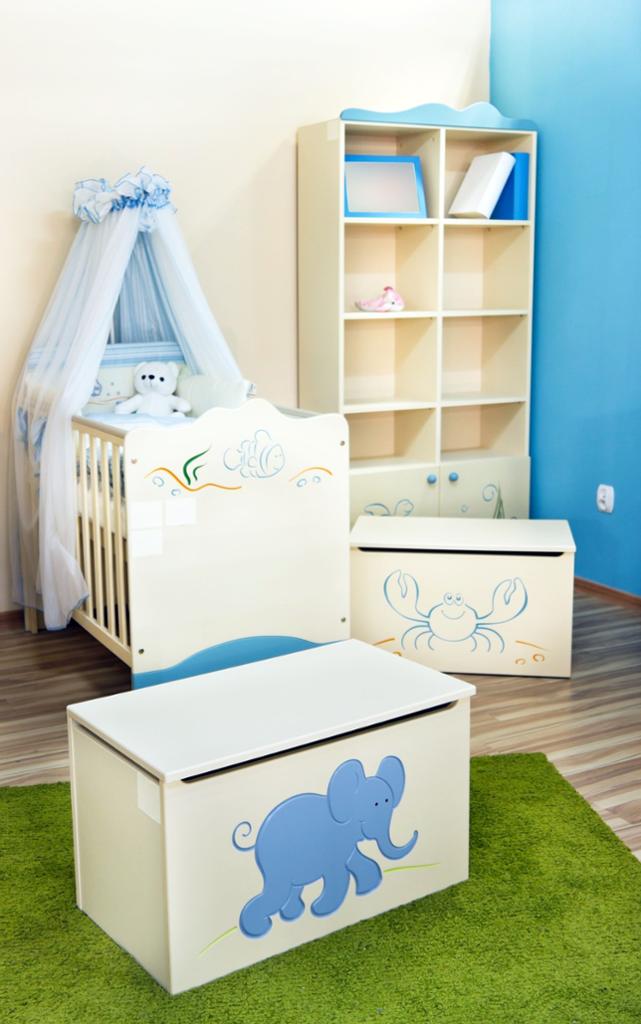 The little elephant and the happy crab on the bins can be your baby's buddy's
No matter how many shelves you clear up you will still find yourself struggling to find storage space. Pick up lightweight storage bins to keep baby items and customise them with ribbons, stickers and glitter. Old wooden crates can be varnished, painted and repurposed to store baby toys and baby books too.

Crib Control
An old crib painted bright white, looks shiny and new!
Your crib is the focal point of your nursery. And if you've got a second hand or hand me down crib, don't worry. You can paint the crib yourself in a colour that will complement the room or give it a couple of coats of varnish. Decorate the crib with a DIY mobile toy made with ribbons, soft toys, fabric doilies and cute animal cutouts.
Nappy Happy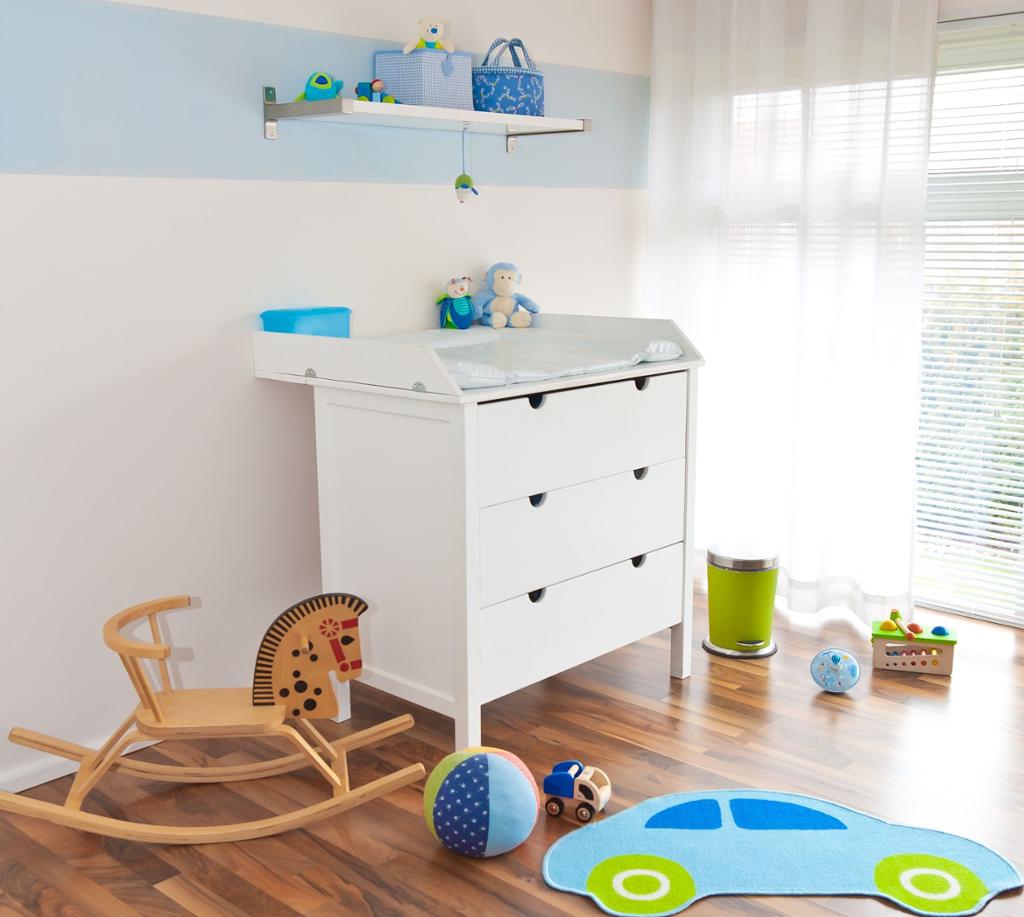 A changing table for all your nappy emergencies!
It's guaranteed that you will be changing a gazillion nappies in the days to come and all the bending to change nappies is going to get to you, here's the perfect solution that your aching back will simply love. Repurpose an old book table, dresser or a kitchen cart/trolley to use as a changing table. Add your own makeshift shelves to store all your baby necessities. The next time there is a nappy emergency, you'll be ready.

Your adorable little nursery awaits your adorable little baby!