Would you love to give your cooking zone a new, contemporary look? Or perhaps you're building a new home and wish to give enduring appeal to your kitchen? Pinpointing the latest kitchen trends is often a difficult task.
Here are few simple but valuable top kitchen trends for 2015 that will remain trendy for years to come!
Bring In The Brass
Give your kitchen a gleaming metallic accessory with glossy or brushed metallic fixtures like chimney hoods or lights. Brass is also a perfect option for faucets, bolts, handles etc. and adds a contemporary flair. Nickel is another good option for your kitchen.
Brass Accent Kitchen Fixtures
White Sinks Complement Brass & Nickel Fixtures
White sinks are in vogue and harmonize well with brass or nickel fixtures recommended above.
Kitchen with white sink and metallic fixtures
Image: Pinterest.
com
Bold Color
Vibrant colors energize your kitchen. Primary colors in hues like royal blue and mustard yellow are preferred for an invigorating look. To add visual impact, use a mix of shiny gloss finishes combined with luster-less matte finishes. If you do not love color, and colored cabinets are a big commitment, then opt for a colored accent wall which gives you an opportunity to change the color if you get bored with your current color choice.

Image: Kitchenrenovationstoronto.ca
Incorporate Patterned Tiles
Give your kitchen a vibrant look by incorporating bold patterned tiles in the interior decor. Patterned tiles are a style statement and are simultaneously easy to clean, and tiles installed near the sink offer a water resistant surface.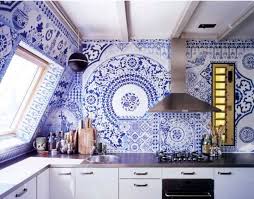 Kitchen interior with bold colored patterned tiles
Wall Paper
Using wall papers in the kitchen is the latest trend. Wall paper, even if used in small areas, adds visual interest and is a great way to incorporate a pattern into the decor of your kitchen. If you love light hues in the kitchen then use wall paper to bring in a bright contrast. We recommend wall paper with a repetitive motif rather than boring geometrical patterns.

Sober green wallpaper in a kitchen
Open Shelves
Open shelves make the kitchen functional, simple and effortless to use. Well, you might be wondering how to display things you wish to hide? A combination of open shelves and closed cabinets not only fulfills your needs but also look perfect!

Simple easy to use kitchen with open shelves
Restaurant Style Lighting
Convert your simple cooking zone into a fun family dining area by installing restaurant style lighting. You'll be able to focus the light in the cooking and dining areas to enhance the ease of using your kitchen.
Admirable kitchen with restaurant style lighting
Pull Out Pantry Racks
Searching for ingredients in your pantry is often more tedious than cooking! Pull out pantry racks are an easy solution. They help you view your entire pantry within seconds while doubling the available storage space. Make pull-out-pantry racks a top priority in your kitchen remodel!

Pullout pantry racks for easy arrangement of kitchen pantry

Image: Pristinekitchen.in
Use this trend tracker to get the various elements of your kitchen just right and enjoy the beautiful, trendy results for years to come!