If you have a beautiful garden or a balcony with a lovely view, and have decided to add a sit out but don't know how to decide on the type of furniture to acquire, here are a few pointers to get you going.
There are a multitude of choices when it comes to the material used to make outdoor furniture. Because it's meant for the outdoors and at the mercy of elements like the sun and rain, outdoor furniture should be durable, low maintenance and sturdy. If you have a beautiful garden or a balcony with a lovely view, and have decided to add a sit out but don't know how to decide on the type of furniture to acquire, here are a few pointers to get you going.
Synthetic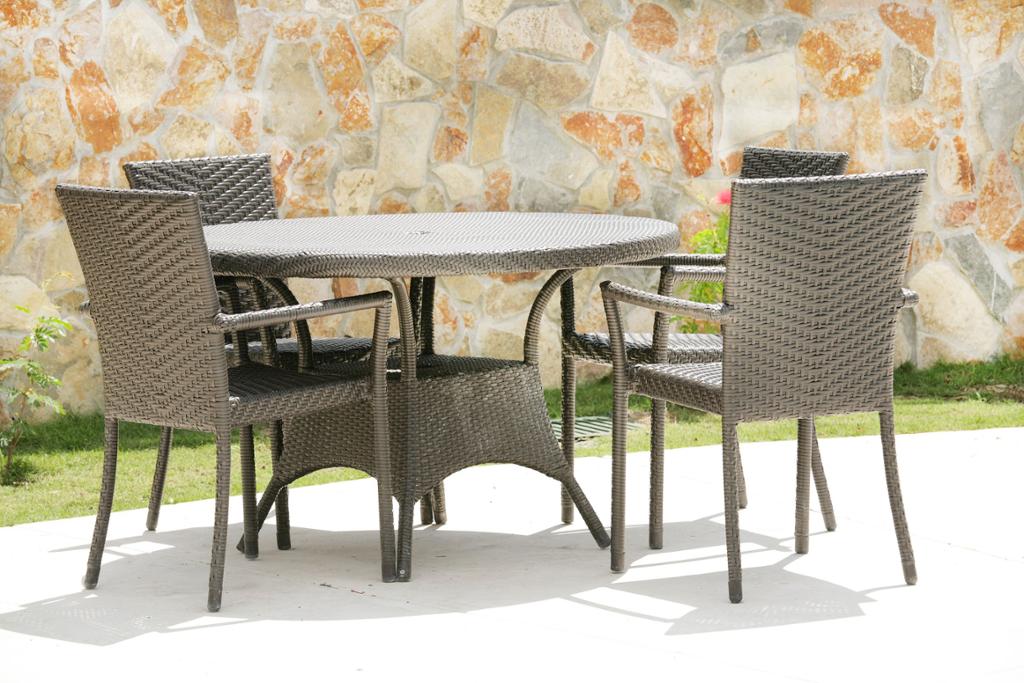 Highly durable synthetic outdoor furniture in a modern patio
Synthetic furniture is created specifically for outdoor conditions and some sets even come with 20 year guarantees! Although synthetic outdoor furniture is readily available it can be relatively expensive compared to other options, but the cost is negligible when averaged out over the number of years of trouble free use that it will give you. Synthetic furniture is practically zero maintenance, rot resistant, easy to clean and move, and it does not discolour in the sun or rain.
Metal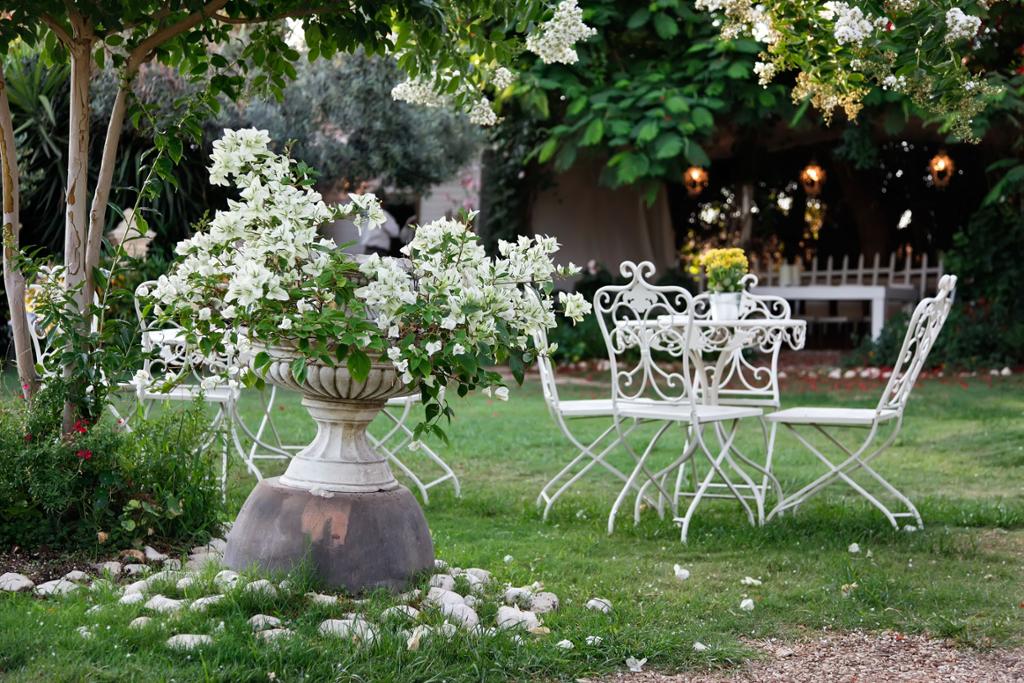 Pretty metal table and chairs make a romantic setting
Metal outdoor furniture can be aesthetically pleasing and durable. A variety of metals are used to create unusually appealing designs. Depending on the metal, costs for metal furniture can vary, aluminium sets are pricier than wrought iron ones but are more durable and lower maintenance. Wrought iron can rust and will need to be cared for to prevent this. Another disadvantage with metal is it's ability to retain heat, although a few pretty seat cushions will solve this problem!
Wood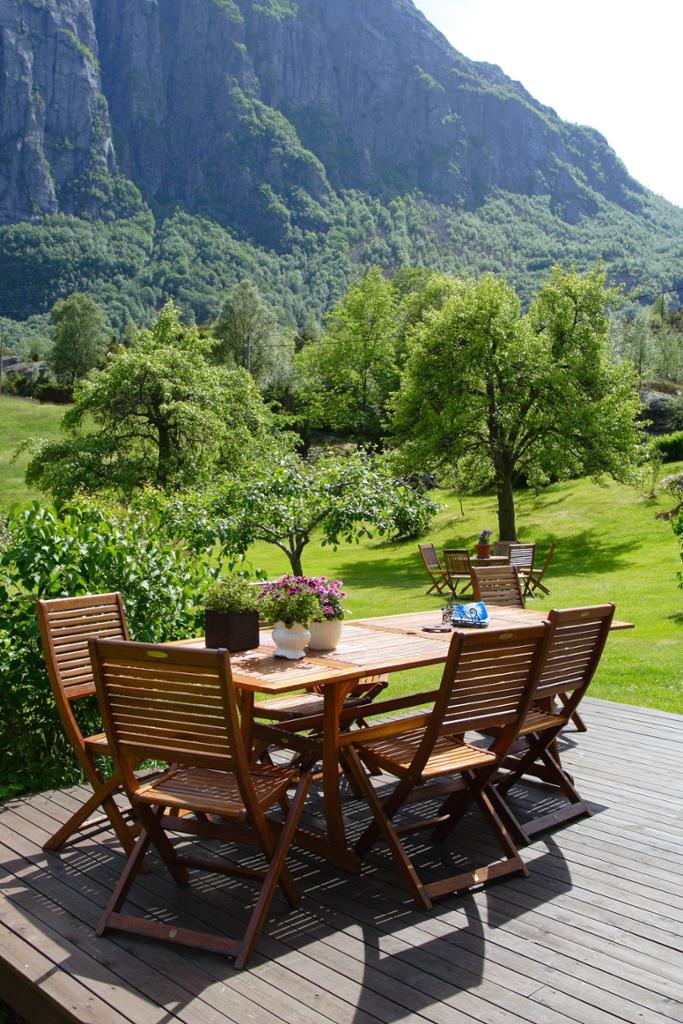 A rustic outdoor wooden dining table in the lap of nature

Wooden outdoor furniture gives a rustic, comfortable feel to your patio sit out. Wooden furniture can be conveniently lightweight and can come in foldable options to store away. Wood does not retain heat like metal furniture, a definite plus in tropical weather conditions. Hardwoods like teak are the preferred option for outdoor furniture as they last longer but most types of wood can be sealed, oiled and painted for use outdoors.
Wicker


A quaint wicker outdoor lounging set to relax and read a book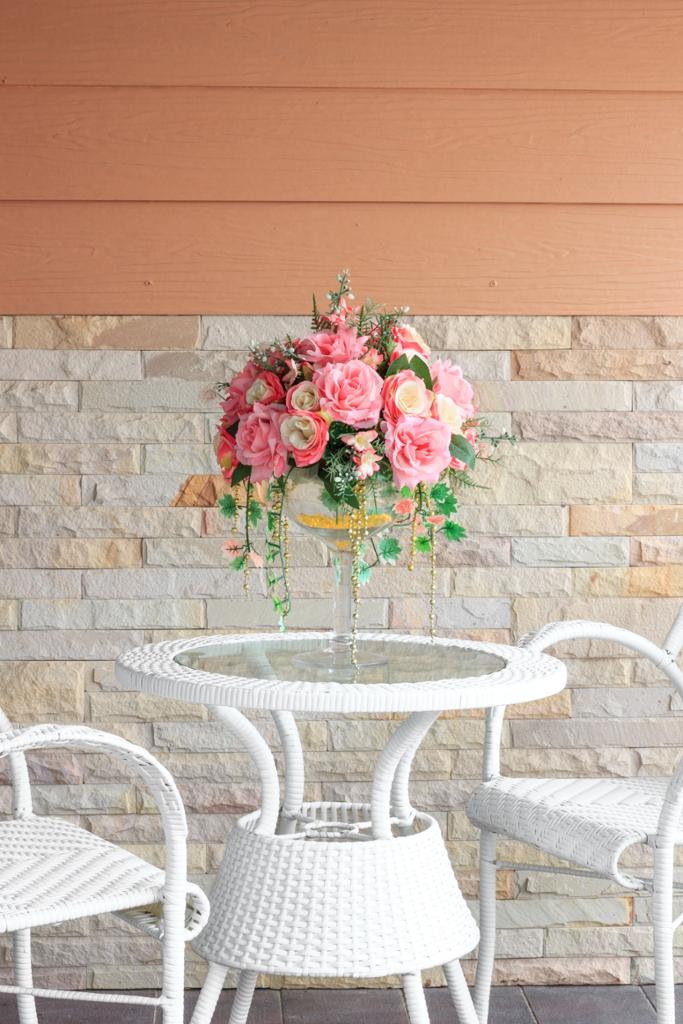 Pretty wicker breakfast table for two

Natural wicker furniture can be made from bamboo, rattan or cane. It's lightweight and attractive because wicker can be moulded into a variety of interesting shapes. Painted wicker has a very quaint look. The downside with wicker is that it's not the most durable outdoor option, being a natural material wicker needs to be treated for the outdoors and may require a regular paint job to prevent mold, it's also difficult to keep clean because of the weave used to create it, this makes it an avoid in very dusty outdoor conditions.
Stone

Sturdy, safe and weather proof stone outdoor furniture

Stone outdoor furniture is a sturdy weatherproof option that will last you for years and require minimal effort to maintain. There are a variety of natural stones, like granite and marble, that can be cut or carved to produce attractive outdoor seating. Stone is heavy and difficult to move, but a good alternative for homes with little children as it will not tip over when they are at play and unlike plastic it's too heavy for a child to move closer to the edge of a terrace or balcony.
Plastic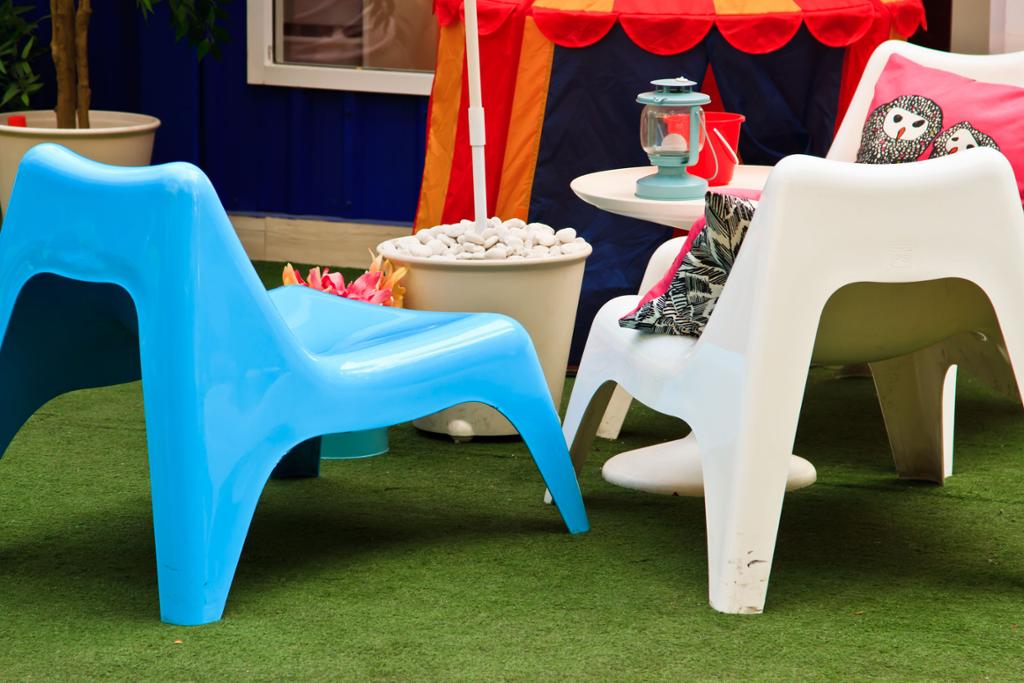 Cheerful and cheap plastic furniture'
Plastic furniture is the most budget friendly alternative, it's also light weight and comes in many attractive colours and patterns. Plastic furniture can be an easy way to add a sit out without spending too much but be prepared for the colour to fade, and the plastic may crack in harsh outdoor climate conditions like high temperatures. There are expensive plastics that are treated to render them more durable, and plastic furniture can also be a an eco-friendly option if made from recycled plastic.
Concrete


Stools made of concrete by an outdoor pond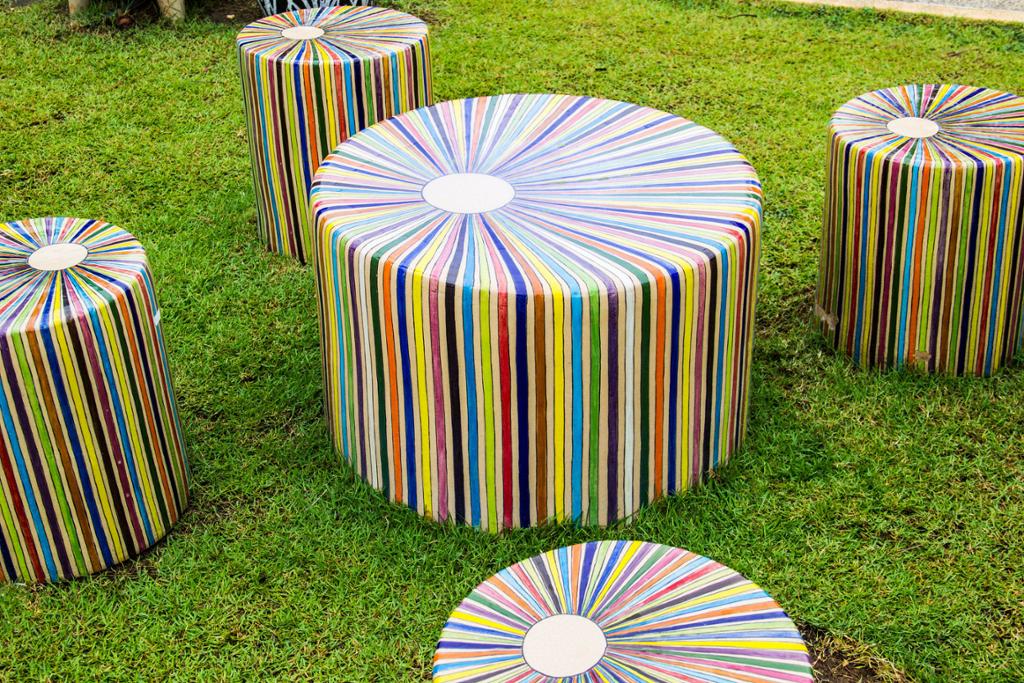 'Statement modern' Colourful concrete table and stools
Concrete outdoor furniture is a wonderfully durable green alternative. Concrete is a recyclable material, and now comes in an advanced lightweight option. Concrete can be moulded into various shapes, it is weather resistant, maintenance free and resistant to rot.
All outdoor furniture is treated to be weather proof and to increase durability to some degree. Depending on the style that appeals to you and your budget, choose the right one for you and enjoy the outdoors!