A great way to organise your book collection and give it a 'home' is an unusual bookshelf. Showcase your books by making them part of the decor in the home.
If you are like me, and like to read, chances are there are books lying all over your home in unattractive jumbled-up piles. A great way to organise your collection and give it a 'home' is an unusual bookshelf or shelves. Showcase your books by making them part of the decor in the home.

Here are a few 'off the beaten' path ideas to find space when there isn't any in our modern day homes.

A Cosy Reading Nook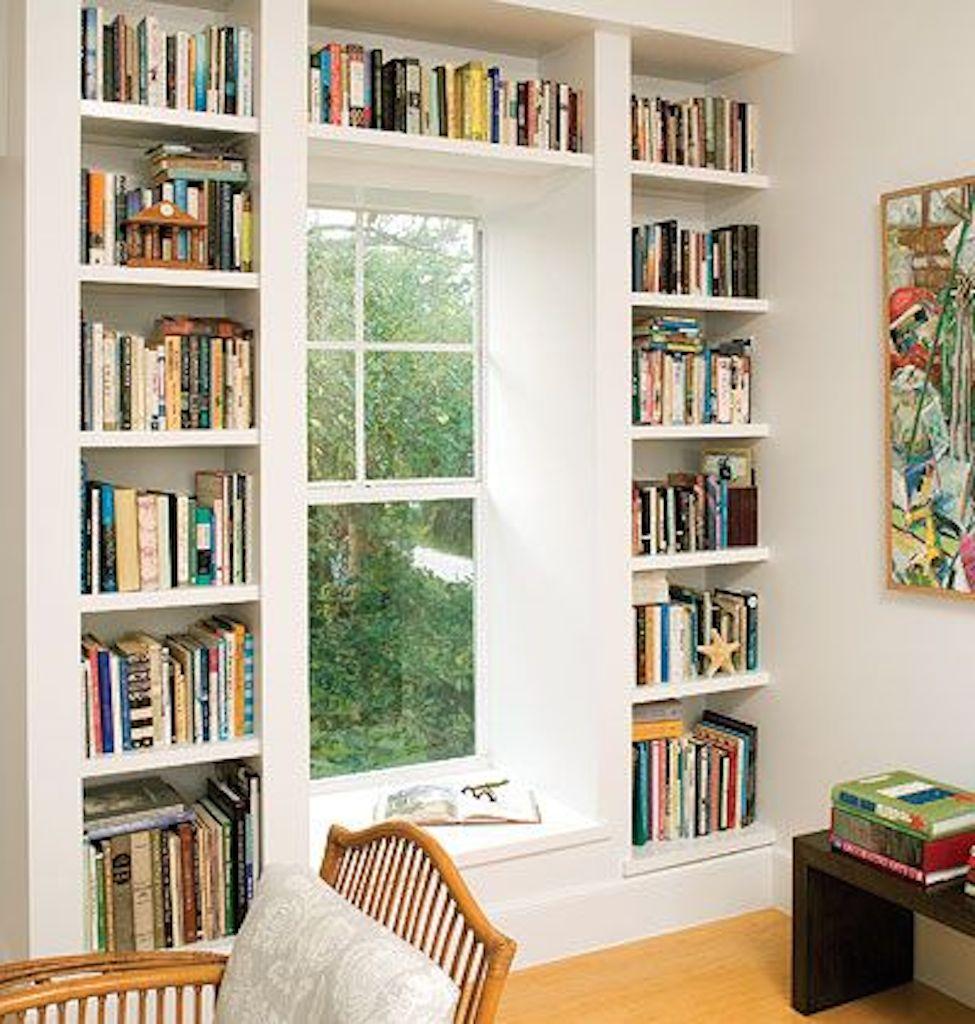 Read by a window, enjoy both natural light and a view
Create a reading nook with a view by custom building a book shelf and seating bench around a window in your bedroom. You'll have a cosy and well lit place to read, all your favourite books close by, and a view to look at while you daydream!

Corridor Bookshelf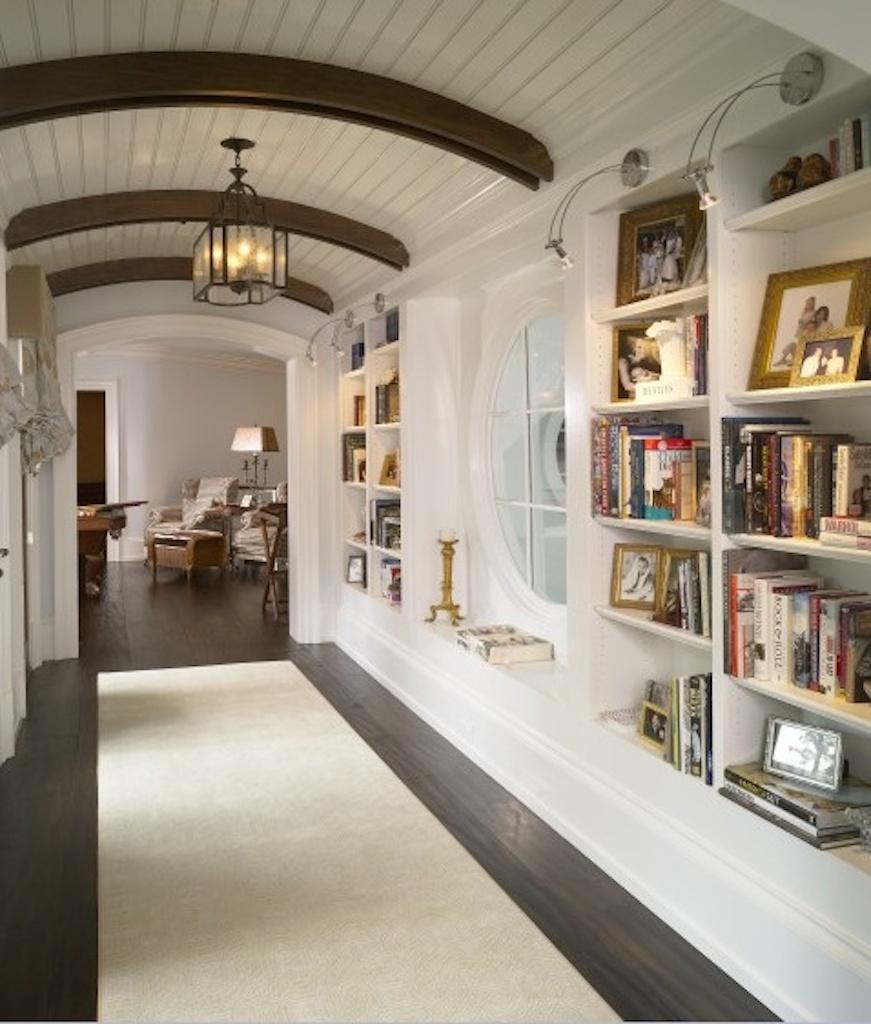 Use wasted corridor space for a display
Long corridors in homes can often be a waste of space, put this dead space to great use by building a bookshelf and display along the length of one entire wall. Apart from your books, you can use it to display family photographs and knick knacks.

The Door As A Bookshelf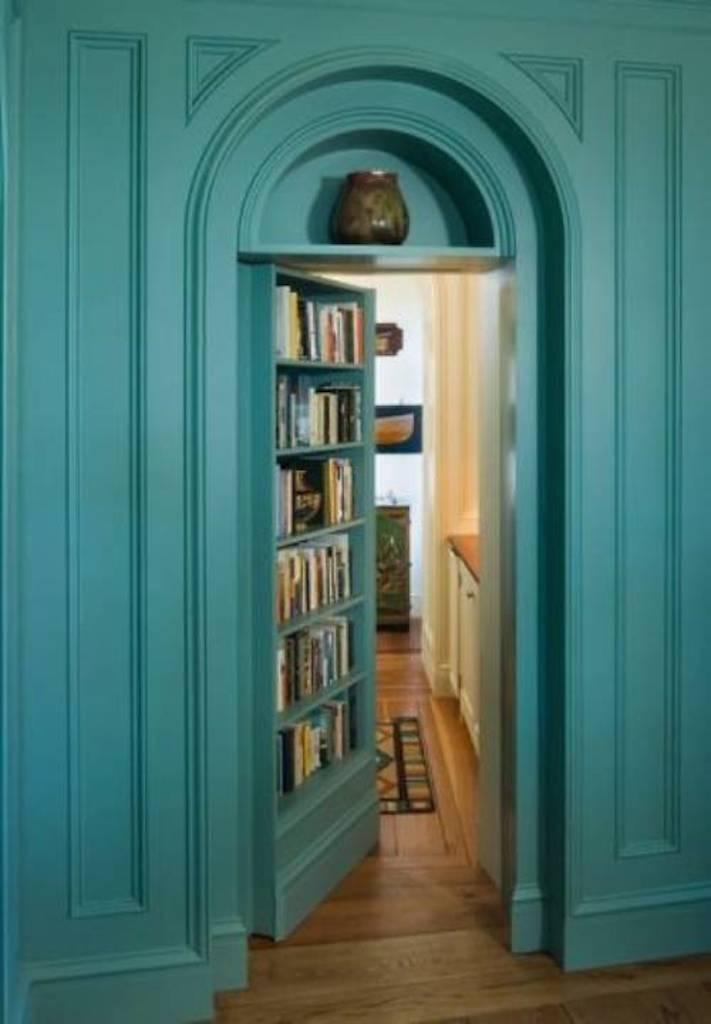 A 'library' door
If you are really short on space, consider a custom built door/bookshelf. The doors in our homes are vertical space that is rarely put to any good use other than hanging a few pegs for clothes, why not use them for books?
Invisible Shelving
Books on an Invisible shelf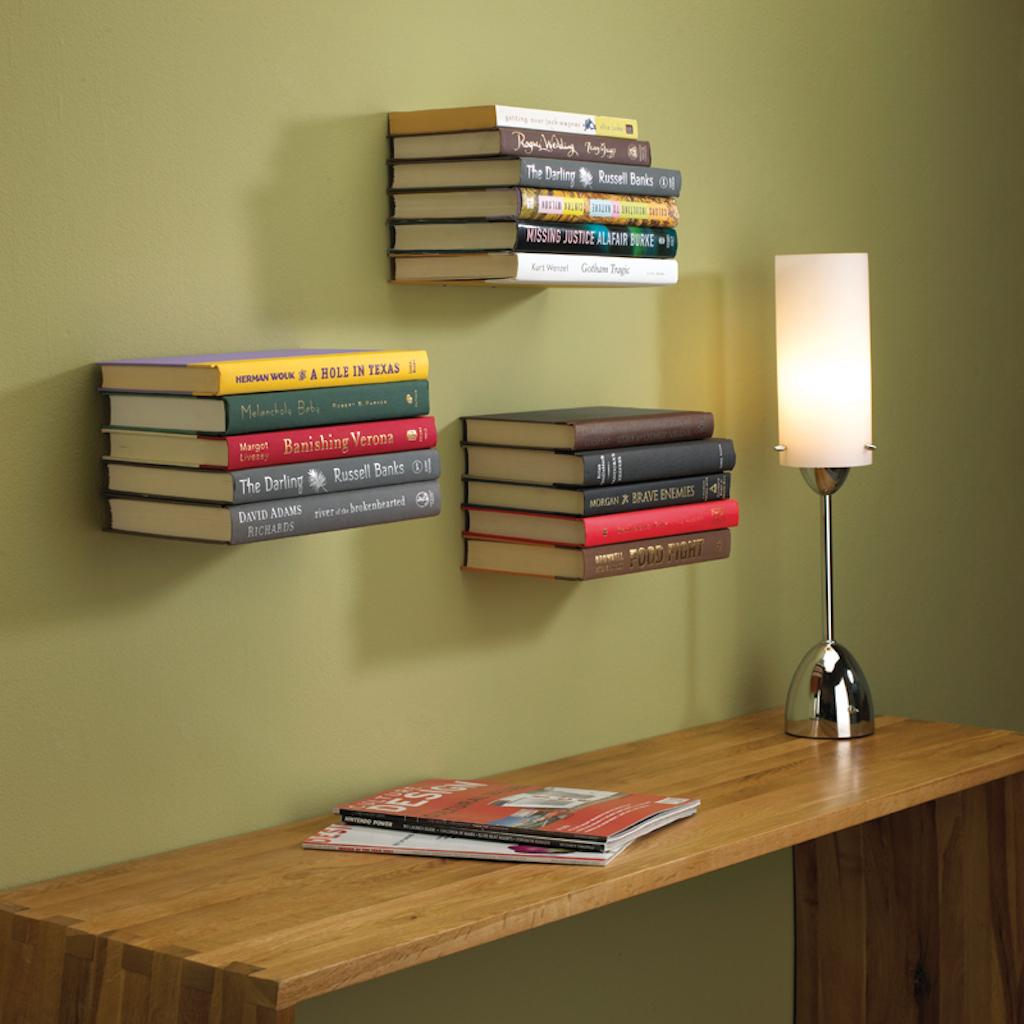 The final look, 3 invisible shelves over a console table

Installing an invisible shelf can make books look like they are floating on the wall, it looks minimalist and unusual, effectively making the books a part of your decor. You can install as many as you like to hold your entire collection. It will also clear up table space like the console above.

For The Bookworm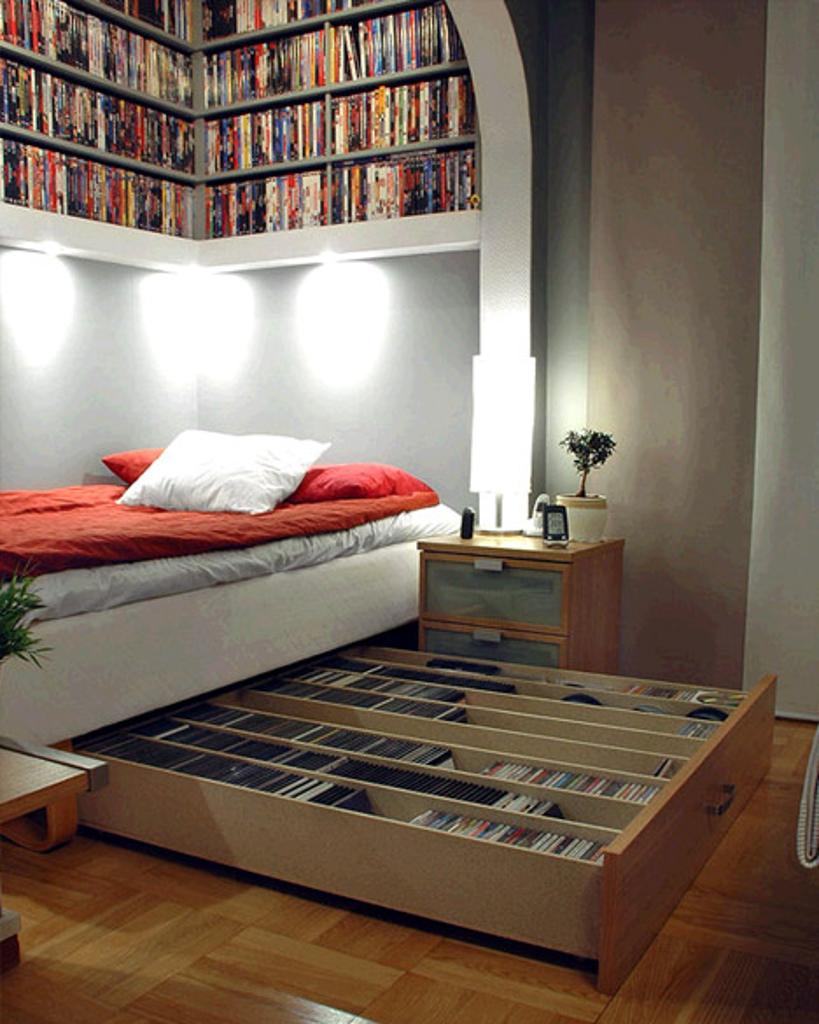 A drawer as a bookshelf
If your home resembles a bookshop, this idea is for you! Horizontal drawers, built-in under your bed, on castors or on rails, will keep all your books neat and accessible. This is an adaptation based on modular kitchen designs. The drawer will also keep some of your books out of view so that you don't come across as the nutty professor!
The Kids Room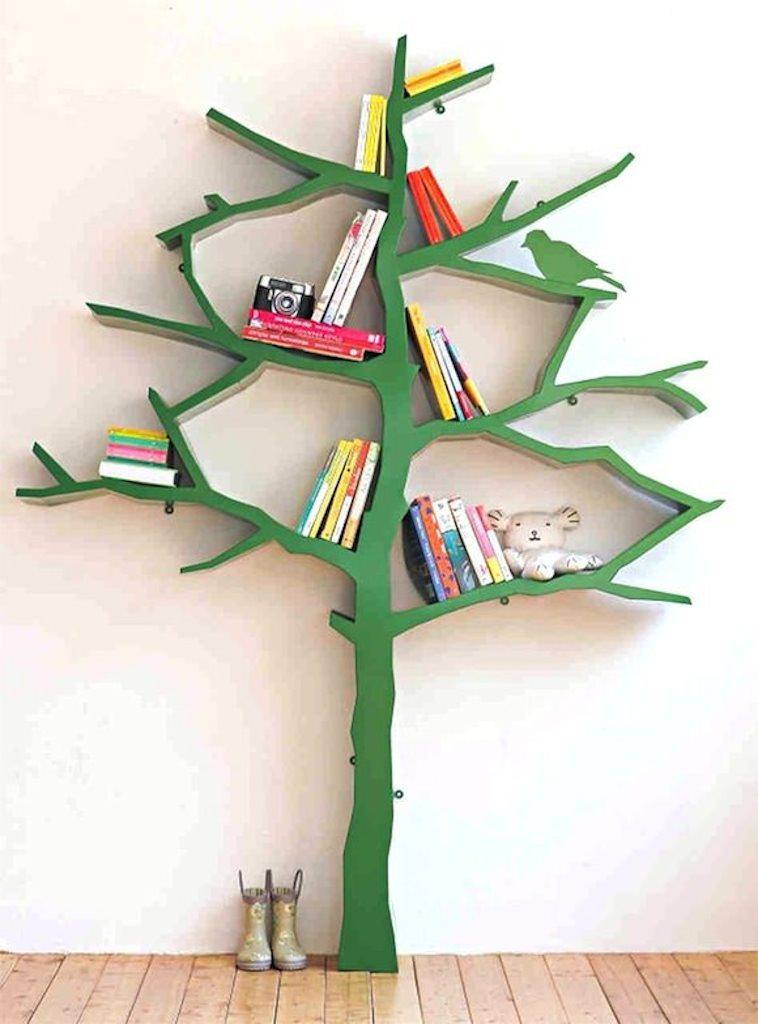 A tree bookshelf; art, storage and display
Whether your child is a toddler or a teenager, there will always be a multitude of books in a child's room. From fairy tales to GMATs, there is a corresponding book for it. An unusually shaped bookshelf is perfect for your child's room, it will add personality and colour, and of course storage, helping to keep your child's room organised.
The Accent Bookshelf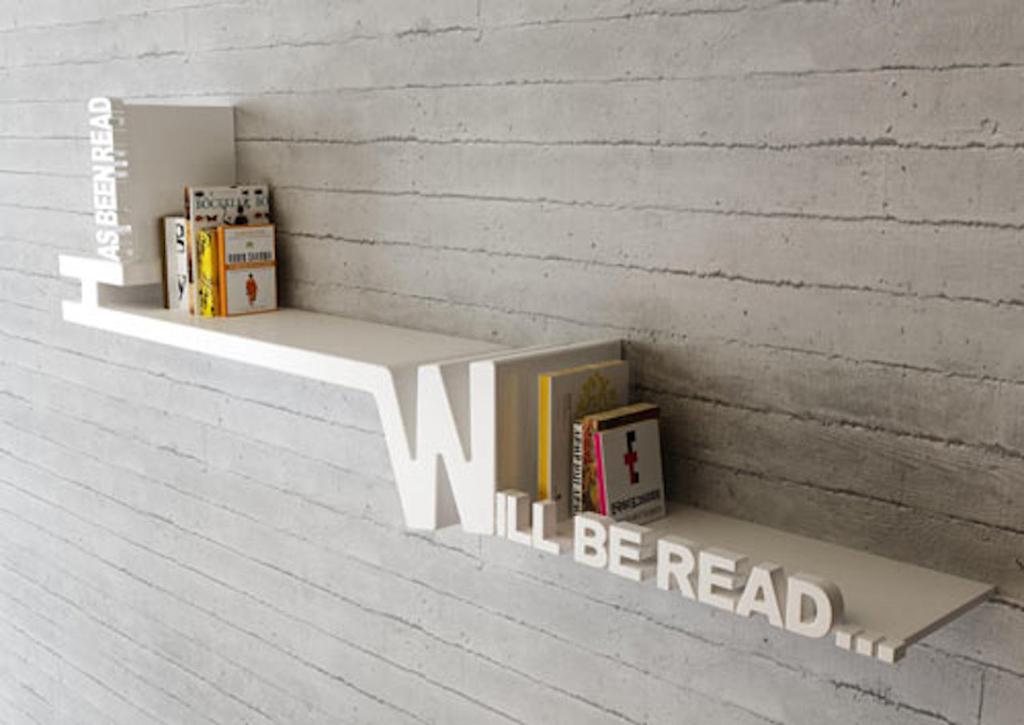 This bookshelf is a decor accent
Instead of a painting, use the bookshelf as an accent piece to adorn the wall, it will draw the eye and make a statement. This one neatly catalogues your books into the ones that you've read and the the ones your saving for later, and is a nice decor plus too.

Out Of The Box

Think useful but out of the box
This quirky bookcase/armchair is perfect for a small studio apartment, it's a statement piece but also does double duty as useful storage and display for your books.
When it comes to your own space, think out of the box, with these ideas as a guide you'll soon have your very own bookshelf, do share it with us!