Contact a carpenter or a handyman service in Bangalore to help you reinvent your old furniture today!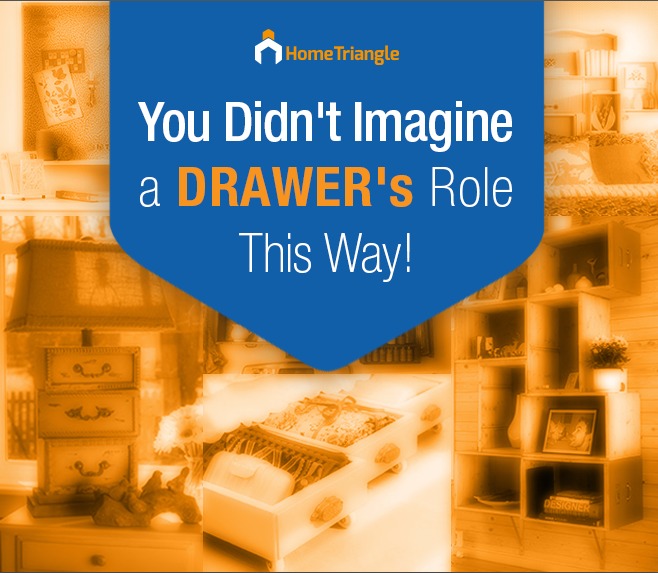 The best things in life are free! Or in this case re-invented! Most furniture like dressers will start to look dated or damaged in a few years but surprisingly drawers from dresses, desks, old sewing machines, chest of drawers etc remain quite protected and in good condition. We've listed a bunch of creative ideas that reinvent old furniture drawers that would find their way to the landfill, but will not, once you see all their amazing re-incarnations and the truly endless possibilities!
Try any one idea today and give "something old" a "something new" makeover!
Tack Board
Covert an old drawer into a colorful tack-board to brighten up your work space or home office. Find instructions on how to here.


A colorful DIY tack-board



Stack'em up!
Discarding a lot of furniture? Pull out all the drawers to create this stacked bookcase cum display cabinet to create an edgy contemporary vibe! Want one now? Here are the instructions! Not much of a DIYer? Contact the best carpenter and handyman services in Bangalore now.


A stacked drawer bookcase

Image - Thecottagemarket.com


Take it a notch further and use the stacked drawer shelves above as a headboard!


Stacked drawer headboard!
Re-invented Old Furniture Drawers As A Bathroom Cabinet
Use an old drawer to add much needed storage in a small bathroom. You can upcycle any old drawer, paint it a pretty color and use it to display pretty essentials in the bathroom. All you need for this DIY is an old drawer and little paint! Make it now!


An upcycled drawer makes for a pretty bathroom shelf

Image - Thedecorologist.com
Side Table Cum Bookcase
Up end an old drawer to place a few of your favorite books by your bed. Add a glass top to create a plain surface to place a few knick knacks or an alarm clock, and you've got yourself a quirky side table! Use the same method as above for the bathroom shelf.
A drawer used as a bookshelf/side table in the bedroom


Image - Pinterest.com



Add castors to the drawer/ side table to be able to wheel it around wherever you like, convenient right?


Castors on a drawer/side table



Organize The Kid's Room
Re-invent old furniture drawers to organize almost anything in the kid's room from clips and rubber-bands to school books to arts and craft supplies. Paint them in attractive patterns or decor complementing colors and you'll have a whole new look for your child's room in no time!


Drawers used to organize craft supplies



Create Useful Displays
There are 3 really easy and really different ideas in the image below! Drawers used to create a foyer display of cheerful accents, for a key-ring hook holder and as a shoe-shelf. Fancy yourself a pretty foyer? Carpenters in Bangalore will easily create these for you!


3 fun ideas with upcycled drawers



Go Gardening!
Use an entire old dresser as a planter for succulents as shown in the first image. If you have two small drawers to spare, try the second idea to create hanging wall planters for lavender. Matching the paint color to the plant or flower like shown below with the blue drawers used for the lavender is a super cute way of adding an extra special touch to your walls!


Dresser with drawers converted into plant beds




Two perky blue drawers used as planters to dress up a wall
Another Stack!
A stack of small decorative drawers is used to make a distressed french country look for a lamp base. You'll need the help of the local carpenter, electrician or handyman to create this simple DIY!


Drawers stacked to make a lamp base
Table Top
Use any sturdy old drawer and attach a set of ready made wood railings (available easily in the market) for legs and you have a table top with a little depth to make sure things do not slide off! So perfect for your bathroom!


A drawer table top prettifies the loo!

Image - Addicted2decorating.co

m
If you have the budget and the inclination, take it a step further and find a carpenter to attach a carved wooden pillar on castors to an old drawer like shown below.


A drawer table top idea for a chic living room
A Toy Bench
You will need a long drawer for this DIY, while the method is the same as the table top with wooden railings for feet. Create cute toy storage for your little girl or boy and paint it in pastels or a fire engine red!


Toy storage bench made from an old drawer
Come Into My Kitchen!
Re-invent old furniture drawers to create the kitchen shelves in the image below. A great way to have everything within reach and use old dresser drawers to create a country kitchen, rustic display


Drawers used for a rustic kitchen display
An old apothecary drawer can be used to hold and segregate, cutlery on a kitchen counter.


A single drawer holds cutlery
Mag Rack
Fond of collecting recipe books or can't do without your monthly dose of gossip mags? House them in this re-purposed drawer magazine rack! Use an old drawer and attach four tall knobs for feet and you are ready to go!


Image - Confessionsofaserialdiyer.com
Pet Bed
Make a cozy bed for your darling pet using a deep drawer. One side of the drawer will have to be cut in a pattern so that your pet can jump up easily, a local carpenter in Bangalore will be able to help you with it. The rest is as easy as the table top, a slap of new paint and store bought legs, and you have a new pet bed!


A comfy pet bed made from an old drawer

Image - Remadeinbritain.com
Storage Savvy
Don't want to use old drawers as pieces of furniture or display? This idea is for you! Don't throw them out, you can attack castors to drawers and roll them under the bed to add storage space in your bedroom. Use the drawers to store anything from spare linen to shoes, they'll roll out conveniently when you need them and will remain out of sight otherwise!
Drawers on castors to add under the bed storage


Image - Myhoneysplace.com
This list of ideas is our little way of re-inventing old furniture and preventing it from going to the land-fill, combining home decor, great design and fun DIY! If you're not handy with a hammer and saw, hire carpenters or a handyman service in Bangalore to help you make these fun upcycled drawer decor ideas a reality today!