Most of us relegate our balconies to the status of extra storage for unwanted household items, from a shelf to store various things that we don't use any more or a place for a ladder that we don't want in the way but is too cumbersome to be kept anywhere inside the home. A collection of unused and unwanted things seem to find their way to your balcony! If you manage to resist this temptation however, you will be able to create the perfect outdoor space that you originally wanted your balcony to be. In urban homes and apartments the balcony wall is a great space saving area to use as a garden while keeping ground space clear to accommodate a small table and a few chairs.


The colorful outdoor space at the My Sunny Balcony store
Here are a few ideas for wall accessories fabricated in wrought iron, metal, bamboo glass, wood and terracotta to get you going!
Bamboo Trellis
This design combines a bamboo trellis, a beautifully bright terracotta pot and a delicate creeper, and is a favorite for balconies. Choose the right creeper depending on the sunlight conditions in your balcony and watch the creeper grow and intertwine itself with the bamboo trellis. Within a few months you will have beautiful flowers falling off the trellis and your balcony will become a favorite space to enjoy by yourself or to hang out with friends!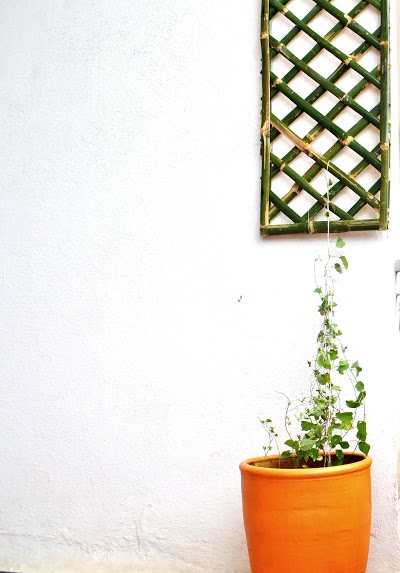 Bamboo trellis with a bright terracotta pot
Up-Cycled Glass Bottles
Up-cycling materials is a sustainable way to add a quirky element to your outdoor wall space. Use beautiful wrought iron brackets to hold self watering pots made from green glass bottles. Not only do you have some eye catching greenery, but you also don't have to worry about watering your plants when you take off for that long overdue weekend break!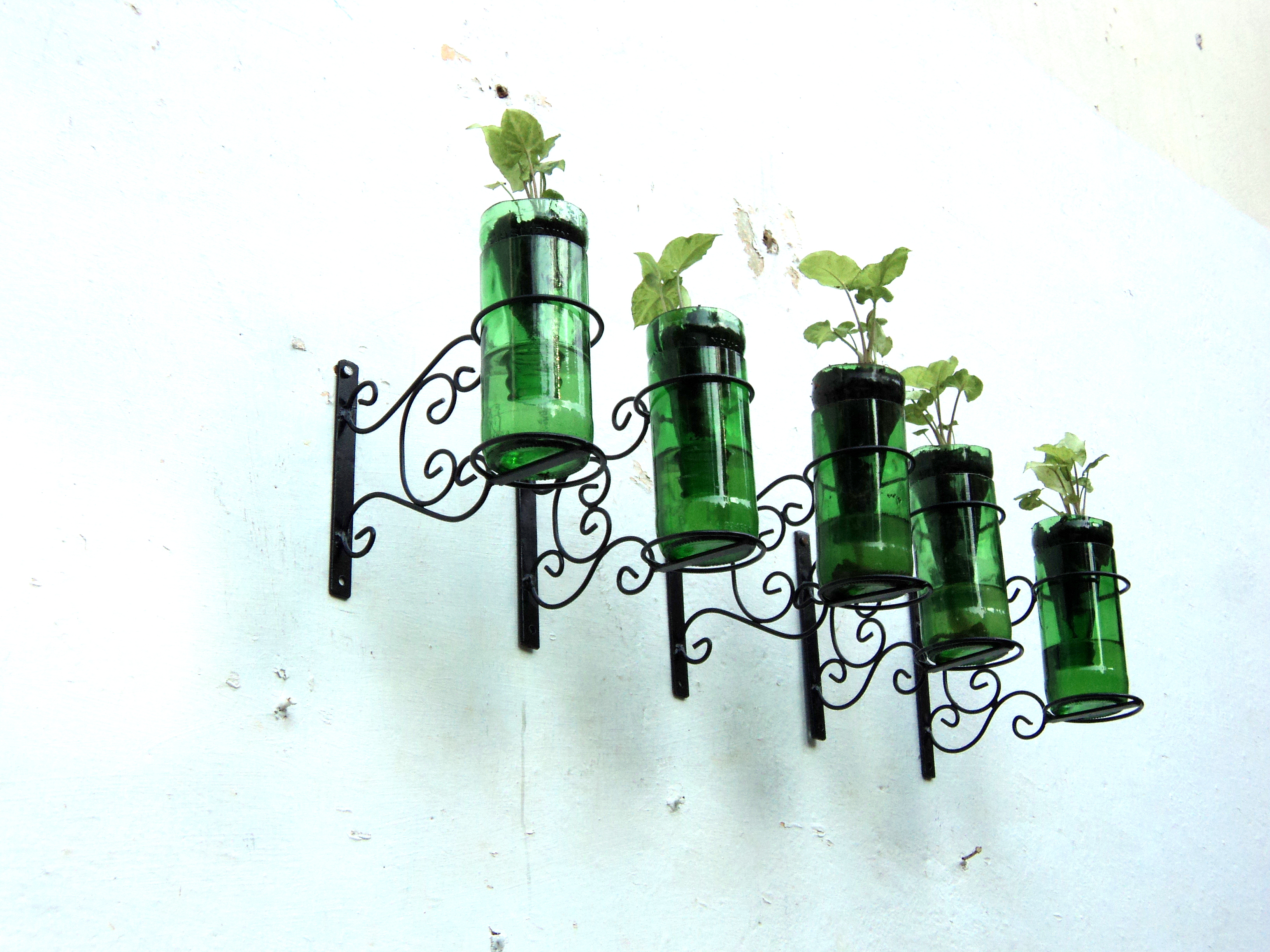 Glass bottles used as self watering pots
Wrought Iron Ledge
Create your own ledge against a wall and use it to add color and plants to your outdoor space. A simple ledge can be fabricated using wrought iron 'L' brackets and then by mounting colorfully painted recycled wooden crates as pots on it. Choose the right plants based on sunlight conditions and plant them in the pots after lining the pots with a polythene lining to protect the wood.
A balcony with multiple ledges created with wrought iron
Wall Mounted Metal Pots
A bunch of wall mounted metal pots arranged in a pattern of your linking is another way to create an attractive display on an outdoor wall. Plant seasonal flowering plants in the pots if the sunlight conditions permit, or use these pots to create your own herb garden!
Bright metal pots brighten up a white wall
Bamboo Planters

Bamboo, being one of the fastest growing plants, has always been a favorite while creating gardening accessories. One such accessory, is the wall mountable wrought iron bamboo planter which allows the natural hollows in the bamboo to be used as a pot. This is an elegant piece of living wall art that allows you to grow a mix of plants in an all natural bamboo pot, all while taking up minimum ground space.
Since the idea is to stay natural and organic, use bamboo that is not treated with arsenic or any other harmful chemicals, and in time the weathered bamboo will add a whole new character and charm to your balcony or outdoor space.
Wall mounted bamboo and wrought iron planter
Wrought Iron Pot Holders
A strip of narrow wall between a door and window is perfect for a versatile two pot holder in wrought iron. This wall accessory has two hoops that can hold pots of your choice and a candle holder at the top to bring a warm glow to the space. When it's time for Diwali, temporarily set aside the pots and use the hoops to hold traditional thalis decorated with large diyas or candles for a cheerfully lit up Diwali!
Wall mounted wrought iron pot holder
There is so much that can be done with even the smallest of outdoor spaces, every surface is an opportunity to decorate with the perfect accessories and make a home for a few plants, in the process creating a soothing space for you to enjoy with an early morning cuppa, relax with an after dinner aperitif or even catch your afternoon power nap, take your pick and enjoy your balcony!
Over the years, My Sunny Balcony has developed several wall accessories that allow avid gardeners and 'go green' enthusiasts in urban settings, faced with the absence of gardens, to use outdoor walls as a garden space instead.