Your AC has been a loyal friend through summer! Thanks to the AC you've been able to sleep well and enjoy weekends at home sheltered from the blazing hot sun. The only problem is the outdoor unit/ cabinet, which looks terribly ugly perched outside your home. If you are tired of seeing it, try these creatively fun ways to hide it!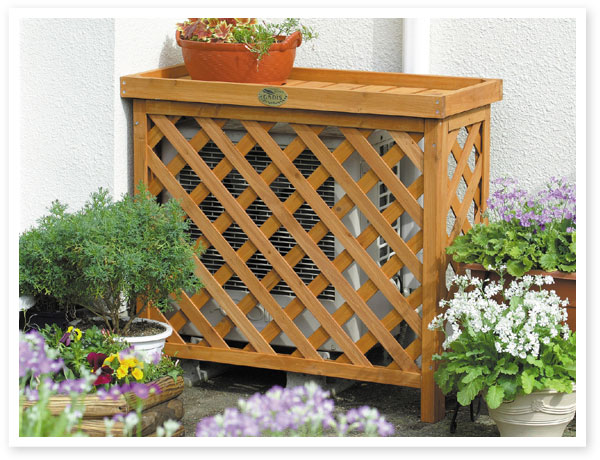 An outdoor AC cabinet is camouflaged with a wooden fence
Enclose And Cover With A Creeper
One way of making sure the AC cabinet stays out of sight is by adding a metal or natural bamboo enclosure around it. Add a little gate to this enclosure so that when your AC technician needs to service your unit, he'll have easy access to it. Once your grill is put up, consider growing a few climbers and creepers to rest on the grill and cover it up as they grow.
Money plants, Rangoon creepers, Ipomea green, Allamanda, bleeding heart, grape ivy, starry wild jasmine and clematis are a few plants that you can easily pick up from your local nursery.
A Bamboo Enclosure
If you are on a tight budget and don't want to spend much, think about custom making a bamboo enclosure or simply a bamboo divider to hide your AC cabinet. You can paint the bamboo green so it blends in with your garden, leave it au naturel or polish it.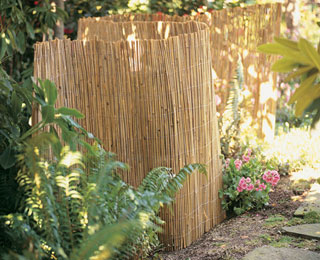 The beauty of bamboo
Fencing It In
You've always loved white picket fences but due to size and security reasons you haven't been able to erect one around your property. Well this is the perfect opportunity to erect a little picket fence around your AC cabinet. Decorate the fence with a few flowering creepers and you'll be stumped by the transformation!

A Multipurpose Storage Cabinet
If gardening is your thing then like all fellow gardeners you too struggle to find space to store your gardening implements! Leaving gardening tools lying around will not only look messy but is a safety hazard too. Creating a multilevel storage space will cover the outdoor AC cabinet while solving your storage issues as well. The lower half of the cabinet can be designed with vents that allow ventilation and the upper half can act as a full fledged storage cabinet for gardening tools.
Garden implement storage Idea that does double duty and covers up the AC cabinet too
Simple Panel Design
Not looking for anything fancy? Just want to cover up the AC cabinet? Simply install an enclosure made with wooden panels minus any decoration.


An enclosure made with wooden panels
Green Cover
If you don't want to build anything around your AC you can display a few tall, bushy potted plants in front of it or even surround it with plant stands. Make sure that you choose sturdy plants that will not wilt from the warm air blowing from the compressor fan.


Keeping it green and clean
Once you have successfully covered your outdoor AC cabinet, you can enjoy your AC from the inside and out!