Re-purpose old picture frames with these easy to do fabulous DIY ideas that turn them into unusual but useful objects of decor for your home.
Making something beautiful by hand can be supremely satisfying while creating decor that is personal and individual but that could still look like it belonged in an interior design catalog! Re-purpose old picture frames with these easy to do fabulous DIY ideas that turn them into unusual but useful objects of decor.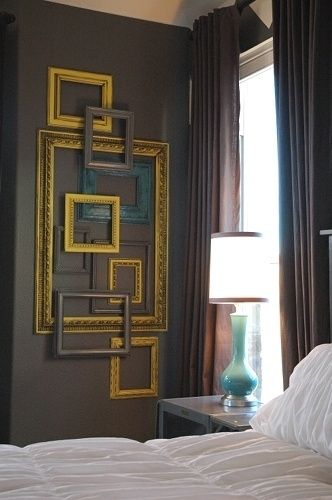 Picture frame collage
Collage
Create a collage of painted frames, pick colors to suit your decor and paint empty frames in flattering colors so they are a decor element in and of themselves! The painted collage of frames in the bedroom above employs the idea to perfection while echoing the color of the aqua shaded accent lamp and the storm gray walls to make the decor come together.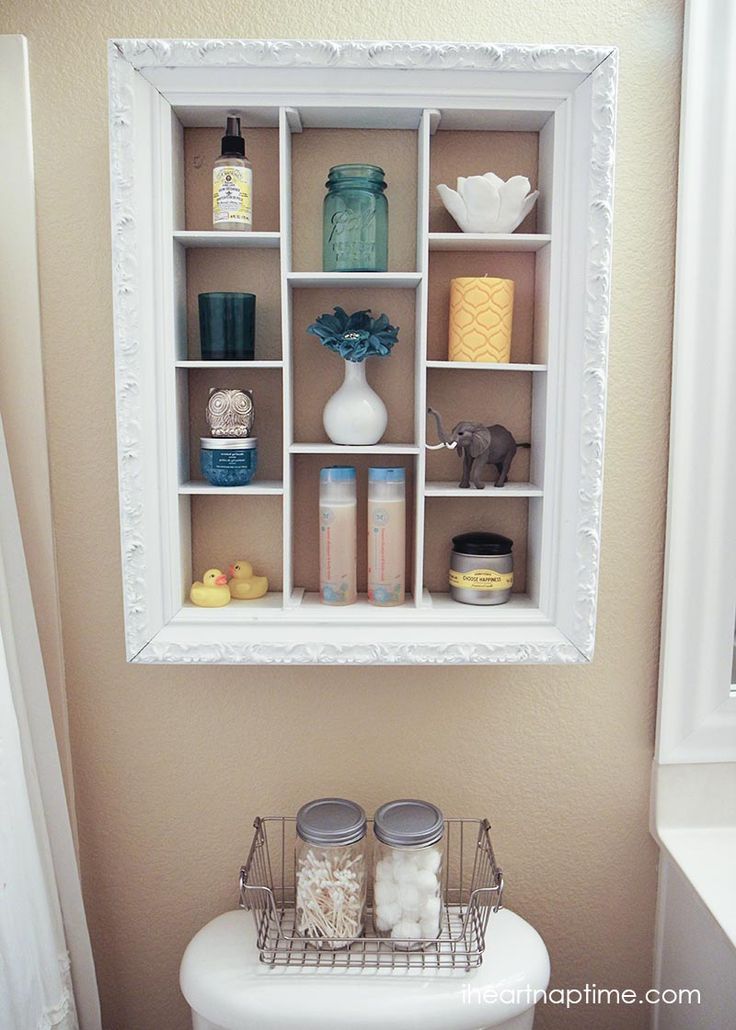 Framed bathroom shelf
Shelf-ie!
Frame an existing functional shelf with an old frame to dress it up as shown in the image above. You could paint the shelves and the frame the same color like the white one pictured in a bathroom in the image above or choose to paint the frame in a different shade for an unusual look.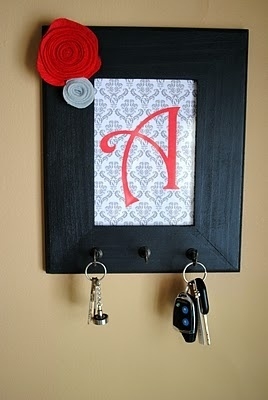 Re-purposed picture frame as a key rack
Key Rack
This DIY key rack frames up an initial to dress up your foyer area. Hang up your keys in style by framing up your initial in a picture frame, screw on a few hooks available from the hardware store and your DIY key rack is ready!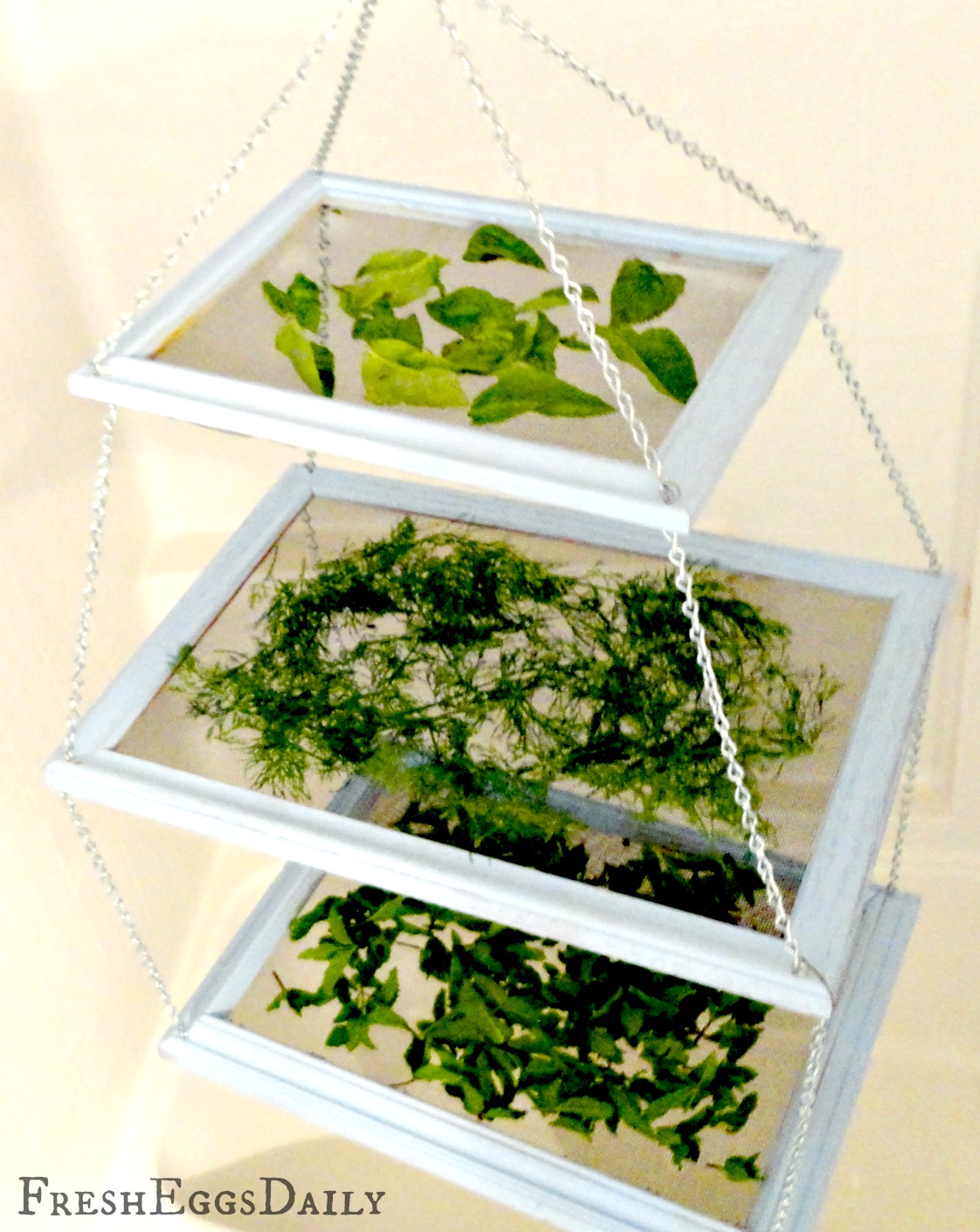 Herb dryer made from old picture frames
Herb Dryer
If you like to use dried herbs in your cooking, this idea is for you! Dry herbs to store away by making this DIY herb dryer with a set of similarly sized picture frames suspended at an even distance from each other on chains attached to 4 corners. Cut wire-mesh to the size of the frames and tighten into place with a few screws or staples.
As always, paint all 3 one color or go with 3 different colors or shades of the same color, the options are endless! Hang it up outside a sunny kitchen window that is not too windy.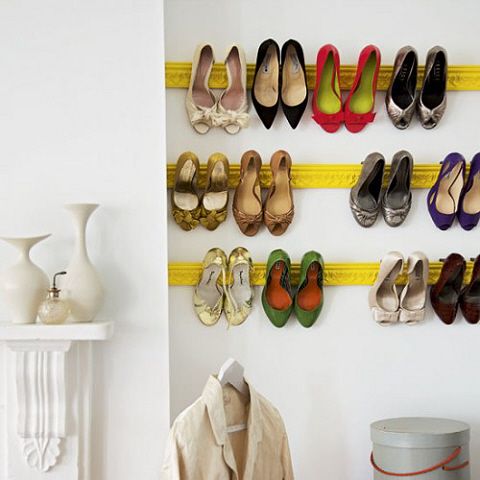 Shoe rails made from a deconstructed picture frame
Shoe Frame
Create brightly hued shoe rails by taking apart a large picture frame. Paint the frames and mount horizontally in a closet or on a wall, like the yellow shoe rails shown in the image above. Organize all your shoes neatly by resting them on the rail by their heels. Your closet will be neat and tidy and looking good too!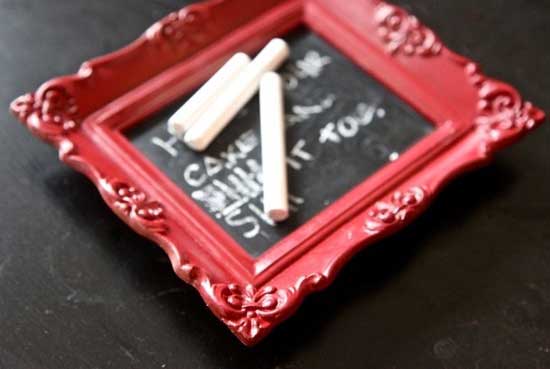 Framed blackboard
Note To Self
Frame up a small blackboard from the toy store in an old frame to create a reminder board for the kitchen or study table. Never forget to pick up milk and eggs again, just post a note to yourself on your handy DIY framed blackboard!
Ribbons organised on rails in a re-purposed picture frame
Organize Clutter
Organize rolls of ribbon, wrapping paper and cello tape with rails mounted on a picture frame. Mount the rods on the back of the frame akin to a smaller version of removable curtain rods. The requirements for this are easily available at good hardware stores. This idea can also be used to organize necklaces by looping them over the rods and into themselves.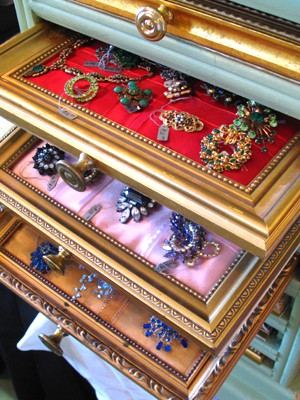 Jewelry trays made from picture frames
Tray
Use old picture frames to create a padded tray that can be used to keep your jewelry neat and cushioned (shown above), or add on two handles to make it easier to carry to and from your coffee table and use as a display tray(shown below). Just replace the glass in a picture frame with fabric backed by foam and tighten into place. you can even add small knobs to the bottom 4 corners of the tray to elevate it off the table and make it look more finished.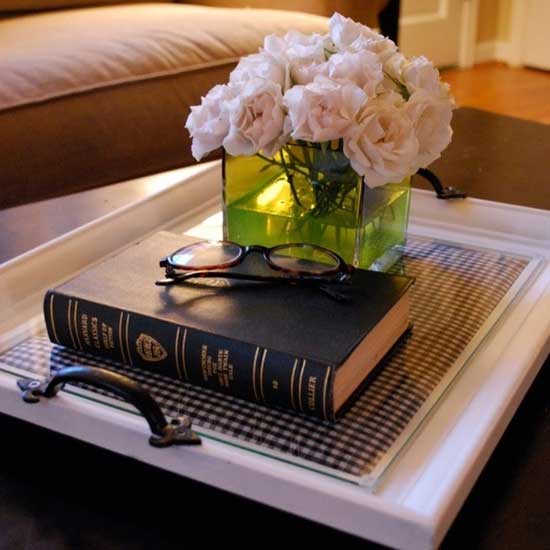 Padded display tray made from a picture frame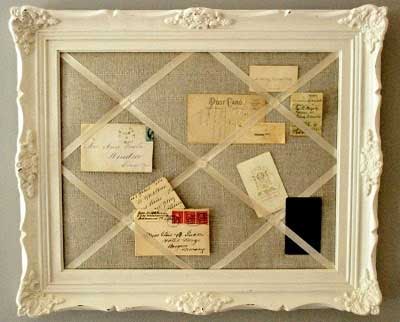 A tack board made from a re-purposed picture frame
Tack It Up
Take the last idea a little further to create this tack board. Replace the foam behind the fabric with a firm piece of cardboard and crisscross a pretty ribbon across the front of the fabric you choose to frame up, tighten firmly into the frame. You'll be able to tuck important notes and bills that need attention into the ribbon so they will not get lost in a drawer full of papers.
Never ever throw away an old picture frame again! Give it a new life as one of these creatively fun DIY ideas and dress up your home in truly individual style to boot!